POV Holder:
?
Next POV
?
POV Used
?
POV Ceremony
April 7
HOH Winner:
Heather
Next HOH:
Apr 10
Original Nominations:
?
Current Nominations:
?
Have Nots
Sarah (didn't use slop pass), Kenny, Rachelle
11:10pm Kenny and Sarah Have nots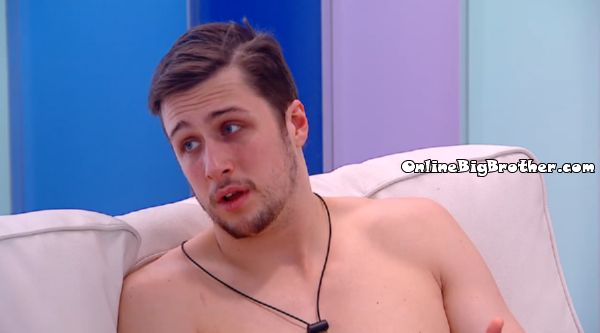 11:14pm Heather and Jon HOH

Heather tells him about her conversations with Allison and Kenny. They agree the plan is to win the POV and use it to save Allison.
11:14pm Kenny, Rachelle and Sabrina
Kenny tells them about their conversation with Heather. Arlie joins 1/2 way thru.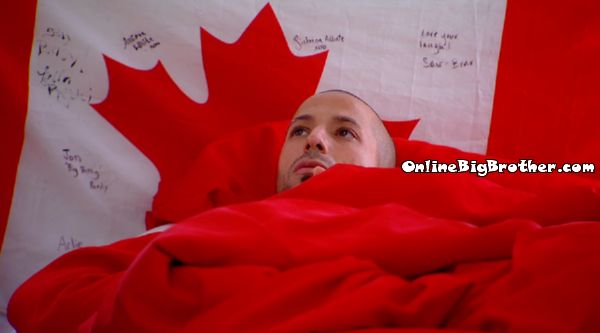 Random shot of Canada boy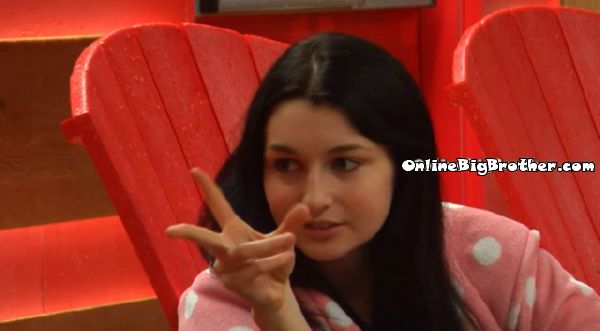 11:30pm BAckyard Sabrina and Rachelle
Sabrina is saying she's starting to lean towards voting out Kenny.
Rachelle – "I literally hate everyone" Rachelle adds that the other side is trying to put Rachelle against Sabrina.
Rachelle – "Break us that is what they want to do"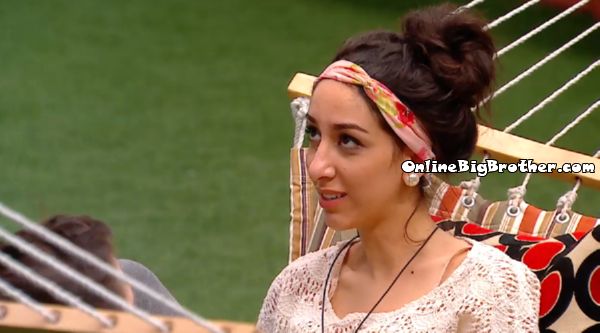 11:30 pm Jon and Neda Hammock

At one point Jon blows a fart, Neda – "Oh my god you are never meeting my family"
They predict that Arlie will go after Jon when they hit final 5. They are going to have to start studying. Neda warns that Arlie is really good at the memory stuff.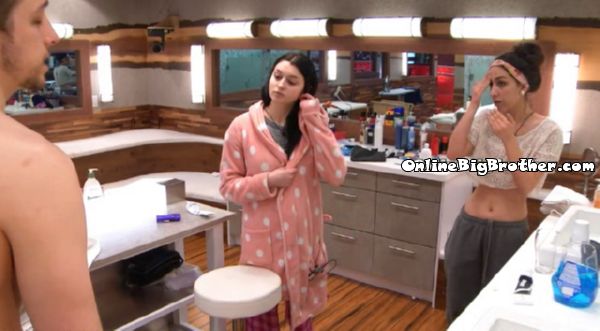 11:51pm Neda and Jon Tell rachelle they have been trying to convince Heather to keep her off the block. Rachelle thanks them.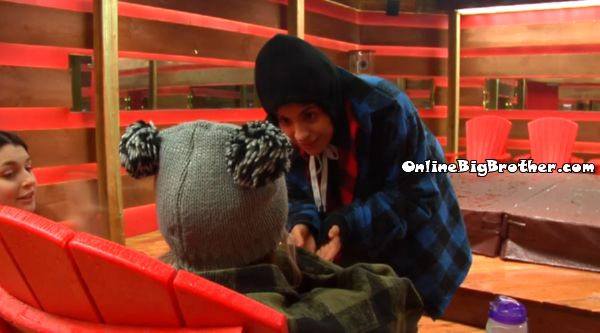 12:00AM Rachelle, Allison and Sabrina
Allison tells them she is going up and she hates Jon more than Anyone in the house. Sabrina says she hates Jon as well and he's the one person she will not talk to outside the house.
Allison tells Rachelle that Heather is telling her she is going up because that is your punishment for putting the house on slop for 2 days. Rachelle is furious, "Who does that"
The gremlins start trying to figure out how to Sink Sarah's and Kenny's game. Sabrina says they have so much dirt on those two.
Sabrina adds that it was Sarah that said Allison was like this season's Liza not Jon. Sabrina claims if it wasn't for her Kenny would go home week 3 and Jon week 4. Sabrina isn't going to be loyal to Kenny anymore. She's not scared of Sarah anymore.
I may not win competition but when I have fire under my a$$ see what I can do
Rachelle says Sarah is just like her ex best friend and she is a master manipulator.
Allison doesn't think she's right for this game she doesn't know why she was selected to play.
Allison – "I'm not a psychiatric nurse I'm a nurse that works in the psych ward.
Sabrina is talking them into thinking Neda and Sarah are theses two evil lying masterminds. Allison agrees she brings up how Heather lied to her face yesterday she told her she wasn't going up, "What the f** is happeneing"
Sabrina says she's voting out Kenny this week.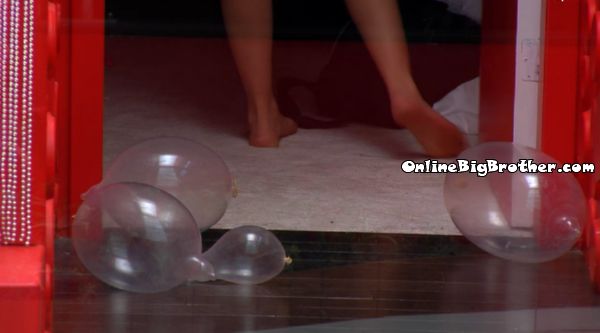 12:35AM Bedroom Jon and Adel are blowing up condoms Arlie jumps in for some fun. Sounds like theyu stuff the condoms in Kenny's bag.
Jon say his hands reek of condoms and he can taste it in his mouth. They decide to move the condoms and just put them in the hallways. Adel "F** Hurry up before the gremlins come" (LOL)
They laugh at Adel's condom being so small, Adel – "It's a little chub"
Adel – "What is Big Brother Pumping In the air we can't sleep"
Neda – "we're the new gremlins"
They laugh about Arlie not wanting to take part in the prank because he said 'I'm too safe on both side"
NEda – "He's
Jon – "I miss you neds"
Neda – Uh
Jon – God damn
Neda – miss you
Jon – Bullshit
(Check out the picture below at one point Adel and Neda pretend to be gremlins coming into the bedroom)
1:23am Gremlins find the condoms
Nothing exciting happens.
[polldaddy poll=7935497]