POV Holder:
Kenny
Next POV
?
POV Used
?
POV Ceremony
April 7
HOH Winner:
Heather
Next HOH:
Apr 10
Original Nominations:
Kenny & Allison
Current Nominations:
Sarah & Allison
Have Nots
Sarah, Kenny, Rachelle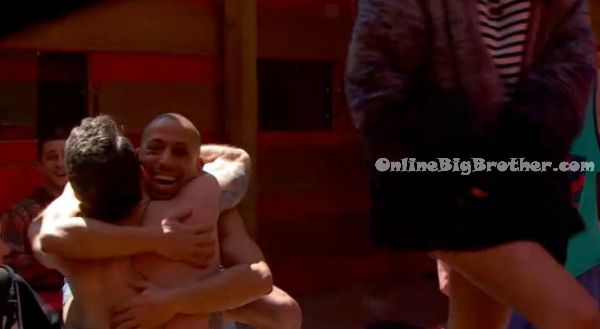 12:40pm – 1:10pm All the house guests are out in the hot tub room laughing and joking around. They talk about how they've revealed their alliance names to each other. The havenots asks if they can just be honest about what happened to the syrup. Neda doesn't accept responsibility for it. Adel says that he was the one who used the coffee filters to dry his hands. Kenny laughs that they suspected he was the one since they've seen him cleaning with them. They talk about how happy they are that they can just have fun now. Sarah says she's annoyed she's leaving now. Adel talks to Sabrina about how what made him so mad with when she compared the Quran religion a religion that has been around forever ..to her necklace made at a store. That's what I was like this is so f**king dumb. The house guests are all revealing secrets they've been hiding from either side.
ALL of a sudden Kenny says F**K IT I AM GAY! Everyone comes up and hugs Kenny and they all start talking about how shocked and amazed they are. Sabrina brings up how she kissed him. They all break out laughing. Sabrina says it's all ways the hottest guy that's gay! Jon says if someone came to me and said there is someone in the house that is gay .. I would name everyone in the house but you! Kenny brings up how they asked him if he as a boob man or an a$$man. Kenny says and I said I was an a$$man! Everyone breaks out laughing. Jon says this is going to be the best season ever! They all start clapping. Kenny tells them that he told Sarah a couple weeks ago. Kenny tells them that everything he told them about his life outside the house is true .. and that he only interchanged he for she in his stories. Kenny tells them why he kept it a secret. Arlie asks him if he likes women and men or just men. Kenny says that he was with women up till only a few years ago. They talk about how they all thought it was weird there was no gay guy in the house since there is always one. Arlie says I am so glad I could be here for this moment! Neda says thank you for sharing that with us Kenny. Heather says yeah thank you! Neda says I am confused because I have really good gay-dar!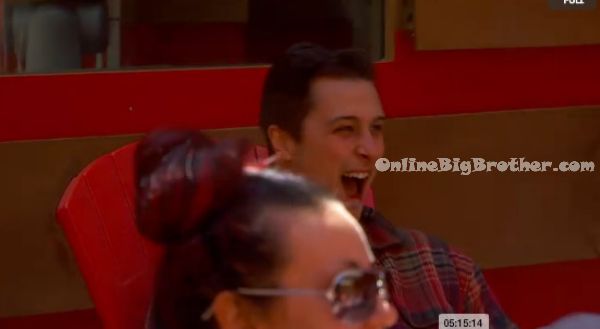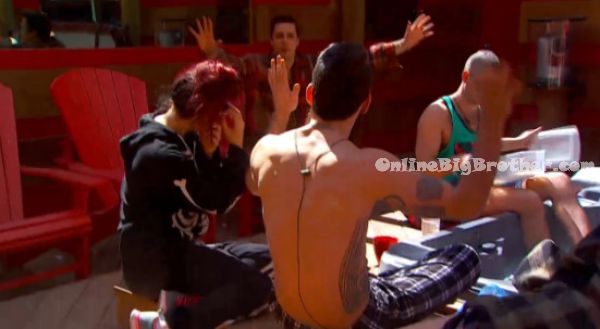 1:20pm Kenny tells them all about how he came out to his friends and family. He starts to cry. He says I have never had to hide the fact that I was gay. I have so much more respect for people that have to hid that they're gay. When I was hiding it in the game I started to think that I never wanted to promote the fact that you need to hid you're gay. Neda says okay now we need to get alcohol to celebrate this moment! We still want you out though Kenny!
@bigbspoilers Neda says Now we need to get alcohol to celebrate this moment! We still want you out tho Kenny! #bbcan2 pic.twitter.com/EC2M9cfIUq

— Dawg (@DawgsBigBrother) April 9, 2014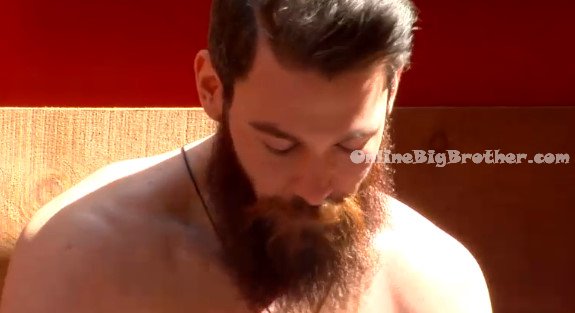 1:20pm – 1:30pm Inside the house Rachelle is so shocked and talking to Arlie about how they can't believe he's gay. Rachelle says oh my god I can't believe he is gay. And I said in the beginning that they put me and Kenny in the show to set us up.. Rachelle says my jaw has never dropped like that.. I'm so in shocked! I had no idea! They head up to the bathroom. Sarah joins them and says what a great last day! They talk about how she knew for the last 2 weeks. They asks if he was going to tell them. Sarah says he was planning to yell it out when you guys evicted him. Meanwhile out in the hot tub room – Kenny, Sabrina and Allison continue to talk about Kenny being gay. Allison says its so amazing that none of us had any idea. It just goes to show you that it breaks the stereotypical gay. Kenny says it could be anyone at any time you don't have to act a certain way. Allison says now we all want to snuggle Kenny. Kenny says I am ready for it .. I am so starved for affection! Heather hugs Kenny and tells him she is so happy for him but still so shocked. The grumpy fool is not me at all I think it was just me hiding this.. The lying and deceiving is not me at all.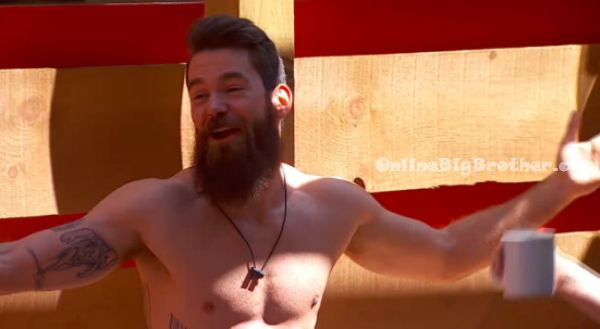 Stay connected and interact with other Big Brother Fans on our Facebook page.
And Follow: @BigBspoilers and @Dawgsbigbrother on Twitter for the most up to date spoilers.
If you're enjoying the live feed updates this season, please consider donating. Simon and I work 24/7 all season long to keep you updated on everything that happens inside the BBCAN house. Any amount is greatly appreciated! Your donations go directly to paying the server and bandwidth fees required to run this site.