POV Holder:
Kenny
Next POV
?
POV Used
?
POV Ceremony
April 7
HOH Winner:
Heather
Next HOH:
Apr 10
Original Nominations:
Kenny & Allison
Current Nominations:
Sarah & Allison
Have Nots
Sarah, Kenny, Rachelle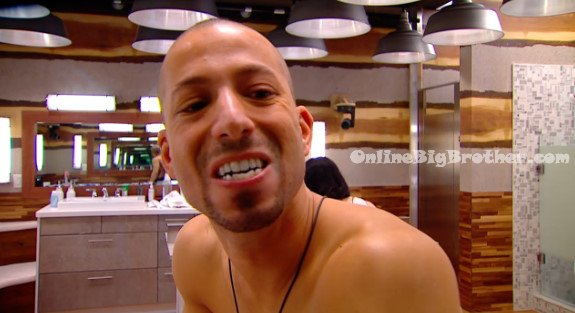 9:20am – 10:25am Big Brother wakes up the house guests. Jon tells Arlie that he had his 18th dream that Janelle left him. Arlie says he thinks he's fine. Jon says this house is f**king my balls! Sarah asks what did the house do to you? Jon says nothing, just my dreams. Kenny comments that he's broke 170lbs. He says he came in at 176 and was up to 178 but has now lost over 8lbs. Sabrina joins them and talks about how she took off her top last night and then realized she was wasn't covered up. Sarah says that when she gets home she is going to google those photos and make a montage of all their n@ked photos. Kenny says that he's going to pack today just in case it is a double because he doesn't want his sh*t everywhere. Sarah says I just hope whoever gets evicted after me gets to do the aftershow with me.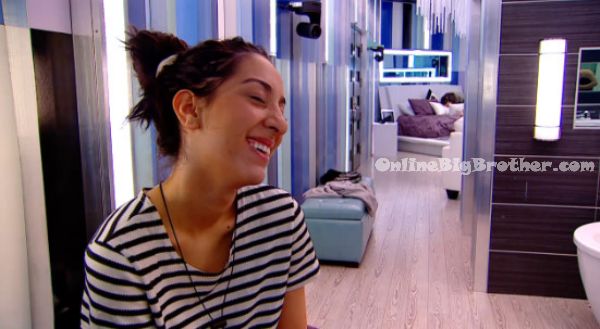 Up in the HOH room – Arlie says that he wishes the HOH competition tomorrow was some sort of physical confrontation and not just because I got 6'5″ on my side but because I would knock Kenny's socks off. Jon says he would round house Neda in the face. Arlie asks hey Neda where's Waldo? Neda laughs and says up your a$$ Jon! Jon says hey that was Arlie. Arlie asks hey Neda, how long ago did you break out of jail? They laugh. Arlie asks hey Neda were your parents Zebras? They laugh. Neda says they were actually! That's how I got on the show. Arlie asks are you guys playing kiss my a$$ again? Jon says no because Neda would be kissing it all day long. Jon and Neda head to the main bedroom.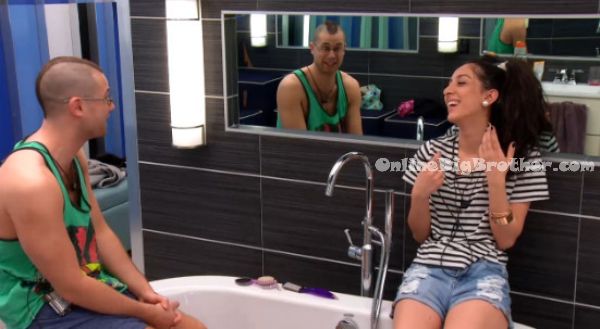 10:40am – 11:10am Neda tells Arlie you're so funny looking! You know your boxers, your tee, your little mohawk and the A on your chest. Arlie laughs and says thanks. Neda says you know what I mean. Meanwhile out in the hot tub room – Sarah, Rachelle, Sabrina and Kenny are talking about the slop. Rachelle says this is so disgusting! It tastes like someone sh@t in my bowl. Sarah says when they asked me to describe it I said its like eating diarrhoea mixed with sand. Rachelle says eww gross. Rachelle says I wish there was another mission or something. Kenny, Sarah, Rachelle, Sabrina and Adel lay out to suntan.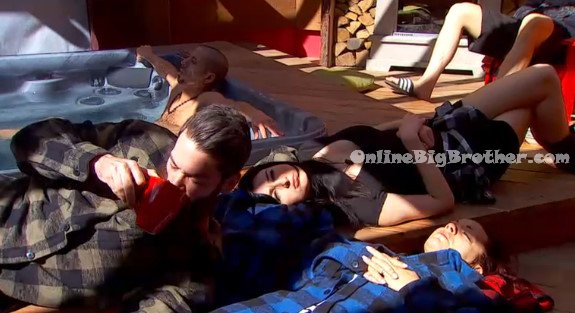 11:20am In the living room – Sabrina says there's a good chance I could go if Kenny wins the veto. Rachelle agrees. Rachelle goes into the storage room and says NOOO.. someone stole my hidden candy! I put so many chocolate almonds aside and someone ate them. Sabrina says what do you expect we live with piranhas. Sabrina walks out and then comes back and says I keep walking and then looking back expecting you to follow. Rachelle then follows her out of the storage room. Rachelle says I hate this place! Rachelle goes out and tells Kenny & Sarah someone ate her chocolate raisins. Kenny says what did you expect. Sarah says next time someone hides something eat it, even if you don't want it.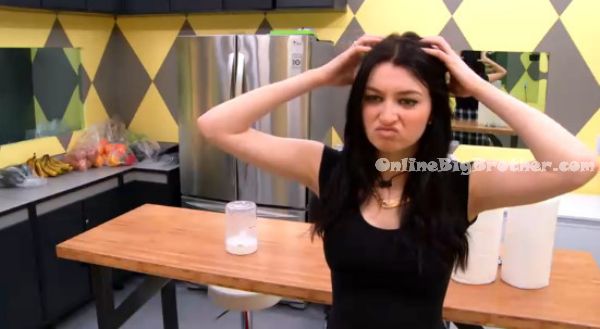 11:35am – 12:10pm Jon says the fist man Shaban just fisting the first five! Sabrina yells out I love you Andrew!! Neda is called a floater. Neda says I would not call myself a floater ..I never floated to the person in power. When Andrew was in power I am pretty sure I was the only one that did not crawl in bed with him! So I would not call myself a floater, thank you very much! Jon says calm down she was just joking. Rachelle says I'd call myself a floater. I accept it. The conversation turns to talking about the girls alliance. Neda says when you put up Rachelle I was done that's when I turned. Who puts up their alliance member (Ika) you dumba$$es! Especially you (Rachelle)! You (Sabrina) I kind of understand.
Sabrina says what are we supposed to do write you guys the cheque. Arlie says so we're supposed to sit back and write you the cheque?! Sabrina and Arlie start getting in to it.. Arlie says he turned on the first five when Sabrina tried to bring Allison into the alliance and was telling Rachelle about the alliance. Sabrina goes up to the bathroom with Rachelle and Sabrina says I don't want to go to jury with these a$$ f**ker!! I just want to go home! Rachelle says I can't believe how ballsy Neda is ..where the f**k did that come from. Sabrina says they better hope I don't lose it ..because they are going to run for the hills. Rachelle says I hate all these little people like Heather that think they're so cool now. Sabrina says they won't think that when I win HOH tomorrow. Rachelle says good that's what I like to hear. Sabrina says either I win or I go home .. I don't care any more. Rachelle says the forsaken with conquer. Sabrina says I can't wait for people to leave here and relationships are ruined. Rachelle comments on how Jon said Neda really turns him on when she gets angry.
12:20pm – 12:40pm Sabrina comes back through the kitchen and tells them that she is sorry and gives them all a hug. After she hugs Neda she says I did like you and I still do.. Neda laughs and says you did? Sabrina corrects herself and says I do like you. Sabrina says I just want us all to enjoy ourselves. I'm a really emotional person and if I talk about it more I am going to explode. Arlie heads out to the hot tub. Sarah and Kenny try to get Arlie to talk about the fight between him and Sabrina inside. Arlie says he doesn't want to talk about it because Sabrina just apologized and said she doesn't want to talk about it any more. Adel laughs and tells Kenny that he is the leader of the Gremlins. They all laugh. Kenny says aww.. no!! Sarah tells them their alliance name the forsaken. Arlie then tells them their alliance name the sloppy seconds. He says because like you guys we were forsaken.. pushed aside.

Meanwhile inside the house – Sabrina talks to Jon about his relationship with Neda and whether or not he would be affected if he saw his girlfriend with a guy the same way. Jon say that it would affect him. Sabrina says she thinks it will be different when he goes home to his girlfriend but that it will be okay. Jon says Neda and I were never in the same bed when there was another bed open and even when we were in the same bed we didn't cuddle or spoon. I never had a showmance, cuddle-mance, anything-mance. I'm worried about but I'm not that worried about it. Heather tells him I don't think you have anything to worry about. Jon asks Allison if she would be jealous. Allsion says she would be jealous with his relationship with Neda. Jon says but we never cuddled. Neda says it's just because I am a girl and you're a guy. Jon says if someone breaks up with you over that then there was never anything there any ways.
Stay connected and interact with other Big Brother Fans on our Facebook page.
And Follow: @BigBspoilers and @Dawgsbigbrother on Twitter for the most up to date spoilers.