If you like this site and want to help us keep it running please consider donating, Your donations go directly to paying the server and bandwidth fees. Donate Link
5:30pm living room Lawon, Dani and Kalia They are whispering about who to put up. Sounds like Kalia is thinking that maybe she'll explore another option other than Adam. Dani suggests she talk to Porsche and find out her response after you tell her who are not sure of the replacement nomination. Dani also thinks Kalia needs to talk to adam soon and find out if he went up as a pawn who would vote him out. Dani and Kalia both think that Adam is the best choice but Kalia plans on talking to some people tonight to figure things out. POrsche joins them, Kalia leaves to grab some food from her HOH basket.
Big Brother 13 Live Feeds Can be watched on your iPhone and Android Mobile devices sign up -> Watch Big Brother 13 on Your iPhone or Android Phone
5:50pm Living room Everyone but JJ (even rachel) engaging in conversations about TV shows. Everyone is getting along. Rachel is really clinging close to Kalia. POrsche is close to Dani with her back turned to rachel and Adam/LAwon are beside each other in a side conversation. I think Lawon is laying down.
(JJ seem to have Bunker down while rachel starts rebuilding her social game, she's coming across as normal)
6:14pm Porsche and Adam kitchen they are preparing something to eat. Adam is using a cheese grater to grate up a coconut. Porsche does a little dance to the grating sound.
Porsche sneaks some game words in for Adam. Saying that
Adam says he"s confused.. (can't hear due to whispering)
Porsche "confused"?
Adam whispers something about Jordan.
Porsche says the whole plan was to put up Kalia and Lawon and backdoor Dani.
Adam: "Ahh gotcha comprendo"
Porsche says her short conversation with Jeff Schroeder today was the first time he talked to her in 2 days. (He was pissed at her for picking him and Shelly for the HOH comp, Porche claims she did it because they were the only 2 that didn't have a chance to face off in it and she wanted to be fair. Taht coupled with her spending more time with DK is why Porsche has been shunned. I also think the straight shooter has shot some straight BLANK to them to about porsche)
Adam: "honestly I don't think It made a difference.. " (meaning they would of turned on Porsche regardless of what she did in the HOH comp"
Porsche: "I play fair".. (She also whispers something about she can handle JJ she's not worried)
6:30pm bedroom Porsche and Adam Porsche explains why she left the BRJJ alliance.
Porsche says that last week rachel told her to make deals with DK to keep herself off the block. She spent time in the HOH eating cheese and talking with the girls. When she went downstairs and outside to hang out with JJBR, Jeff, Brendon and rachle freaked out on her, "That got my gears turning… I didn't come into this house to get bullied" Porsche says they were basically using her for a vote and thinking she was too stupid to actually play the game.
Porsche says rachel was talking mad BLANK about Jordan a week ago now they are best friends and they kicked me out after I have been voting with them. Porsche explains this was all because she made the deal with Dani to keep herself off the block last week and for putting Jeff and Shelly up to face off ion the HOH comp. POrsche doesn't understand why rachel and Jeff got so mad at her she thought she's proven her loyalty to them, She reminded Rachel that she did vote to keep brendon. Porsche brings up that she told Rachel to stop all the crazy drama in the house and she's sure that rachel took offense to that.
Porsche has heard that rachel has been talking BLANK about Adam, Adam knows he's starting to piece it together but he's not worried about rachel she's sinking fast.
POrsche says she talked to Shelly and finds out that rachel and Jeff were calling her a traitor and a floater (Drink), "this is after I voted for Brendon to stay". Porsche thinks that something is really strange with Rachel her moods flip to such extremes and she gets so nasty and immature. adam mostly just agreeing not adding much.
Porsche brings up the other day when she walked up to rachel and told her she didn't have to play nice to her it's cool she would rahter rachel not be fake. . rachel replied "uhh why do you think i'm mad at you" Porsche called her out on calling her a traitor, not thanking her for voting for Brendon and for not sticking up for her when Jeff is pissed at her.
Rachel: "OHH MY GOD who said that to you that.. I'm not mad at you"
Porsche reiterates that one minute Rachel is telling her she's their best friend in the house then the next minutes Porsche is getting dirty looks and BLANK slung at her, "I'm not here to play a catty BLANK game".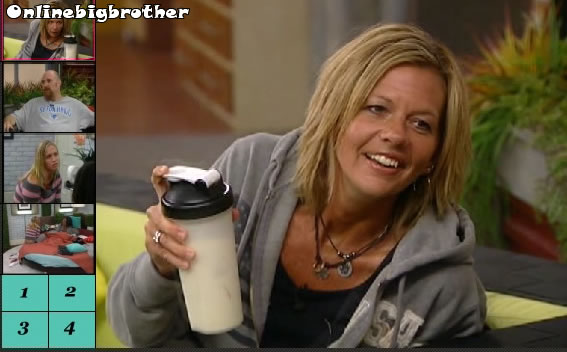 6:50pm Living Room Adam and Shelly
Adam is going over his conversation with Porsche.. Adam says he went to say sorry to Jordan after the Have nots for "Making her drink that stuff" he's really a nice person and doesn't like how personal the game has become. Shelly points out that JJ are not taking whats happening for good, "There grumpy to everyone and locked up in rooms together" Adam thinks that Jeff is doing alright. Shelly disagrees says Jeff has gotten cranky. Adam defends Jeff says that they have been locked in for a long time so maybe it's getting to him. Adam is worried because Rachel saw him talking to Prosche that she's taking BLANK about him. Shelly: "Adam they are throwing you and Porsche under the bus right now"
Shelly says that she talked to Kalia in the storage room and she mentioned that Rachel is coming up with some good points about why to keep her in the game. Shelly adds that Kalia is talking to Rachel a lot lately and she's getting along with her. I told Kalia "are you serious!"
7:10pm HOH Kalia and POrsche Porsche is essentially distancing herself from the JJR alliance. Kalia says that she's trying to figure out who should go up as the pawn. She's pretty confident that they will have the votes so it will really not matter. Kalia warns her that after the replacement nomination is picked things are going to get ugly in here. She tells porsche that she will be bombarded by JJR to flip her vote and safe rachel. kalia mentions that Rachel is the target. Kalia warns her that Jeff is going to try to intimated and bully her. Porsche tells her that Brendon scared her the most and she's not worried about Jeff she thinks she can handle him. Kalia says if Jeff or Jordan wins HOH next week she's going up but she's not too worried that Jordan will win it.
Kalia is sure that Shelly will vote Rachel out, she thinks the final tally will be 4-2. Kalia wants to talk to JJ and get things figured out but they really refuse to talk to her and they are being grumpy. Kalia is hoping that after they wake up JJ will not be so grumpy and they can talk things through. Porsche is worried that if Jeff wins HOH he'll put her and Kalia up. Kalia thinks that is a safe bet, "let me tell you something he's not going to win HOH it's going to be questions again". Kalia: "I love jeff he's a great guy but he's not the brightest with questions".
Porsche swear she will vote rachel out of the house.. Kalia is glad says she's going to talk to Adam and tell him he's most likely going up but he's got the votes to stay.
This is not the official CBS Poll, go to this link to vote for a evicted houseguest to have a chance at coming back into the house


Big Brother 13 Spoilers POLL CAST your VOTE!

Big Brother 13 Live Feed Image Gallery
Follow: @BigBspoilers and @Dawgsbigbrother on Twitter for recent crazed out spoilers. Theres also our Facebook page.
Share it YO!!
Tweet