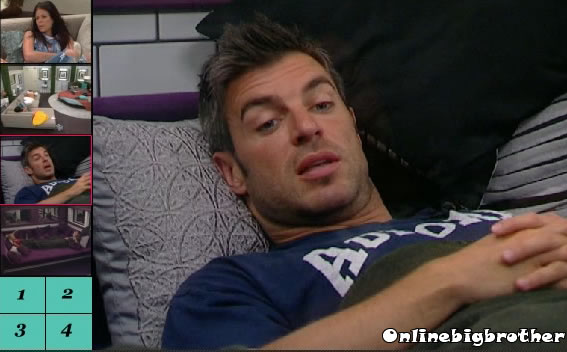 If you like this site and want to help us keep it running please consider donating, Your donations go directly to paying the server and bandwidth fees. Donate Link
3:54 Purple room JJ Jeff says when he wins HOH next week he's putting up 2 floaters (Drink). This is what he's been telling Dani but his plan will be to backdoor her. Jeff: "You trick me week ONE do you think I forgot YOU STUPID BITCH ".
Jeff brings up how they need rachel to come back or Porsche to be evicted this week. Jordan: "it seems like we are the only ones that thinks someone is coming back" Jeff tells her it's because they need rachel to come back or they lose another person on their side, "there winning right now so they don't care". Rachel joins them says that Prosche is with DK 100%, Jeff and Jordan agree. Jeff adds that Porsche is a super flaoter (Drink). rachel: "super duper floater (drink)" rachel reminds them that if they would of won the HOH Porsche would be with them right now. Jeff comments about how stupid Prosche is .. Feeds cut…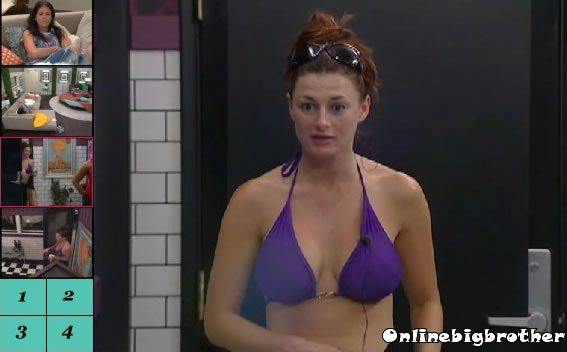 Rachel has talked to Kalia but she doubts there will be anything done becuase Dani is controling the HOH and Dani wants her gone. Rachel's only chance is to get Proche up. Jeff thinks they should try and talk to Dani tonight. Rachel says if they can get Porsche evicted there is no way America would vote her back in.
Rachel adds that she's really confident that the Viewers want to see more drama and bring her back. Rachel thinks that the "Viewers" are probably "going crazy" because the floaters (Drink) got rid of brendon then rachel back to back. rachel wonders why dani seems to not worry about the twist. She suggests they get Dani to start worrying about the twist and then they'll be more inclined to put up a floater (They talk like Dani has the HOH, rachel is surprising me she's acting semi normal and is actually thinking of viable strategies to stay in the house )
Big Brother 13 Live Feeds Can be watched on your iPhone and Android Mobile devices sign up -> Watch Big Brother 13 on Your iPhone or Android Phone
4:26pm Backyard Lawon, Jordan, Shelly, POrsche, Dani Adam is talking about how he's going to shave off his goate for Thursday and save it in a bag. dani thinks that is the weirdest thing. Adam says when he shaved off his pony tail he stored it in a bag and still has it aht home.
Adam jokes "It's the Adam show"
Dani whispers "I can't wait to have alcohol tonight"
Adam: "Hopefully they don't give us 3 beers and a bottle of wine"
Dani wants 2 bottles of wine and 6 beers.. adam doubts they'll give them that much.
.. We here a song in the background it's coming from outside the Big BRother house (I think it's Rihanna) they start laughing as Adam does a "club" dance Feeds get cut…. 4:44pm feeds still cut.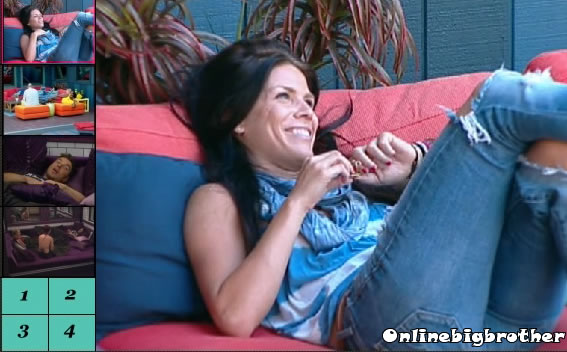 4:48pm Feeds back they are all inside lockdown. There is something going on out side the Big bRother house so production hauled them inside until it's over. Everyone seems bummed that they didn't get to listen to the music…
5:00pm Adam, JJ and Rachel There talking Vegas and bourbon…
This is not the official CBS Poll, go to this link to vote for a evicted houseguest to have a chance at coming back into the house


Big Brother 13 Spoilers POLL CAST your VOTE!

Big Brother 13 Live Feed Image Gallery
Follow: @BigBspoilers and @Dawgsbigbrother on Twitter for recent crazed out spoilers. Theres also our Facebook page.
Share it YO!!
Tweet