If you like this site and want to help us keep it running please consider donating, Your donations go directly to paying the server and bandwidth fees. Donate Link
7:48pm Purple Room Shelly and Dani Dani is saying the person coming back may not necessarily be able to still compete in comps. She brings up that last year rachel came back for a day with the sole person to stir shit up. Dani: "Now imagine rachel back in the house for the entire season.. OMG I would need Dr Zachary every day" Shelly starts howling.
Shelly says that Kalia is waffling, she wonders why she won't put Lawon up because Kalia hated him the first couple week. Dani explains that She's worried that Lawon might go home because Rachel is pitching to everyone that he's a floater (Drink) and he needs to go home. Dani adds that Kalia is probably thinking that people may start thinking that WOW Lawon really doesn't do anything so they might vote him out over Rachel.
Shelly thinks Lawon can beat rachel easy, Dani: "thats the way I feel". Shelly says it seems like all Kalia is worried about is JJ and getting back good with them. Dani knows thinks it's a waste of time. Shelly knows JJ are pissed and she doesn't think Kalia will get what she wants from them. Shelly adds that JJ are in a bad move all around and they're not being very nice to people.
Shelly's been trying to stay away from them for the time being. They go back to discussing the twist.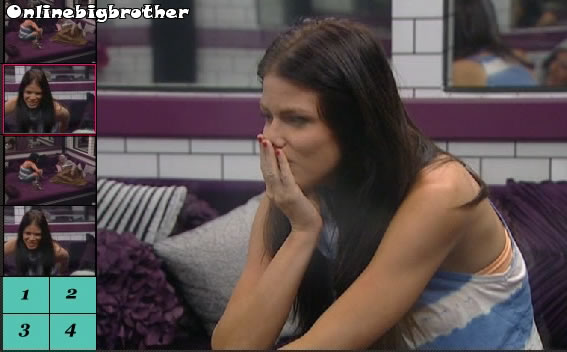 Big Brother 13 Live Feeds Can be watched on your iPhone and Android Mobile devices sign up -> Watch Big Brother 13 on Your iPhone or Android Phone
8:28pm Lawon and Dani Dani is saying that Rachel is changing her behavior and attaching herself to Kalia. Says rachel's acting like her and Kalia are BFF all of a sudden.
Lawon: "I may be the blonde in the group but i'm black haired really in life.. Let her think in her RATCHEL world that it's going to work" Dani says it seems like Kalia is kinda falling for some of Rachel stuff.. THey laugh Dani: "Ohh lawon what are we going to do"
Dani and Lawon sharing jokes having fun. (Dani's social game is focusing on Lawon, Porsche, Shelly, Kalia and Adam. she's doing a great job on them. Rachel has also really ramped up her social game) porsche joins them says she was up in the HOH talking to Kalia and rachel kept interrupting them. Kalia joins them, They are talking about why they are in lockdown until 1am, there is wedding going on outside on the CBS lot. kalia: "Why wold you have a wedding on the CBS lot?"
Kalia mentions how pissed she is about JJ not even coming to her to talk things out. Porsche thinks maybe they feel safe and don't need to talk to her. Kalia tells them that her decision to not put Jrodan up as the replacement shows everyone that she won't go back on her word. Kalia: "At this point I cannot trust them at all" lawon agrees tells her it's good that she's showing the house she won't go against her word.
Jordan briefly enters the room Kalia starts trying to engage in conversation with her.. Jordan just searching for some shirt doesn't really add much back and she leaves.
8:53pm they got 4 Heineken and a bottle of wine Jeff and rachel have finally emerged from their hiding places.. I think Jordan is still in hiding. The houseguests are not too happy with the small amount of liquor they were hoping for 2 bottles of wine.
This is not the official CBS Poll, go to this link to vote for a evicted houseguest to have a chance at coming back into the house


Big Brother 13 Spoilers POLL CAST your VOTE!

Big Brother 13 Live Feed Image Gallery
Follow: @BigBspoilers and @Dawgsbigbrother on Twitter for recent crazed out spoilers. Theres also our Facebook page.
Share it YO!!
Tweet