POV Holder:
Next POV
Aug 1st
POV Used
?
POV Ceremony
Aug 2nd
HOH
James
Next HOH
Aug 6th
Original Nominations:
?
Current Nominations:
?
Have Nots
?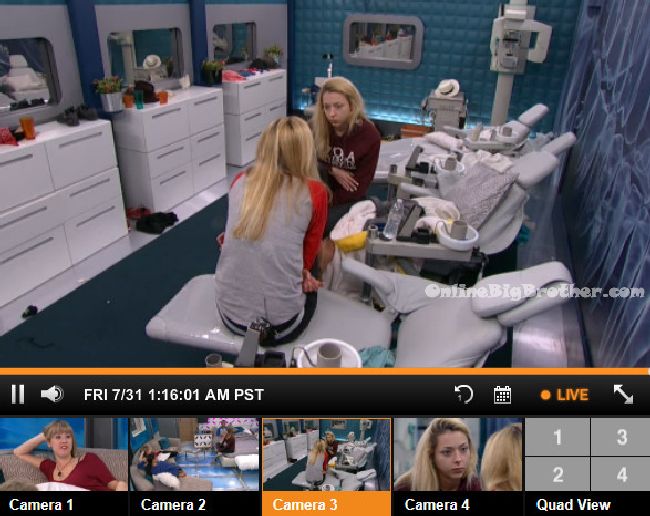 TRY the Big Brother 17 Live Feeds FREE for 1 WEEK:
Click here to ensure your live feed subscription supports OnlineBigBrother.com at no extra cost to you.
1:15am Havenot room –
Julia tells Liz I didn't want to say this but I think Austin is going to go before us. So stop worrying about it. Liz says this is what we have to say – Look James we have nothing to hide any more. We're twins and we think we're going to have such a big opportunity after the show to make something of ourselves. So we're not here for the money. We're here for the notoriety. We just want to get to jury and then we're 100% okay. So let us know what we need to do to save you if you keep us. That's two votes on your side and we will do anything to stay here until at least jury. What do you think about that? Julia says I like it. Liz says I don't know if he will bring up the fact that I put him up. If he does I'll say that I'll throw the next HOH. Julia says we will tell him he will have both of our votes, we both wont put him up. Julia says I feel like we owe Vanessa over Austin. Liz says that she would keep Vanessa over Austin any day. Julia says Vanessa is the one that has our back. Liz says plus Austin is creepy.. well not creepy but he is always trying to cuddle with me. Julia says I heard you spooned too. Liz says yeah why is that a big deal? Julia asks did you feel his pee pee? Liz says ewww. Julia says I bet you its huge! It couldn't be like James's (She guestures with two fingers close together.) A little toothpick! Julia says if you get put up. Liz says I'm just worried about the campaigning. Julia says lets stroke his ego. Lets go stroke the cat. Julia says okay your boyfriend is going to come looking for you soon. Liz says I just wish I had put up Steve instead, then none of this would be happening. Austin joins them. Liz says she's worried she will be put up. He tells them I will just tell him to put me up.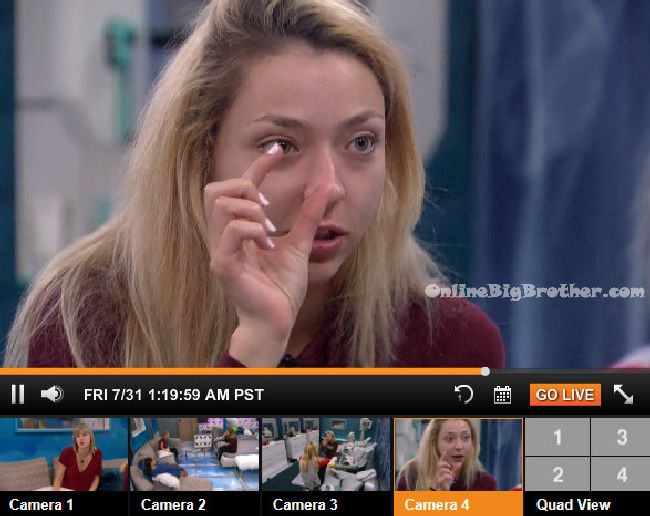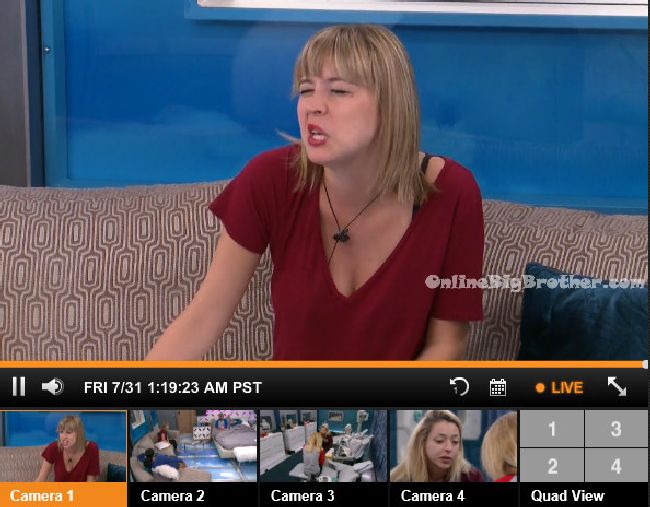 1:15am – 1:55am HOH room – Meg asks I'm trying to think about who else we put up other than Steve. James says Austin hasn't been put on the block. Meg says if they try to use it (Veto) on Liz, then you'll still have Liz's vote for Austin. She's not going to vote him out. Johnny Mac would be on board. Then even if its 3 of us, Johnny Mac and Liz. Meg says that Julia has no loyalties to Shelli! James says Julia, no. That actually is a good idea. Austin and Liz. Meg says the best thing about that is they won't think we're going for Shelli, they'll think we're going for the other side of the house. Vanessa joins them and asks to talk to James. Everyone leaves but Vanessa and James. James says that people cut final 4 deals with Jason. Not you but I just wanted to know if you've heard people saying that I can't be trusted. Have you personally heard from somewhere about me getting cut. Vanessa says yes I have. Here's the thing, I'm not a rat. I don't want to throw anyone under the bus. James says you and I have a straight up relationship. Everything I've said is the truth other than that one time. You don't need to tell me who did it, just point me in an area. Throw me a bone or something. Vanessa says let me figure out who to say this without being disloyal. I heard from people that I trust that Jason & Meg talked to Shelli & Clay that they don't know where you stand. I told Jason that I thought that was low. Vanessa talks about how Jason was willing to cut James which concerned her because they had been loyal since week 1. Vanessa says jury will likely start after this next eviction so this is our 1 opportunity to pick someone that will not go to jury. Who would never vote for you in jury? Or who would take things personally? I would be someone that would least take it personally. Considering what happened last week it would be in your best interest to make a big move and to break things up so people are more free to reorganize. James says if I'm HOH, I'm going to make a big move. I want the wishy washy people to go home and the straight up people like you to still be here. James asks what if I was dead on a big target would you go with it or against it? Vanessa says I am adaptable. If you have to go after someone and their my friend I will understand its a game move. James says I don't want to go after the wrong friend. Vanessa says well I am close with Shelli and look who she made a deal for .. Clay and not me. Whatever direction you decide to go I will be supportive. What I can offer .. if you don't put me up.. I am the most reasonable people and least connected people in the house. I would be willing to work with you. I would make a good juror. Whenever I win my next HOH, you are 100% safe whether its now or in the finals. If I'm HOH before final 7 you can also exclude 1 person from being put up on the block besides you. James says that's a good deal! Vanessa asks have you talked to Shelli & CLay .. they might be able to guide you if you have questions. They talk to a lot more people. Vanessa leaves.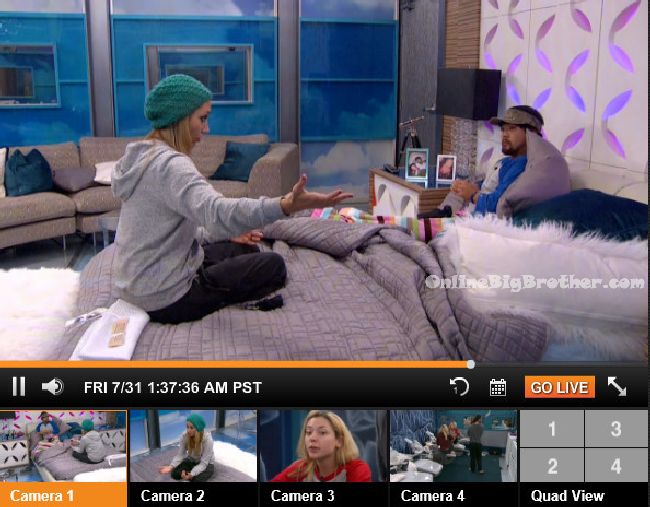 2am HOH room – Austin comes up to talk to James. Austin tells James how he had to sell his soul to stay in here this last week. James says help me get you to jury. Austin says if you're in finals I'll vote for you. If you want me to throw HOH, I'll do it. If you put me in jury I can't go against you. James says I definitely want to work with you, Liz and Julia. Austin says and they want to work with you. James says I don't know who to be loyal to. Everyone is getting axed. I'm a lone wolf. Austin says the twins goal is to get to jury too. I want to work with you. James says I do too. People were thinking we were getting too close. Austin says I love you man. If you don't put me up I will continue to keep bringing you information once people start telling me things again. James says you're good till jury with me. How do you feel about Jackie? Austin says I like her. We talked last night and agreed not to target each other. She could be a target for me if that's the direction you want me to go. James says if we're working together you need to throw out names. Austin says I don't know who you're working with? James says Meg and possibly Jackie. James says if I was to make a big move would I have your word to vote how I need you to? In terms of all 3 of you (Austin + Twins) and Vanessa. Austin says I would give you my word right now and shake your hand! James shakes Austin hand.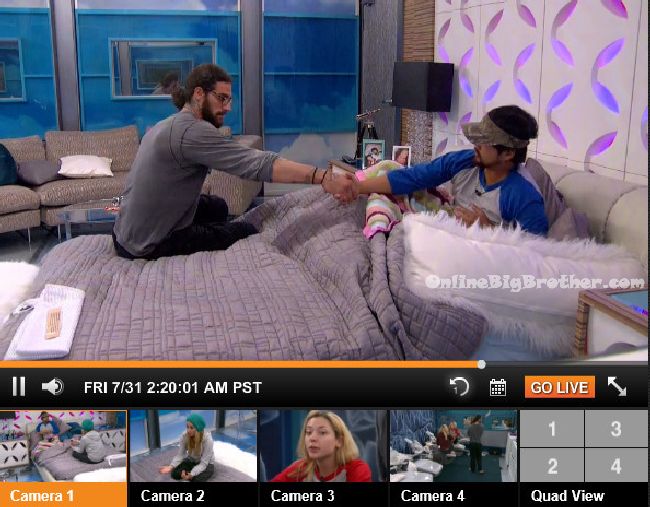 2am Cabana room – Vanessa talks to Julia and Liz. Vanessa tells them James likes straight shooters. He doesn't like bullsh*tters. Clay joins them. Vanessa says If you want to offer him a deal, offer him a deal. At the end of the day only one person can go home this week. James said he wants to make a big move. I think it would be smartest to point him in direction of a floater. Liz asks how do we do that though. Vanessa says you know who the floaters are, I'm not going to say names. Vanessa tells them we're two twin girls that were put on for comic relief. And tell James you'll be fun in jury. He will love that.
2:08pm Bathroom – Becky tells Clay about the conversation in the HOH room. Clay asks what were their points. Becky says the Jason thing. Clay asks who said what? Becky says it is equal, equal! Jackie, Meg and James. Clay asks they specifically brought up our names? Becky says yeah that they couldn't trust you guys last week and that they felt last week you were acting weird. That you knew about the Jason thing but wouldn't tell them. Clay asks they're going to backdoor us? Becky says I believe that its not determined but its a big focus. Clay asks do you have any idea who is behind the idea of the backdoor? Becky says all three of them are mutually set on it. I tried so hard, I tried everything. Nope, they were not budging. Becky says the feel that you guys broke the promise last week. Becky says don't even trust Vanessa. Not in a bad way but they're going to pin her. They're going to make it seem like they're going to save her. Act cool, keep cool. Clay says okay thank you. They break up the conversation but talk again in the cabana room. Becky tells Clay that they're going to corner her (Vanessa). Any information you give her.. they might back her up against the wall. Your best thing because they want to blind side you .. you need to act happy and oblivious to it. Vanessa joins Clay. Vanessa asks what did Becky talk to you about? Clay says she asked who my targets would be. Vanessa asks did you answer? Clay says oh no. Vanessa tells him to be careful. I think I'm going to be okay. He's a straight shooter. Clay goes to get Shelli. Vanessa talks about her conversation with James.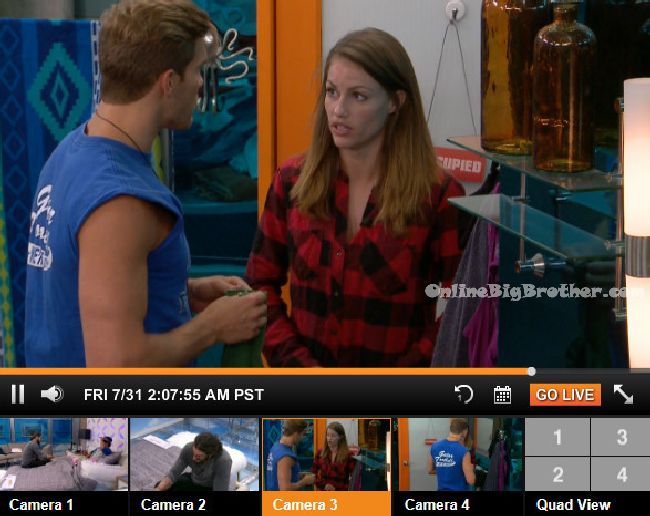 2:20am HOH room – James, Liz, Julia and Austin. James says I want to take all to jury. You all lucked out with me winning HOH this week. Help me, help you get to jury. I can't say who my targets or my nominees are. Julia tells James we will be fun in jury. James agrees. He says if I make a small decision I need to have your vote and to not be flip floppy. And if I decide to make a big move I need you to do the same. Austin says I him (James) that would fight for him next week because he can't play. James says for this week there has been little talks about me going up as a target. Austin says I only heard Steve as the target. Liz says yeah that's what I heard too. Julia says I haven't been here for 6 days. Austin leaves. The twins give their pitch with wanting to work with him. Its a two for one deal. We won't put you up or backdoor you. We are two vote for whatever you want. James says 3 votes because I know Austin is going to vote with you guys.
Try the Live Feeds FREE for 7 DAYS! Click here for your: FREE Trial
Share it YO!!
Tweet