POV Holder:
Next POV
Aug 1st
POV Used
?
POV Ceremony
Aug 2nd
HOH
James
Next HOH
Aug 6th
Original Nominations:
?
Current Nominations:
?
Have Nots
Austin, Liz, Julia
TRY the Big Brother 17 Live Feeds FREE for 1 WEEK:
Click here to ensure your live feed subscription supports OnlineBigBrother.com at no extra cost to you.
12pm Vanessa gets called to the diary room. She briefly talks to Julia in the kitchen. Julia says that she just came out of the diary room. She says they asked her about the comp (Last nights HOH competition). Julia then says crap I can't talk about it. Vanessa heads into the diary room.

12:15pm In the bathroom room – Vanessa talks to Clay. She asks so you have no idea who is being put up? Clay says no. Vanessa says but you guys talked to him for a long time, how do you have no idea. Clay says he wasn't saying a whole lot. He said he might put up Steve. Whether I trust him, I don't know. He never said I am going to put up these two people. Vanessa asks can you give me your word that you never threw me under the bus? Clay says Vanessa! Vanessa says I'm trusting you. Clay says we would never throw you under the bus. We made sure he wasn't going to put you up. Vanessa says okay because that's what I did also! Big Brother blocks the feeds. When the feeds return – Vanessa says havenots.. f**k I don't want to be a havenot again. Vanessa leaves. Shelli joins Clay. Clay says you know how when you're guilty you get paranoid. For some reason Vanessa just came up to me and asked me if we're good. Clay tells her about how Vanessa made him swear we didn't throw her under the bus. I told her no, I don't even know why you would ask me that. It makes me think she's guilty.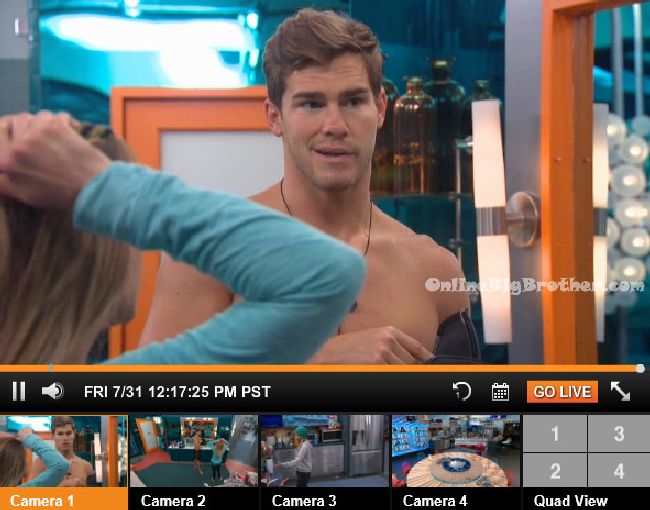 12:25pm HOH room.
James tells Johnny Mac how he has never been a target and you're good with me. My question is do I make a little ripple or do I throw a big stone and make a big ripple. If I keep you safe will you agree to keep me safe next week. Johnny says yeah I can do that. James says I just need you to be kind of supportive of this decision and it will help your game too. One of the power couples needs to be split up. I just need you to keep me safe next week and I'll get you into jury. I won't backdoor you. I'll let you vote how you want to vote. I feel like that's fair. Johnny says yeah alright! I like the sounds of everything there. Awesome! James says this week is going to get a little hectic! This is the last bloody week before jury and I've got to make it count. Otherwise we're going to be working against a lot of couples and we need to take one out. Johnny says yeah that makes sense. I hear ya. James asks have you heard anything about me. Johnny says you stuck by Jason and I respect that.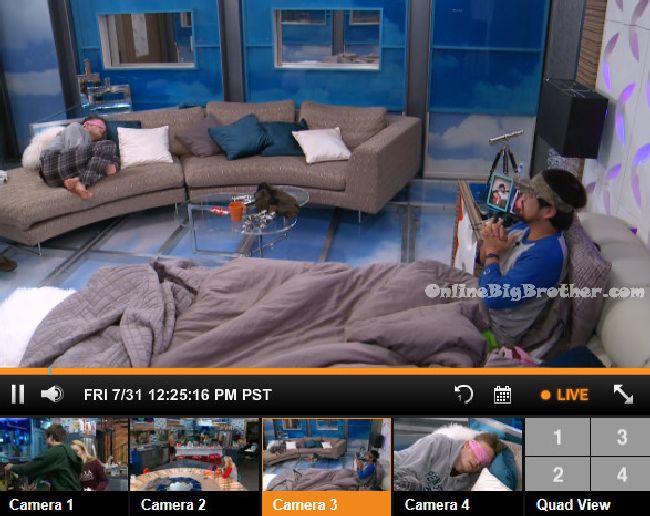 12:25pm Kitchen – Vanessa says this will be havenots, does anyone know who will be volunteering? Julia says says yeah the Aus-twins (Austin, Julia & Liz).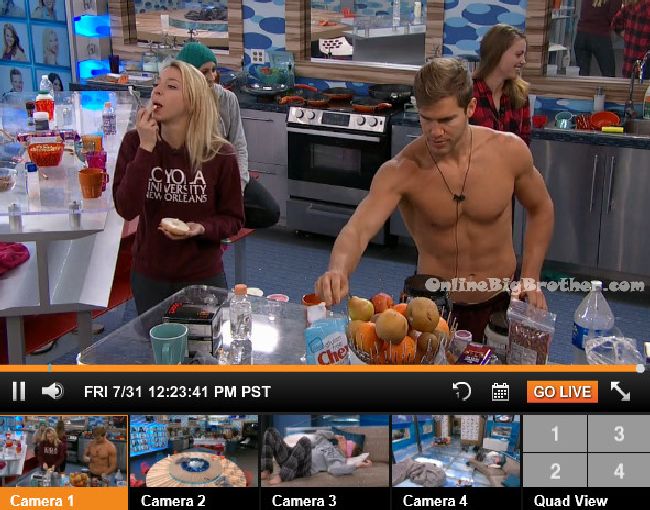 12:30pm – 1:05pm Big Brother blocks the feeds for the havenots to be picked. The feeds return to the house guests coming down from the HOH room to find the havenot extra food. The extra food this week is Lolly-Slop (Candy). Austin, Liz and Julia volunteered to be havenots this week.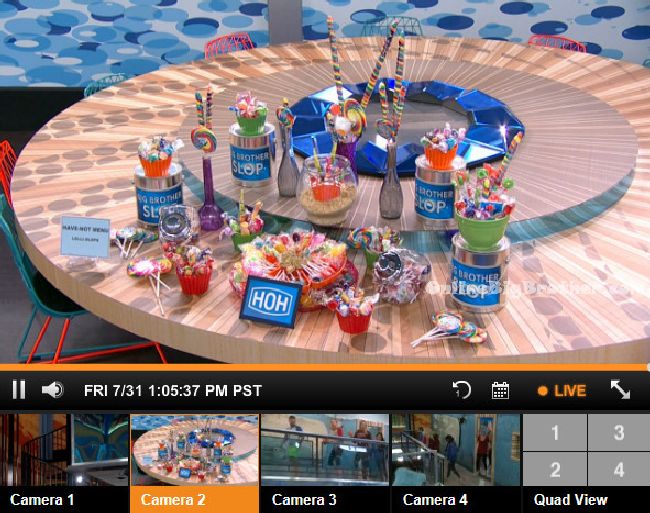 James is going to nominate: Shelli & Clay
1:10pm – 1:20pm HOH room – James talks to Austin and tells him he is going to go for a big player. I'm a heavy hitter. I can't say who, its a strong couple. Austin asks its not liztin? James says no. Just be ready its not ya'll. Austin says you've got my support. I've been in the dark. James says if one of them comes off, I need someone to go up to insure one of them go home. Its between one of you three (Austin, Liz and Julia). You've got Meg, Jackie and I'm pretty sure you would have John too. When you see what happens you'll know why. Austin says I'm behind you and will support you whatever you want to do. If there are things you need to do, I'm willing to do what you need, you can put me up if you need to. Once nominations go up and I'm not up there and twins aren't up there I'm with you. James says If one of them wins the veto I'll need someone to go up there. James says Vanessa is good with me and I'm not going to put her up and not even as a replacement. Austin asks do you think I could get voted out over this other person. Do you think its better one of the twins go up? James says that Steve said he would vote my way. Austin says I will play veto and keep the noms the same .. and here's the perfect excuse .. I can't use it and risk you putting up one of the twins. Vanessa joins them and tells James that she will swear on the bible and her life that it wasn't Austin, the twins or Shelli or Clay who told her he should be an option to go up last week even though he was safe. I can't say the name but you would be shocked at who it was. James says thats a small part of the picture. Vanessa says I just wanted clear that up and I hope you respect that I can't tell you who. James says I can respect that. I heard you were getting nervous you might go up. Vanessa says it made me nervous that deals were being made with everyone so when you do the math there's no one left. Jackie joins them and then leaves. Vanessa says I'm not a dumb girl and can see the direction you're going. It won't be anything between us and I will support you in whatever you decide to do. James tells Vanessa that she's not the target or the backdoor target. James says this is a huge move and it could backfire potentially. Austin says but you have the votes to do it. James says I would love to keep the noms the same.. Austin says if you get house guest choice you can pick me and I'll keep it the same.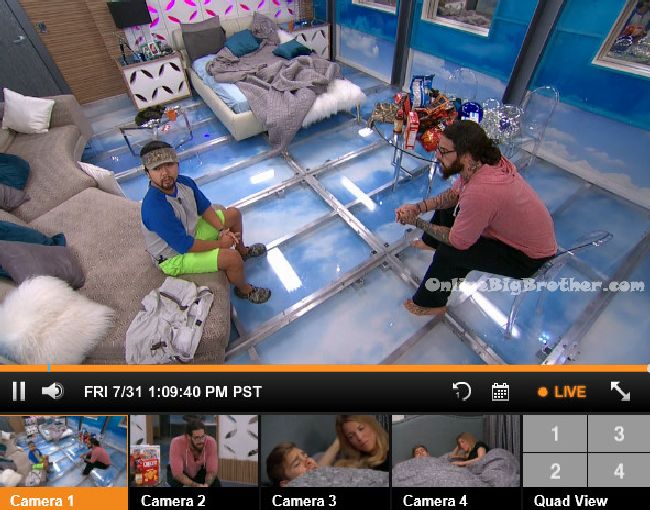 1:25pm Havenot room – Clay and Shelli talk to Meg. Shelli says we're extremely upset because people blame us for Jason going up on the block. I would say I'm pretty damn pissed that we're being blamed.
1:35pm Cabana room – Austin tells Liz and Julia that Shelli and Clay are going up. We're good though. Julia says its kind of f**ked up that they made that deal with him and he's going back on it. Austin says James didn't like how she did that. He was like that's how close you are that you're going to stand in front of the whole house and say that.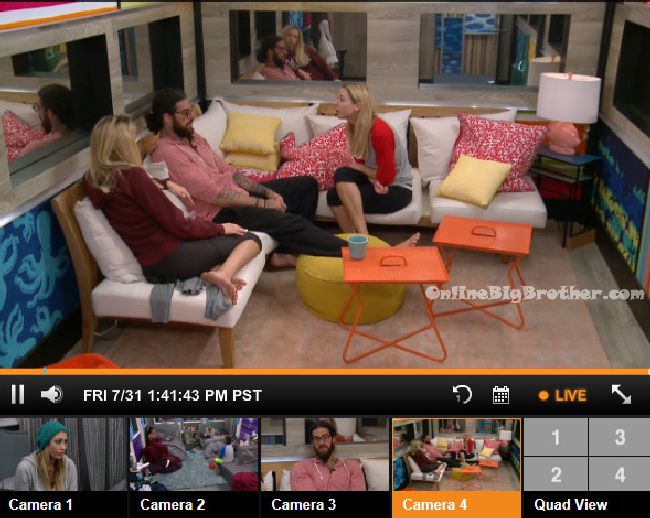 1:50pm Meg tells Shelli that she is ready to just move on from it. I'm willing to move on from it but it doesn't meant that there isn't work that doens't need to happen. Shelli agrees. Meg says it doesn't mean that James won't throw me under the bus. I am all alone right now. You're freaking out right now aren't you. Shelli says yes, this is the first time I legit feel angry in this house. Meg says that Jason had you're back. Meg says you guys made a deal with him so I think you're fine. Shelli says that was the first public deal in front of everyone in the house and if he goes against that everyone will see it.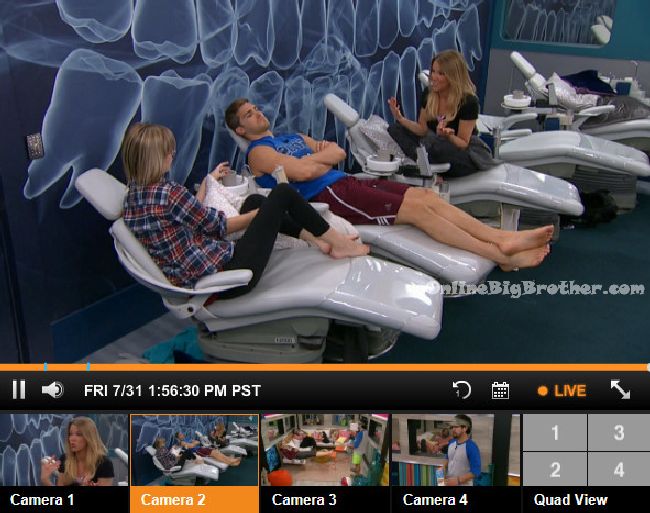 1:50pm Kitchen – James tells Vanessa they won't ever go against each other. I will never have their vote in jury. One of them lied to Meg the other day and she called them out on it. Vanessa says don't tell me any more. I don't want to know. I don't want to be put in an awkward situation knowing before hand. James says I feel good about this decision.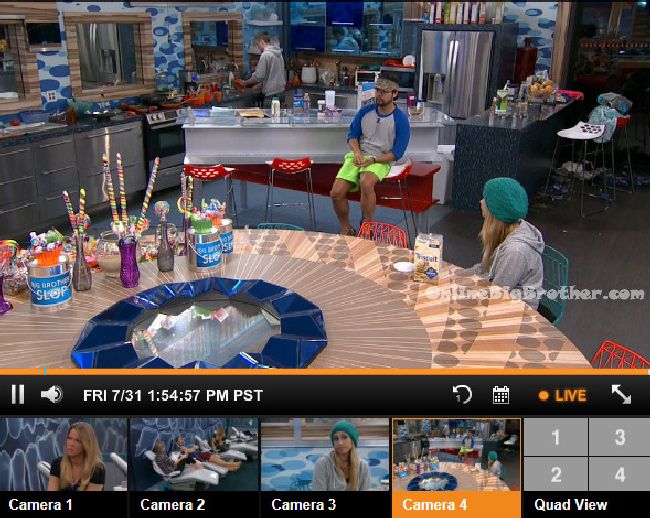 2pm Jackie talks to James. Jackie asks how it got out? James says I think Vanessa hinted to them. She's smart and thinks logically. She's really close with them so of course she's going to want them. That doesn't matter because they dont have the votes. We're going to 7-2 them just like they did to us. I've got Steve on board too. He's going to vote whatever way I tell him.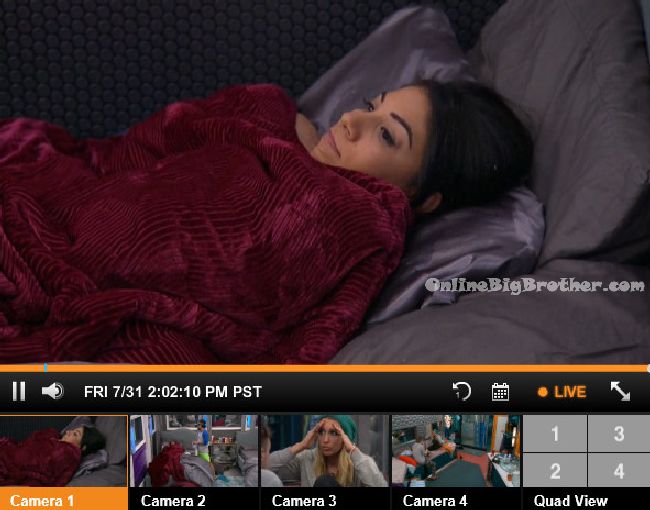 2:10pm Shelli says I think he will be true to his word. Clay says I think he will too. As long as we're not nominated or backdoored. Shelli says if neither of us are nomninated, that's a good thing. Even if in the next few days he did get talked into backdooring one of us ..we have the numbers. Clay says if we aren't we need to start think about reformation as far as me, you, Vanessa and who else we want. Is it James, Meg and Jackie? Is it Becky, Johnny and Steve?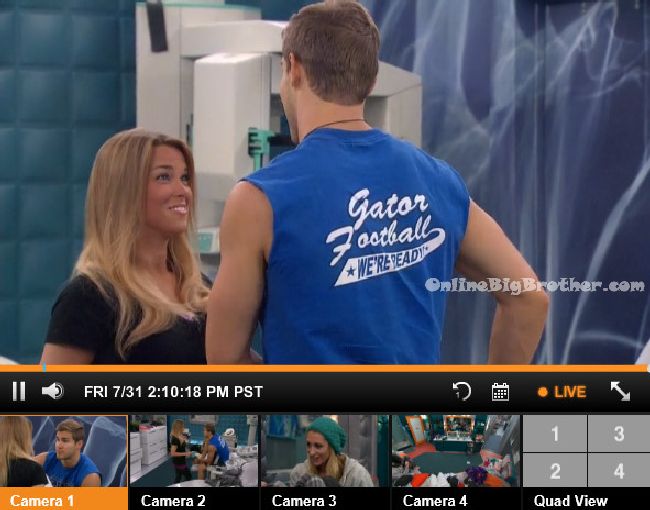 Try the Live Feeds FREE for 7 DAYS! Click here for your: FREE Trial
2:15pm – 2:25pm Meg tells Vanessa that James is a new persona when he goes up in that room. Vanessa says I have a very strong feeling he is going to make a big move. Meg says he is, he told me he was going to. Vanessa says I don't know who, I don't think I would be a big move. Meg says I think he has a couple options floating around. Meg says I hope what ever decision he makes that people will not support him but… respect him. Vanessa says I will. Meg says that she thinks the jury is playing a big part in who should go. Votes are important.