POV Holder:
Next POV
Aug 1st
POV Used
?
POV Ceremony
Aug 2nd
HOH
James
Next HOH
Aug 6th
Original Nominations:
?
Current Nominations:
?
Have Nots
?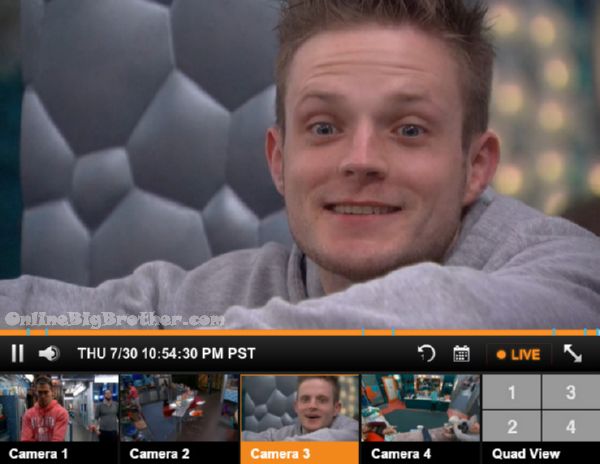 10:52pm Julia, Jmac and Steve
Julia says out of college she became a dental assistant. Julia says the dentist she worked with was so intense she got yelled out a lot. Julia says her front tooth has put her through hell. Jmac says that's a tough tooth to fix.
Jmac says he really noticed the tooth and was wondering what the story was behind it
Julia – when I was in the 4th grade I ran into a pole.. I was chasing Christian Hill, ran into the pole.
She adds that is why she doesn't chase boys .
Julia says when she was in college she had one of those acrylic fake tooth retainer
Jmac – A flipper
Julia says she went out on a date with a guy and the tooth cracked in half.
Julia says she was supposed to come in earlier.
Steve – you know why .. they wanted you to be the one that walks in
Julia says she thought they called Clay Honeycutt because he was "cut from honey he's so perfect"
Julia says she is the bad one and Liz is the good one but they both like to party.
Shellie says Julia is more "ghetto" than Liz.
Shelli asks who is bitcher
Julia – me
11:07pm James, Jmac, Shelli
James- that game was built for someone low to the ground
Shelli – ya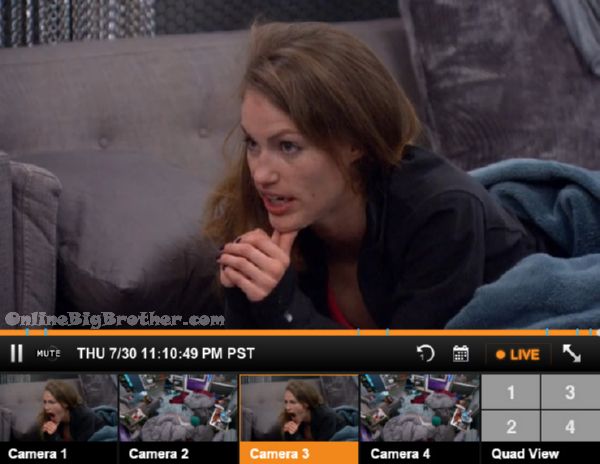 11:10pm Vanessa, Clay and Becky
Talking about how the absence of the BOB will affect the next couple days. They get the backyard for a extra day.
Becky says Clay did great at the competition "You were not built for that comp and you did really well"
(Jackie and Meg sleeping)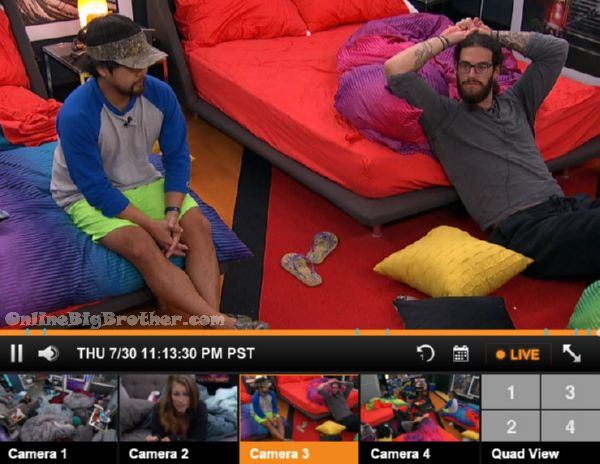 11:12pm Twins, Austin and James
They're talking about the times Julia was in the house and the times it was Liz. Julia says James was the one that called her "Hey Arnold"
Liz – that was a long time ago
James – that was a long time like 2 weeks
Austin – 2 weeks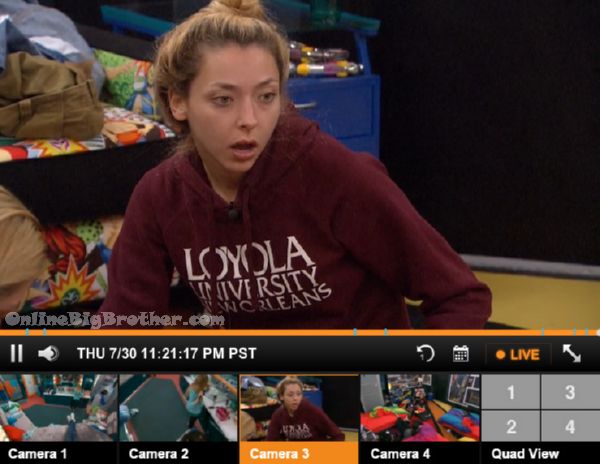 11:21pm bedroom Austin and the twins
Austin says Clay and Shelli are going to try and get Steve up.
Austin – I'm laying low
Austin – If it's me and Vanessa we're fine, If it's me and Steve we're fine, If it's me and you we're f****
Austin says Vanessa and Shelli "think things threw their minds are good"
Austin says they haven't had a take over for a awhile 'It's like they ran out of money"
Liz – gronk took it all
11:45pm Kitchen Steve, Liz and Becky
Steve saying they are stopping BOB WAY early this year. LAst year they kept it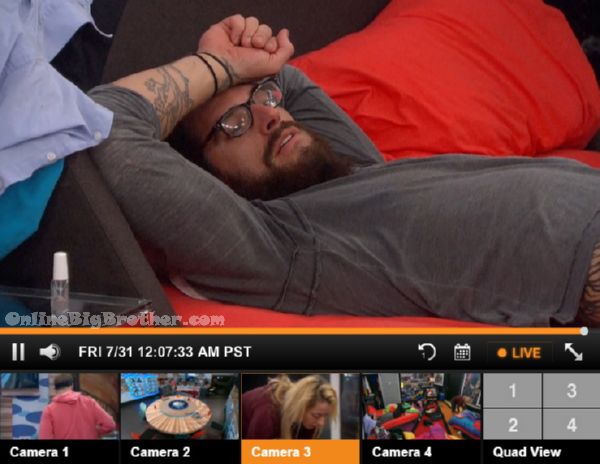 11:44pm Bathroom Austin and Vanessa
He tells her she has nothing to worry about
Vanessa – we'll see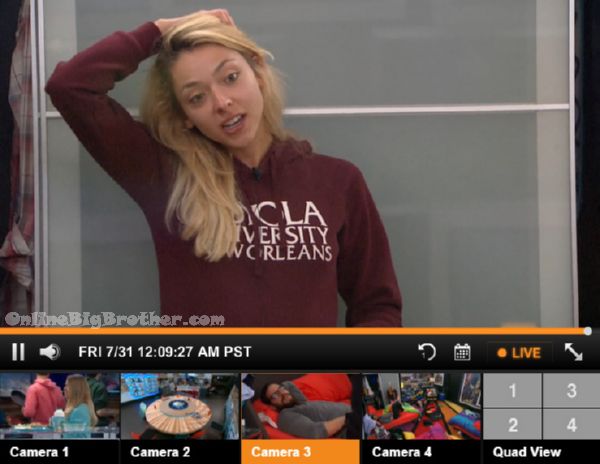 11:57pm Bedroom, Julia, Liz, Austin
Julia says she watched guardians of the galaxy in sequester she cried when groot dies but then he grew back.
Julia also watch "Wild, grand budapest hotel, god is not dead, tammy, boys don't cry"
Liz says they were supposed to do more switches but the fact everyone knew they stopped.
Julia tells Liz she'll love Game of thrones
Austin asks her who her favorite character is
Julia- calisi
Julia – I can't believe KHAl drogo died he's so fine. and sexy
Austin says that's who his wrestling persona is modelled after. (He told her before about this but they've been largely ignoring him. )
Julia – Cersei was fucking her brother.. like nasty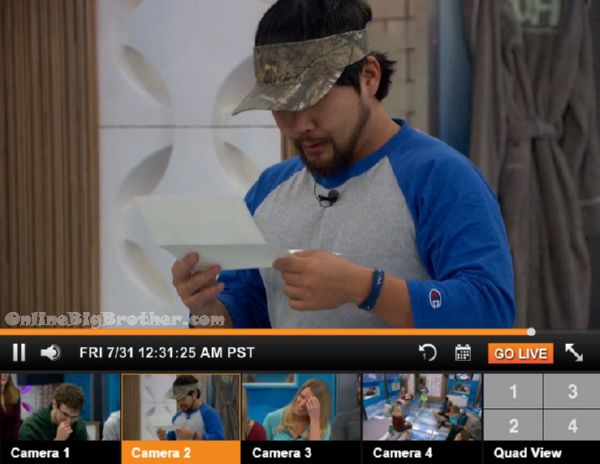 12:33am James gets his HOH room and reads out his letter
"I hope this letter finds you well Let me start by saying, Bailey, landon and I are all incredibly proud of you. When she sees a picture of you she blows you kisses and says Daddy, I love you. You have missed a little of her growing up but we know you are doing this for her. I assure you even though she might not understand now she ill later in life I thank you all you have done to make their lives better, Remember you are already a winner no matter what. You have two beautiful children here who love you and are so proud of you .
We miss you terribly you inspire us
Bai took it upon herself to chop the hair off one side of her head because she wanted to look like Daddy I may have a nervous break down if it doesn't grow back fast.. LOL
[envira-gallery id="125144″]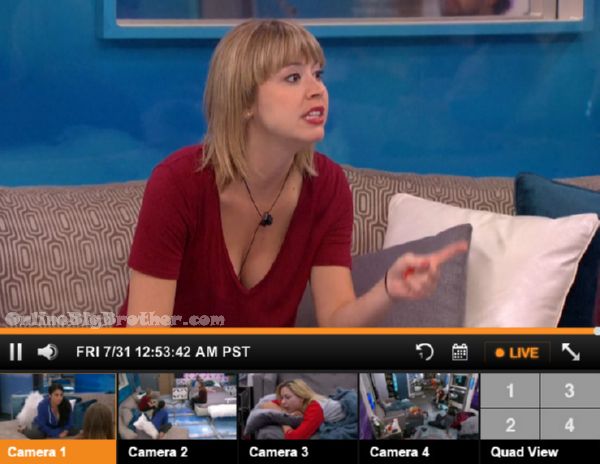 12:45am Meg, James, Jackie and Becky HOH
They're Pissed..
Becky there's the whole trifecta right now.. there's us as a group, Shelli and Vanessa as a group.
Feeds cut
When we come back..
Becky has pulled out the candies to use as aids in explain her strategy
Becky says she's been quiet about this until now because her ass would have been sent home.
Becky – Johnny Mac last week asked for more space from me .. he's got a independent game and doesn't want to be seem with me ..
Becky – he want to play a independent tight game..
James- Yeah I made promises
Jackie – so did they
James says he was being told Clay was asking if he can be trusted
Meg says if Shelli had won HOH Jackie would have been the backdoor option
Jackie – me why
Meg – she's scared of you
James – I think Vanessa's Side will flip on them.. FLip on Shelli
Meg – Vanessa is more with Clay than Shelli .. I trust Liz and Austin more even more so with Julia.
Meg – I would put up Austin and maybe Vanessa.. maybe Steve
James – Steve's going up either or I knew he was going up when I feel off the plank
Meg say they put up Steve and Austin, use the POV on Steve but up Shelli, the twins will vote for Austin. Shelli will go home.
Meg now suggesting he puts up Liz and Steve no way Austin and Julia will vote her out.
Meg – Johnnymac will be on board with this.
James – Liz is the only one to stay up against Shelli
Jackie – I'm ok with either of them at the end of the day
Jackie – they f*** up last week they f*** up so back.. they didn't give a F***
Meg – I swear to you Clay and shelli are the ones running this shit
James- Funny Clay and Shelli were supposed to work with us.. I found it very funny that Shelli was so worried she was trying to cut a deal with me .
James – says Shelli was trying to get no backdoor for her and clay
Meg says if they do this and get rid of Shelli Asuint and more importantly Julia will come to them.
Meg – Julia, I don't see her working with Clay and Shelli
Meg says Vanessa is trying to play the third wheel with Clay/Cheli and the third wheel with Austin and Liz.
Meg – She doesn't have loyalties to anyone..
Jackie gets it explains ifg Shelli leave Vanessa will drift to Austin.
The start talking about all the deals Vanessa has been making.
Meg – this is how it works Shelli is paranoid and Clay works with Loyalty
Meg – They're a power couple (Clay and Shelli)
Jackie – She needs to go lets do this fuck it, just do it what do we got to lose they did it to us last week. like fuck you you don't do that to us and just walk around like ok whatever
James just wants to make sure his reason for doing this will not make him look shady for going back on the deal.
They agree with Liz on the block Shelli will go home Austin will never allow her to go
James – Basically what they did to us last we're doing to them
Jackie – I love it ..
Jackie- I'm not flipping shit.
(Looks like they want to take out Shelli.. their plan sounds dangerous though)
[envira-gallery id="125154″]
[polldaddy poll=9004995]
Share it YO!!
Tweet