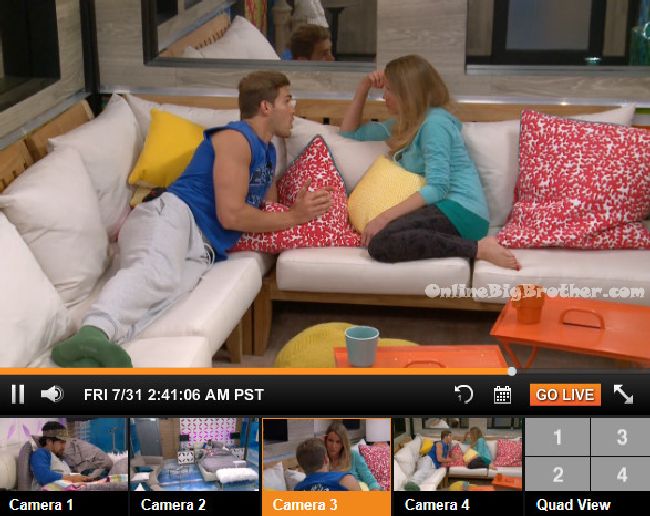 2:35am – 3am Cabana room – Austin tells Clay that he thinks James is going after Steve. He didn't say that but that's what I think. He said he didn't want to say names and I said I didn't want to know. Austin leaves. Clay talks to Shelli and tells her what Becky told him. He says basically James, Jackie, Meg and Becky want to blind side the f**k out of us! Shelli asks WHAT?! Blind side us?! Clay says backdoor us or put us up. They think we had something to do with Jason going home. They think we went back on our word with the 8 (Dark Moon Alliance). Clay says that Becky said not to tell Vanessa anything. She thinks Vanessa has her own agenda without us. There's no evidence as to why. Shelli says Becky needs to give reasons. Shelli says it was Vanessa that threw Jason's name out there and not me. And I am f**king sick and tired of it being put on me. They're pissed that they were blind sided but it had nothing to do with us. Shelli wants to pull in Meg and confront her. Clay says if we pull Meg in here she is going to know Becky told us. Becky joins them and tells them if you act sad. They might put both of you up at the same time. Just drink the Kool-aid. It might be Vanessa & Austin on the block. She is going to be in a hard f**king spot. Be smart with what information you give her (Vanessa). Clay asks who brought up the idea of it? Becky says all three of them are gungho on it. Becky leaves. They bring in Vanessa. Shelli says you made a huge a$$ move last week and now its f**ked us. They talk about what Becky told them. Shelli says Clay and I are the only ones taking the blame for Jason going home. Vanessa says that she is taking the blame too. Vanessa says you only need 5 votes this week. Vanessa says if I'm not on the block I can make it happen that you don't go home. I will make deals and do whatever I have to but if I'm on the block I can't. I have to look out for myself. Shelli says the deal with James was that James wouldn't nominate or backdoor us. Clay and Shelli want to go up to talk to James and get him to swear he won't put them up.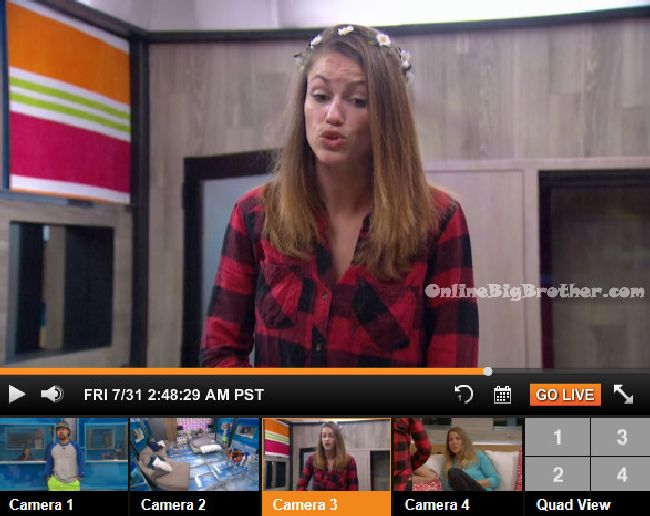 2:45am – 3:15am HOH room –
James tells Meg that Austin and the twins want to work with us. Meg says yeah he wants to work with us. Jackie joins them. James comments on how Vanessa was just down in the cabana room talking to Clay and Shelli. James tells Meg and Jackie about his conversation with Vanessa. She keeps throwing out good things about Clay and Shelli. Becky joins them. James says that Vanessa is down for whatever. Meg says if you're looking for someone that would get taken down .. Vanessa and Liz have people on both sides. James says they (Clay & Shelli) aren't both going to get pick for veto. Meg says they would pull Vanessa down. Or you mean if Shelli wins POV? James says yeah. Meg says the only thing that would ruin it is if she (Shelli) won then she would be safe. Then you just backdoor Steve. Jackie asks if she did win would you just put up Clay? Or you're worried about the wrath? Meg says I wouldn't do that because Shelli would be a crazy person in this house. Jackie says let her be crazy. James says I don't have anything to loose. I've already made it to jury. Shelli will never vote for any of us if Clay makes it. Becky says holy sh*t I wasn't even thinking about that. James says that Liz isn't going to like being put up next to Vanessa she isn't going to like it. I told them they're safe. Jackie says Vanessa, Shelli or Clay would need to go to weaken them. James says I would need to go back on my deal with her then. Becky says those 3 have run HOH for a month. They have so many deals with people no one would take them to finals. Meg says if Johnny Mac or Steve in the veto we'll convince the to take off Vanessa.
James agrees to nominate Vanessa & Liz with the backdoor target being Shelli.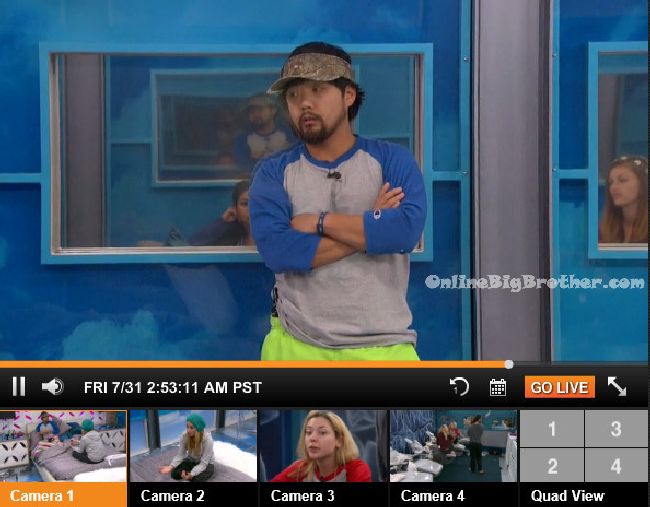 3:30am Meg tells James that he's hot when he's HOH. James says I'm not even going to explain myself to Vanessa I'm just going to throw her up. Meg says then after you have to explain we're looking out for her. James says next week you need to protect me. Jackie says we need to stay close to the twins. James says I'm going to tell Liz I need a pawn. Jackie says if Shelli wins and takes off Vanessa .. James says then throw up Clay .. f**K it.. big guns! Ya'll are going to see another side of James.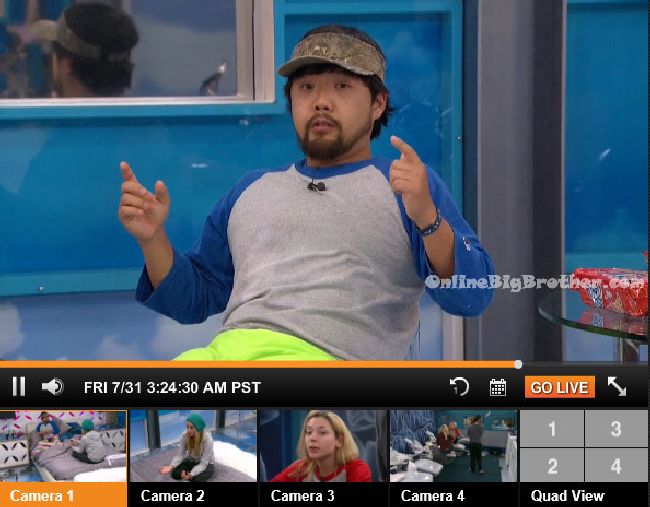 3:30amv – 4:25am Shelli and Clay head up to the HOH room to talk to James. Becky and Meg leave the room. Clay asks what's the word? James says I'm debating on if I go back to our original plan to get out Austin. I don't know how to do it right now. Shelli says obviously we were the last ones standing there and I just want to make sure there is no nominating or backdooring? Right?! James says yeah .. um even that you asked that makes me wonder .. are we not friends or something? Clay tells James people think that we were the ones behind wanting to get Jason out of this game and I can tell you man to man that is not true. We did not want him to leave. James says to Shelli I know you just said that we made a deal outside and I am going to honour that deal. i'm thinking that you don't think I can be trusted. Shelli says no no, .. when Jason was leaving he said that people were targeting us. Shelli says that Austin found out that he was going to be the replacement before he went up and did all the campaigning to not go up. James asks Clay so I heard you asked Jason if you could trust me. Clay says actually he asked me that. Shelli says that Jason said he felt better about Jackie than James. Clay says when we tell you, you're good with us, we're true to that. James says that's why I thought it was weird that you felt you had to make that deal with me. Shelli says after talking to Jason he made us a little paranoid. I also didn't want to win HOH again and I was tired. James says I do need help with nominees. Clay asks who's a threat? James says everyone! Clay asks whos a threat other than Me, you, Meg and Shelli? James says Johnny Mac might put me up but I don't think he would. Clay says you've been nominated 3 times right? James says Liz, Vanessa, Jackie put me up. Clay says that Vanessa seems to believe that you and her smoothed things over. You're good with Jackie. I don't know where Austin and the twins stand. James says I would really hate to do this but I could put up Steve. Shelli and Clay continue to throw out questions to James about how to decide who to put up. They head down stairs to eat. Shelli tells Clay as long as we don't get nominated or backdoored and we both make it to next week I really don't care what happens this week.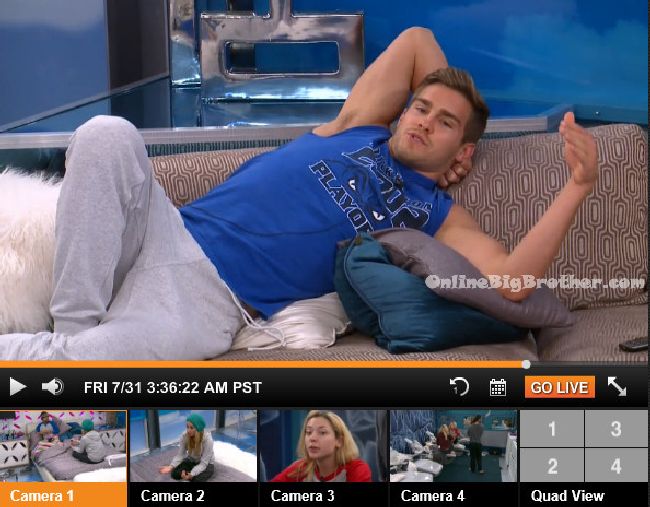 3:40am – 4am Bathroom – Vanessa tells Jackie if I am going up give me the opportunity to defend myself. Jackie says you're not going up.. you're not the target. Vanessa says okay cool. I don't want to know who it is. Jackie says but you talk to him. We don't want you to go home. We don't have a problem with you. Vanessa says they've (Shelli & Clay) already heard their the target and I don't want them to throw me under the bus in an attempt to frame me. If that f**king happens I will blow their f**king game up!! The facts about what happened last week were true. You were there. The exact way I said it went down was the way it f**king went down! It was a game move. Jackie tells Vanessa you're good and you're not going to cause any drama. Vanessa says he (James) told Clay & Shelli they're safe, he told Austin and the twins they're safe, You're safe, Meg's safe, Becky is safe and Johnny Mac is safe… so do the math.. that only leaves Steve. And there's two spots! Doesn't that concern you. Jackie says yeah.. you're not the target. He has a couple options. Vanessa says I trust him and his word. But I don't trust what others might say about me. Jackie says I don't think he will put you up but if he does .. I will play for you in the veto. Vanessa asks why would he not put up a twin? It doesn't make any sense. Jackie says youre not the target, you're not going up. Vanessa says if it happens it happens. Worst case I get to go home and see my girlfriend.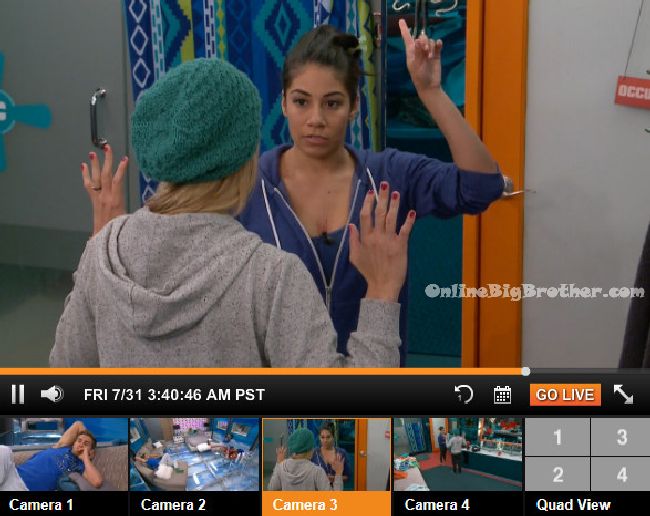 4:35am – 5:20am HOH room – James tells Steve that he wants to make a big move this week. Get out a huge threat. Steve asks do you have a name in mind. James says yes. Steve says is there anything I can offer you. James asks have you heard anything about me over the last week? Steve says that he thinks the house is divided. James asks which side are you on? Steve says I'm trying to fight that divide. Steve asks is it me? James says you're not a heavy hitter. James says I'm going to need some pawns. Steve asks should I expect to be a pawn? James says no. Steve tells James if he gets house guest choice he should use it to pick someone that would take the veto over a prize. Steve and James head out of the HOH room to play a game of chess. Steve wins.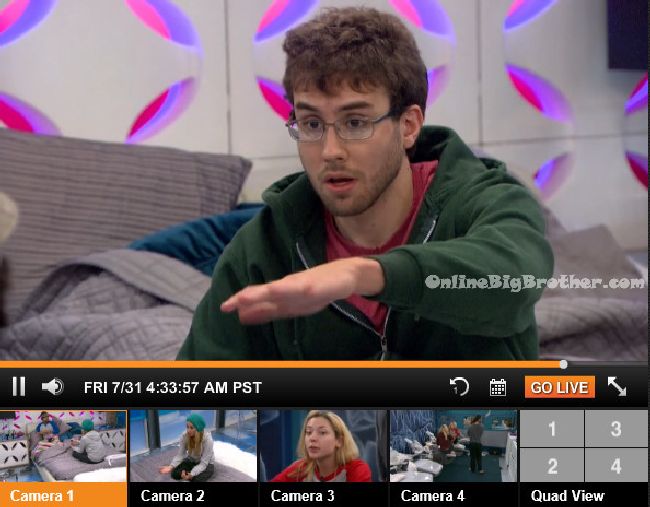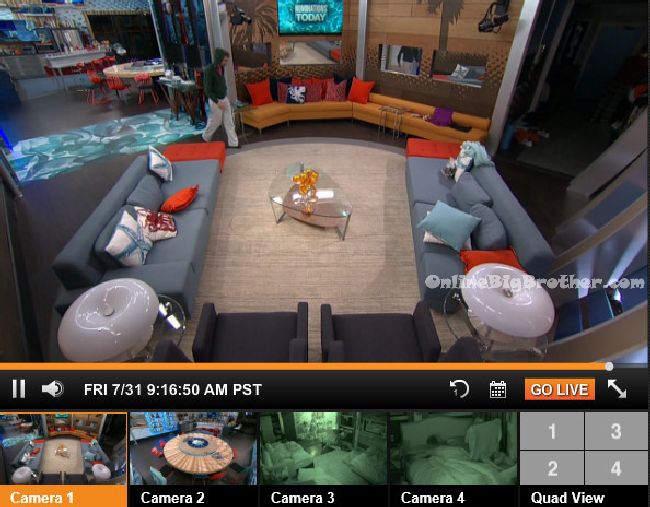 9:20am – 11:25am Big Brother wakes up the house guests. When the live feeds return – Nominations Today can be seen on the living room TV. All of the house guests go back to sleep except for Johnny. After eating Johnny heads back to bed. Vanessa gets up and starts getting ready for the day.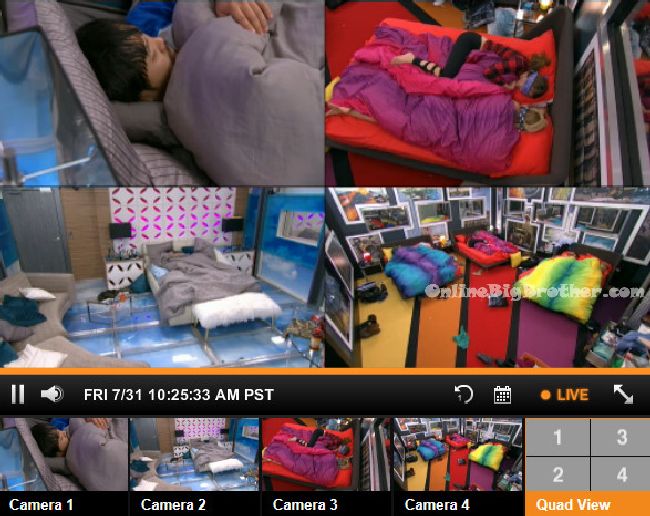 [polldaddy poll=9004995]
Share it YO!
Tweet