POV Holder:
Paul
POV Competition
June, 24th
POV Used
?
POV Ceremony
June, 26th
HOH
Nicole
Next HOH
June, 30
Roadkill Competition Winner:
Frank
Original Nominations:
Paulie, Jozea, and Paul
After POV Nominations:
? and ?
Have Nots
?
Watch the 1st WEEK of the live feeds for FREE:

Big Brother 18 Alliances Help Guide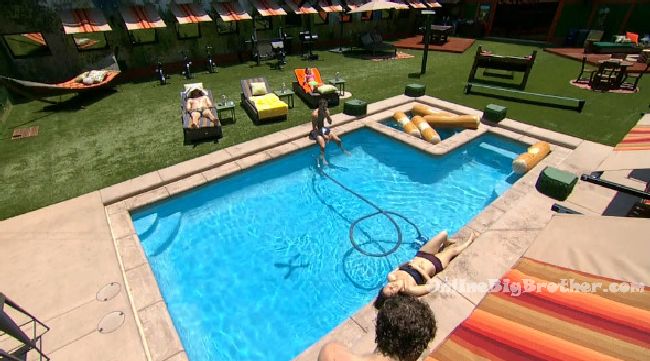 12:25pm Cam 3-4 Backyard. Corey, Paulie, Frank and Bridgette are hanging out by the pool. They're talking about the competitions. Corey comments on how hard the compeititons are but some people still finish them quick. Bridgette says we got spicy this summer. I can say I licked a guys nip. Frank says like you haven't done that before. Bridgette says haven't done it on tv before. Natalie says I can't believe Corey did that birdie shot! Bridgette and Paulie are laying on the edge of the hot tub. She comments on how her dad has saved her from drowning twice. Natalie comments on how Victor cleans. She says a guy that cleans is so hot.
In the HOH room – Zakiyah and Tiffany are talking. Zak says we really need to win HOH for sure. Tiffany asks who do you think Vic would put up? Zak says me. … and the old people. Tiffany says I'm like the oldest one here. Zak says I don't even mean old as in age, just that they've played before.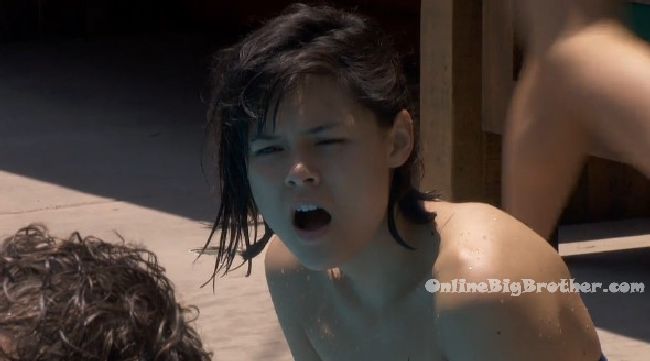 12:50pm Backyard – Nicole comments to DaVonne about on how she heard that she (Bridgette) came up just to spy on them. And we were being all nice to her because she was saying she was being bullied. Paul joins them. DaVonne comments on how Bridgette was saying that people are isolating her. So I said I was going to spend a lot of time with her today. Paul says I was going to talk to her too. DaVonne says she has a good heart. I think we all get wrapped up in the game. Some people come in here and think you can play like a robot. You can't.
In the kitchen – Frank tells Nicole that he told Paulie he just needs to calm down this week because I don't think you're going to go home .. but at the same time you need to calm down because I don't want people to have a bad taste about you next week.
1:10pm Cam 1-2 Corey and Tiffany are talking on the lounge chair. Tiffany asks if everything is really bigger in Texas. Corey says all his friends are big. The smallest friend of his is still about the size for Vic. He says that the girls in Texas are women not like Natalie. Corey says it would be weird marrying someone like Natalie …it would be like holding a little kid. I don't like that. Paulie sits between them. Corey leaves. Paulie tells Tiffany that he's still so giddy about their chess talk (When she revealed that she's Vanessa's sister.) Paulie asks why she isn't all settled down? Tiffany says haven't found anyone. Paulie asks are you geared more towards male or female. Tiffany says I can find good qualities in both. I like someone with confidence.

1:30pm – 1:45pm Cam 1-2 Backyard – Victor and Jozea are talking. Victor says don't let them get into your head. Jozea says I won't. It was just like they're coming for my neck. Vic says I'm not scared of anyone in this house. Jozea says when we get off this show and go to the wrap party .. that little wrap party isn't going to be friendly. This ain't no best friend race. Vic says this is a game. Before anything happened he (Paulie) tried to turn Paul (on Vic & Jozea). Vic says the only reason he told us about his brother is because Nicole showed up. All he is doing is he is in a corner. He is trying to get the votes to split. He hasn't even talked to me about game because he knows I'm with you. Vic says once he's out of the house it will be a little more relaxed. I'm done with Tiffany. Jozea says I'm done with all four of them. They head over to get into the pool. Jozea gets in forgetting his mic pack. He heads to the diary room to tell Big Brother.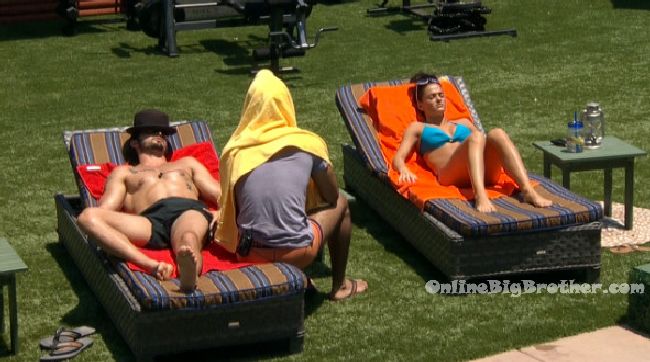 2pm – 2:10pm Backyard – Victor, Paul and Jozea are talking. Vic says it doesn't matter how the chips fall, we have 6 votes no matter what. Jozea asks you saw James counting the room. Paul says that's why next HOH he's gone. Vic says we've been too nice. Paul says and people are taking advantage of it. Vic says people are mistaking kindness for a weakness. Vic says I think James got scared when he was counting and though oh sh*t I have to vote this way. And Tiffany I am tired of her. Pual says I'll tell you what I don't even think she's bisexual. She said that just to get close to you. Vic says when you go in later have a conversation with Zakiyah just to make sure she's on the same page. Jozea says he will. We run the house.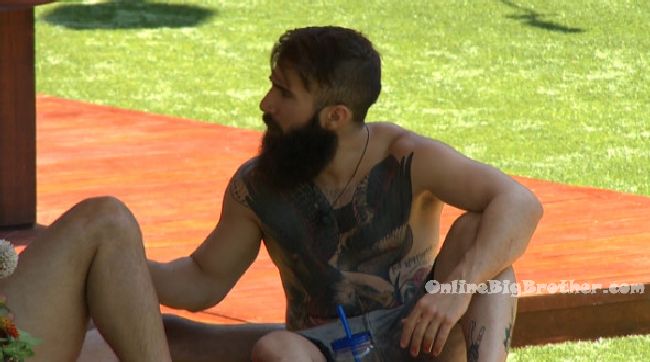 2:30pm Bedroom – Jozea is talking to DaVonne. Jozea says we are a different breed of what's going on in here. When that wrap party happens… its going to be a rumble. Its the backstabbing that's the issue. I'd like that. He's (Paulie) the poison. The question is who is the Roadkill? DaVonne says I don't know. He either knows the roadkill person or he knows who the roadkill person is. DaVonne says we just have to keep doing this (DaVonne rubs her arm) so that she feels comfortable. Jozea says every time I have a conversation with her she goes and tells Paulie or Nicole. DaVonne asks if Vic is on board with getting Nicole out? Jozea says yeah, she is number 2, and James is number 3… then from there its Tiffany etc.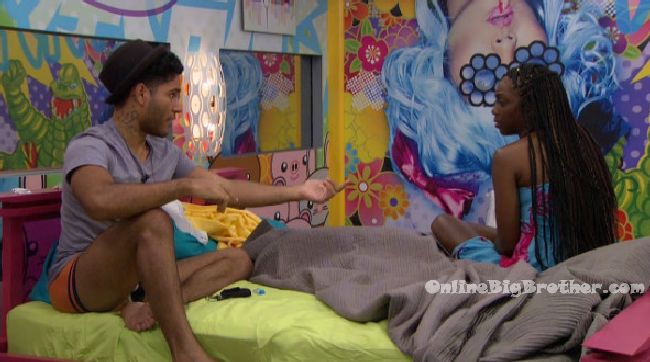 2:50pm Jozea and James are talking. James says I might be just 1 vote ..you know where my vote is going .. all I ask is if I've got you, then you've got me. I can't be swayed. Its my team man, I've got to roll with my team. I don't want to go against the grain. Jozea says the way I see it take out someone that will be a problem later .. rather than take out a floater.
3pm Tiffany, Paulie and DaVonne are talking. DaVonne says I love how they think they run this house. I'm ready to get this week over with. I'm ready to get it poppin' because after this week it will go. Are you close with Vic? Paulie says I don't talk game with him. Tiffany says I can't tell if Natalie is aware of the dynamics or if she is just stuck in it. Paulie says she's a Jersey girl. I saw through her since day 1. I personally don't trust her. I don't think she's just caught up in the mix. DaVonne says I think she's very aware. Paulie says think think they're slick … last night they were like who do you think would vote to keep you in here. I said I don't know. How do you know who would vote to keep you … and Jozea was like I got the whole house.
3:10pm By the pool – Jozea and Corey start arguing about Donald Trumps views. Jozea says the wall that Donald Trump wants to build on the boarder of US and Mexico is like the great wall of China. Corey says Donald wants Mexicans to pay taxes. Frank says that's ridiculous the great wall of China was built to keep invading Mongolians out … READ A BOOK BRO! Its not the same. Jozea says all I'm saying is Donald Trump shouldn't be president. He's a tv personality. Corey says I'm all for people coming to America ..1000% Big Brother blocks the feeds. The conversation turns to talking about Iraq.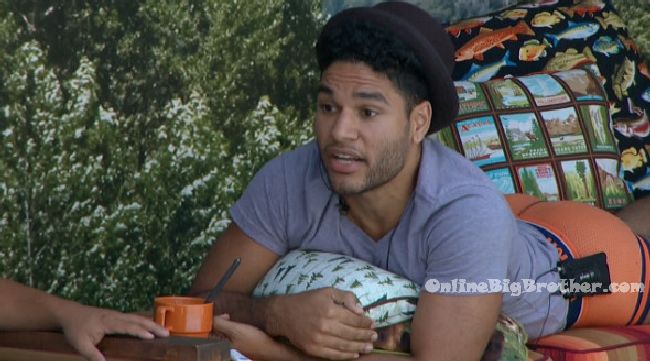 FLASHBACK and watch everything you missed: Live Feed 7 day FREE Trial!