POV Holder:
Paul
POV Competition
June, 24th
POV Used
?
POV Ceremony
June, 26th
HOH
Nicole
Next HOH
June, 30
Roadkill Competition Winner:
Frank
Original Nominations:
Paulie, Jozea, and Paul
After POV Nominations:
? and ?
Have Nots
?
9:55pm Frank in the backyard talking to himself
Saying that he's more relaxed this summer everyone calls him "the old man" because all he's doing is sleep.
Frank – today is day 11… just barely over 10 percent done.
(Frank farts)
Frank – excuse me nanna.. .I know you don't like me passing gas but it's first thing in the morning.. I guess CBS won't mind me covering up the Mic next time
Frank – feels great outside today
Frank – I want my girlfriend Ashley to know I didn't choose to be naked.. I'm very restricted behind these pixels.
Frank identifies that he's been playing hard these last couple days. He didn't want to have to play that way.
Frank thinks it was too early to start the alliances he has "the 8 pack" Aka "the firing squad", " I like the firing squad better" Frank explains he had to form something quick because he was hearing his name getting thrown around and the returnees were in a dangerous spot.
Frank wishes Paulie was in the room when they formed the 8 pack, "Wrong place wrong time unfortunately he's not in that group.." Frank likes Paulie adds that at least Paulie is in "his" team. Frank wanted the team name to be "Personal pan pizza" but they weren't allowed to go with that for reasons he doesn't understand so they called there team Category 4.
Frank – Now Paul's is the 3rd person nominated..
Frank – "I put him up.. you'll find out Sunday"
Frank says he won't be putting up a member of the 8 pack, "You can figure it out" (Bridgette must be going up)
They want Jozea out because he's a mouthpiece, after Jozea goes Victor has to go. Frank explains Victor is "Rahh RAhh"
Frank doesn't care that Paul won the POV he just didn't want to see Jozea win it.
Frank going on about his "Dad bode"
Frank jokes that the outfit is so tight in the crotch his "testicles have ascended" and he's going to be talking with a high pitch voice.
Frank – I wish other people would start to wake up at least one… so I can sneak into the bathroom so people on the live feeds don't know exactly what I am doing.
Frank – what else can I talk about.. I do have a tight little squad.. the 4 returning houseguests.. the 8 pack.. I'm just trying to scoop up Corey as much as possible.. get him nice and close… same thing with Zakiyah.
Frank – James has a crush on Nicole.. he's a little girl crazy, he's got a crush on a lot of girls.. He did tell me specifically she was wife material so I'm going to keep an eye on that
Frank – as much as I like Jams and Da.. they both have kids i'm a little nervous going to final 2 with them
Frank feels good about Tiffany, he's heard people are worried that her sister coming into the game.
Frank mentions how Da'Vonne was going around trying to make final 2 deals with the vets.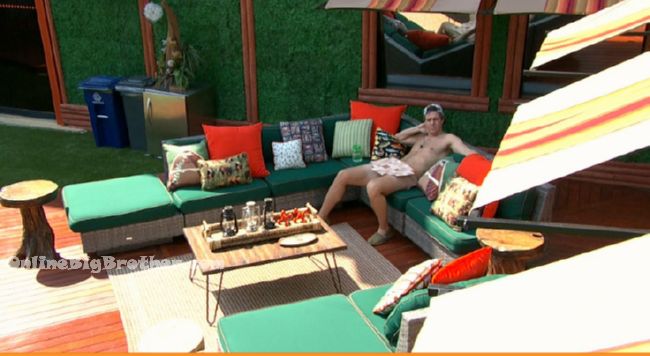 10:27am backyard FRANK
Frank continues to talk, random shoutout etc.. . "All the women in this house are really good fine ladies all their parents should be happy"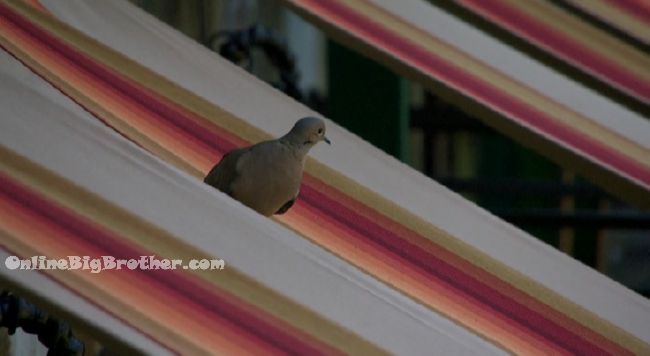 Frank finally gets a friend.
10:46am Still in the backyard Frank saying his plan is to sleep a lot to kill the time.
Frank says Nicole's HOH album is awful he can't listen to it (Justine beiber). He Quotes Danny Glover from, Lethal Weapon, "I'm too old for this shit"
Frank says there's 4 or 5 sides to the house.. brings up the alliance "Death Row" (Victor, Jozea, Paul, ?, ?)
Frank – some of the girls in the house are feeling bullied and it's not nice.. the people in death row are bullying them.. Jozea and Victor.
Frank – they were putting pressure on Bronte and Natalie.. they were pushing Bridgette yesterday.
Paulie joins him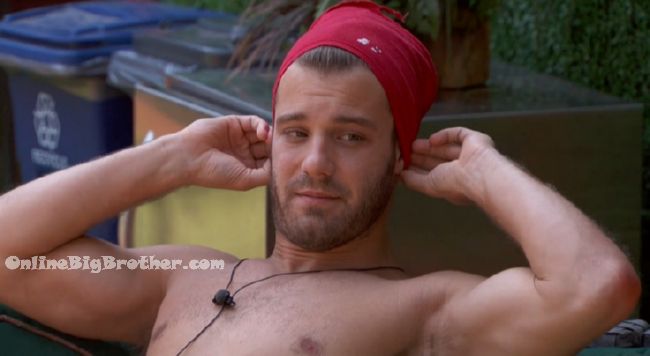 10:51am Backyard Frank and PAulie
Talking about how the girls feel really uncomfortable with their punishment outfits. Frank says the worst part of the costumes is they are ill fitting
Paulie brings up his conversation with Paul and Jozea last night, "He [Jozea] has no idea"
Frank – they have absolutely no idea.. they're idiots"
Paulie brings up Jozea trying to get everyone to vote Paulie out then when Paulie confronted him he backtracked.
Paulie about jozea "he's such a f***g idiot"
Frank – don't talk game to him for teh rest of the week
Paulie agrees
Frank says Jozea thinks he's voting Paulie out.
Paulie mentions Jozea has no f***g idea about what votes he has, "He talks and talks and talks.. the man said Me, Da'Vonne and Z understand each other because of our upbringing..
Paulie adds that Jozea is saying to him, Zakiyah, himself and Da'Vonne are the only minorities in the house so he can count on their votes.
Paulie – He thinks he has Michelle, Bridgette, Zakiyah
Paulie will be shocked if he goes home this week.
Frank – nobody wants that dude in the house.. it's a small group he thinks it's a big group it's a smakll group.
Frank thinks the group is Victor, Jozea, Natalie, Paul amd Bronte are a group but Bronte/Natalie are seasy to peel off.
Paulie brings up Jozea saying he's 10 steps of everyone in the house.
Frank – he doesn't know the game… he thinks you vote to keep people.. I swear all he did was watch a you tube compilations of Franke Grande clips
Paulie – all he talks about is Frankie.
Frank – he's straight up like a Devon right now
Sounds like Paulie wants to start a Derrick/Cody relationship with Frank. Frank says that is how him an Mike were in Season 15.
Frank pushes Paulie to continue playing cool.
Paulie calls Victor a "paper tiger" for competitions
Frank isn't worried about Victor winning a lot of competitions.
Paulie says Paul got lucky with the POV. "Corey and I were f***g cruising"
Frank laughs that Paul was complaining about "beast it out" during the POV and how he can't keep that pace up "all season"
Frank says Jozea is going to freak out this week. Right now it's 7-4 for him to go. As the week goes that will go down to 9-2.
Adds the Bronte and Natalie are "Close to Flipping"
Frank – Bronte.. I think she's kinda cleaver
Paulie thinks Bronte watches a lot and has information because she "Pops around"
11:26pm the rest of the house get woken up feeds go to fish.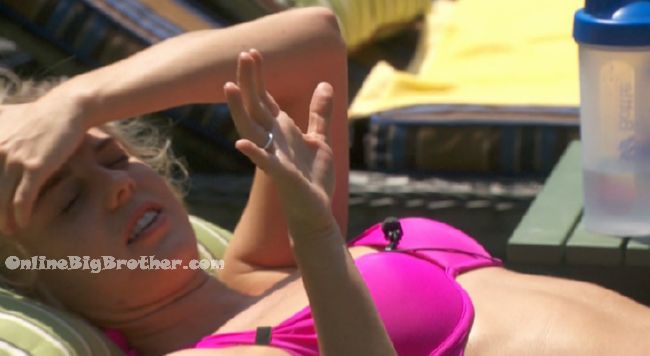 11:33am BAckyard
Houseguests up.. lingering around
Nicole gets her hand stuck in the backyard folding chairs. She screams for help James runs out to save her.
Da'Vonne – he came running honey
JAmes – I'll follow you into the dark. I got you
Da'Vonne – there's no way in the name of Jesus I am working out in this weather
James – it's pool time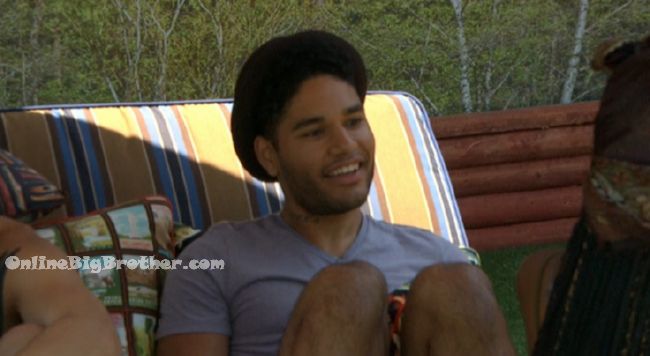 11:35am
Paul tells Jozea he called Nicole Cock-eyed
Paul – you said there's something going on with that face
Jozea – you think that made it to the live feeders
Paul – 100%
11:48am Zakiyah and Da'Vonne getting ready for some time in the sun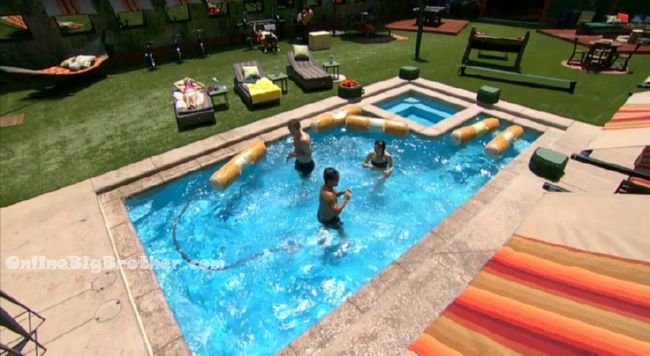 11:52am BAckyard is getting some use today. Everyone planning some pool time.
Bridgette – I'm not going to last long in this pool.. You're wearing me out
JAmes – Thats what I like to hear
James vs Bridgette BB-gladiators #BB18 pic.twitter.com/I9OaY2EZNC

— OnlineBigBrother.com (@bigbspoilers) June 25, 2016
Bridgette needs some back up in the pool. #BB18 @DawgsBigBrother pic.twitter.com/BaZLLYWQ9Y

— OnlineBigBrother.com (@bigbspoilers) June 25, 2016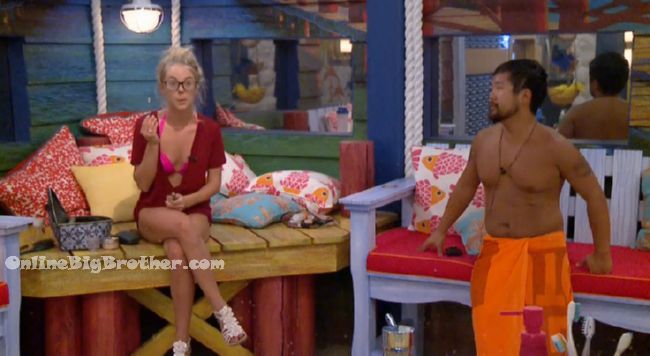 12:16pm Cam 1-2 JAmes and Nicole
Nicole telling James about the meeting with Bridgette. Sounds like something was taken in the wrong way and it's causing Nicole stress. Paulie walks through. She tells him she feels like the whole house is against her. PAulie laughs.
[polldaddy poll=9453835]