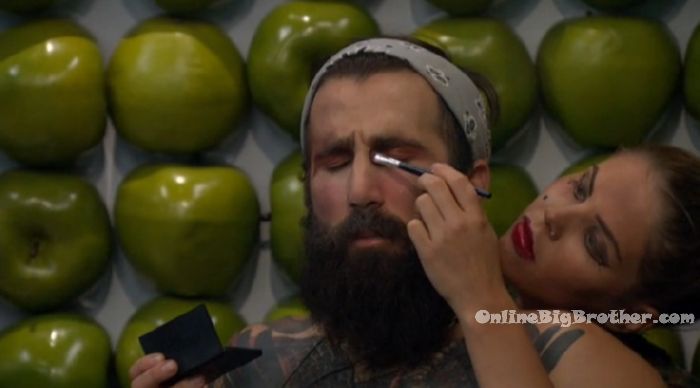 Check out our BB19 Ranking Grid. . rank your houseguests here

12am The house guests wish Kevin a happy Birthday. He says he wants grilled cheese and chocolate milk. Meanwhile in the lounge room – Elena is sitting behind Paul doing his make up. She is pretending to be his arms. Paul – now we're going with the chocolate brown. Honestly because I'm hungry. Next is the Kat Von C … we're one step ahead of D. Next is an exfoliator for your eyelashes because if your eyelashes aren't out, are you really going our? When she finishes he gets up and looks in the mirror. Paul – I look like a cheep whore. I look like I f**k dudes for money. They go around the house showing the other house guests. Josh to Elena – you cheated on me? Paul – she upgraded bro! Josh – looks like a downgrade. Elena – are you blind?! Do you have eyes?! This man is a model!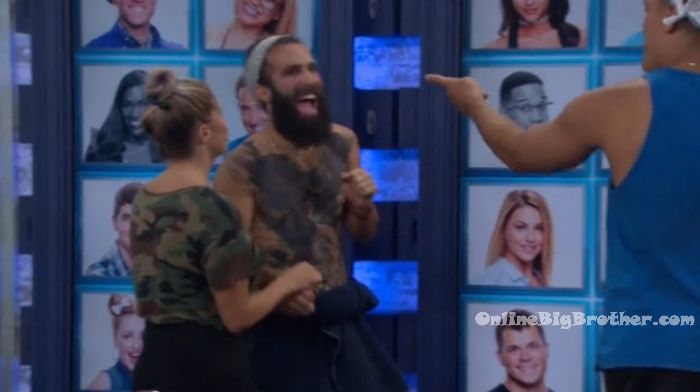 12:35am Bedroom – Christmas massaging Kevin's feet..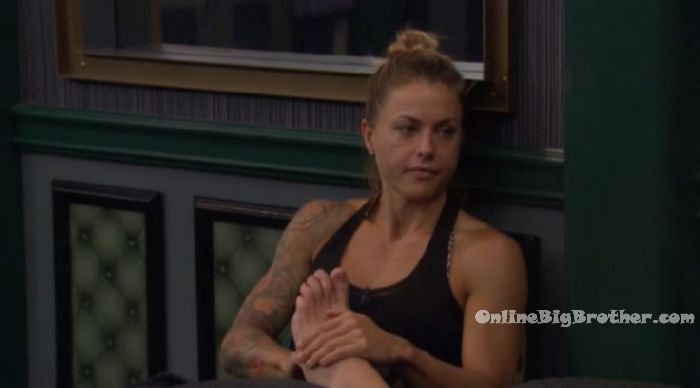 12:35am In the bathroom – Elena and Raven put Raven's hair extensions in Paul's hair.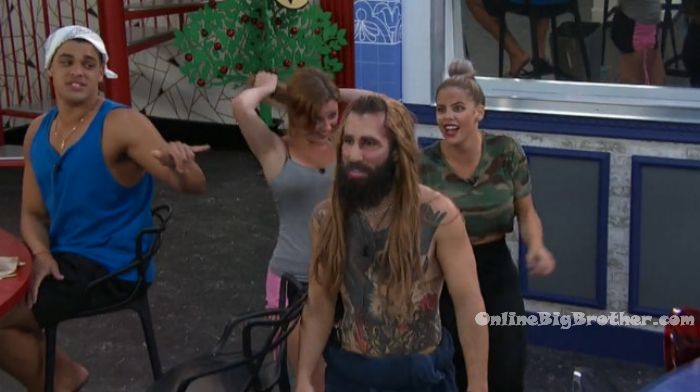 See what they can't show you on TV Try the live feeds for FREE!
12:50am – 1:15am HOH room – Matt and Raven.
Raven – Kevin, Christmas, Alex and Jason know that I'm going up tomorrow (on the block) because Paul wanted them to be prepared and not so shocked. They're not happy about it. They're calling him (Mark) a pu$$y. That he should man up and stay on the block. Basically saying that he doesn't trust the rest of the house. Matt – everyone is so reactionary in this game. I understand get it out but we could very well need Mark this week. Raven – I think if Mark wins he would put up Cody. We just need to baby him. Matt – if Elena thinks her and Paul are really tight .. that's good because we've talked to Paul and he (throws his hands up). Reven – he can't stand.. Matt – So if she wins HOH, then he can negotiate that and we'll be fine.. Paul joins them. Paul says that Elena's main concern is that she thinks shes a target. I feel like she is easier to tie in easier than him. Raven – did you notice how he tried to separate himself from Jessica so that he could re-integrate himself into the house. Day 12 or 13 Elena and him made out. Now Elena has separated. Paul – that's f**king weird. Raven – now no more kissy kissy, huggy huggy, no more sleeping in the same bed.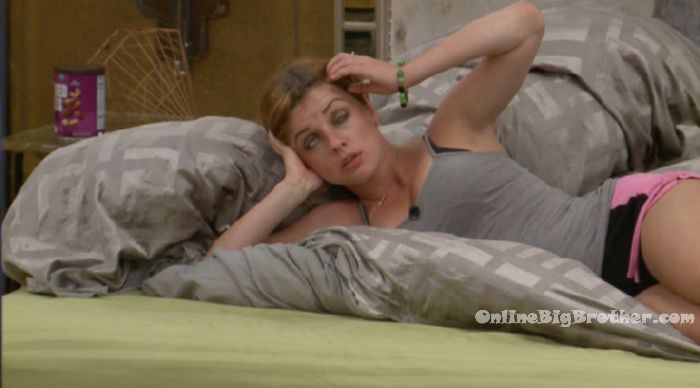 1:55am
Mark and Elena tell jokingly tell Paul that he isn't taking himself off the block he is taking Elena off. Paul – you're both full of sh*t. Mark – I am honoring Josh's wishes and not using it to take myself off the block… you (Jsoh) didn't ask me to not use it on her. Elena – I've got way more stuff to pack. Paul – f**k you and F**K you .. I don't believe you.. if you do that tomorrow I will do anything for you for a day. Elena – that's not a bad idea is it? Paul – its not a bad idea.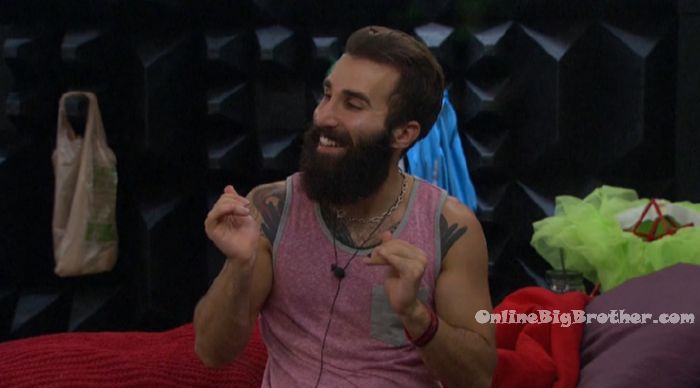 2:15am – 2:45am Mark saying goodnight to Elena. Elena pushing him off of her.Mark massages her feet.. Elena – are you going to use the veto on me? Mark – I would but it not good for you keeping your distance from me. If we were still together I would but we're not.. Elena – that's smart.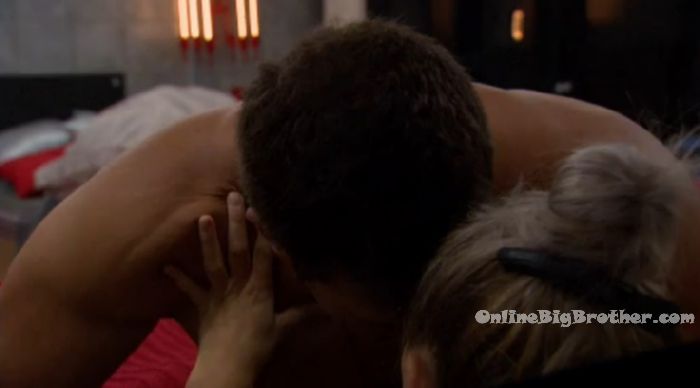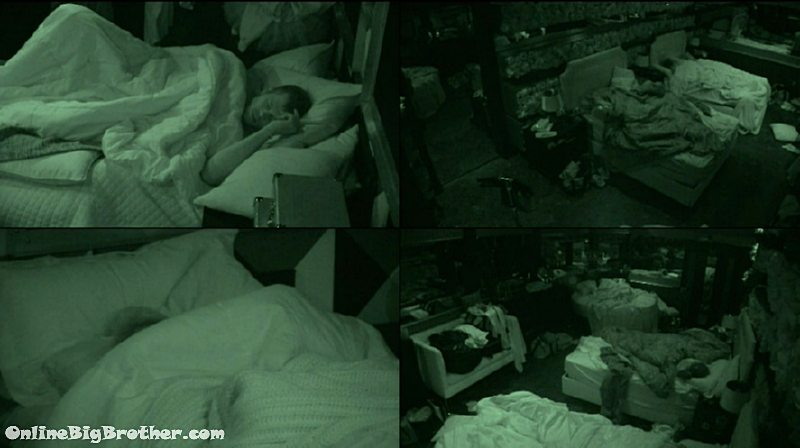 8:53am ZZZzzzzzz
If you plan on buying anything from Amazon. Use this link Amazon home
Doesn't cost you anything and we get a small cut.
Links to the ranking system
Rank your house guests here
For those of you that like Statistics here are some expanded reports.