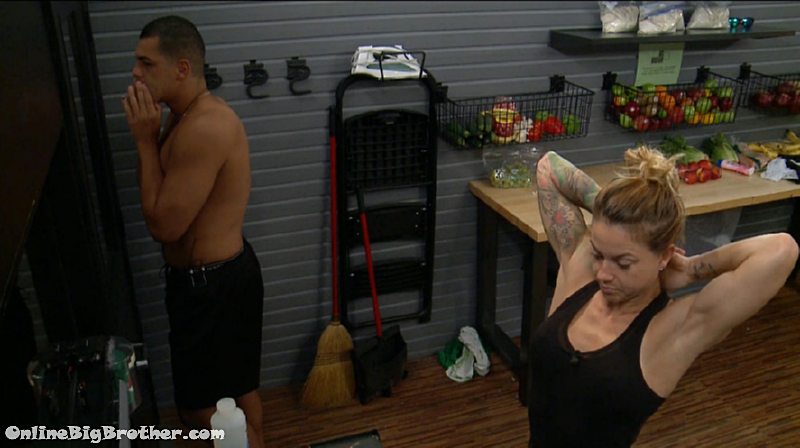 Feed subscription lets you go back and re-watch everything we post here CBS All Access Live Feeds with a FREE 7 DAY trial.

9:22am Storage Room Josh and Christmas
JOsh – we have the veto ceremony today
xmas – Mark's using the veto
xmas – I got a great Idea.. if you put me up instead of Raven.. listen.. I got a really good speech
Josh – I don't think so..
Mark comes in..
they leave..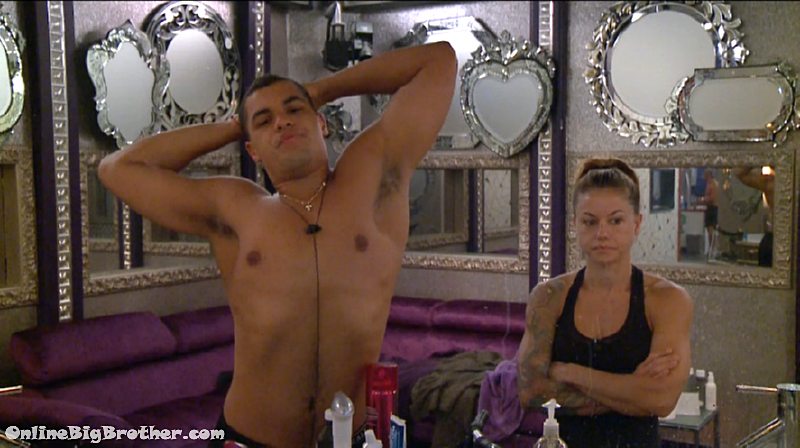 9:27am Bathroom Christmas and Josh
Xmas mentions her going up as a pawn.
Josh bringing up Raven going up as a pawn.
Xmas – they will use it against you
xmas – it's too soon for her to be able to go up as a pawn
Josh – yeah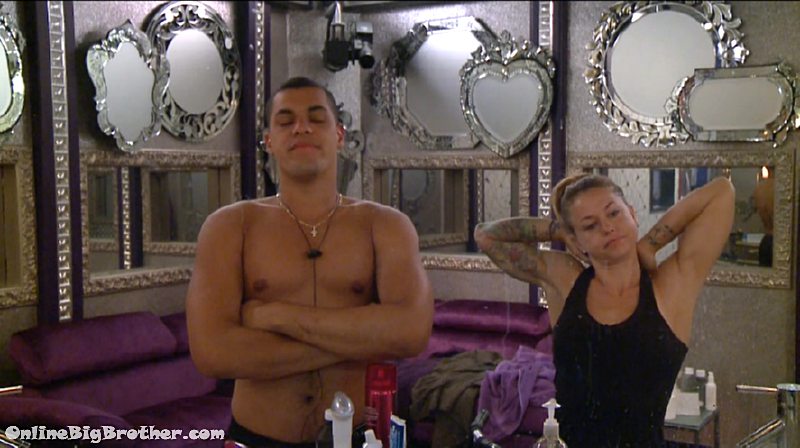 xmas says 2 days ago Raven told her going up as a pawn makes her feel "disposable"
Josh – I don't want to put you up I don't feel comfortable doing that.
Xmas about Raven going up "she's going up against Jessica the mortal enemy of the house"
They agree Matt and Raven are volunteering to go up now when it's very safe rather than later when there will be fewer people in the house.
Josh – How stupid would it look if I put up my closest ally in the house?
xmas – do people need to know we're the closest allies
Josh – I need to take a douche
Xmas – ok.. proud of you
Josh says Paul is sick and tired of Matt and Raven
Xmas – Paul, Mark and Elena were playing in the have not room last night
josh – really
xmas – yeah
Josh – man I want Elena out really really bad..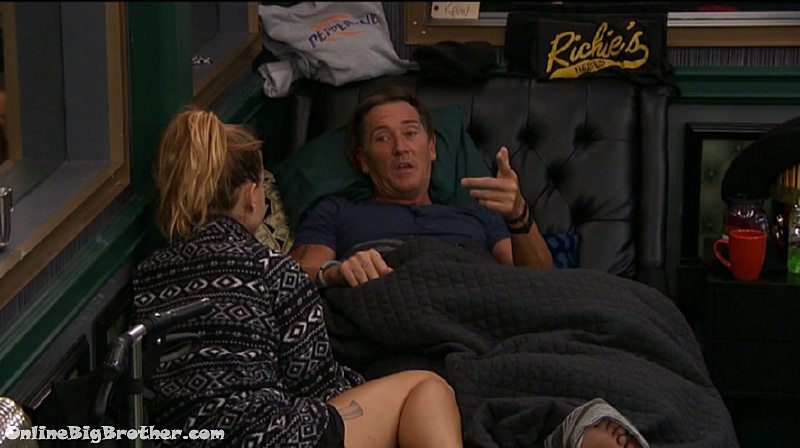 10:04am bedroom Kevin and Christmas
Kevin says he's going to miss Jessica, "I think she's cool"
Kevin – I wish everyone didn't dislike her so much.. I'm telling you
Kevin – the other people.. to be honest.. if you are playing the game properly she should be ahead of some of the other girls. (Jessica ahead of Elena/Raven)
Kevin – but because of Him everyone dislikes her so much
Xmas – I'll tell you what, I have my reasons that are game legit.
Kevin – She is a strong player (Jess)
xmas – she lied about me and Cody throw me on the block and I was on his team.
Kevin agrees that Jessica did ruin it with a lot of people, "I have no sympathy I'm not trying to talk you out of it"
xmas – her and Cody did a MAJOR move early in the game, it was too early to do something like that.
Xmas – I'll tell you Josh really wants Elena out instead,
Kevin – why? what because she doesn't like him or something?
xmas – no.. because she is a more dangerous player
xmas – before he put her up on the block, he talked said, I want to put you up as a pawn.
xmas – She flipped out.. said Matt is a better Pawn, Raven hasn't gone up, Paul is a better player so they should go up instead of her
xmas says when he pulled Paul in Elena denied saying Paul's name straight to their faces, "She lied"
xmas – Lied to his face minutes after, like you notice how she is working everybody? Because she's nervous she's trying to get into everybody's little pocket.
Xmas – she's played both sides of the house
Kevin doesn't think Elena is as strong as Jessica.
xmas – everybody watched her play both sides and Flip flop
Kevin – I'm with you.. but you have to take out the 2 M's .. M and M (Matt and Mark)
Kevin – Raven and Elena are not going to win any comps I'm telling you unless it drops on their head..
They agree Raven uses her accent based on the social environment.
xmas – Happy birthday.
Happy Birthday Kevin #BB19 @DawgsBigBrother pic.twitter.com/T186RXb272

— OnlineBigBrother.com (@bigbspoilers) August 7, 2017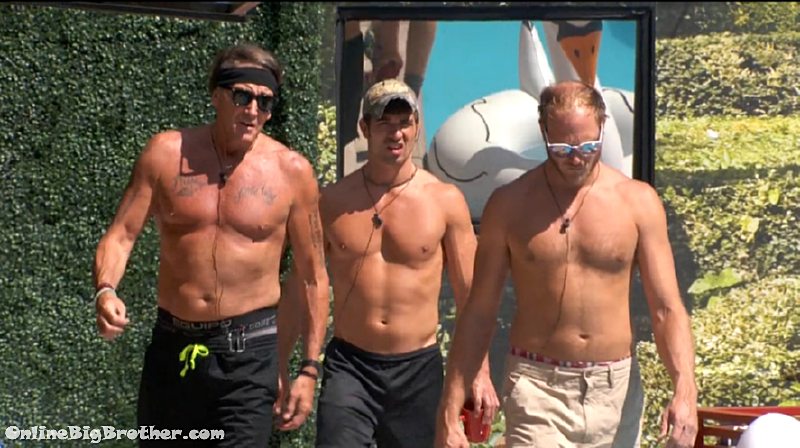 10:34am backyard Kevin, COdy and Jason
Kevin – how you feeling?
Cody – without Jessica I got nothing
Kevin – you got us man, I mean .. we ain't going to be cuddling with ya
Kevin – if you want to cuddle that's Jason
Kevin tells him Jessica wants him to try hard, "just remember how you got in this situation"
Cody – I've kept my word to everyone I ever liked
Cody – the only time it was proven with action was with you Jason I never put you on the block
Cody – Alex .. trust me I very much protected Alex, I don't know why she veered off from me.
Kevin – you have to go from now, you have to work from now on..
Kevin – if we have to remember what happened the past 6 weeks everyone is going to hate each other
Cody – i'm find being at the bottom
Kevin – you've always been at the bottom, they lied to you Cody.. they were telling you this and that. they wanted you to protect them through then they were going to chop you. I'm telling ya
Cody – there's a good chance if this next one is physical I'm going to win it .. i'm going to be f*ing pissed..
Kevin – who would you put up
Cody – anyone I protected that stabbed me in the back
Jason – I get that..
Cody – all the couples said we would protect each other until jury
Kevin says once Cody got out of the HOH that couples alliance was over. "Just remember that Cody"
Kevin – I never made a deal with ya in this game and yo never went back on a deal..
Kevin – just because she's gone don't lose you mind and go out like a lone wolf
Cody – I'm always going to be a target regardless of how I act.
Kevin – you won't be a target if we work together
Kevin says they will meet every morning and talk and leave it at that
Cody – you won't see any social interactions other than what we already have
Kevin says that's perfect otherwise people will talk.
They shake on talking in the morning and working together
Kevin says if he wins HOH he'll have 5 people up in that bedroom all night..
Kevin – where the f* were these 5 people when I was on the have not f*ing bed.
Cody – you'll see a lot of unprecedented things if I win HOH.. the speeches I have planned.
Kevin – I'm telling you if one of our guys win it you're not going up
Cody – why haven't people weaponize me yet..
Kevin – they are going to come to you now..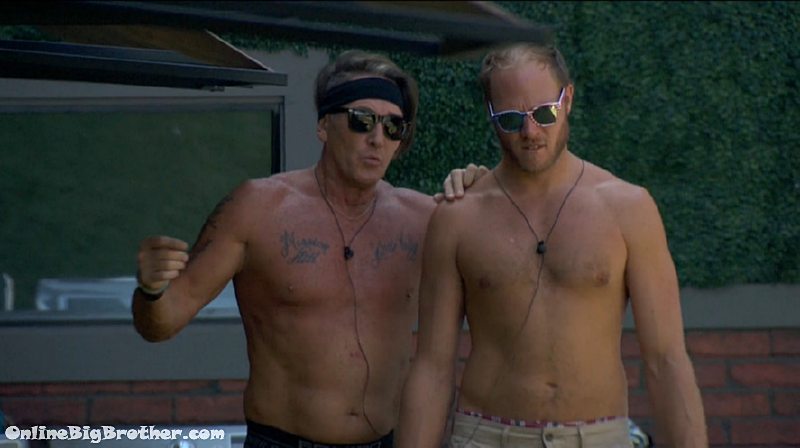 10:54am Kevin and Jason
Kevin is saying they can use Cody to take out the couples.
Kevin – How can we get mad man.. he's playing for us basically am I right
Jason – yeah
Kevin – when we do get teh chance after 3 or 4 of them gone left with that 1 week girl raven..
Kevin – then we can backdoor him (COdy) with 6 of us and 1 of him
Kevin – me, you, Alex, Paul, Christmas, josh and Him.. how can he beat that
Kevin – he hates Christmas and Josh so much once he can he'll put them up
Kevin – when we get our chance we put him up..
Kevin goes on to say he wants to Backdoor Cody at final 7
Kevin – you can't have 6 people playing in the POV with only 6 people in teh house can you
Jason – yes
Kevin – everyone in the house plays POV
Jason – Yes.. that's how you stay safe.. Alex was telling me yesterday
Kevin – you know they are going to run to him..
Kevin says Paul "and them" hate Cody so much they won't think about using him.
Jason is worried it makes them look bad working with Cody.
Kevin – we got to him before they did… Strategically it;'s a good move..
Kevin – I never disliked him
Jason – me either.. I never disliked him
If you plan on buying anything from Amazon. Use this link Amazon home
Doesn't cost you anything and we get a small cut.
Links to the ranking system
Rank your house guests here
For those of you that like Statistics here are some expanded reports.