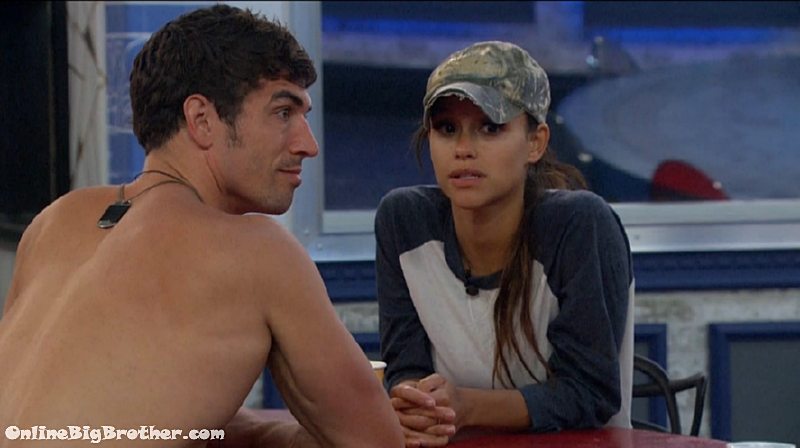 Feed subscription lets you go back and re-watch everything we post here CBS All Access Live Feeds with a FREE 7 DAY trial.

6:53pm COdy and Jessica
Cody – everyone is a target..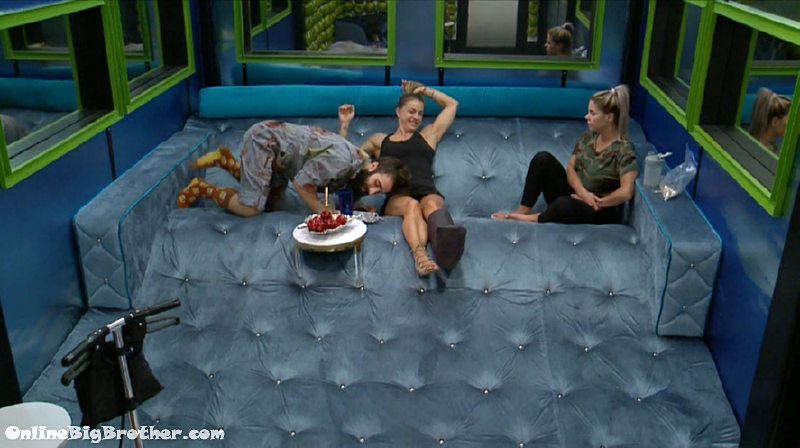 6:56pm Paul, Christmas and Elena
Christmas says she had no pain pills today.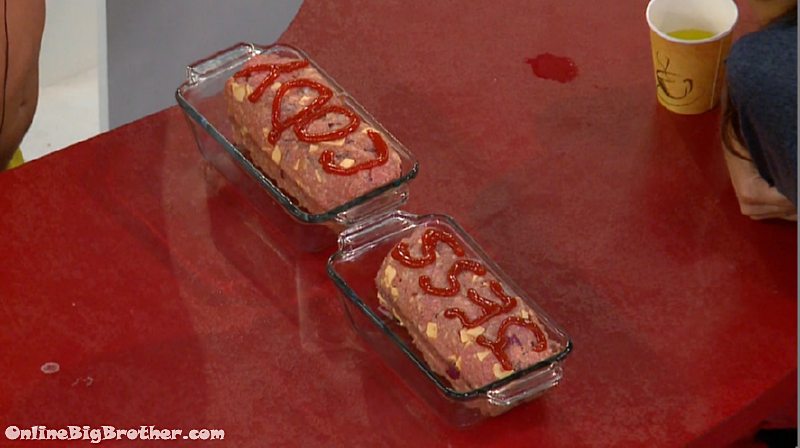 7:00pm Cody Jess meatloafs.. Awe…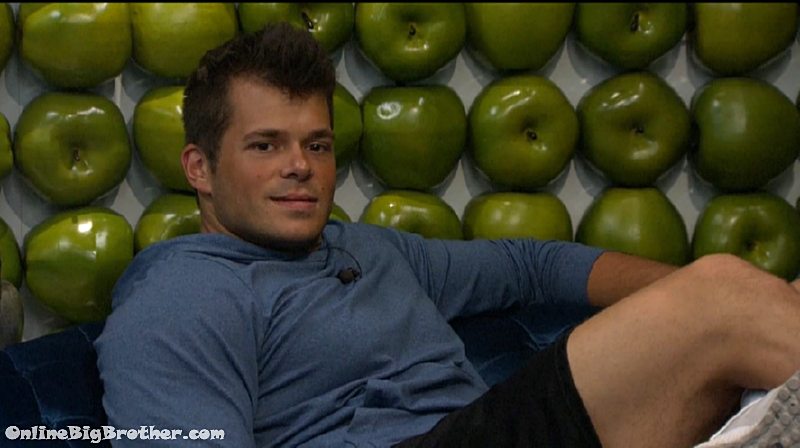 7:08pm Mark is telling them about being contacted by a Softcore porn producer. It was from his instagram account.
Mark – it's pretty much me naked..
Mark goes on to explain the difference of Soft and hard core porn..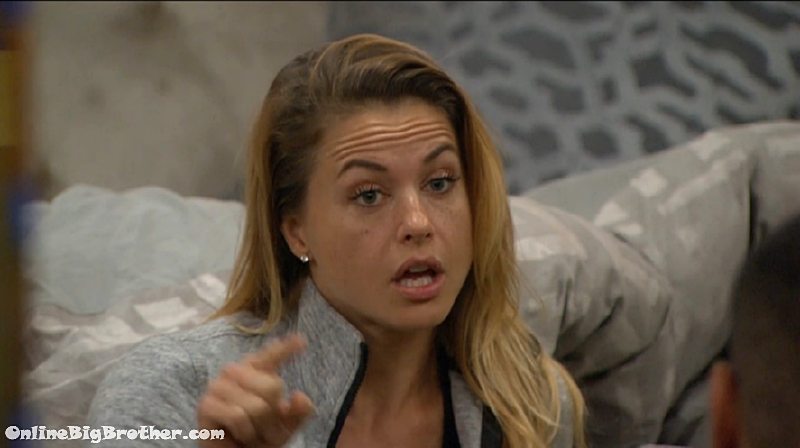 7:09pm HOH JOsh and Christmas
Xmas says Kevin doesn't like Elena at all
JOsh says Kevin doesn't see Elena as the threat he does..
Josh -_ I asked him do I have his back?
Josh – Kevin's smart but he slips up a bit.. He doesn't know how to whisper
Xmas – Kevin has developed a relationship with Cody and supposedly you and I are included in Kevin's umbrella with Alex and Jason. .. And Paul
Xmas – Kevin and Paul are very close..
Josh – I knew they were locked in
Xmas – when you tell Kevin something expect it goes to Paul…
Xmas is worried that the house is so calm about Mark using the veto.
Josh – raven and Matt volunteered to go up..
Xmas – raven offered to go up now because it's safe now.. Later it won't be safe.
Josh brings up Raven telling him how to use reverse psychology on Mark to make him feel like he's the hero.
Josh – I'm like this girl's good..
Xmas says RAven's accent is running thin and so is her Patience..
Xmas – she's getting paranoid for some reason.. Dude can I have a conversation with Raven that's not about her..
Xmas – can I answer a question someone had for me without her interjecting herself and making it about her.
Josh says Alex, Jason and Kevin are all annoyed by Raven
Xmas – Tomorrow is Kevin's birthday.. Don't forget it.. OK. Do something special for him somehow..
Josh say he still wants Elena out..
Josh – I know if I save Jess, jess isn't coming after us..
Christmas – we made Jury .. let's flip flop F*ing some shit and cause some chaos.. It just seems fun.. It's Big Brother… ARe we going to tiptoe around everybody . I'm a no backdown B1tch..
JOsh says there's a lot of people in the house right now that are playing it safe.
JOsh – Matt and Raven haven't played at all
Josh – taking a shot at Elena isn't flipping the house.. It's going to open people's eyes but it's not flipping the house.
Xmas says Matt and raven will flip with Cody and Jessica if Josh takes out Elena.
Xmas says Paul will flop in the middle.
Xmas bring sup Paul always mentioning "Top 8" to her and it shifts based on who is in the room.
Xmas – he flips back and forth..
Xmas says "Paul's top 8 is" Kevin, Him, Matt, Raven, you, me, Jason, Alex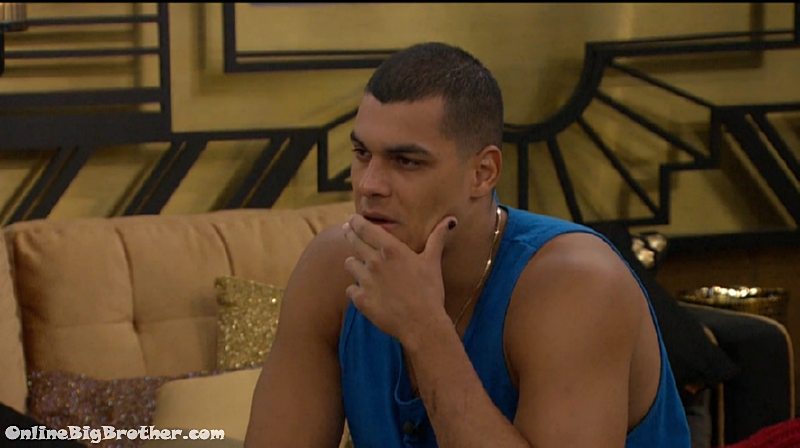 Josh mentions how Matt is starting to get annoyed by Paul.
Josh says Paul with Elena is "Lethal"
Xmas says Paul knows she's committed to him.
Xmas – Paul's a good person to keep for sure
Josh – Obviously
Josh – I feel good about up until this week.
Josh – why is he protecting Elena
Xmas I heard it today Too
Josh – she knows she'll take a shot at us and he won't do it.. He's thinking top 2.. He's thinking who will vote for me..
Josh – I got his back 110% but if you're not considering my game only your's that's not a team effort.
Josh says he's going to tell Jessica 'If you want to stay this week" get Cody to vote out Elena and don't come after him and his team next week.
Josh – raven's going up..
Xmas says Elena is starting to think something is up.
Josh – Paul I have your back 110% but this isn't the Paul game.
Xmas – it's very likely Paul is working with every single person in this house..
Josh – yeah..
Xmas says Elena is still working with Mark, Jess and Cody.
Josh – F* that you (Elena) voted me out..
Josh – Elena is acting like she's my friend she's playing this shady a$$ game.. I can respect where Jess stands..
Xmas – Whose do you think you have votes For
Josh – Jason, Alex, Cody, Christmas, Kevin, That's five
Xmas – you sure about Jason
Jsoh – yes I've had a conversation
Xmas – If we can't pull this off we're scrambling..
Josh – I can speak with Paul and He'll respect my move..
Xmas says Elena will campaign the f* out of the house so she needs to be blindsided.
JOsh – give it time so she shows him, she's going to f* up after noms, she's agitated..
Xmas – still on slop[
Josh – she'll f* up and he'll be sold she has to go.. My points are valid.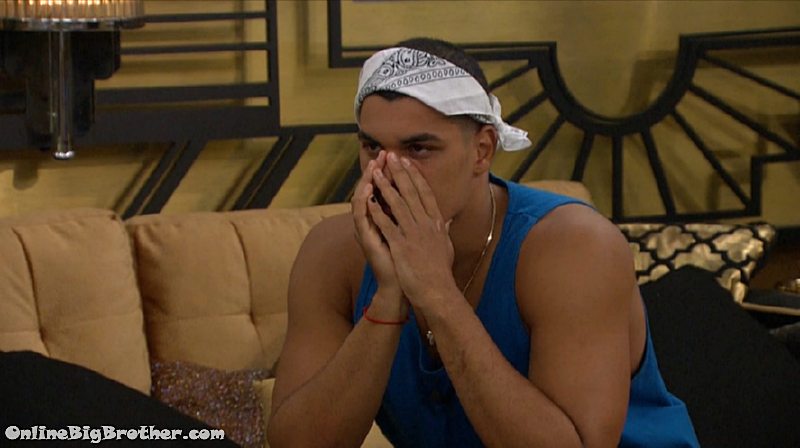 Xmas says Elena doesn't talk game to her, "If you don't talk game to me you're not on my team"
Josh – If Elena wins HOH next week she'll put me up, If Jess wins HOH she won't put me and you up.. I just saved her a$$
JOsh says Paul is giving Elena information and protecting "way too much" it's concerning for him.
JOsh – Matt and Raven will never go against the numbers
Xmas – do you want a truce with Cody and Jess Or the other alternative is to flip the house and cause chaos early.
Xmas – you are keeping a couple in the house that has personally disgraced you..
JOsh says taking out Jessica is best for Paul's game.
Xmas – I want to flip the house so bad.. BUT … to get to final 6.. You need people..
Xmas is pushing for them to send Jessica home.
Xmas – from what I understand Cody is not taking a shot next week
Josh – If I get rid of Jess he is…
Xmas – we take Jess out..
Josh – Alright let's get Jess out..
Xmas – I really think … Jess needs to go.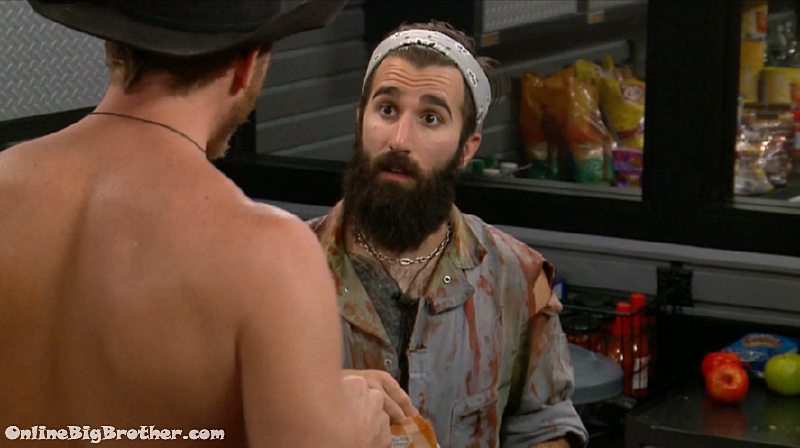 7:32pm Paul telling them Mark will use the veto and if he wins HOH Mark is putting up Josh.
Paul tells them they have to win 4every comp .
8:16pm Josh
Josh – Yeah I'm a goofball.. but I came to play a game..
JOsh – I'm probably going to go on a power trip and lose my sh1t this week.
JOsh – I really don't give a sh1t I'm tired of playing safe. I haven't played safe.. I'm tired of people playing safe. I want to stir some sh1t up
Josh – boys in the house with pimps..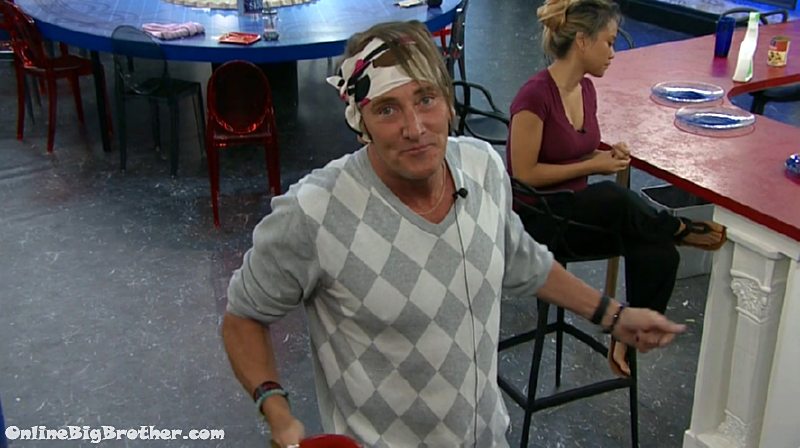 9:13pm Kevin's birthday..
Paul made muffins 'They're so good"
9:32pm
Cody – how many weeks are left..
Kevin – 6
10:57pm Paul and Elena
Paul talking about Makeup..
11:15pm
Jason – You can hit me over the head with a Bat i won't cry..
midnight.. LOL more makeup with Paul and Elena.
If you plan on buying anything from Amazon. Use this link Amazon home
Doesn't cost you anything and we get a small cut.
Links to the ranking system
Rank your house guests here
For those of you that like Statistics here are some expanded reports.