Check out our BB19 Ranking Grid. . rank your houseguests here
2:12pm Backyard. Jason and Kevin.
Jason and Kevin are folding laundry. Kevin – how are the towels? Jason – dry as a bone! Kevin – Dry as a bone like you and one of the girls? Jason – yeah, a dry bone! Kevin – is it the girl (Alex) that gave you the sunglasses? Is that the one you're really infatuated with? Jason – yeah! Kevin – because its just the way she talks.. Jason – the way she rubs her boobs on me. Kevin – the way she turns you on.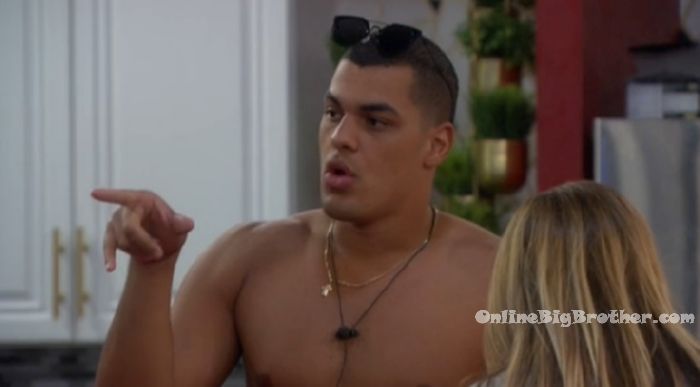 Josh talking to Christmas. Jason and Alex are also in the kitchen.
Josh – I was standing right there and looking to see how many people she (Elena) turned on. She turned on Jess and Cody, her closest allies when she saw that their numbers were against her she dropped them with her showmance. She threw Alex and Paul's name, her closest friend in the house under the rug when she saw that she was going up as a pawn. Not only that she threw out Matt's name that Matt's never been on the block. She's literally back stabbed and showed disloyalty to everyone one of her allies. She tried to lie and manipulate me to thinking I didn't say what I said when Paul was up there. Those are clear signs of someone I don't trust and won't work with in this house. (Josh is a broken record telling people his reasons why he wants Elena out) Christmas – we need to evaluate long term repercussions and how the house is going to shift. Making sure that we're safe. There are a lot of variables. Do you think Paul is fighting for Elena to keep her in the jury? Josh – I told him how she's dogged him and he literally doesn't see. Jason – ah he sees it, everyone sees it. They just don't want to do it. They don't want to preform that task. Christmas – that's why we have meatball he does whatever he wants specifically chaos. Christmas – If we don't ask for protection it will shift and we won't have the numbers any more. With this deal you have to ask for protection. And for that we will take shots at another 2.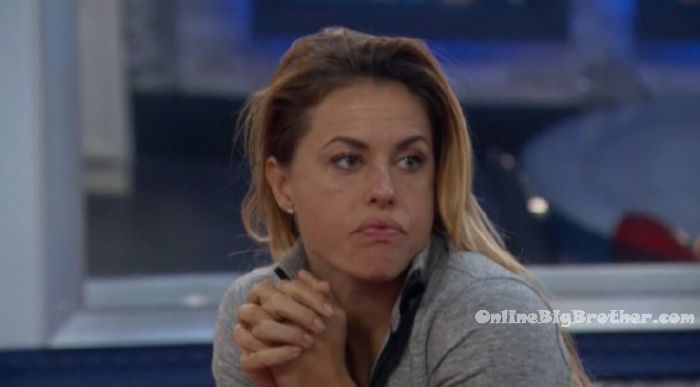 2:50pm – 3:05pm Elena and Jessica.
Elena and Jess talk about how someone in the house is going to win $500,000. Jess – if the finals were tomorrow and we had to vote on someone who is left in this game, I think Paul would win it. He's playing a really smart game. Elena – same. Jess – as a gamer I would love to watch it.. as someone in the house I hate it. He is playing a really good game. He is winning competitions, he has a good social game, he eliminates people that target him. I think he's got it. I would never vote for Raven. She literally does nothing in this house and it pisses me off and there are other people that see it. Jess – her or Matt are going to replace Matt. Elena – really!? And they're leaning towards Matt. Elena – how do you know? Jess – people tell me sh*t. Jess – there are things that I want to tell you before I leave. You can't react emotionally. Christmas does NOT like you. Understand that she is not your friend in this house. Elena – interesting. If I was to campaign this week, which I am not .. people have told me that she could be flipped to vote you out. I am not because I can not stand her. Be aware and keep you eye on it. Don't react emotionally. Elena – okay, good to know. Secretly I really hope Cody does win HOH next week so that he can take out a couple people. Jess – honestly I think your closest ally in the house is Paul. People will either look to him for leadership or they will turn on him and try and take him out. If the power in the house shifts to Alex and Jason's side .. they will make it further than you will. They've given me the order of who needs to go. ..it was Matt and Raven first and you third.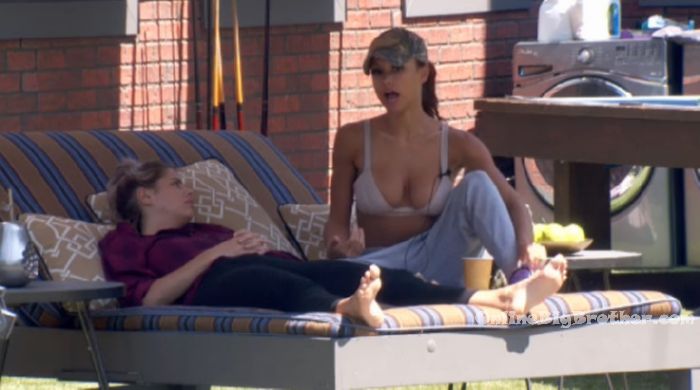 See what they can't show you on TV Try the live feeds for FREE!
3pm – 4pm The house guests are hanging out in the backyard chatting. Jessica and Cody laying on the hammock. Cody – this towel smells like dog! Jessica – well there are dogs in this house.
4:15pm Elena and Mark.
Mark – hows Jess? Elena – she's good. I'm going to miss her. It sucks that I don't get to spend jury with her. Mark – maybe its an 11 person jury and Ramses is there waiting for us. Elena – who would be your target? Mark – Cody, obviously. Elena – after that? Mark – Josh. What about you? Elena – I don't know. Mark – you have to tell me? Elena – Alex. Mark – it very easily could have just been me and you up on the block especially after Paul offered to go up. And then he (Josh) asked me not to use the veto.. trust me.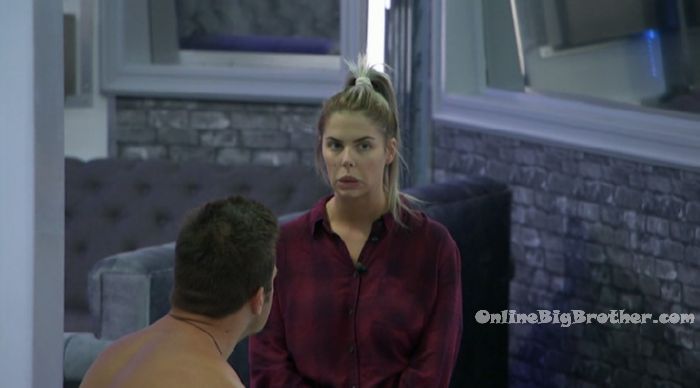 4:40pm Lounge room. Paul talking to the cameras.
Paul – I feel really drained. I feel like I am making a lot of game moves. I am in a lot of conversations. Not like last year but these people are scared to make big moves. I've had to push these move forward. Its tough, they put in characters that don't like me. Other people I can tell are being fake around me.. I want to jump before they do. Some true colors are starting to come out. People are starting to crack. Raven came in super sweet .. now that girl is crazy. Kevin is playing the best game in the house. He is in the best position. I think I am in an okay position for being a vet. Eventually they're going to be like f**k this guy, let get him out. Little do they know I am manipulating the sh*T out of the situation. I was shocked when I found out I was the only vet. I love you but that is f**king nuts. Starting now I need to grill into peoples heads that I will never win. They don't know all the backwards work I have been doing. If I can find myself in the final two, I think I could win. Once I get Cody out, I could get Matt out and Elena out. I think I could then steam roll through the rest of these people. I am forced to play. If I just sit back they will take a shot at me. People are starting to get a little crazy. I am in a f**King murder outfit!?! Elena and Mark join him. Paul talks about last season.
5:25pm – 5:40pm Lounge room. Elena – do you not think he should use his veto. Paul – its hard for me to advise against it because you worked for it, you earned it but if you pull yourself off …someone else has to go up. Big Brother blocks the feeds. When then return.. Elena – I think you should use it. Paul – I don't think the other option would be a wrong, stupid or bad move. Mark – this is the last week before jury. Paul – the confidence is so there that there is no chance that Jess does not go. Elena leaves.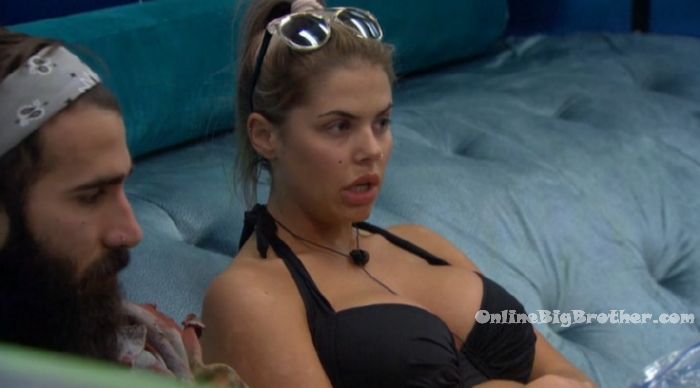 5:50pm – 6pm Backyard – Kevin and Josh.
Josh tells Kevin about all his reasons why he is thinking about wanting Elena out over Jessica. Kevin – she hasn't done nothing. She doesn't participate in anything. She just sits around, eats and sleeps. Do what you want but she is going out in the next few weeks. Josh – its just a thought. Its just things that I see. Kevin – there are 8, 7 people here that don't do sh*t but eat, sleep.. and grab a$$.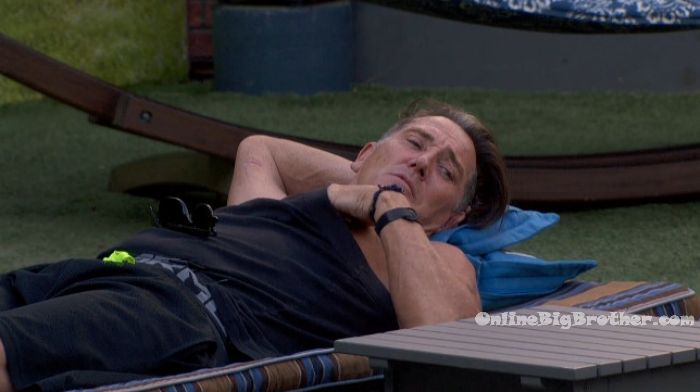 6:06pm – 6:36pm Backyard. Elena and Josh.
Elena – I really want to go far in this game… but how doesn't right? Josh – yeah. Elena – as long as nothing goes crazy this week at least I'm secured in jury. Josh – yeah. Elena – we get to spend the summer together for sure. Josh – its crazy, I didn't think I would be here. Elena – do you know who you would put up if Mark uses the veto? Josh – I have no idea. I want to talk to him. Elena – he's going to use it. Josh – yeah I know and I respect that. Elena – I would have used it, it I had won it. Josh – obviously I know that. Elena – I need to think of a good veto speech. Josh – she (Jess) is handling it well. Elena – I hope nothing crazy is happening and she doesn't go home this week. Its just a little bit scare knowing that I'm still on the block. I trust you and I trust that people will honor your decision. We can get Cody out next week. Josh – the thing that is taking a toll on my is the whole personal thing. I'm only 23. Its a game, you don't have to make it personal.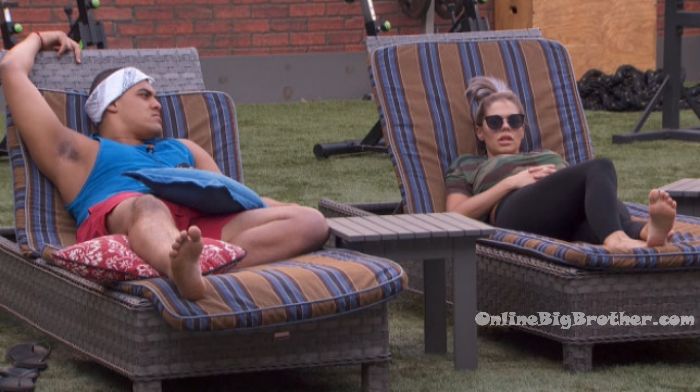 6:40pm Lounge room. Paul, Christmas, Raven.
Paul talking about his clothing company as Christmas strokes his hair and Rave watches.
6:40pm HOH room.
Kevin is rapping. Josh – you're a f**king pimp. You're a cool cat!
If you plan on buying anything from Amazon. Use this link Amazon home
Doesn't cost you anything and we get a small cut.
Links to the ranking system
Rank your house guests here
For those of you that like Statistics here are some expanded reports.