10:15am Backyard. Matt and Josh.
Matt – just make sure you're quiet and act like you're going home. Matt – and then win HOH and put those two (Jessica and Cody) up. Josh – oh you have no idea, on Thursday I'm going to say its blindside meatball! Josh – I called out Mark. It wasn't a good idea but you saw how fast he flipped right when Cody walked back in. Matt – I can't believe it how fast he forgave him. Josh – and this girl went from being friends with everyone and then when he came back in she went back to how she used to be. When he walks out that door she better keep that same attitude. I think I was fine going up because I knew I was going up. If I stay on Thursday I said in the DR you better give me five minutes so I can go off on Mark. I'm literally going to be like lets talk about it. I'm not going to talk game. I'm going to throw him off. And if I go out in that HOH its going to be a meatball dance off! MEATBALL! It's going to be 8 against 4. We have 2 more till jury? So Ramses goes and then 3 of them go to jury. (Jess, Mark, Elena) And then we can play fair and whoever wins, wins. This hostility and fake a$$… fool you can't. How can you be working with… I don't respect that. If anything I have respect for Cody. Mark I don't respect. He was trying to hide under somebody. Matt – I told him you cannot do what you did to Josh … to another grown man. Its just not cool. If my friends saw me do that, if my dad saw me do that .. they would be like dude you're a pu$$y! That sh*t is just wack! Josh – I know I lost it but he made it personal. He had people around and they hear that, they will buy into that sh*t. Matt – everyone saw that and it was just at a different level. Josh – My family saw that I got blatantly disrespected and I was like now I'm about to go off! Matt – I think you handled it pretty good. Josh – yeah laid him out. I would have gotten my a$$ beat but I would have clocked him one first. I talk a lot of sh*t but he's not like that. DOn't run your mouth and expect me not to dish it right back. When the votes come in on Thursday, I'm jumping up on the sofa and being like BABABABABA what happened meatball!?! Lets talk about it! If I go out in the HOH and he is up there i will probably go back on the block. I don't care at that point. I like everyone in here besides those 3, we are just going to have fun. I am just going to f**k with him.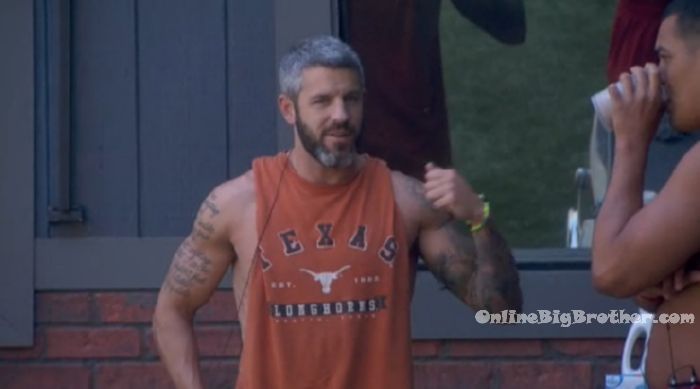 10:35am – 11am HOH room. Cody and Jessica.
Jessica – everyone that is left in the game after Josh leaves has a pair. From here on out chances are pairs will be going up next week. Cody – I mean if I could get it (HOH) what I would do is backdoor Paul. That's just what I would do. That would be my only goal. And I would maybe even put up a nice sweet pawn. I would think about putting up Raven. Jessica – if you won HOH we would need to solidify a deal with one side of the house so that if you were going to go ahead and pull the trigger on Paul. If that's what you decided to do… in order for us to do that we would have to join the other side of the house and have to solidify an alliance. Otherwise if you strong arm them and tell them you'll put up two people on their side of the house. Cody – there is no more solidifying alliances. Me and you are the only alliances. Jessica – I'm sick and tired… agreed but I don't want someone from that side of the house coming after us. Cody – they will regardless. Jessica – I want to strong arm them saying you either work with us or we will put two of you up prior to nominations. Cody – you're going to have to do the strong arming because I don't think it will be convincing from me. Jessica – that's who you are, you're the muscle babe! Cody – its fear through competition, its not like fear through go if you don't do..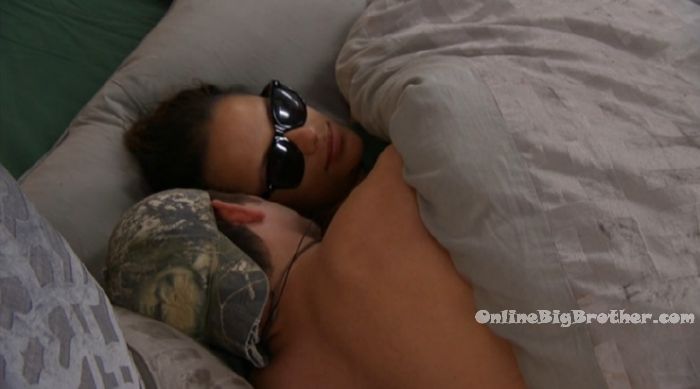 Cody talks about Jessica revealing her temptation so that no one will waste their HOH. The only one that will try and convince them to do it is Paul. Let him do it and then we'll reset. And that person will be like yeah no. Jessica – that's exactly why I don't plan on telling anyone what the stipulations are to the temptation. Cody – you could lie about it. Jessica – I'm going to imply that my temptation is better than Paul's and not only can I control one nomination, I control both. And the only person that is going to suffer for it is the HOH. That is exactly how I am going to present it to them. Wouldn't the punishment be that everyone would just have to reset? Cody – yeah. Cody – then they are going to say its a rewind week. Jessica – I'm not going to say that. I will control nominations. I will not let them realize its a rewind week. I want people to want to work with us. I still can't believe I got that. Its so cool!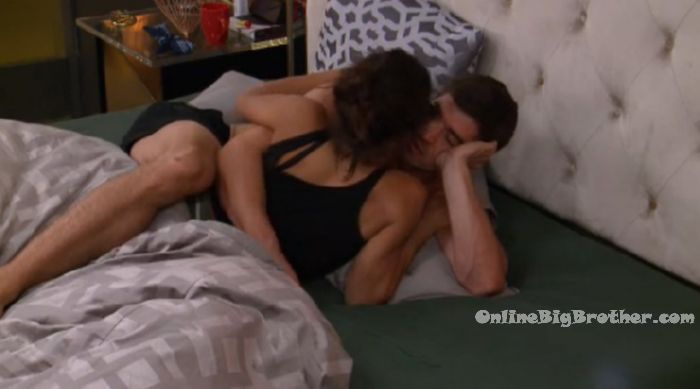 11:10am Big Brother calls everyone up to the HOH room. Then big brother blocks the feeds.
11:35am The live feeds return with the house guests coming down to kitchen for the Havenots. Jessica reads the card that says havenots are the first 3 house guests that dropped their red lights during the "what's the hold up HOH". Kevin, Mark and Paul are the havenots for the week. Josh you took last weeks havenot temptation but received the havenot extension chip so you will be a havenot again this week. And remember the havenot temptation is in play again this week. Josh since you took the temptation last week you are not eligible for it this week. Mark decides to take the havenot temptation.
HAVENOTS: Kevin, Mark, Paul, plus Josh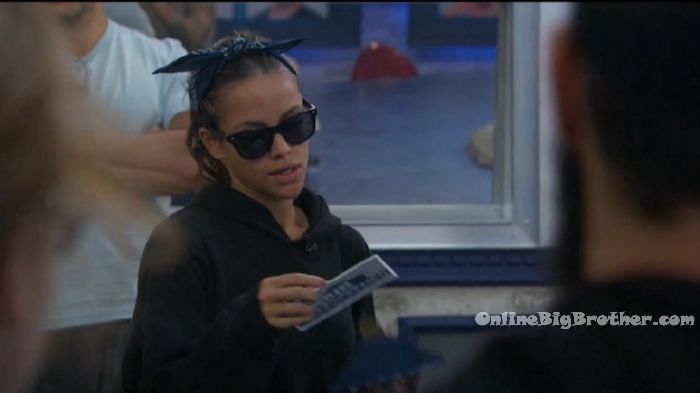 12:35pm Kitchen – Raven – if Mark gets 2 weeks (on slop from the havenot temptation) it would be hilarious. Matt – it would be the funniest thing that has happened in this house.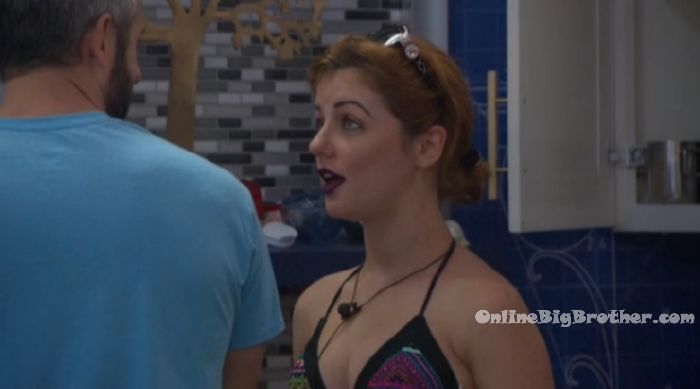 1:15pm HOH room. Cody & Jessica.
Cody – Raven has been yelling a lot. Jessica – they fight like brother and sister but then then bang. Cody – its a really weird relationship. Mark and Elena are more natural but she is tugging him along. Jessica – in her DSR she said that she likes someone that can put her in her place and he does not do that. That should have been a sign that they're not good together. She has told me that they've got at it a couple of times right up until the point when they would be having s*x.. and then she would stop and he keeps going to the bathroom. He's done it like 5 times. When I told her that Matt and Raven literally went at it when I was in bed next to them and it was disgusting when I told her.. she was like f**k if all y'all are doing it, I'm going to do it. That conversation only happened a couple days ago. Cody – I don't know what she's holding on to she was walking around with her top off a couple days ago.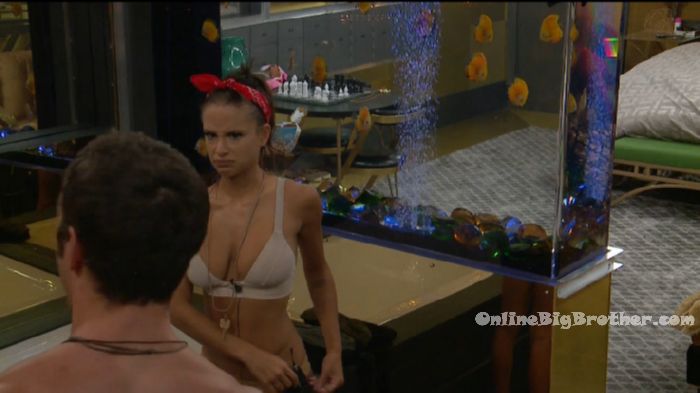 2:27pm In the kitchen. Alex and Mark.
Mark – my body is accustomed to actual protein. This sh*t (slop) is not protein.
3:30pm Christmas – Jason I need you to come rub me. I need to start cashing in on these rubs. Jason – what part of your anatomy do you want rubbed? Alex – Jason! Christmas – lets start with the legs.
3:55pm Cody – girls get f**king fat in here. Jessica – don't know why? Cody – snacking. Jessica – I'm not a snack'er. Cody – that's good. Paul how much did Nicole gain during your season? Paul – I don't know, I didn't weigh her.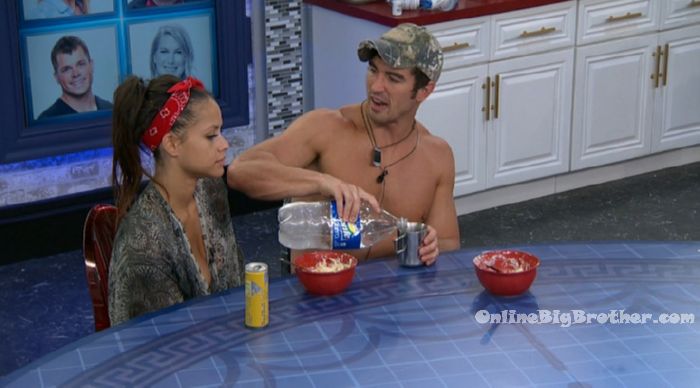 3:56pm Mark comes out of the diary room. They ask him if he got the key to open the havenot temptation box? Mark – no, later. Mark grabs Elena and they head to the havenot room. He tells her he doesn't want the other house guests around because some of them annoy him. He opens up the orange box and get the havenot curse. He has to be a havenot for 2 weeks. Mark – I need to win HOH.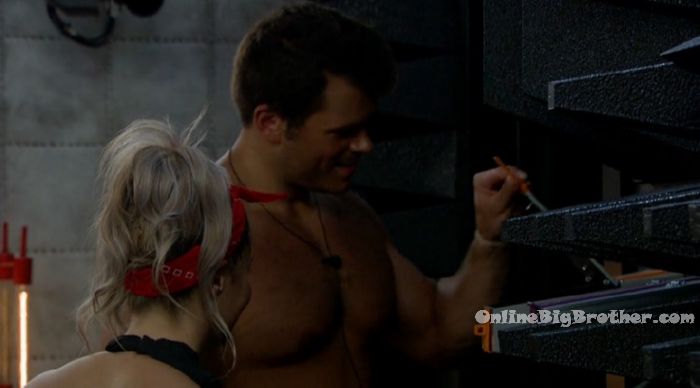 4pm Backyard. Paul & Christmas.
Christmas – Mark is back to ignoring anyone he doesn't want to talk to. But if he gets that key… if he gets slop for two weeks.. Paul – that's perfect! One less competitor on next Thursday. Christmas – no one is looking forward to him being on slop for two weeks. He is going to be more erratic than ever. It just gives us a real good reason to be like he is making the house a nightmare. Paul – but we also need to assess them two. the longer we let them slide the more the acclimate. Christmas – he is smart. Paul – who? Christmas – Cody. Paul – not really. Christmas – I hope people dont forget how much fear he played into everybody. And all they're doing now is taking out the pawns. Paul – just to make everyone happy.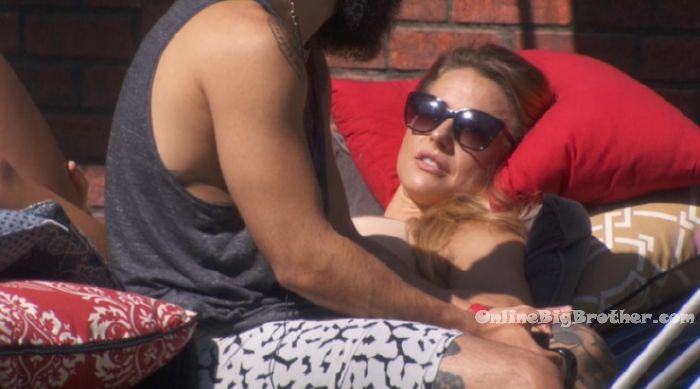 4:15pm Havenot room. Elena & Mark
Mark – if i were to put up Ramses, I dont know who I would put up with him. Elena – okay so what was your idea? Mark – I don't know. Who would you put up? Elena – I don't know, I'm not going to win HOH. Mark – I don't think many people want HOH this week. Elena – Raven wants it because she wants a letter from her mom. Mark – this one better be a rope one. Cody wants it. Paul wants it. I just want to be off slop.