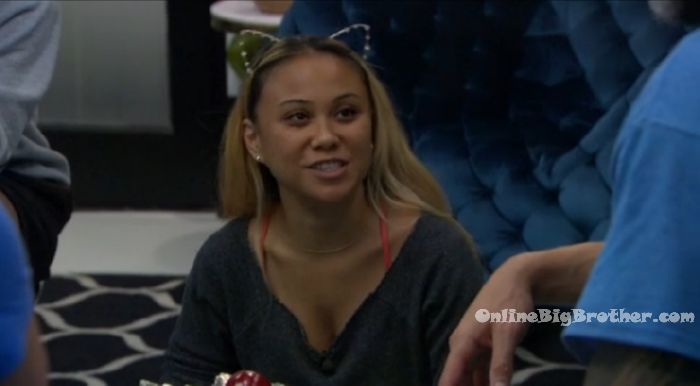 Check out our BB19 Ranking Grid. . rank your houseguests here
9pm Lounge room. Alex, Christmas, Matt, Raven and Ramses are studying what they remember from the videos. They head into the bathroom to continue studying. Alex – do not talk to Mark because he has been lying to our faces about some of it. A$$hole! Christmas – I think the best thing for us to do is break up into small groups and then mix up small groups. Alex – and if Ramses comes in just… Christmas – shut the f**k up. I'm not interested in giving him f**king information. Alex – he's just going to run to the other side. Christmas – if Cody stays next to Mark and Elena… Elena remembered everything! Christmas – she graduated at the top of her class high school and college at a very prestigious school. That b***h is smart! So smart! Alex – she has a photographic memory. She closed her eyes and read all the tattoos. What the F**K Rain Man!? SH*T!
9:05pm In the bedroom – Elena and Ramses are studying. Christmas joins them.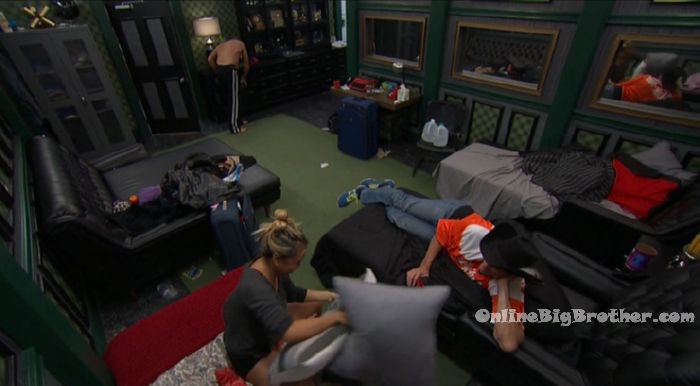 9:15pm Alex comes out of the havenot room laughing. Josh – don't say sh*t! Don't say sh*t! Alex is laughing. Jason – why are you laughing? Alex – Marks bed is just on the floor. Like (Alex throws her pillows on the floor). Jason – oh no.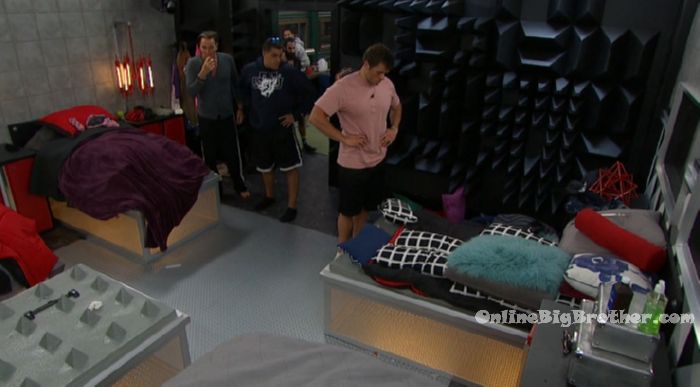 9:25pm Havenot room.
Mark comes out of the havenot room and asks – Alex, I am going to ask you once. Was this you?! Alex – no I did not touch your pillows! Mine are right here. Josh – don't f**king touch my bed! Mark – JOSH DID I F**KING SAY YOUR NAME??!!! Josh – I don't know who the f**k you're talking to but all I said was don't f**king touch my bed! Mark is standing by his bed looking at how all his pillows have been thrown on the ground. Josh – oh sh*t! Paul comes in and says I've been outside this room the entire time. I had nothing to do with it. Kevin – Mark, just be cool man. Don't fight about it. Lets help him fix it. Mark – no, no, no its fine. Kevin – Who touched his stuff. No one touch my stuff. I'm not playing no more! F**king ridiculous man, we have enough pressure from everyone being everyone and then we f**k with each other still!? Who did it!? Josh – I just said nobody touch my bed because they've been playing with beds all day and I couldn't even sleep last night. Kevin – who threw his sh*t on the ground. Josh – I don't know. I packed my bags. Kevin – I was just in here and it wasn't on the ground. Mark – I didn't f**king blame anybody!!!
FLASHBACK and watch everything you missed:
Live Feed 7 day FREE Trial!
Kevin – I know, its just disrespectful! We have enough pressure. And you got to make people get like that?! And then they're going to have to do something with no choice. I just don't want no fighting. It not worth fighting. Josh – I'm not going to let people address me disrespectfully. Kevin – who addressed you disrespectfully!? Josh – I just said nobody touch my bed and he (Mark) started screaming. Mark starts putting his bed back together. Paul comes back in and asks who did it? Mark – I don't know. Kevin – you can't touch peoples personal stuff. Mark – I know it wasn't you guys. Paul – just keep it under wraps. Mark – Yeah, I'm not saying anything. Kevin – last night I didn't sleep at all. Mark – yeah I f**king know! Its a b***h to get these beds set up. Its whatever, I don't give a f**k. I know it wasn't you Kev. Kevin – don't get thrown out on something stupid. Get your sh*t and get them back!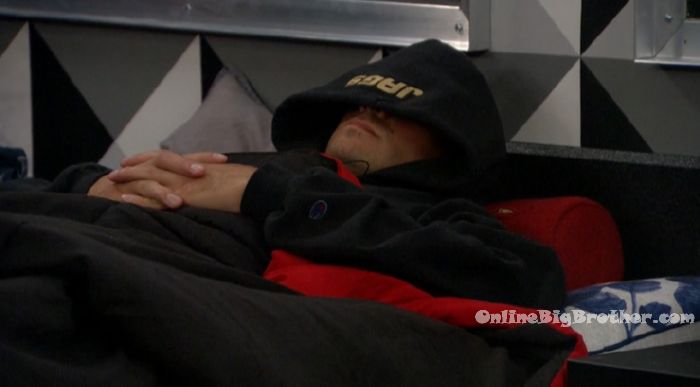 See what they can't show you on TV Try the live feeds for FREE!

9:30pm Lounge room. Paul and Raven.
Paul – Okay so Elena knows this sh*t really well. I'm going to try and make her like .. what's going on upstairs? And she was like I don't like what Mark is doing with Jessica and Cody. So I'm not buying it but the f**king girl knows everything! So in the off chance she wins we need to plant. We need to do something. Right now Mark is flipping out over the pillows and she has her head buried in her hands like f**k. Matt joins them. Paul – Elena knows everything and even when I was trying to throw her off.. she knows a lot. I am going to try and slip in .. I was asking her what is going on with you up stairs. And she said I was listening and I don't like what Mark is doing with Jessica and Cody. So she said this. Granted do I really believe it no. But is it worth planting that you're not on the ins on the off chance that she does win? What do you think? Christmas joins them. Paul – In the off chance we can get her to throw it or not fire this way. Josh pops in and leaves. Paul tells Matt and Raven about how Josh threw Marks pillows on the ground and Mark went off. He is already starting to f**k with him. Paul – I think she (Elena) will try and separate from them. Josh comes back in and says – that is one of many! F**ker! (Throwing Marks pillows on the floor to mess with him.) Mark jions them. Paul – is that done? Mark – I took a deep breath. Its just immaturity and disrespectful. Paul – no one in here knew anything about that. Mark – no I don't care. Its over. Raven – I'm sorry. Mark – its okay. Christmas – I thought that was going to escalate. Mark – no I let it go. Matt – thanks dude. Good job. Christmas – I thought he was going to keep talking sh*t. Mark – he leaves in a day. (Nope Ramses is leaving) Paul – it was him? Mark – it was him and Ramses. I don't even care. Its whatever. Matt – oh I hate mental comps. I'm too old. (lol)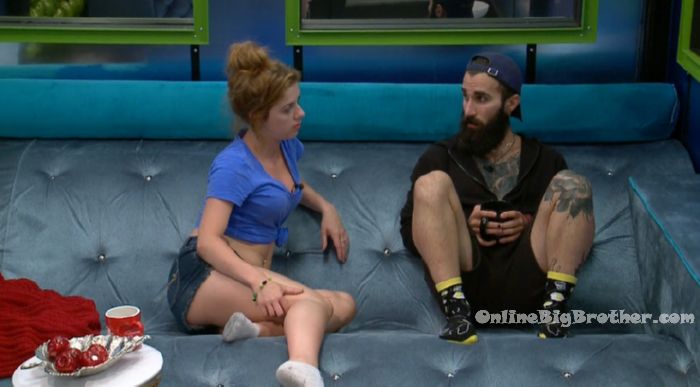 10:30pm Bedroom. Elena and Paul.
Paul – how do you feel about the situation tomorrow? Elena – like for the vote? Paul – I don't care about the vote, I mean for the HOH. Elena – I know Mark wants to win. Paul – do you think he has the capability to win? Elena – no. Paul – do you think he would ever put me up? Elena – no. Paul – are you sure? Elena – yes, positive. Paul – if you keep associating with certain people .. its big brother.. its paranoia .. if he (Mark) is not receptive, I honestly think you are sinking your own ship. Elena – the only person I have stayed 100% loyal to is you. Elena – how can I now navigate more away? Paul – I do not know. Elena – he's attached himself to me. I like the dude. He is cool.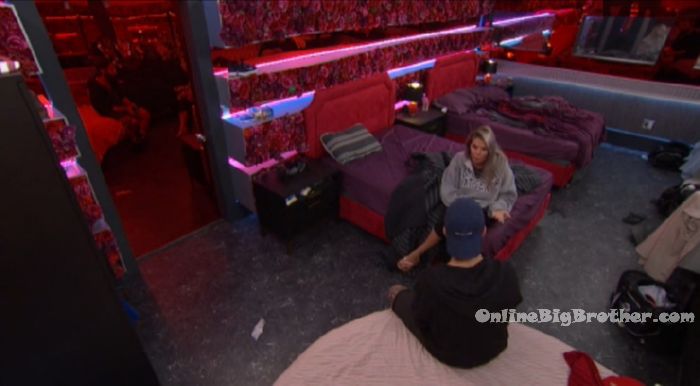 10:40pm HOH room. Jessica and Cody.
Jessica – do you know who are talking in the APSR (lounge room) room that's kind of random? Josh and Ramses. Cody – watch me be like Mark, I don't trust his a$$. And watch him in the diary room be like I really think Cody and I established a real trust bond. I'm all cynical. Yeah that f**ker! He thinks I'm ret@rded! Oh sh*t I said it, I said it. Everyone has. I'm not the only one. Jessica – doesn't make it any better. Cody – I really wanted to avoid the offensive shit. Jessica – what if Paul had that conversation with Kevin to see if it would get out? Cody – I don't think Paul is that good of a gamer. Jessica – he studies chess and how to control animals. Cody – I can't say it enough your intuition is better than anyone elses in this game. Jessica – yeah but I don't listen to it. I was trying to find the best way to move on by building an alliance but I need to give up on that.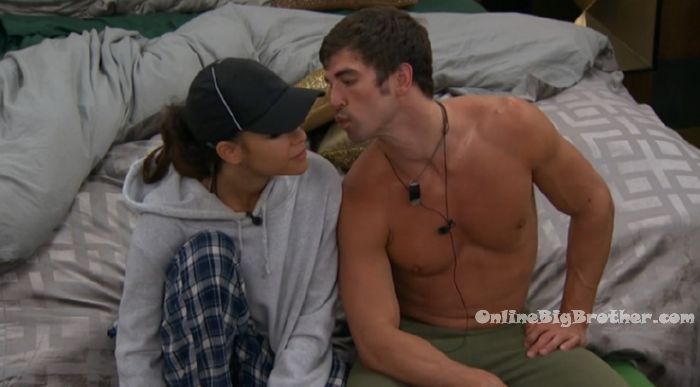 11:30pm In the bathroom – Matt, Raven, Elena and Alex are chatting about random things. In the bedroom – Kevin, Paul, Jason and Mark are also talking about random things.
11:33pm HOH room – Cody – I love JJJJJumbo size jets. Jessica – that's the best one you could come up with? Jessica hold up her mic to Cody and says I want to make sure they get it. Cody coughs and says I love you.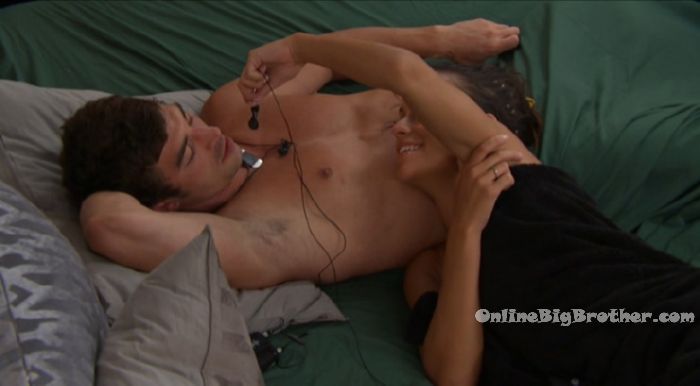 11:45pm – 11:50pm Bathroom. Matt, Raven, Paul and Elena.
Matt – why don't you want to win HOH? Elena – I feel comfortable with other people winning right now that either want to win it more or have a reason to win it more (she points at Raven). So as long as someone else has a really strict agenda that I am okay with, then I am okay with not winning it. Like if it comes down to me and you (Raven), I would rather you win it to get a letter from your mom. Paul – same. Elena – I can go without a letter from my mom this week. Its not that I don't want to win it. I know Mark really wants to win it so that he can get off slop and not be a havenot. If people want it more than me I am okay with sacrificing it. But if its someone that I don't know their agenda or if I don't feel that I am safe or the people that I need safe (she points at them), then I'll stay. Paul – but we're not asking you that.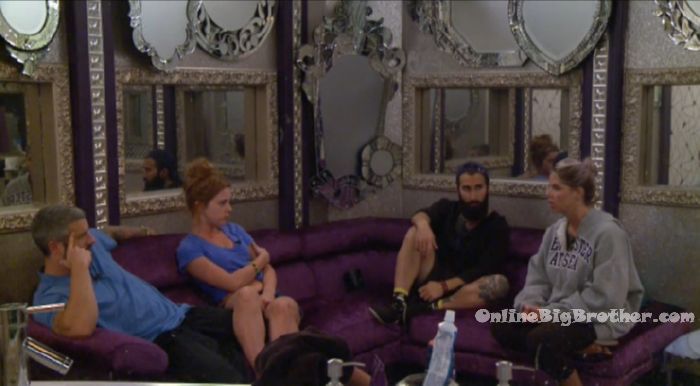 Matt and Raven flirting all over the house…

12:15am Bedroom. Alex and Jason.
Alex – she needs to go and then we'll get out Josh, Christmas. Jason – lets get out Christmas before Josh. Alex – done. Well depending on who brings in better information. Cody, Elena, Jessica, Mark… You have to try and stay in the game (HOH) as long as you can because if Paul gets one detail wrong he is out and we're screwed. So try and stay in as long as possible. You or I need to win HOH. I think Kevin is throwing stuff. Paul joins them. Alex – you still agree that besides this we still need to get out Cody and Elena? Paul – YESSSSS! Jason – Cody, Elena, Jess? Paul – YESSSS! This is just temp… she's saying she's going to throw the comp. Jason – she throws the comp and then we put her a$$ up. Alex – no matter what me and him are with you, whatever you want to do.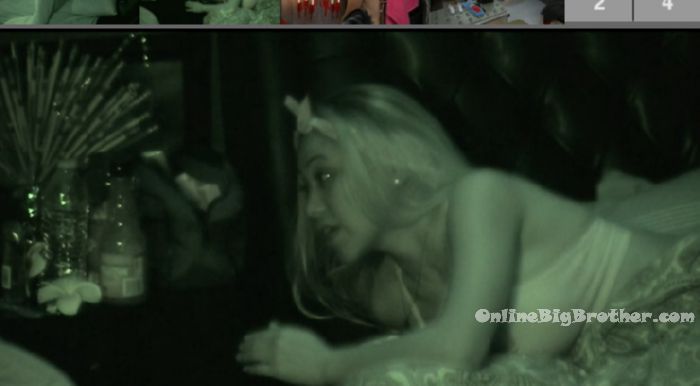 12:20am Lounge room. Paul, Kevin, Matt and Raven.
Paul tells Matt, Raven and Christmas that they will assign half of them to answer true and half to answer false for questions that they do not know just to make sure some of them stay in the competition. Raven says she is going to go to sleep. Kevin – are you going to go grab a$$? You're not going to sleep. You're going to go play grab a$$ and then go to sleep.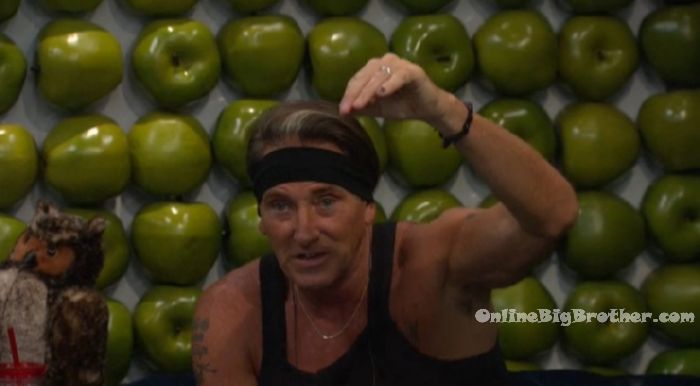 12:38am Havenot room. Kevin and Josh.
Kevin – you know how much I'm the man? I don't even care about winning tomorrow. Now when you don't care about winning you've got to have some kind of thing going through your head, right?! And do you know why?! Because I treat everybody good. So who's going to treat me bad. And when time comes to treat me bad, that's when I win. Why strike now and have everyone dislike you or something. Or strike some guys girl or some guy and then they don't like you… for what?! Josh – I'm going to throw them off mentally.
1am – 1:25am Lounge room. Elena and Mark.
Elena – is annoyed with Mark because she says he raised his voice at her. Mark doesn't think he raised his voice at her. Mark – instead of asking me why I raised my voice, you just act pissed off towards me. Elena – you 100% did raise your voice at me and I said don't raise your voice at me. Mark – you its like you're annoyed about something but you won't say it. Like I don't know if its because I spend time with Cody .. which makes it look bad for me and then it looks bad for you. I don't f**king know because you don't tell me. Elena – I'm annoyed because you raised your voice at me and I said that. Mark – first and foremost I will be more careful.. if you truly think I raised my voice at you I am sorry for that because the last thing I want to do is use my voice or force especially against a female. That's not the case. I raised my voice at Alex and Josh. I would never raise my voice at you. Elena – Alex is a female. Mark – Yeah but she is more like a f**k around. I think she likes that deep down. She's weird. Christmas joins them and asks Elena if she can share her bed to stay warm. Christmas leaves. Elena tells Mark about how she doesn't like how he spends a lot of time with Cody and Jess but says he can do what he wants because she isn't his keeper. She tells him that she doesn't like how he gets mad. Mark says everyone in the house raises their voice. Ramses does. Elena – you're 250 lbs and you're scary when you get mad. Ramses I could flick. Elena gets annoyed because Mark isn't talking. Elena gets up to leave and asks if he want the door open or closed. Mark says he doesn't care. Elena slams the door. Mark – oh my god!? Where did you find this girl!?
1:30am Bathroom. Christmas and Josh.
Christmas – The best case scenario is you taking this (HOH). Christmas then starts studying the video with Josh.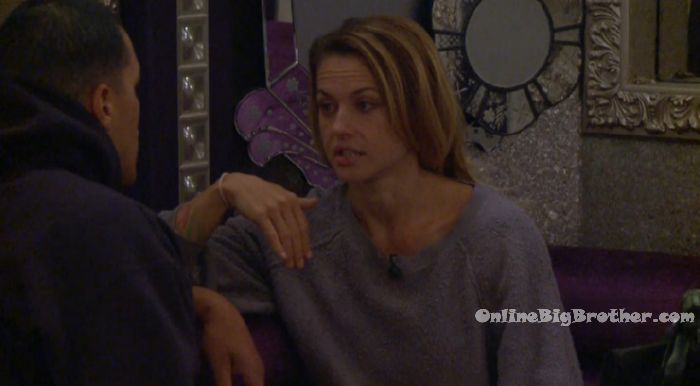 1:40am – 2:25am In the kitchen – Mark – if you want to cut off your ties with me because of how I play this game and how I act that is fine. You're here for a game and I understand that. You told me not to get attached and did. I'm sorry for having feelings for you. Elena – I am very confused at what you're getting at. Mark – I am sorry that you're in this situation. Clearly people perceive me in a certain way. Elena says she doesn't want to have this conversation in the kitchen. I gave you the opportunity to talk in the room and you didn't take it. Would you like to continue the conversation else where? Mark – sure. They head into the lounge room. They go into the room and Mark doesn't say anything. Elena – dude!? Mark – I said my piece. Why do you want to make things harder on yourself? Elena – okay fine! Mark – okay fine what?! Elena – I won't make it hard on myself. Mark – I have feelings for you and you said I shouldn't and I did. Me personally I would like to keep this going. It hurts me like no other when the person I like ignores me. You flat out ignored me and it hurts me. How I felt tonight, I f**king hate. I really like you and … I don't even know how you feel. The last thing I would want is for my personal feelings for you to mess up your game. I got excited and I got loud but its not that I yelled at you for what you said. And for the record the only reason I brought up your name and Paul's name when Cody was thinking about making a big move in this game was to make it very clear to him that I would have nothing to do with it if had to do with you or Paul. Elena – I know you said that. Mark – I am freaking crazy about you. The last thing I want to do is hurt your chance in the game. Elena – In your mind you did not raise your voice at me, in my mind you did. Moving forward. Mark – people in the house can raise their voice but I can't because then I have anger issues. Elena – I care if you raise your voice because I am clearly aligned with you. I could careless if Ramses or other people raise their voice. They continue to go around in circles talking about the same things over and over again. Elena – I think we've come to an understanding. We don't both agree on what was said tonight. I would like to kiss you and go to bed unless you have anything else you would like to say. Mark gets called to the diary room. Mark and Elena kiss and she heads to bed.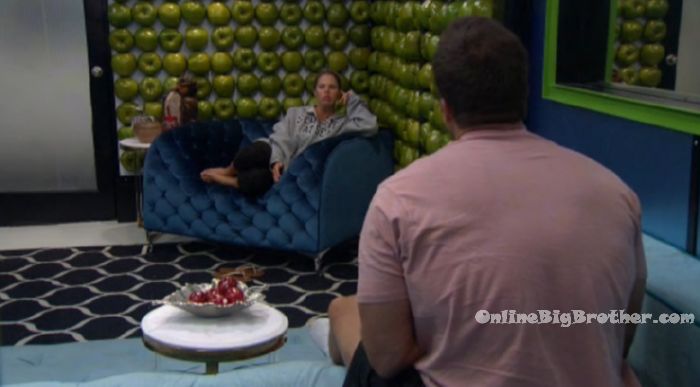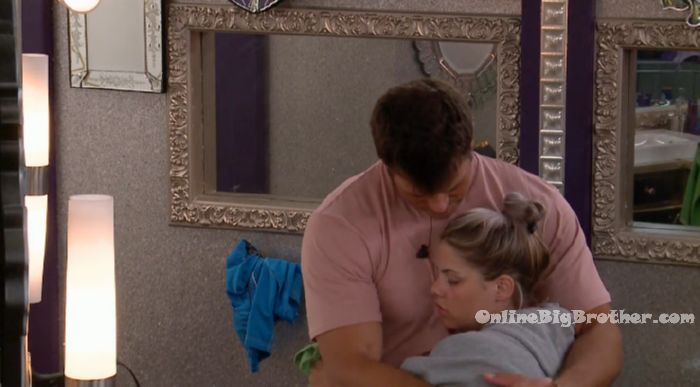 Links to the ranking system
Rank your house guests here
For those of you that like Statistics here are some expanded reports.