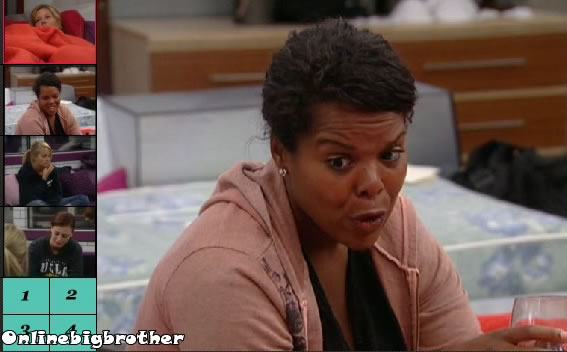 9:40pm Metal Room Kalia and Shelly Kalia starts talking about the conversation they had with JR a hour ago. Kalia goes over the reasons JR gave them for not talking to Porsche before nominations. Kalia says Jordan gave her honest reason but Rachel gave them a load of bull shit how Rachel was honest the entire game. Shelly: "BULLSHIT!" Kalia mentions how Rachel was telling her she's finished with the cattiness in the house. Kalia finds this amusing because all the cattiness comes from Rachel
Porsche joins them..
Shelly says that Jordan is going around sayign she was stabbed in the back but all we did was make a move in the game. Porsche brings up that JR were saying how they didn't want it to get awkward in the house. Porsche thinks this is complete bullshit because yesterday when Porsche won her HOH JR were crying when she got her room. Porsche continues that Jordan blamed it on Shelly being happy and giving Porsche encouragement. Shelly: "HUH" kalia says Jordan is basically saying that Shelly was on Jordan side than 5 minutes after she was on Porsche side.
Shelly says everyone knows she had left jeff and Jordan well before the 2nd HOH comp on Thursday.
Shelly brings up a funny thing she heard when walking in after a smoke. She heard Jordan calling rachel a liar and Rachel denying it then asking jordan if Jeff thinks that to.
kalia brings up a conversation she had with Jordan where she tried to explain to her that because of Rachel being attached to her it's making Jordan a big target. Jordan had told Kalia that rachel was getting much better. Kalia: "Umm you think.. I dunno I guess we're talking zero to one Vs. zero to ten"
Shelly gets up to leave.. POrsche reads Kalia's Head Of Household letter in a silly voice wearing her HOH crown. 1
11:00pm Poker if there's no updates it's because of poker.
11:54pm Poker yo
Share it YO!!
Tweet