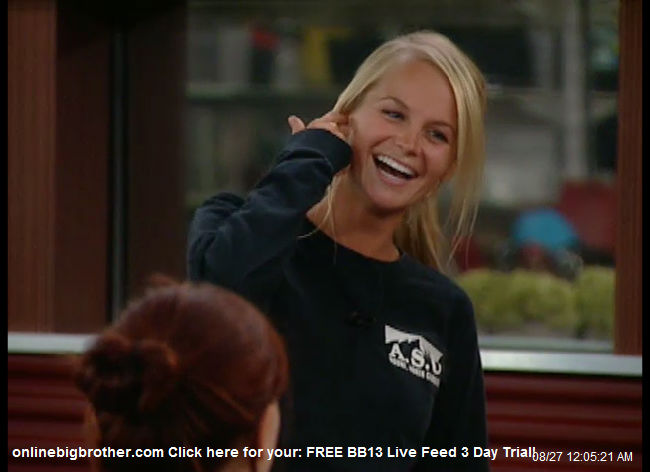 Watch the Big Brother 13 live feeds on your Android and iOS devices. Sign-up for the 3 Day Free Trial
12:05am Adam, Kalia, and Rachel finish up their poker game. Adam gets called to the diary room. Jordan and Rachel joke about using their funny voices if they get evicted. Jordan and Rachel wonder what the POV competition will be like. Jordan heads to the washroom and then goes to get in bed. Shelly is laying in bed counting using her fingers, she is counting and studying the events of the house.
WATCH all DRAMA unfold LIVE on SuperPass! FREE 3 Day TRIAL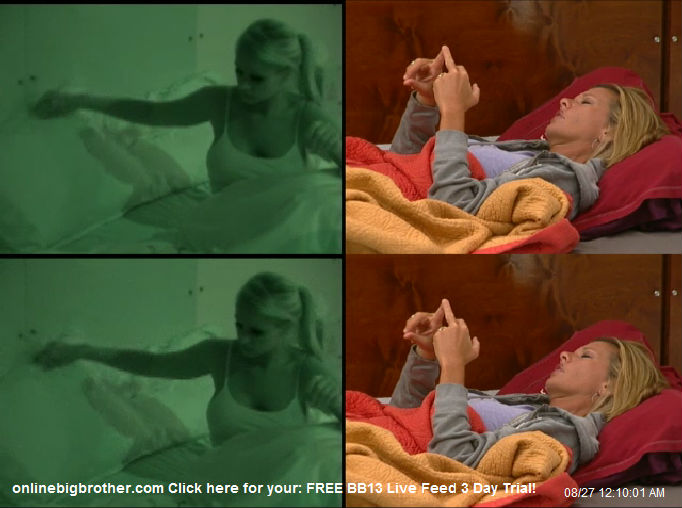 12:30am Porsche and Kalia are talking up in the HOH room. Adam joins them up in the HOH room. They are trying to think about past seasons of Big Brother that had double or duo POV competitions. Adam wonders if it will be a puzzle competition … or that it will be a physical competition. Porsche says that they aren't going to bring back the duo twist and not have us work as duo's. They wonder if it will be a competition where they work together or if it will be like a relay competition. Porsche says they haven't done a hide the veto.. Kalia says they don't do that every season. They wonder if it could be an obstacle course where they are ties together. Kalia complains about how the last one did not go well for her ..as the hurt person. Porsche says that as duo's we will have to agree to use the veto… and wonders if it would have been better to have one of them up on the block. Adam explains that it isn't up to both the duo players to use the veto… whoever wins it can decide to use it or not.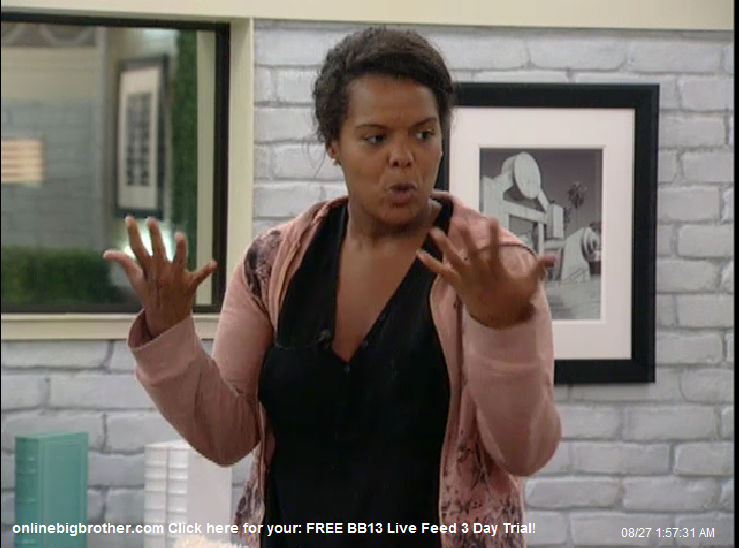 FLASHBACK – Don't miss all the drama!
Superpass – 3 Day FREE Trial
They discuss how Rachel and Jordan won't do well because Rachel is the stronger of the two and Jordan isn't good at puzzles. Adam thinks it is better for us that it is a duo competition. Porsche says Rachel is the zombie that won't die. Kalia says that she is the zombie that won't die … the wicked witch that won't die that we keep splashing water on and won't die …what the elf?! Porsche says yeah we keep dropping houses on her and she won't die. Kalia says one more. They continue to talk about what the competition will be like …Adam wonders if it will be another prize / punishment competition. Adam knows that he's ass is on the line because he is a bigger threat than Shelly. Adam says that whoever wins the POV controls the vote.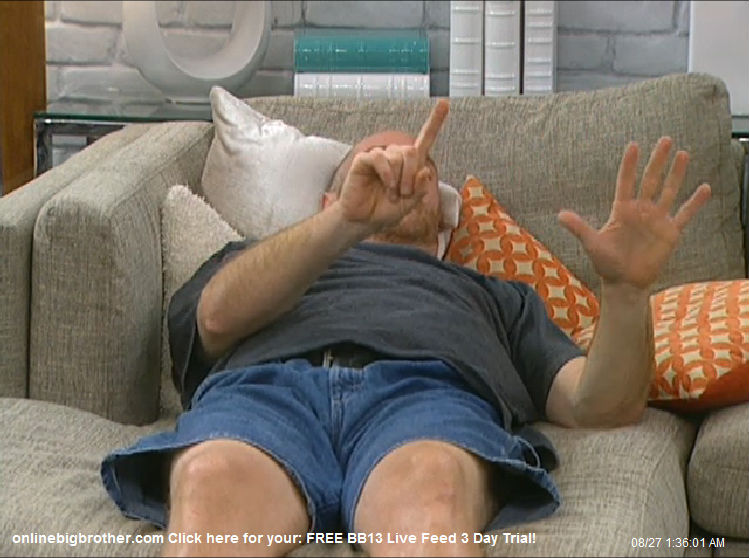 Adam wonders if they should vote two to one …so that they don't know which one voted for the other. They talk about how there may be another pandora's box … Porsche justifies why she opened it … Adam says stop you don't need to …we now just need to earn it. Kalia keeps thinking it will be the type of veto where you can't watch the other do it. Adam says that he feels bad about putting Jordan in the unitard. Kalia says that it is not your fault ..Jeff could have taken it like how Brendon used the veto on Rachel …but Jeff would never do that. Kalia talks about how Rachel was saying they better be nice because we decide the jury votes. Adam says that is the best part that a vet has to hand the money to a newbie. Kalia says that we just need to keep busting …busting ..busting ass! Kalia and Adam head downstairs.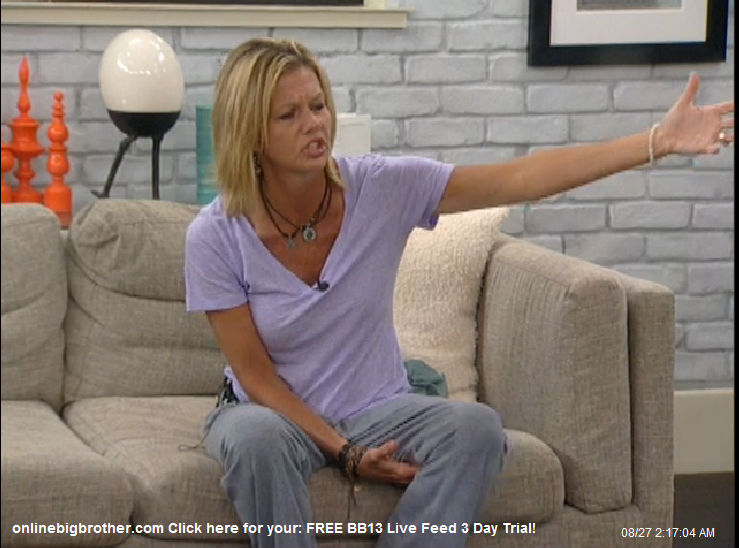 2am – 2:20am Shelly comes up to the HOH room to talk to Porshce and says that she has been in the diary room for two hours or a long time.. Porsche tells Shelly about all the things they came up with about what the veto is going to be like. Porsche mentions that Kalia brought up that there are duo bicycles and maybe it could be something like that.. Shelly says that she is ready for anything ..but that Adam has never rode a bike but that they will do their best. Shelly says that she hopes its a word thing because Rachel has dyslexia and isn't good at words. Porsche says throw something in their eyes .. Jordan couldn't see with the soap in her eyes …and Rachel threw up with the stuff in her face. Porsche tells Shelly that Adam is the bigger target. Shelly doesn't think so …she thinks both Jordan and Rachel can't stand her and want her out. Porsche explains that Rachel already dealt out money in the poker game and that she didn't know you weren't playing. Shelly says that was nice. Shelly says that she is not going to get into it again with Rachel …. and that Rachel has nothing to do with the fight between Jordan and I. Porsche says that it is going to be hysterical watching Rachel and Jordan playing each other. Shelly says that she is really worried having Adam as her partner. Shelly says that even if she goes to the jury house she is okay because she gets to decide the winner of the game …and I can be influential. Shelly heads downstairs …to go to bed …says enjoy your bed ..we will rock tomorrow. Shelly goes and climbs into bed… All the houseguests are now in bed going to sleep….
6:10am All the houseguests are still sleeping..
Sign-up NOW and watch the houseguests live!
Click here for your: SUPERPASS – 3 DAY Trial!
If you like this site and want to help us keep it running please consider donating, Your donations go directly to paying the server and bandwidth fees. Donate Link

Big Brother 13 Live Feed Image Gallery
Follow: @BigBspoilers and @Dawgsbigbrother on Twitter for recent crazed out spoilers. Theres also our Facebook page.
Big Brother 13 Spoilers POLL CAST your VOTE!


Share it YO!!
Tweet