POV Holder:
Jon
Next POV
April 5th
POV Used
No
POV Ceremony
April 7th
HOH Winner:
Canada
Next HOH:
April 3rd
Original Nominations:
Andrew & Sabrina
Current Nominations:
Andrew & Sabrina
Last Evicted Houseguest
Ika
Have Nots
Jon & Adel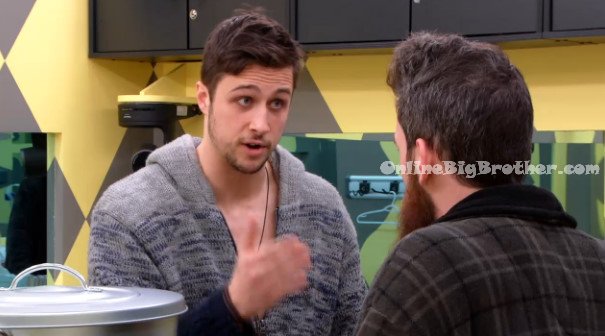 9:20am – 10am Big Brother wakes up the house guests. In the storage room – Jon and Kenny have a quick conversation. Jon tells Kenny that once Andrew is gone he wants them to get back to the way things were back on day 1. Jon says he knows we're not at the point we were at and I want to get back to that. Kenny says that since yesterday he's been hearing things. Jon says no since a week and a half ago. Jon tells Kenny that if he, Kenny, Sarah and Neda teamed up we could be a powerful force. Jon tells Kenny that he isn't coming after him and won't put him up if he wins HOH. After they finish their conversation Jon leaves the storage room and Kenny says you're f**king going home.
Jon races up to the main bedroom. He lays on the bed and starts being really loud. Neda tells him to shut up and puts her hand over his mouth. She tells him its too early for that. Jon gets called to the diary room and when he comes back he talks to Sarah about his conversation with Kenny. Jon reiterates the conversation. Jon tells Sarah that he told him Me, you, Kenny and Neda could be a powerful force. Jon says I really hope he doesn't come after me because that would be a kick in the balls. I gave him my word that I wouldn't put him up if I win HOH. If he wants to still come after me then we can go to war. I think I would still have the votes any ways. Sarah asks did he seem receptive to it? Jon says he isn't sure but at least its out there. Sarah says thank you for saying that because at lease its not just me saying it.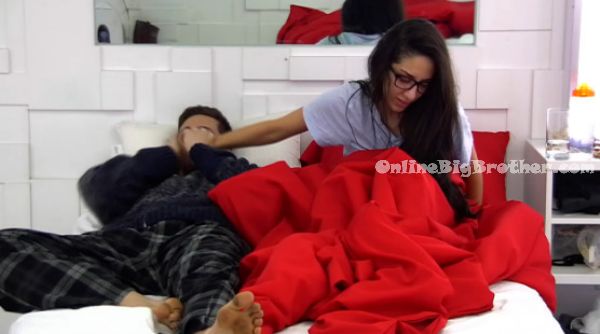 10:10am Jon talks about how his pen!$ is back to normal today. Jon tells Heather that he's had two bad dreams of his girlfriend breaking up with him. Heather says it's just because that's what you're scared of happening. Jon says I haven't done anything for her to break up with me. As long as it stays in my pants I haven't done anything wrong. NO showmance. Heather says not even a bromance. Adel joins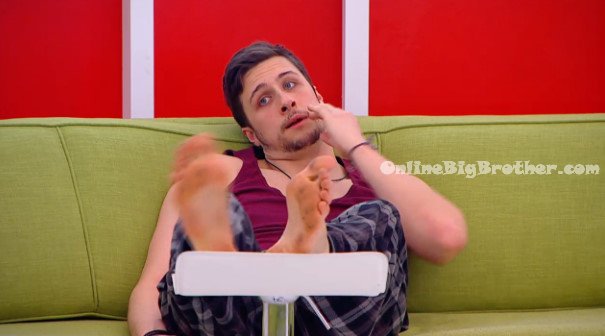 10:15am – 10:40am Heather notices that Big Brother is showing the mug shots on the screen. Andrew is the only one not really paying attention and before big brother stops showing the mug shots Andrew heads upstairs to the bathroom.

11am – 11:15am
Adel and Heather head out to the hot tub room to study the mug shot photos. Most of the house guests are in the main bathroom getting ready for the day. In the bedroom Neda brushes off stuff stuck to Rachelle's mini-dress. Jon asks Neda to dress him. Jon tells Neda you're not here for your good looks. Neda says yeah they only put me in here to transform you. Sarah heads out to the hot tub room. While grabbing her jacket she Sarah whispers to herself – Boys my boys please do not fight one anther! I do not want to choose between you. If I do have to choose I will choose Kenny. It will be Kenny that makes me choose too. Sarah heads into the hot tub room where Adel is suntanning. They talk about how all the scrambling yesterday was for nothing. Adel says that for any of us to have a shot we need to get rid of the strong players. Sarah says that Andrew isn't good at this game and doesn't make good deals. Jon joins them. Sarah tells Adel that she is worried he will f**k up her game with Kenny if he uses his veto card. Adel says that he thinks he will get a good prize and I know it will be a good one. JUst don't make me use it. I hope its a grand, 5 grand or a car!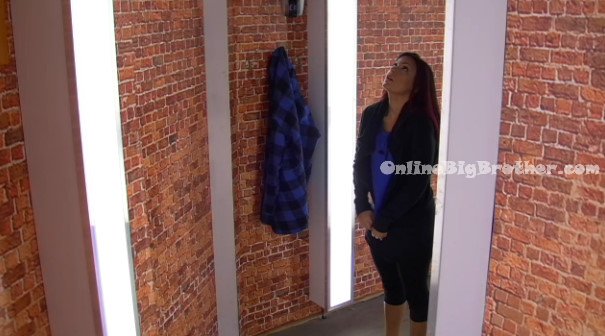 11:40am In the kitchen – Kenny talks to Allison. They talk about whether or not Adel is lying about being religious and how it could all be a an act. They share information about the mug shot photos. Allison says the hardest thing will be using the emotion of when he (Andrew) leaves and turn it into power. Kenny says you could act how Jon wants you to act. Then if by some chance he gets HOH .. Allison says it will make it that much more satisfying if I play along with it and then bite his head off. The hot tub crew come back inside after being locked in outside by Big Brother.
12pm Sarah asks Jon – Do you believe Adel when he says that he gets a prize if he doesn't use it. Jon says its hard to.. its risky to mess with, you know what I mean. Sarah says I don't know. Sarah says that Adel told her that he as three people in his alliance – you, Neda and Heather. Jon is surprised Adel was throwing his name out there. Sarah says that Adel said no matter what I am not using my power to put up Kenny. He is just saying that just in case Kenny or I win HOH. But the funny thing is .. the sentence before he said that we need to get the strong players out. Jon asks do you trust Neda 100%? Sarah says 99%. Sarah says I don't think she is actively coming after me. Andrew is yelling in the background. Jon says he is so obnoxious, loud and annoying. Sarah asks Jon who he will snuggle with if she leaves. Jon says I don't know I can't with Neda.. she's a single girl. Jon asks Sarah if she would ever in her life hang out with Andrew outside the house. I would never! I wouldn't call or text, he is so annoying! Sarah says not really but that when he is being genuine he is alright. Sarah says he doesn't know how to be nice, he only knows how to bully. Sarah says I know if any of that was directed at me husband would be waiting in Calgary for him.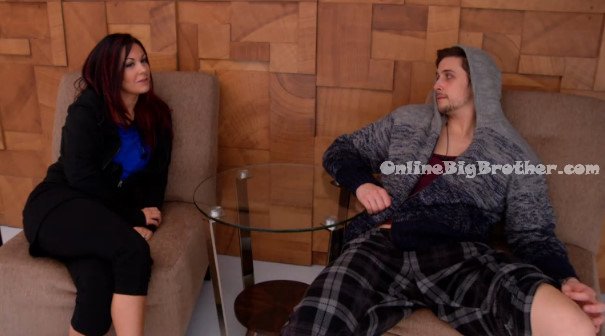 [polldaddy poll=7935497]
Stay connected and interact with other Big Brother Fans on our Facebook page.
And Follow: @BigBspoilers and @Dawgsbigbrother on Twitter for the most up to date spoilers.