POV Holder:
Jon
Next POV
April 19th
POV Used
Yes
POV Ceremony
April 21st
HOH Winner:
Jon
Next HOH:
April 17th
Original Nominations:
Sabrina & Rachelle
Current Nominations:
ADEL & Arlie
Have Nots
Neda, Arlie, Rachelle and Heather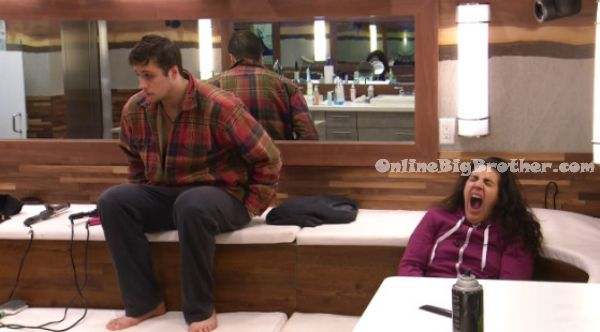 9:30am Big Brother wakes up the house guests. Arlie says good morning Alli, I need you baby! They both head to the bathroom. Jon and Neda head into the bedroom and Jon says one more day! Neda agrees. All the house guests are really tired. Allison is in the kitchen getting a glass of water. She looks in the mirror and laughs. She then heads to the living room couch and Arlie says good morning. Allsion says its not a good morning. JOn joins them. Allison says I feel like I'm dying. Jon asks Allison if she does a lot of day sleeping for her work. She says she works nights. She says they're going to hate me. Jon says or love you. Allison says with all the crying. Jon says you cried once or twice. Allison says both times I was drunk and puking. Jon says everybody does it, I've seen doctors get wasted. Up in the bathroom – Neda and Rachelle are doing their makeup and hair while Sabrina keeps her hand warm. Sabrina says she feels like she's going to puke.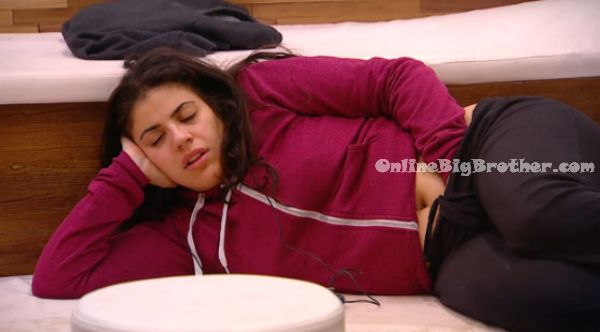 9:55am
Jon asks what do you think Kenny is doing right now? Arlie says I think Kenny is sitting in jury waiting for me right now. Maybe mumzie too. Jon says you think, that would be f**ked. Jon gets up and says you're a good guy. Arlie says I'm sure I'll like you after too. Jon says I hope so brother. I'm sure you would like me a lot more if I came into jury right after too eh?! Jon heads to the bedroom. Jon tells Adel I bet Arlie tries to pull something today. Adel says he thinks Ally is on our side and if the Gremlins don't then it doesn't matter. Jon says that he isn't going to let Arlie out of his sight. Adel says we can take turns. Jon heads to the bathroom and talks to Allison, Heather, Sabrina and Neda about how where he lives people do a lot of shed drinking. Allison agrees and says she does it. Jon says my two favorite spots to drink are kitchen.. and shed! They all laugh. Jon says everyone in Newfoundland drink in sheds. Allison says oh my god friends and family please still love me I've made a fool of myself in this house. In the living room Sabrina tells Arlie she needs to talk to Allison. Arlie says if you guys are even considering not keeping me after everything I told you then I know I have no chance.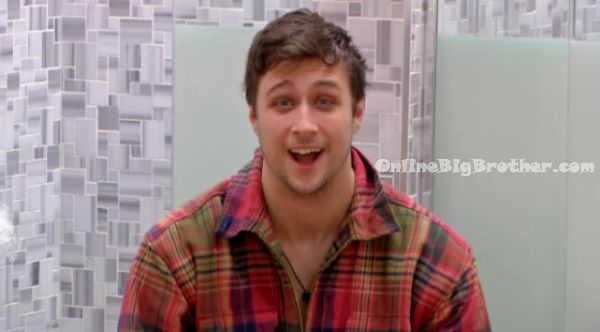 10:15am – 10:45am Sabrina and Rachelle talk game in the bedroom. Rachelle asks do you think Allison is going to work with us? Sabrina says yeah because if she doesn't, then using the veto on me was useless. I don't know why we don't fight really hard to protect ourselves but then if we win then one of us can't compete next week. Sabrina says the only thing with keeping Adel is that he is easier to get rid of later. Rachelle says if we keep Arlie then we're safe for one more week. Sabrina says we're still in the same boat together. Neda and Jon join them. Sabrina questions them and isn't sure if they are really on board. Sabrina says that both Adel and Heather are saying they're not coming after us. Which makes me wonder if our final deal is real or if you have one with them because there aren't many apples to choose from you know what I mean. I am putting my trust in you. So this final five (Neda, Jon, Rachelle, Sabrina, Allison) is for real? Jon says if you want it to be! Sabrina thinks Jon and Neda told Heather to tell us not to worry to throw us off of you guys being a final four.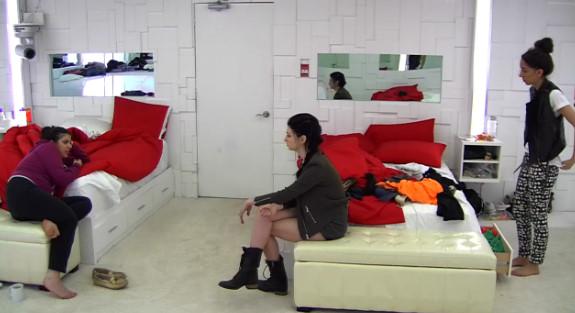 11:20am – 12pm UP in the HOH room – Jon tells Neda tomorrow we are going to sell so hard for Arlie to go home. Neda agrees. They head to the kitchen. Neda says she thinks Arlie's been in the diary room so long because Big Brother's giving him ideas on how to stay. The conversation turns to talking about Top Chef Canada and Chopped. Rachelle asks what the f**K is he doing in there! He's been in there for an hour. Jon says he's telling them the plan of what he's going to do. Arlie comes out of the diary room. Neda says that was a long one ..were you revealing your plan to them. Jon says he's got a veto. Neda says check his a$$!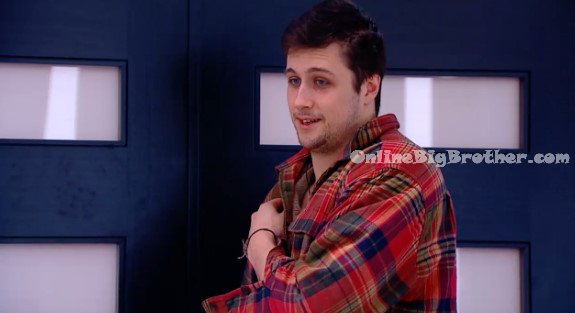 Stay connected and interact with other Big Brother Fans on our Facebook page.
And Follow: @BigBspoilers and @Dawgsbigbrother on Twitter for the most up to date spoilers.