POV Holder:
Jon
Next POV
April 12th
POV Used
Yes
POV Ceremony
April 14th
HOH Winner:
Jon
Next HOH:
April 17th
Original Nominations:
Sabrina & Rachelle
Current Nominations:
ADEL & Arlie
Have Nots
Neda, Arlie, Rachelle and Heather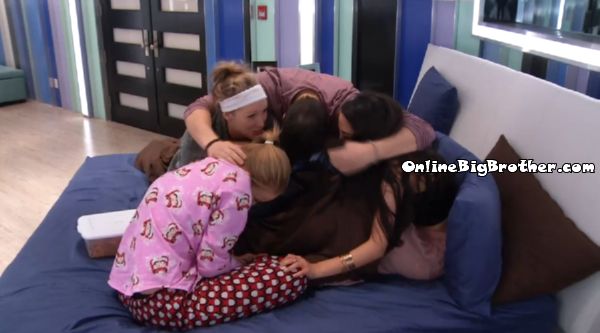 11:40pm Allison Heather Jon and Neda
Heather is crying.
They tell her they want to do a final 4. Jon gives her a hug.
Allison says what they are trying to figure out is how she can emotionally handle it.
Allison doesn't want the gremlins to know there is a final 4 until after Thursday.
Allison tells them this is Concrete they are going final 4.
Neda wants to shake on it.
Heather – "you don't want to shake my hand it's full of tears"
They all shake on final 4.
Heather leaves..
Allison says if Arlie does end up staying they need to still stick together.
12:09am HOH Jon, Sabrina, Rachelle, Allison and Neda
Jon says they talked it over with Allison and Heather and it's looking like Arlie is leaving.
Sabrina says the final four that were made she wants them to surface.
Jon says Heather, Neda, Allison and Jon but they want the final 5 to be Jon, Neda, Allison, gremlins. Jon and Neda really play up they are not with Heather and the reason she is crying is she's scared.
Sabrina – "Who said the gremlins are running their mouths"
Jon says the entire house is saying the gremlins are making it sound like someone is keeping Arlie and the gremlins are the swing vote.
Rachelle calls them out for lying about all these final 4's. She mentions how they said to her face they didn't have one when they have a bunch.
Neda says those are remnants of the sloppies
Neda claims that they know Adel and Heather are gunning after JOn. Jon points out heather and Arlie have something.
Allison "I've been fooled again"
They agree to "Rest on it" Rachelle says it will be a real thing
Jon – I want it to be a blank slate starting right now"
Adel joins them.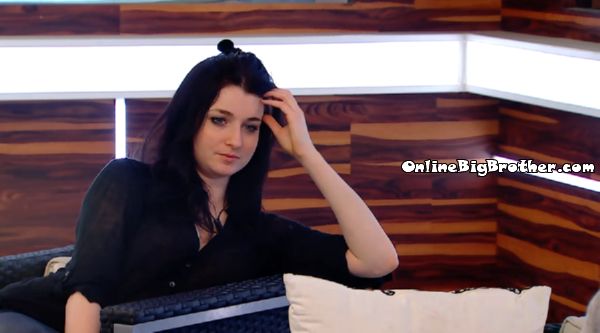 12:20AM Allison Sabrina and Rachelle
Sabrina asks them if the final 5 they made with Jon/Neda was real.
Allison – "I think so"
Sabrina – "you want to keep arlie"
Allison says she doesn't know.
Sabrina and Allion let out a Huge SIGH
Rachelle tells them Heather and Adel are going after them.
Allison asks them if they want to keep Arlie.
Sabrina – "oh my god yes.. "
Allison says she's undecided she says Jon and Neda do not want to keep Arlie they made it clear.
Rachelle asks her if she's with them (With the gremlins)
Allison – "YES"
Allison thinks it's stupid if they keep Arlie.
Rachelle wants to know why she thinks it's stupid after talking to jon/neda
Allison says Arlie will realign with the other side and take them out she really doesn't trust Arlie.
Sabrina doesn't think Arlie will ever side with Jon, Heather and Neda again.
Allison – "can you trust Arlie"
Sabrina – "can you trust Jon.. he'll lie about a million things"
Allison says she is being paired up with Arlie and she doesn't trust Arlie. She points out how Rachelle and Sabrina are a pair.
Allison thinks Neda was the one that brought up to backdoor her. Sabrina doesn't know who it was but is sure it wasn't Arlie. .
Allison says Neda/JOn are claiming that the gremlins threw out her name as a backdoor candidate
Sabrina denis it says they are f**ing with her.
Allison – "you told them I tell you everything about them"
Sabrina and Rachelle are both SHOCKED they violently deny this call Jon/Ned f** a$$ holes.
Allison – "I'm getting brainwashed"
Rachelle swears they did not say that anything of the sort to Jon.. "why the hell would we say that to them"
Sabrina points out this is why they didn't want them in the room so they can tell Allison lies.
Sabrina says "They (Jon/Neda/Heather) are full of sh1t they do this all the time.. "I'm not going to be manipulated by these people" Sabrina says she's done with this crap, points out to Allison that it's obvious Jon, Neda and Heather are scared sh1tless.
Sabrina – "If Arlie is gone Jon is the king of this house"
Rachelle – "we're not going to f** you"
Sabrina – "Allisons from day one i've told you the truth about my alliance since day one.. what is wrong with you"
Allison – Don;'t say that to me please.. i'm just trying to clear my head from all the sh!t i've been told"
Allison – "My mind is absolutely f*** up right now"
Allison says she feels like an idiot now.
Sabrina asks her when they are going to decide just the three of them.
Sabrina – "This is what I want this three I don't want 5's and I don't want 4's.. Allison I love you.. We always say how much we love you."
Rachelle – "We hate everyone else"
Rachelle – "It would be a sick f*** threesome" She explains they are going to get further with Arlie than with Jon.
They agree if Jon and Arlie stay in the game they will win the game. Sabrina points out that Arlie deserves to win but Jon doesn't.
Rachelle asks them what they should say to the other players.
Sabrian – "Go f** yourself you liars.. I do not want Neda to go far in this game"
The gremlins mention the conversation Heather had with Arlie where he told her he wasn't targeting the people that vote to keep him.
Sabrina wants HEather to vote against Arlie so that she's his target.
Sabrina – "We can take control of this game."
Rachelle – "We have to do it 100 percent"
Allison says she's way too freaked out about Arlie.
Allison says the final 5 with Neda and Jon is not real. Allison – "Let them think what they want to think"
Allison says arlie is a psycho this is why she cannot trust him.
Rachelle agrees.
Sabrain – "For sure he's a psycho.. At least he's admitting he's a mental person we have to join him you don't go against crazy people. .. You never go against crazy you join crazy otherwise crazy will kill you"

12:30AM HOH heather and Neda

1:00AM Heather and Neda
Talking about how they have to prevent arlie from talking to the girls. Neda says especially Alison because she's the one they have to convince. The go on and one about butting in on all Arlie's conversations so he can't mind F*** the girls. (All while Arlie is talking game with Allison and Rachelle outside)
Jon joins them They tell him the plan to not leave Arlie alone. Jon – "Done I'm in"
Neda says apparently Arlie is going to call them all out tomorrow.
Heather wants Sabrina gone before Rachelle, Jon agrees.
Jon Leaves Neda and Heather talk what they really talked chatted about during the dinner. Heather says they talked about them being final 2, "We talked about Allison we talked about Arlie we talked about Jon"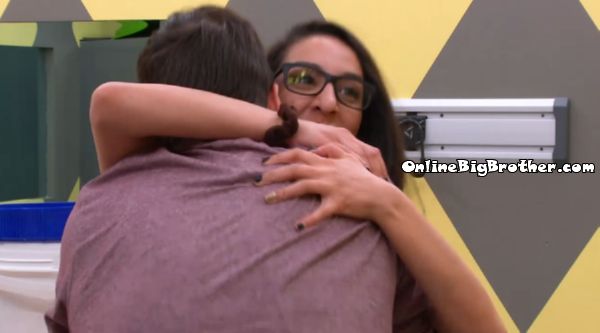 1:30am Storage room Jon and Neda
(They believe the alliances made with Allison and Gremlins are
Neda "What the f** .. how are we doing this"
Jon – "Did this just happen"
Neda – "I think so"
They hug. Neda says she thought they were f** for sure earlier today.
Jon – "I think we just did it"
1:40AM Kitchen Jon, Adel, Arlie and Neda
Arlie telling them if he stays it would be the biggest "Hit and a MISS" Jon says it would be epic
Arlie tells them he has to make it obvious that he's coming after Neda, Jon and Heather.
Neda says nobody will work with Arlie.
Arlei says it would be smart for them to keep him in the game, "Everyone see that you two did the exact same thing as I did but I got caught.. you guys are already out in the open now"
Arlie – "you two will make it far if I go this week you won't if I stay"
Arlie says he's going to blatantly explain to everyone who he is going after.
NEda laughs – "You are so funny you are really f** in the head.. are you like this for real"
Arlie – "I don't know what's real or fake anymore "
Neda laughs "Have you ever been to prison"
Neda – "what is going on in your head is it demons dancing round a fire"
2:11AM HOH Neda and JOn
They think they got away with it. Neda – "How did we make a final 4 with the entire house and nobody knows about it"
2:37pm Bedroom Everyone
Adel is telling them the story about how Kyle and him thought Kyle was going to get backdoored so they decided to "Stir up a bunch of sh1t" Adel said he had no idea how to play the game they just decided to raise some hell.
Adel – "We were calling girls pigeons"
(LOL all the drama that started week one was from Adel's paranoia)
3:08AM Bedroom Arlie, jon, Sabrina, Allison, Adel and Neda
Adel is joking that Sabrina was the first member of the 1st 5 and the last.
3:25AM HOH jon and NEda Neda says she's 80% certain if people voted tonight Arlie would go home. Jon says that's 75% greater than they were earlier today.
[polldaddy poll=7968822]
[polldaddy poll=7964297]