POV Holder:
Allison
Next POV
?
POV Used
?
POV Ceremony
March 24
HOH Winner:
Racehlle
Next HOH:
March 27
Original Nominations:
Allison & Heather
Current Nominations:
?
Last Evicted Houseguest
Paul, Kyle, Anick
Have Nots
Adel, Sabrina, Heather, Arlie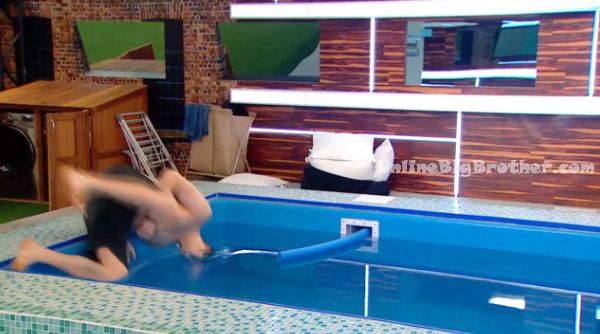 Want to watch the Big Brother Canada 2 live feeds? Bypass the geoblocking with HideMyAss VPN and be Canadian Anywhere: For ONLY $11.00 A month Sign up here

9:10am
Big Brother wakes Jon for another POV dunk in the pool punishment..
9:30am Big Brother wakes up the house guests for the day. In the bathroom Sarah complains that she was woken up all night with Jon's punishment. They ask her how many times and Sarah says it feels like a million times. She heads back to the bathroom. Jon comments how he was so out of it during the night that a couple times he felt like the horn went off and says he started to think maybe he should just go get in the pool just in case it was real. Up in the HOH room – Rachelle and Sabrina talk about nominating Ika as the replacement. Rachelle says I think I will just say I feel like you don't trust me and you've given me a lot of reason not to trust you. Sabrina says she could tell Adel he will go up if he uses it on her. Rachelle reminds her that he can use it after to replace. Sabrina says oh yeah. Rachelle says I could just tell him that he will go up next week if he uses it. Sabrina says no, that would be the stupidest thing ever if he used it.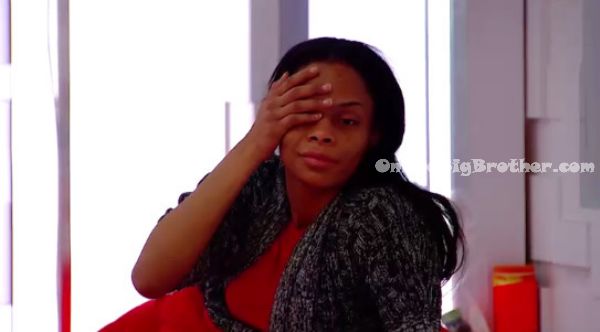 Up in the HOH room Sarah talks to Rachelle about putting up Ika and the reasons why she needs to put her up. Rachelle and Sarah talk about how she will say that Ika is a dangerous threat, she doesn't trust me and that she has given me reasons not to trust her.
10:20am In the living room – Sarah, Allison, Kenny, Arlie, Sabrina, Andrew and Jon are sitting around the circle couch talking about random things. The talk about the slop pass that Sarah got in the POV competition.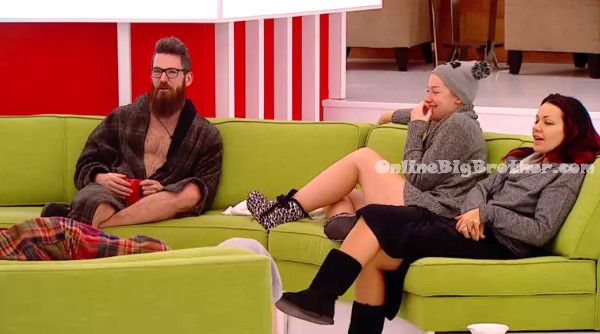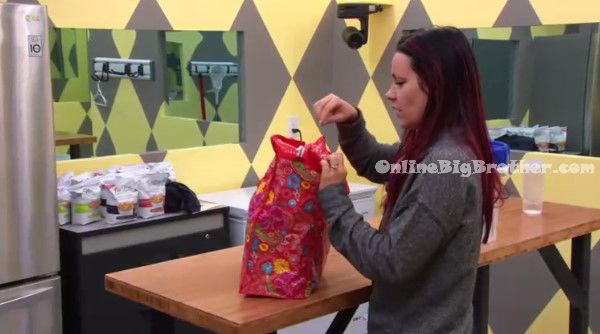 10:20am – 11:20am In the bedroom – Neda talks to Rachelle about how she thinks putting up Ika she will freak out. Rachelle says well it won't be at you, it'll be at me. Neda says I think it will be at everyone. Kenny, Sarah Jon and Sabrina head out to the hot tub room and realize its really cold so the head back inside. IN the living room all of the house guests are sitting around talking. Rachelle gets called to the diary room and everyone thinks its for her HOT DOG COSTUME but soon after she comes out without it. Sarah is told to go to the storage room. She heads in there and finds a bag on the counter. She realizes it all the stuff for her baking. She puts it in the fridge and then tells the others not to touch it. Big Brother then sounds the horn for JOn to take another dip in the pool. Everyone heads out to the pool with Jon to watch him dunk again. After they head back to the couch to sit around and talk. Rachelle and Sabrina head up to the HOH room and listen to the HOH music and dance. Sabrina tells Rachelle to tell Adel not to use his power. Sabrina and Rachelle head out to the hot tub room. Sabrina says I'm keeping my distance from Ika because I just can't look at her. Racehelle agrees. Rachelle says that she thinks Neda is worried.. because we are the ones making deals. She'll still be fine for a couple weeks. Adel joins them.
11:25am Rachelle tells Adel that he knows she has to put up a replacement. Adel tells her that she can put up whoever the f**k she wants. I will not use it this week, I swear on my religion. Adel says please don't say this but if I did use it next week.. I would use it on the new girl (Allison). I can't infiltrate that alliance, there's no way they will let me in it. Adel says for next week you're doing me a super duper solid. If for some reason you are up I will use it on you and put up their best friend. Ika joins them. They talk about how Heather didn't take the veto last night. Rachelle and Ika says she's stupid. Ika says well it doesn't matter any ways she's going home! Sabrina and Rachelle leave to go back inside.
11:40am – 11:45am Heather comes out of her diary room with aerobics unitard – She has to wear it for a week until the live eviction. She says she loves it and everyone tells her it looks great. She has to reach 10,000 steps on an exercise counter. She says she has to do it in the whole house and not just the backyard. She runs around the house showing everyone.

HEATHER in her COSTUME that she has to WEAR FOR A WEEK! @bigbspoilers #BBCAN2 Will she break the CURSE? pic.twitter.com/T8XUCKVsSn

— Dawg (@DawgsBigBrother) March 23, 2014
Stay connected and interact with other Big Brother Fans on our Facebook page.
And Follow: @BigBspoilers and @Dawgsbigbrother on Twitter for the most up to date spoilers.