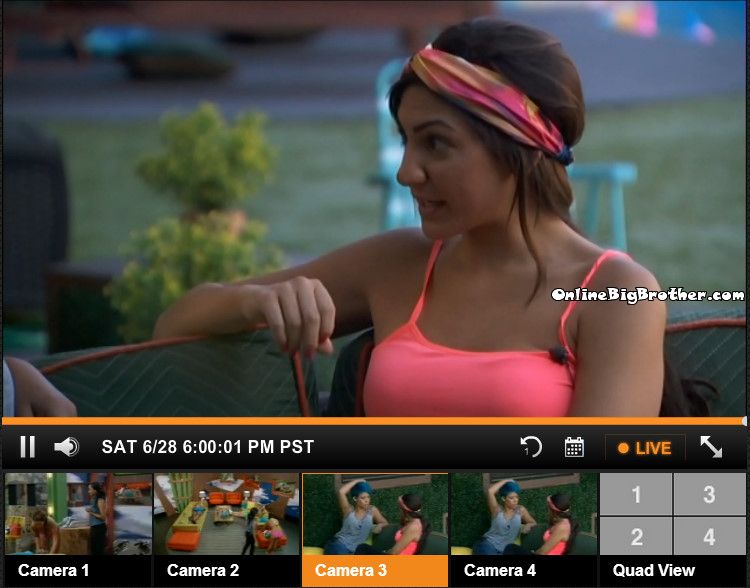 6:00pm backyard couch  Victoria and Joey 
Victoria says Brittany has talked to Caleb and told him to put Devin up.
Joey says the reason she made the announcement is for it to me known who he puts up ios either his dictatorship or a house decisions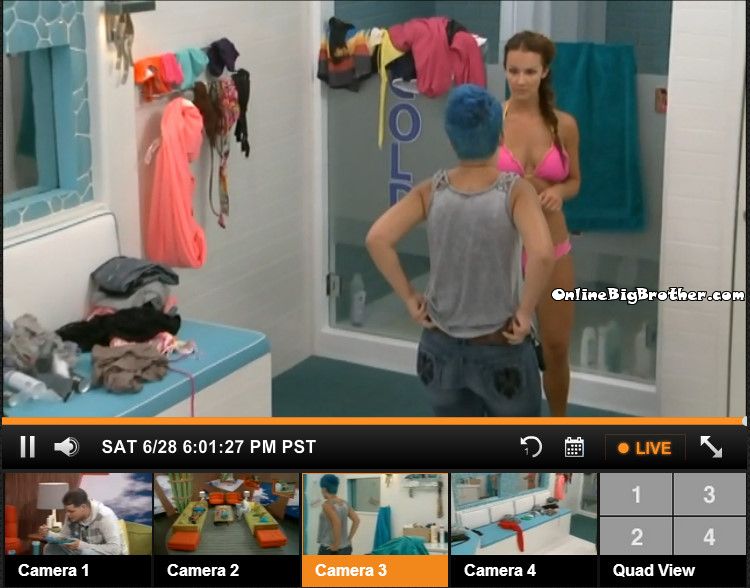 6:01pm Bathroom Joey and Brittany 
Joey tells her why she wants everyone to talk to Caleb. He's making it out that the replacement nominee is a house decision so she wants everyone to know that. Brittany is worried because she told Joey about Caleb asking the house about the nominee and making it a house decision. Brittany  doesn't want it to come back to her and causing trouble. Joey reassure her that she's heard it from other people names Devin.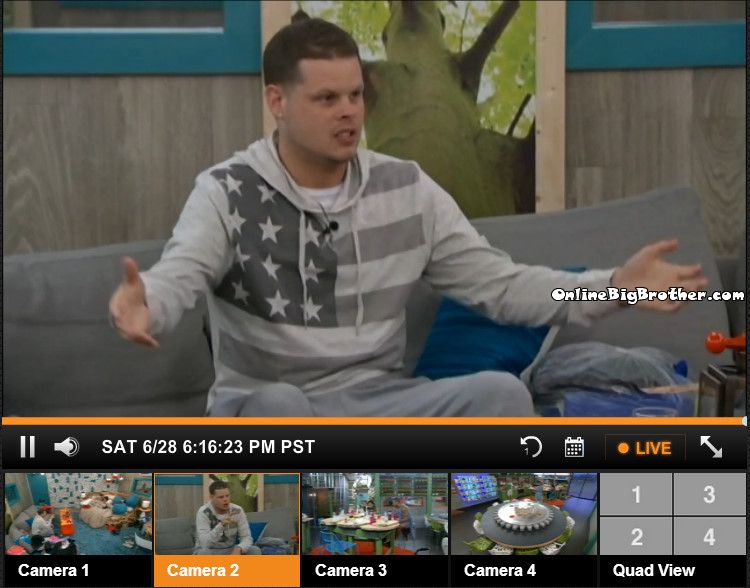 6:05pm HOH Cam 1 Caleb and Frankie
Caleb fills him in on Joey's announcement
Frankie – "it's so obvious when people don't watch the show she's burying herself"
Frankie leaves Derrick comes up.
6:16pm HOH Derrick and Caleb
Derrick – You say people are throwing out Devin's name right"
Caleb – "One person"
Derrick – "Oh that completely defeats my purpose than"
Derrick explains he was worried there is another big alliance out there and Joey knows what all those people are going to say to you , "If there was 6 of them and they all say they will pick the same person and you get up and say the majority was JOEY .. but she knows it wasn't "
Derrick say this explains Joey's announcement. They agree Joey is going to explode.
Caleb – "She's made two HUGE mistakes"
Derrick – "That was awkward"
Caleb wanted to tell her to sit down and relax"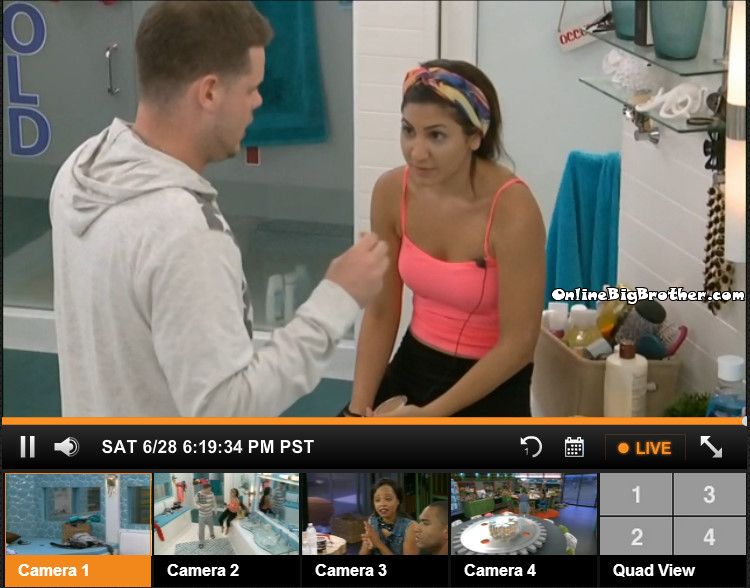 6:20pm Derrick and Victoria Bathroom
Derrick is going to tell Caleb to do whatever he wants and Derrick is going to support him.
Victoria – "you are not going to say a name"
Derrick – "It doesn't matter if I say a name he's going to put up whoever he wants"
Victoria – "No he's not"
Derrick doesn't think what Joey is doing is helping her game it puts a target on her back.
Derrick – "I like Joey i don't want to see her go home but someone has to go up and they are looking for any reason to put her up. "
Derrick – "Joey did say she tried to start an alliance against me.. you know"
Victoria – "Who are you voting out"
Derrick – "I don't want to say a name"
Derrick suggests she does the same not tell Caleb a name.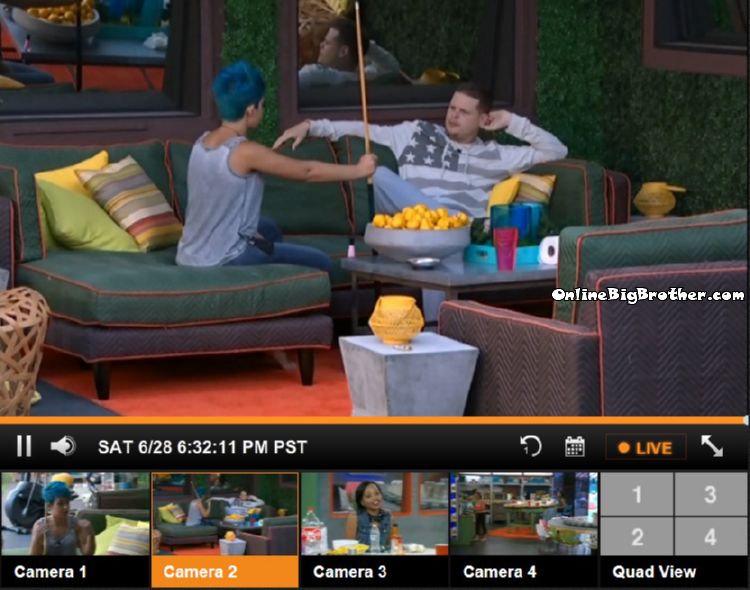 6:25pm Backyard Joey and Derrick
Joey tells Derrick that  Caleb is saying it's a house decision but it's not going to be. Joey is certain she is going up because its what Caleb wants it's not going to be a house vote
Derrick says Caleb hasn't talked to him yet. Joey – "I'm making sure he talked to Everyone so they have a voice"
Joey understand she did try to start a girls alliance so that is a good reason to put her up. Derrick mentions how early in the game HOH's don't have many reasons to put people up.
Derrick thinks Caleb will honour it Derrick think it will be a house decision.
Big Brother 16 Live Feeds Subscriptions, if you don't have them yet what are you waiting for! Free 2 day trial .$26.99 for the season pass or $9.99 for the monthly pass Try It Free! Subscribe now to the official BB16 Live Feeds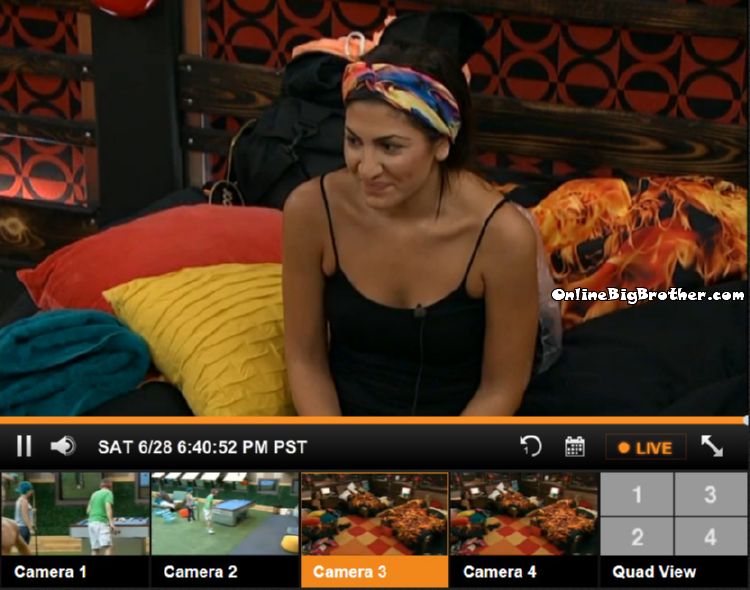 6:41pm Fire room Cam 3 Victoria and Nicole
Victoria says Brittany talked to Caleb and told him to put Devin up. They agree they're too scared to say Devin incase it comes back to them.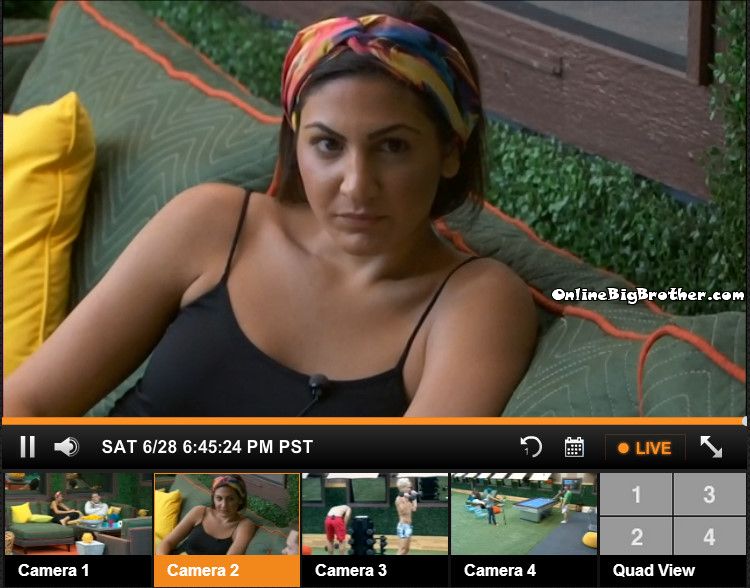 6:44pm backyard couch Derrick, Victoria and Brittany
They agree what Joey did was not a smart move.They think it puts a bigger target on her back.
Derrick – "He was going to ask everyone anyways"
Brittany leaves
Derrick asks her if she's cool with Joey. Victoria is cool she thinks everyone in the house is that's teh problem.
Victoria points out that right before Joey did the announcement she was talking to Devin, "What did he say to her"
Derrick doesn't know he was making a sandwich at the time.
Victoria asks him who he's going to vote against if Joey goes up
Derrick is going to get a feel for the house and vote with the house. He doesn't want to vote out "Y" and "X" ends up going home then he's the target next week.
Derrick – "You are a fool to go against the house this early on" Derrick thinks she has a crush on Cody. Victoria is use to dating guys in their 30's Cody is just a child.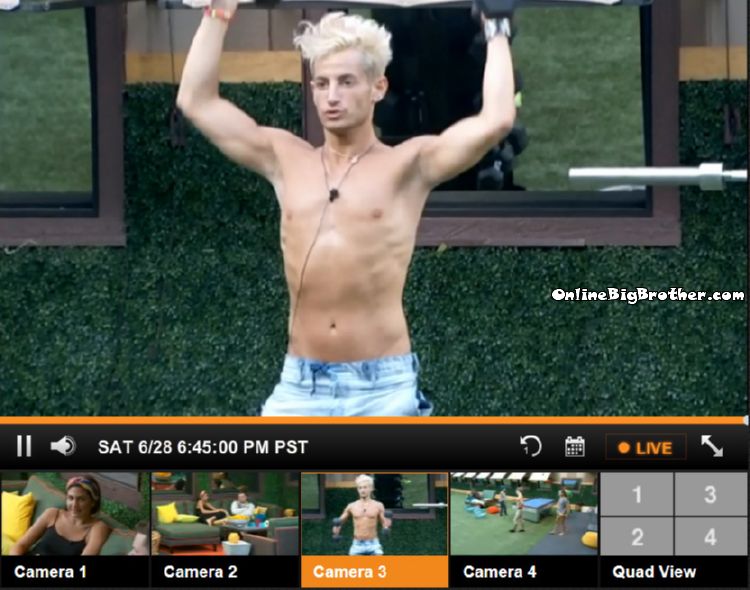 6:55pm Frankie and Cody working out
Devine is giving pointers from the side.  At one point he runs over to Christine (See image below)
Christine – "My Parents are going to be so confused" Frankie – "So is mine"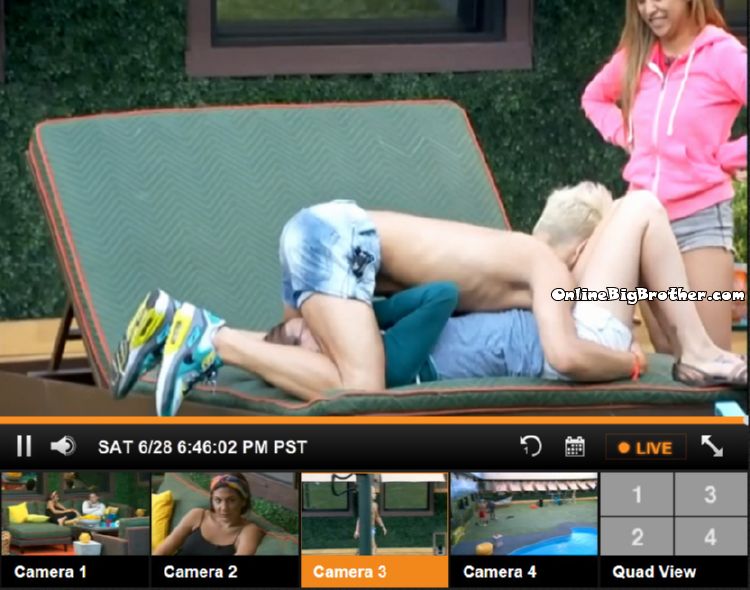 Alliances 
Double Ds = Devin, Donny
Bomb Squad = Frankie, Caleb, Devin, Cody, Derrick, Zach, Amber, Christine
Bed buddies = Nicole, Christine
Final 2 Deal = Frankie, Zach
Old
TheCrazy8s = Frankie, Donny, Joey, Paola, Devin, Amber, Nicole, Cody
El Cuatro = Paola, Amber, Joey, Nicole
[polldaddy poll=8136415]
Share it YO!
Tweet