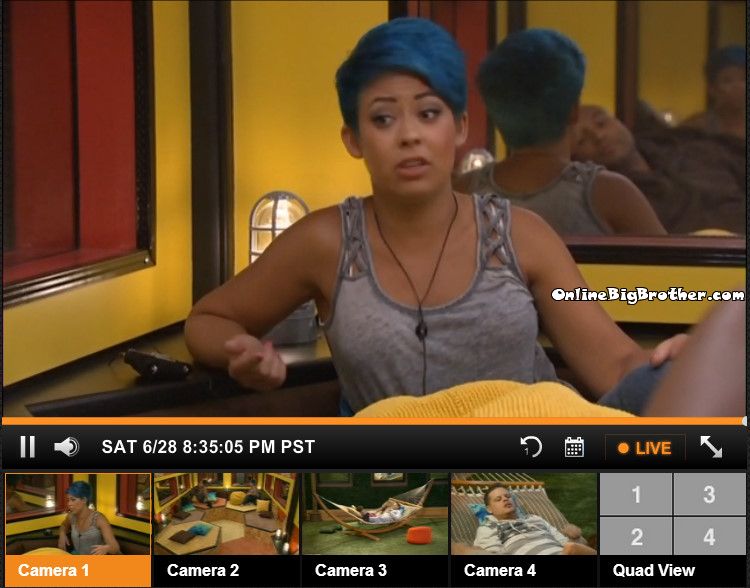 8:35pm cam 1 Lounge Devin and Joey
Joey – "OK So.. Caleb is going to come around and ask for votes for people that I want out of the house"
Devine – "that you want out"
Joey – "yes .. I would like you out .. you're smart and you are physically the strongest.. I know you will vote me out for telling you this but I respect you i'm just saying you are amazing competitor and letting you know so you don't hear from other people"
Devin – "No worries I appreciate you telling me no hard feelings.. If I go home I go home"
Joey – "It's like me going up against a football player.. I'm sorry you are my vote"
Devin – "Ok no worries"
Big Brother 16 Live Feeds Subscriptions, if you don't have them yet what are you waiting for! Free 2 day trial .$26.99 for the season pass or $9.99 for the monthly pass Try It Free! Subscribe now to the official BB16 Live Feeds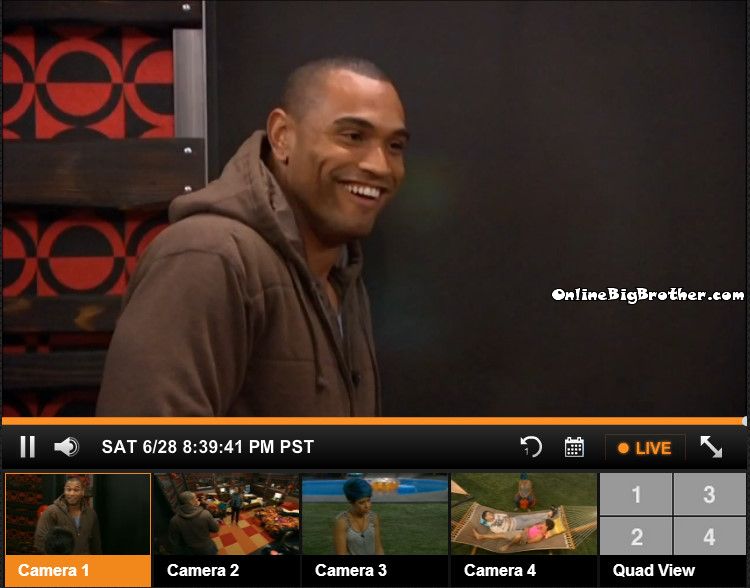 8:38pm Fire room Devine, Christine and Frankie
Devin brings up his conversation with Joey, "I just want you to know you're a physical competitor and we're going to vote you out this week.. I'm going around telling everyone I want you out this week"
Christine and Frankie laugh. Devin – "She said I understand you are probably going to vote me out.. I was like but you jsut said you are voting me out"
Frankie – "She's really good at this game"
8:39pm Fire room Jocasta and Devin
Devin tells them about Joey pulling her into the lounge room . "I just want you know know you are a really fit competitor a physical threat and we're going to vote you out this week"
"She said i'm going around the house telling everyone I want you up "
Jocasta – "you're lying what the heck is going on what's wrong this is crazy"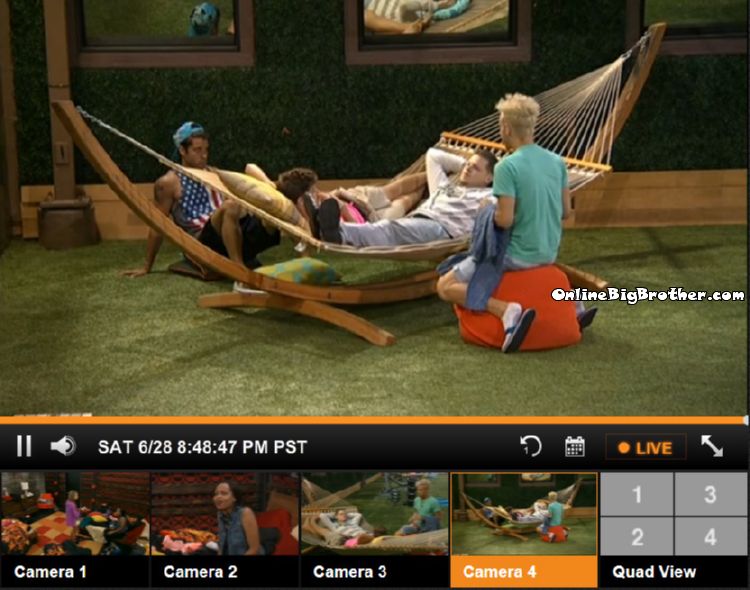 8:49pm cam 3 hammock  Zach and Derrick
They both want Devin out and are trying to figure out how they will convince Caleb to do it. Frankie and Cody join them
Frankie – 'what did you do" (to joey)
Derrick – "Dude she's going crazy right now.. we're trying to defuse it"
Derrick – "She really wants devin out"
Zach – "she falling off the deep end in a big way.. the plan is genius it's her only way out.. it comes down to one person and that person is all that matters"
Devin rolls in asks them if they have their votes, "I talked to Joey and she said she's personally putting me up"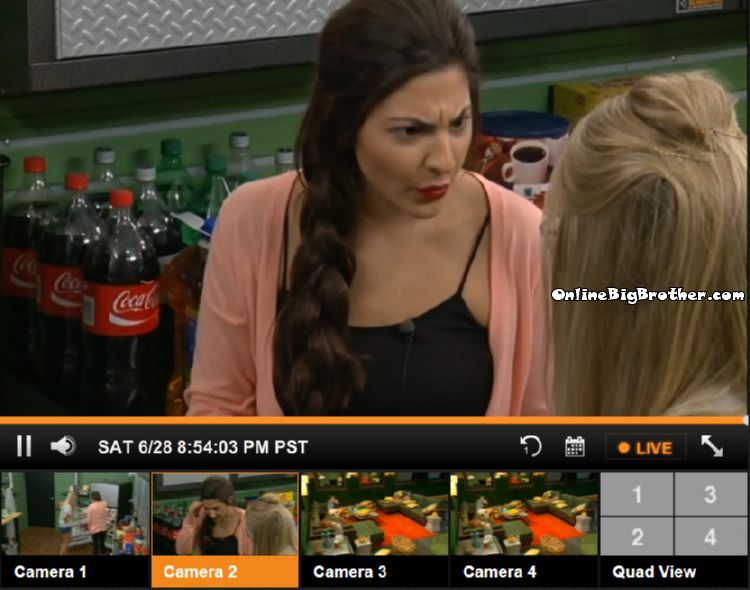 8:53 cam 2 storage room Victoria and Nicole
Comparing notes about what Joey is doing. Victoria fills her in on Joey going to Devin and telling him she wants him up.
Nicole – "Devin is going to explode I can tell"
Neither of them know what Amber is going to do.
Nicole – "I can't believe she said she was Devin out"
They are nervous about Joey damaging their game. Nicole thinks she might go up. Victoria tells her not to worry this week.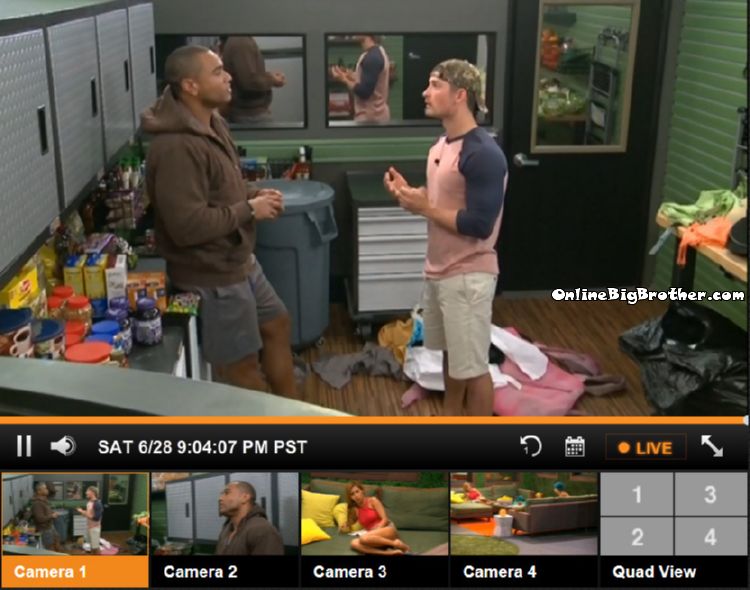 9:03pm Cam 1 Storage room Caleb and Devin
Caleb – "Dude you gotta chill all those girls out here are like what's wrong with Devin"
Devin – "no no that is all for show"
Caleb – "I know it's for show but I don't want all those girls to be thinking Devin is turning into a madman"
Devin goes over his conversation with Joey..
Christine joins them "She literally could be the worst player in history"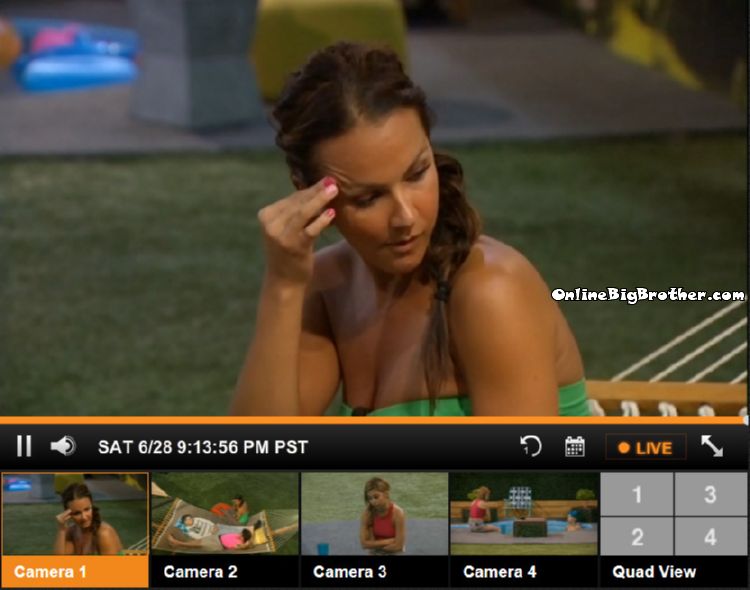 9:10pm cam 1 Brittany, Cody, Derrick and Zach
Talking about what Joey is doing and thinking it was a smart move. They agree Joey is being extremely honest. Zach points out that Joey may just be hoping for the best because she knows Caleb will do whatever he wants it's not a house decision. Derrick and Zach both say they haven't "cast" their vote to caleb. Brittany wonders who else Caleb has talked to. Zach says he's talked to Hayden.
Zach – "If the house votes to put Devin up and Caleb doesn't put Devin up it exposes their alliance"
Brittany says there's people in the house that have a problem with Devin.
Derrick – "We need 8 people to vote for whoever."
They start giving a hard time about saying he likes cougars. Brittany correct them says Cody told her he's used to getting hit on by cougars.  Cody – "I just like older girls like 27 year old cougars are like 40″
Big Brother 16 Live Feeds Subscriptions, if you don't have them yet what are you waiting for! Free 2 day trial .$26.99 for the season pass or $9.99 for the monthly pass Try It Free! Subscribe now to the official BB16 Live Feeds
Alliances 
Double Ds = Devin, Donny
Bomb Squad = Frankie, Caleb, Devin, Cody, Derrick, Zach, Amber, Christine
Bed buddies = Nicole, Christine
Final 2 Deal = Frankie, Zach
Old
TheCrazy8s = Frankie, Donny, Joey, Paola, Devin, Amber, Nicole, Cody
El Cuatro = Paola, Amber, Joey, Nicole
[polldaddy poll=8136415]
Share it YO!
Tweet