POV Holder:
Jenn
Next POV:
Sept 1 (Saturday)
POV Used
POV Ceremony
Aug 27 (Monday)
HOH Winner:
Frank
Next HOH:
Aug 30 (Thursday)
Original Nominations:
Dan And Danielle
Current Nominations:
Have Nots
Dan
Last Evicted Houseguest
Boogie and Ashley
Pandora's Box POwer
Ian -> Has a veto power
***POV Results
1) Dan in solitary dance party for 24 hours
2) Carrot top wears a carrot suit for 24 hours
3) Danielle and Britney are handcuffed for 24 hours
4) Jenn has POV, Burns clothes and is on slop for the rest of the game
5) Frank gets "chum" bath 24 hours (Frank was also Disqualified from the competition)
6) Shane took no punishments
11amJenn, Britney, Frank, Dan and Danielle are in the backyard talking about random stories. They start talking about birth control. Frank says once when he was done having $ex the girls nuvaring was caught on him. He was like what is this a bear trap! They continue to talk about random stuff.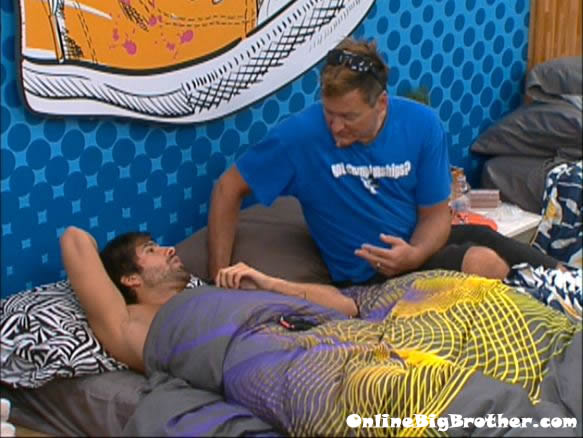 Joe comes into the kicks room to talk to Shane. Joe says that he thought about a scenario last night. Joe says that he walked out several scenarios. I pulled papers and tried out scenarios to see if I can get us to where we need to go. Joe says one asks question if we got down to the final three, would you take me or Danielle? Shane says ummm..Ahhh.. good point, uhh.. you, I would have a better shot at it against you in the finals. Joe says if we do the Frank thing… as soon as we possibly can we back door him. Joe says that Frank says he just didn't want to be the one to put up Jenn, but we can. Joe says that Frank wants out Ian and Dan. To me it doesn't matter I don't care about Ian. Joe says if we get to the final four with Frank you have to either beat him or we have to back door him the week before. Joe says that if we stick with Britney then we just separate and Frank is going to go off on us, and I can take it if we want to do that. Joe tells Shane that he wants to go to the final two with him, and that he is happy just taking the $50 grand. Joe says we either stick with Frank and try and back door him or we stick with Britney and separate the house. Let me know and we'll talk to Frank. Joe leaves.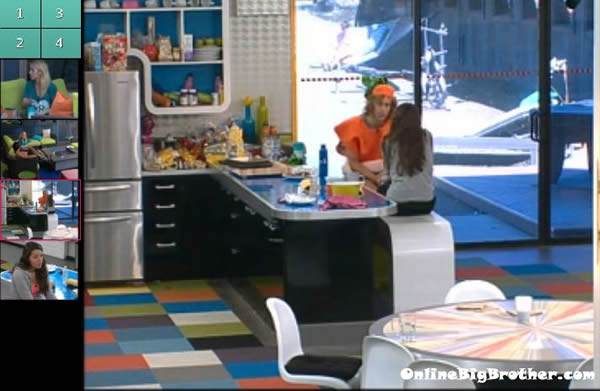 Superpass Live Feeds FREE 3 Day Trial then:
Watch the last month of Big Brother 14 for ONLY 50 Cents a DAY!
11:40am – 12pm
Danielle and Frank are in the kitchen talking. Danielle tells Frank you need to keep pressuring Shane because he will flip. Frank says oh I will be, I am working for you. Frank says I trust you won't put me up. Danielle says I said I won't so I won't put you up. Frank tells Danielle that Joe thought that you and Dan might work together again. Frank says that he just told Joe that they might later on but she will still harbor resentment to him. Danielle says yeah thanks for saying that. Frank says that he and Jenn will have her back going forward and that he thinks Shane will too. Danielle goes to see if she can get into the diary room. Frank heads out side to talk to Jenn and Britney about New York and other random things.
12:20pm Jenn and Ian are in the pool. Frank, Dan and Britney are on the backyard couch talking about nuclear bombs and other random stuff.
12:30pm – 12:45pm Shane and Danielle are in the kicks bedroom talking about taking advantage of getting to sleep in all day. Shane says that it's not good for the live feeders but.. Danielle says that she is so over that.. Britney joins them. Danielle complains about her neck rash and sore throat. Britney says that Dan and Frank are sitting on the backyard couch talking. Shane asks what?! Britney says they're in an alliance. It's no secret. Shane says they at least have a one week deal. Shane says Dan is a f**king dick. I am going to talk to him. Britney asks about what? Shane says about how he treated Danielle. Britney says that it pisses her off how they are talking like I am going home. Britney says it pisses me off because they don't have the votes but they act like they do. Britney says that maybe I do go home this week, but its not because of Frank. He is on such a power trip. Britney says that he will roll over anyone and destroy you to get to the finals. Shane agrees. Britney leaves. Shane says I hate Dan so much! Danielle says yeah. All four camera views switch to Ian and Dan playing salsa ball in the pool.
12:50pm – 1:35pm Big Brother 14 live feeds are done for maintenance.. Apparently Superpass is doing some maintenance, but if you are watching the feeds right now you will lose them to the maintenance screen if you refresh or switch camera views.
1:45pm – 2pm The live feeds come back. The house guests are taking HOH photos. Frank jokingly freaks out at Britney for erasing photo. Britney says that Danielle was doing it too. Danielle says no I didn't, not today. Frank jokingly says s**t head. Britney says to Frank I am on the block I can do whatever I want. Frank says that he got some good blogging done, talked some mad s**t about Britney, just kidding. Britney says just don't say anything about my husband or upset him, he has been through enough in his life.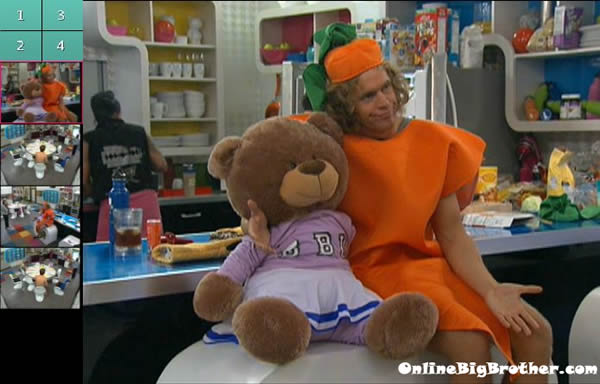 2:10pm Frank, Ian, Danielle, Shane and Joe are in the kitchen making lunch. Ian swinging in the hammock. Jenn sun tanning. Britney is laying out on the backyard couch. No one is talking.
Share it YO!!
Tweet