POV Holder:
Jenn
Next POV:
Sept 1 (Saturday)
POV Used
POV Ceremony
Aug 27 (Monday)
HOH Winner:
Frank
Next HOH:
Aug 30 (Thursday)
Original Nominations:
Dan And Danielle
Current Nominations:
Have Nots
Dan
Last Evicted Houseguest
Boogie and Ashley
Pandora's Box POwer
Ian -> Has a veto power
***POV Results
1) Dan in solitary dance party for 24 hours
2) Carrot top wears a carrot suit for 24 hours
3) Danielle and Britney are handcuffed for 24 hours
4) Jenn has POV, Burns clothes and is on slop for the rest of the game
5) Frank gets "chum" bath 24 hours (Frank was also Disqualified from the competition)
6) Shane took no punishments
2:15pm – 2:25pm Britney calls Ian over to the backyard couch to talk. Ian asks have you heard anything. Britney says no, you? Ian says the only thing he heard was the more they think we're together the better. Britney says yeah they are working together, they've been hanging out all day. Ian says that I am the captain of the quack pack ship and I will go down with it. Ian says that what my pitch to Joe will be that Frank will win in the final two over anyone, and that he can't play in the next two HOH's. Ian says that he will fall on the sword for the quack pack and for her. Britney says we need to get Shane. Ian says that he will try and get Joe and Shane. Britney says that if I stay I will put Dan on the block. Ian asks why, we need him. Britney says because I hate him. He is going to slit our throats. He will not fall on the sword for this alliance. He is the weak link. Ian says I am the captain of this f**ker, I founded it, I will go down with it! Britney and Ian both agree that they wont vote for Frank in the end. Ian says that he doesn't capture the spirit of this game. Britney says he is good at comps, but has a terrible social game. Ian tells her not to give up.
2:30pm – 2:50pm Britney is in the kitchen throwing containers of food onto the floor. She chucks a peanut butter container, a juice jug, a milk container, etc. Big Brother tells her to stop that. After each one she says that made her feel better. She then cleans up her mess. Frank says Britney, you know what would feel good? She says playing knife with my fingers. Frank says no don't do that. Frank tells her to beat up Teddy. Britney then start kicking and punching Teddy. Saying how does that feel?! She trips and say that one was for Teddy, you got me. She then strangles him and then starts hugging him saying that she feels better now. Sorry for biting you ear. Britney settles down. Big Brother calls her to the diary room.
Watch it ALL on FlashBack: Pick the Day, Time and Camera View!
2:55pm – 3:05pm
Dan, Danielle, Britney and Joe are in the kitchen. Danielle is complaining about her rash. She think it might be an allergic reaction to the paint. She says that the doctor says that it's not stress related. Joe asked Frank if he could go up and listen to his Biggie cd. All four camera views switch to the backyard with just Shane in the pool. Then all the cams switch to the living room with Dan and Frank talking about music.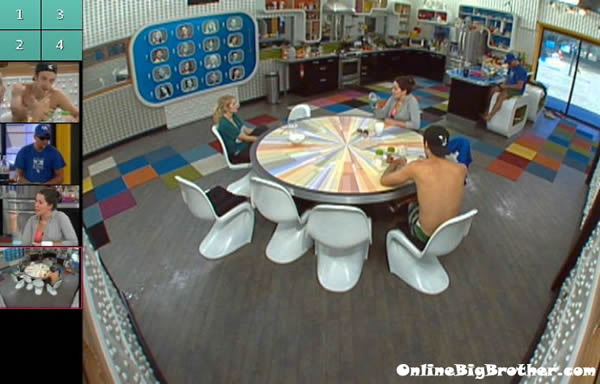 3:10pm Out in the backyard, Dan tells Jenn that the first thing he does when he gets home is to listen to her cd. Jenn says yeah I'll send you some. Jenn starts talking about her music career and what she will do when she gets out. Dan says that he wants to see her play live.

Share it YO!!
Tweet