POV Holder:
Jenn
Next POV:
Sept 1 (Saturday)
POV Used
POV Ceremony
Aug 27 (Monday)
HOH Winner:
Frank
Next HOH:
Aug 30 (Thursday)
Original Nominations:
Dan And Danielle
Current Nominations:
Have Nots
Dan
Last Evicted Houseguest
Boogie and Ashley
Pandora's Box POwer
Ian -> Has a veto power
***POV Results
1) Dan in solitary dance party for 24 hours
2) Carrot top wears a carrot suit for 24 hours
3) Danielle and Britney are handcuffed for 24 hours
4) Jenn has POV, Burns clothes and is on slop for the rest of the game
5) Frank gets "chum" bath 24 hours (Frank was also Disqualified from the competition)
6) Shane took no punishments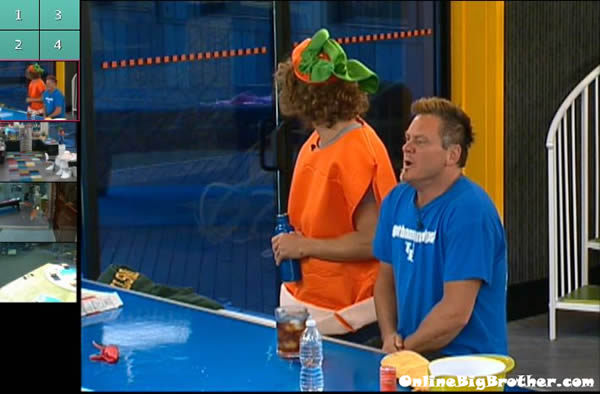 8:45am – 9am Big Brother wakes up the house guests. Frank, Joe and Jenn are the only house guests awake. Frank and Joe talk about how big of a surprise it was that Danielle did the dishes yesterday. Frank and Joe look at the memory wall. Frank says we`re close, real close. Think about how after next week there won't be a group to worry about but us. Frank says Britney goes home, Dan and Ian go on the block, doesn't matter which goes, Ian wins POV, Dan goes. Next week will be fast forward, Shane goes up with … Frank and Joe continue to work out the possible scenarios. Frank says that he isn`t worried about Ian winning and putting me on the block because there will be 4 votes and we will have three of them (Shane, Jenn, Joe).
Re-Watch ALL THE DRAMA on FlashBack: Big Brother 14 Live Feeds – 3 Day Trial!
Joe says that Dan is the most hated house guest of the season, he has lied to everyone, he's the snake in the grass. Frank says that Ian has too. Joe says that he thinks Dan made up a reason to hate Danielle to separate themselves from each other so that we don`t send him home or her. Frank hadn't thought of that possibility. Joe explains how the weeks don`t add up and that there has to be a fast forward or double eviction coming up real soon. Frank wonder if it even be this week.

Frank, Joe and Jenn are out on the backyard couch talking. Frank tells Jenn that he thinks Joe is on board with us. Frank says that he thinks Shane is the one running back after you tell him something. Frank talks about how its weird to say that Ian is more dangerous than Dan and a week about he would have never believe he would say that. They talk about how if the competition comes up asking what happened on what day. Ian will get it for sure. We have no chance. They talk about the different competitions that might come up next, Endurance, America's Choice, etc.
9:20am – 9:30am
Frank says that he hopes if Dan wins HOH and he puts me up against Ian, then at least we have the votes. Joe says yeah Ian is scary and we don't like him, but Dan has already won it. Frank says that he wants them both out but that he thinks he can beat both of them in the end. Frank says the way he will vote if he goes to jury is who f**ked me the most, and that's how I will try and get others to vote too. Joe says not me, I vote on who plays the best game. Frank says that he didn't check his integrity and honest at the door, just to pick it up on the way out. I brought mine in with me. Joe says that if someone lied about something to save their life that's fine, it's the big lies that I don't like. Joe says that if it was Dan and Shane at the end I would vote for Dan because Shane doesn't talk game. If I sat down with Shane and asked him his strategy he would say winning competitions. Joe says that I figure I deserve second place. Frank says that at least when we get out Ian and Dan then we know where people stand. Frank says that it would kill him to see Dan or Ian win this game. Joe says yeah and a few other people like Danielle she has slept half the game and cried the other half. Joe talks about making a slop recipe book after the show is over.
9:30pm – 10am Jenn is out on the backyard couch alone. Joe is in the kitchen cooking. Dan is laying on the living room couch.
10:15am Dan joins Jenn out on the backyard couch. Dan says that he is feeling good about everything today. Jenn says good. Dan heads inside to make protein ice coffees. Dan doesn't know how to make them and asks Frank for instructions. Britney is in the bathroom with Jenn. Britney comments you are listening to a 29 year old man learning how to make coffee. Jenn MmHmm.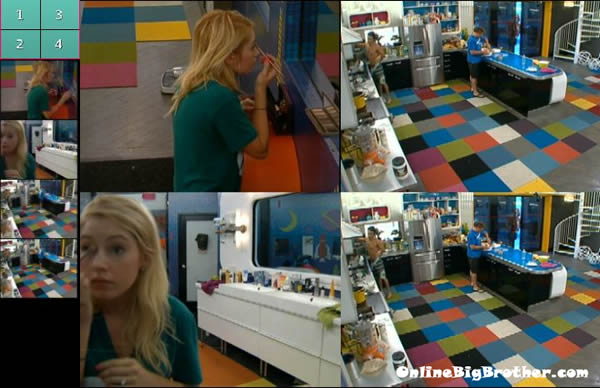 10:25am Dan is talking to Frank in the backyard. He talks about how Britney came to see him 2 to 3 times to get my vote and she's starting to think that I am working with you. Dan says that he is thinking of just telling Britney today that she won't get his vote, that he is voting for Danielle to try and rebuild that relationship. Frank tells Dan that he is telling Shane and Joe that Ian is the target but that right after that I am going after you (Dan), just so they don't think we are working together. Dan says yeah I told Britney that I made a deal with you that I would take out Ian, but that after that I am coming after you (Frank), just to throw her off thinking we are together. Dan comments on how he was hearing Ian ratting around last night. Dan says that he is not too keen on Shane sticking around but the more I think about it he doesn't know anything about this end game. Frank agrees.
10:30am Frank goes over to talk to Jenn by the pool table. He tells her that Joe thinks I am taking him to the final 2 but I am not, I am taking you. Just in case he comes throwing that out there trying to separate us. Jenn says thanks for telling me that, I appreciate it. Jenn brings up how Ian said no one should take you to the finals because it will be a 7-0 vote, but I would be happy with the $50G's it could change things in my life. They talk about how Ian has taken the target off of both of us. Frank says that he doesn't like how Danielle got so upset, but the shining light is that he looks worse because of it.
10:40am Frank tells Jenn that he was talking to Joe and he thinks the final 5 are me, you, him, Shane and Danielle, which isn't the worst final five. Jenn says yeah no. Frank tells Jenn that Joe said if he talked about wanting to eventually put you up and I told him that was not going to happen that she has done too much for me to do that. Frank says I told him if he wanted that he would need to win an HOH, but even then we would have the votes to keep you. Jenn says that she appreciates Frank sticking up for her. Ian and Dan join them.
Superpass Live Feeds FREE 3 Day Trial then:
Watch the last month of Big Brother 14 for ONLY 50 Cents a DAY!
Share it YO!!
Tweet