POV Holder:
Jenn
Next POV:
Sept 1 (Saturday)
POV Used
Yes
POV Ceremony
Aug 27 (Monday)
HOH Winner:
Frank
Next HOH:
Aug 30 (Thursday)
Original Nominations:
Dan And Danielle
Current Nominations:
Danielle And Britney
Have Nots
Dan
Last Evicted Houseguest
Boogie and Ashley
Pandora's Box POwer
Ian -> Has a veto power
***POV Results
1) Dan in solitary dance party for 24 hours
2) Carrot top wears a carrot suit for a week
3) Danielle and Britney are handcuffed for 24 hours
4) Jenn has POV, Burns clothes and is on slop for the rest of the game
5) Frank gets "chum" bath 24 hours (Frank was also Disqualified from the competition)
6) Shane took no punishments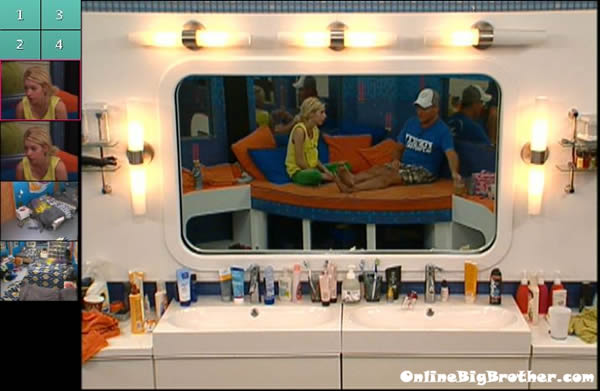 9:35am – 10:30am Joe and Frank are now awake. Frank collects his things in the HOH room and brings them down. Britney is awake and laying on the bathroom couch. Britney and Dan are talking about how close Dan and Frank are now. Joe says that my commitment is with you, and I don't see why his isn't. Britney says that he did say that I would vote him out. I have to clear that up with him, I drives me crazy to think that he thinks I said that. It sucks to be up on the block with your friend. Britney says don't forget if you don't vote me out, he (Frank) won't forget it …Whooa.. He can't play for two HOH's. Britney says here comes Frank to oversee our conversation. Frank joins them in the bathroom. Frank leaves. Britney says that she will talk to Dan today. She says he even said that she was dead to him, why would he keep her. Joe tells her to open up the conversation with you said she was dead to you, why would you keep her. Britney talks about how Danielle's head isn't in the game, she is too emotional. Joe tells Britney he is willing to keep her, but that she needs to get the third vote. Britney says getting Shane from her will be hard because her allegiance is with Shane. Britney says that she is close to Ian but that she doesn't have a deal with him. Britney tells Joe that all we need to tell Shane is that we have Dans vote to keep me. Joe and Britney head into the kitchen. All the other house guests are still sleeping.
Sign-up for the Big Brother Live Feeds and get the MOBILE Feeds for FREE!
10:35am – 10:40am Britney goes into the have-not room to ask Dan if they can talk some time later. Dan says yeah. Britney tells him to pull her aside some time later. Dan says okay. Britney heads back to the kitchen where Joe is cleaning up. Britney says that she thinks Shane is a lost cause and that it will be better to go after Dan's vote. Joe tells her to try for both. Britney says that she will try for both and that she won't leave without trying. If I don't try, I leave. If I try, I might not leave. Joe says exactly.
11:10am Britney and Joe share personal stories in the kitchen. Big Brother calls for an HOH lockdown. All the house guests head up to the HOH room. Big Brother switches the live feeds to TRIVIA..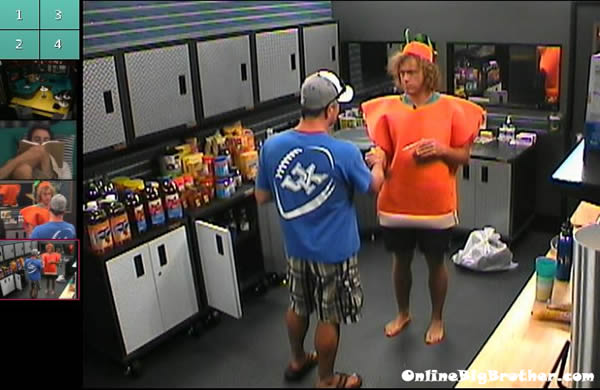 12:30pm – 1pm The HOH lockdown ends. Britney is vacuuming. Joe and Frank are sitting in the living room talking. Joe tells Frank to come into the storage room with him for a second. Joe tells Frank that he will take her (Britney) out, I will vote her out, no doubt. I will take out that entire side of the house. I will get you there. I will take out this other entire side of the house to get you to past the next couple week. You have got my undying loyalty right now, alright. Mike Boogie style, alright. Frank says same here. Joe and Frank leave the storage room. Britney joins them.
Share it YO!!
Tweet