POV Holder:
Jenn
Next POV:
Sept 1 (Saturday)
POV Used
Yes
POV Ceremony
Aug 27 (Monday)
HOH Winner:
Frank
Next HOH:
Aug 30 (Thursday)
Original Nominations:
Dan And Danielle
Current Nominations:
Danielle And Britney
Have Nots
Dan
Last Evicted Houseguest
Boogie and Ashley
Pandora's Box POwer
Ian -> Has a veto power
***POV Results
1) Dan in solitary dance party for 24 hours
2) Carrot top wears a carrot suit for a week
3) Danielle and Britney are handcuffed for 24 hours
4) Jenn has POV, Burns clothes and is on slop for the rest of the game
5) Frank gets "chum" bath 24 hours (Frank was also Disqualified from the competition)
6) Shane took no punishments
1:10pm Britney and Dan are in the arcade room talking. They talk about how they both haven't won anything yet. Britney says that she knows Frank wants me gone for a reason. He knows I am coming after him. She says that she has burned Frank but that Danielle hasn't. Dan says that one thing he forgot about this game is that its hard for people to forget hurt feelings. Britney says you could either spend the next three week rebuilding the relationship with her or you could spend the next three week winning this game. She will never prefer you over Shane in this game. I was mad at you for the first few hours but what were you going to do lay down and die. It encourages me to fight. You are expendable to Danielle and she makes emotional decisions. I think she is a great girl but no matter what you and I have a better shot at working together. Dan says yeah.


Ian joins them. Britney explains that she is trying to get Dan to work to keep me. Ian says that he will stick with the people he has been with since day 29. I will die on the sword. Dan says that he has to even struggle to talk to Danielle. Britney says if Danielle left, then Shane would be workable and he wouldn't be reminded of what happened. Dan asks Ian what he thinks. Ian says that Britney is a very valuable person to be here and she doesn't hold a grudge from the funeral. She will make sure Frank goes the next two weeks. Ian says that when he put his hand in the center he thought that meant that we would work together till the end of the game. She is strong for what we need right now. Why give Frank what he wants, we have a chance to get Frank gone in the next two weeks. Britney says that Danielle won't even come to you for the votes, when I am here trying to get your vote. Britney says if Danielle stays, then Shane won't work with you. Not after he had to console her. Britney says if I am gone, Frank will go after you next. If I am still here he will be coming after me. Ian says that Frank and Jenn have to go. Britney leaves the room.
1:45pm Ian starts asking Dan if he will put up Frank and Jenn if he wins HOH tonight. Dan won't answer. Ian says look you got me to go against mathematical reasoning and statistics to put him up but I did it for the group. Ian says that back dooring at this point doesn't make mathematical sense right now because we are pretty much all playing in the veto. Dan asks what Ian's order is. Ian says Frank, Jenn, Joe. Ian leaves the room. In the bathroom, Britney tells Danielle that she hasn't campaigned against her and wont. She says that if she leaves Danielle needs to play really smart. Ian joins them and tells them that Frank just tried to get to him asking him not to go after him tonight. Ian says that Frank said that Ian is all alone and will need to work with someone.
1:50pm – 2pm Frank and Dan talk in the arcade room. Dan tells Frank that he thinks Joe thinks we are working together. Frank says that Joe hasn't said anything about it to him. Dan asks what Joe's game plan is, is it like Jerry? Frank says that Joe is just a number to us. Frank says that Joe said that Britney told him that Evel Dick told her to wait until the last moment to go for votes. Dan asks she talked to Evel Dick? Frank says I don't know, that's just what Joe said. Dan says that he hasn't told Britney that he isn't voting for her yet. Frank says that he might just throw the HOH to Shane, so that you can play for the next one. Dan wonders if Shane would put me up though. Frank says yeah maybe, but you will have the votes. Frank says if you win this one then the next one you can't play and there are less targets them. Dan says that he wants to win to see photos of Chelsea and get a letter. Dan says that Ian thinks we are working together. Dan says that maybe he needs to tell Ian that I will put you (Frank) up. Frank says yeah tell him that, as long as you do it, I am fine with it. Dan says Joe is going to get far in this game, he hasn't done anything or pissed anyone off. Frank says yeah, but he has survived the block three times. He wont do well in the end comps though. They say best case is that Danielle wins this HOH.
Watch it ALL on FlashBack: Pick the Day, Time and Camera View!
Shane and Britney are talking in the storage room. Britney explains that it will be a lot less awkward if Danielle is gone for you and Dan. You are a lot less of a target with Danielle gone too. You know I have your back too, right. Shane says yeah. Shane says that Ian mentioned that you had a final two deal with him. Britney says that she doesn't and that Ian didn't even know about our final 4 deal. Shane says that his mind isn't made up but that he will let her know. Britney tells him thank you for talking to me.
2:20pm – 2:35pm Meanwhile Dan and Danielle are in the arcade room talking. Dan tells Danielle that Britney is campaigning against her, she said that you are smart, and are going to win a lot of competitions. All reasons to vote you out. Danielle says I can't believe she just lied to me. Danielle tells Dan that Shane isn't coming after him. Dan tells Danielle that she is getting good at this game. Dan asks what he should say to Shane. Danielle tells him to make a final 3 deal with him. Danielle says that Shane won't let me leave, he protects me. Dan says that he will tell Shane that he made up with Danielle and apologized to her. Dan asks why does Shane want Frank out now? Danielle says because Frank has been hitting on me. He kissed me on the forehead and Shane was fuming! Shane comes into the room. Danielle leaves. Shane tells Dan that if he can guarantee he and Danielle are save, he will throw the HOH to him. Dan tells Shane that the deal he made with Frank is that I would go after Ian. Shane says that he is willing to put it all in the past and work together. Shane says I trust your word, I will throw it to you or Danielle. Dan tells Shane to float a final three deal to Danielle and see what she thinks. Shane tells Dan he wants to get past what happened at the funeral and move on but still make people think we aren't working together. Shane leaves..
2:45pm Shane and Joe are in the kicks room talking. Shane says that if we go against Frank and keep Britney then we put bigger targets on our back. Joe says that Frank can't even play HOH next week. Shane says that we made that deal with Frank up in the HOH so if we keep Britney he is going to be mad. Joe says we would need to separate the house. Shane tells Joe that Dan tried to ask me to throw the competition to him. Joe laughs. Shane says that he also talked to Britney and confronted her about the final two deal that her and Ian have. She lied right to my face. Joe says that sticking with Frank is solid and he wont break that deal. My only reservation is that Danielle might go back with Dan. Joe says that he won't work with Dan, I don't trust him. I trust you and Danielle but not him. Shane says that he told Danielle that he would try and get her as far as he could in this game but I have done all I can do after this week. Joe says that he still thinks its best to stick with Frank. Ian joins them. Shane says that they were just talking about being able to trust Dan. Ian talks about the reasons why they should keep Britney.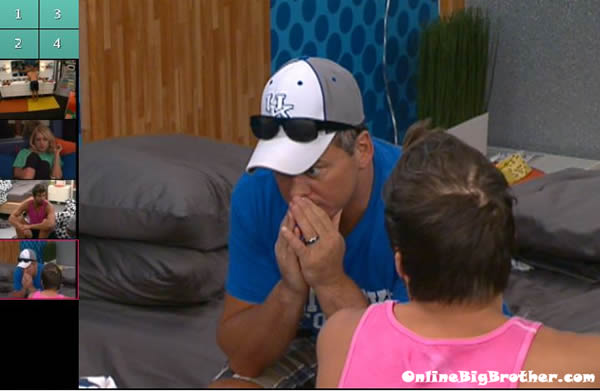 4:31pm Cam 1-4 TRIVIA
Share it YO!!
Tweet