POV Holder:
Jenn
Next POV:
Sept 1 (Saturday)
POV Used
Yes
POV Ceremony
Aug 27 (Monday)
HOH Winner:
Frank
Next HOH:
Aug 30 (Thursday)
Original Nominations:
Dan And Danielle
Current Nominations:
Danielle And Britney
Have Nots
Dan
Last Evicted Houseguest
Boogie and Ashley
Pandora's Box POwer
Ian -> Has a veto power
***POV Results
1) Dan in solitary dance party for 24 hours
2) Carrot top wears a carrot suit for a week
3) Danielle and Britney are handcuffed for 24 hours
4) Jenn has POV, Burns clothes and is on slop for the rest of the game
5) Frank gets "chum" bath 24 hours (Frank was also Disqualified from the competition)
6) Shane took no punishments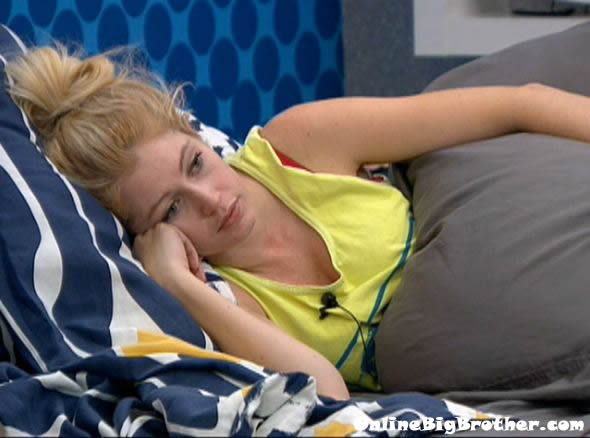 12:20am Britney and Ian are talking. Ian asks Britney to look after Ashley if Frank goes into jury next. Britney tells Ian that she can't stop them from having $*x. Britney tells him that stuff happened during their date. After Britney tells him, Ian says that he now knows he made the right choice in getting her out. They joke about how Shane is stupid even though they love him. Britney says that he is empty. They both think that Dan is smart. Britney says that she thinks Danielle is smart but doesn't like to talk about intelligent stuff. They both think Ashley is dumb. Ian says that Dan is intelligent but that I don't think you will get to talk to him any time soon in the jury house. Britney says that Joe isn't intelligent. Ian says that Joe is actually stupid. They both laugh. Britney says that she doesn't think she can survive a week in the Jury house with just Ashley and says that that she has to have an intelligent conversation at least once a day. Britney says that she can't have a conversation with her. Britney says that she thinks it all went wrong is when they got Janelle out. She says that we should have gotten Frank out when we had the chance. Ian says that Frank tries his hardest to make me feel like s**t. Britney says that she is so sick of Frank's bullying; he thinks everyone in the house is there to further his game. Danielle joins them and they continue to talk about how unintelligent Ashley is. Ian tells them that he wanted to say to Ashley look Ashley you are a beautiful girl but intellectually you don't stimulate me at all. Britney and Danielle wrestle.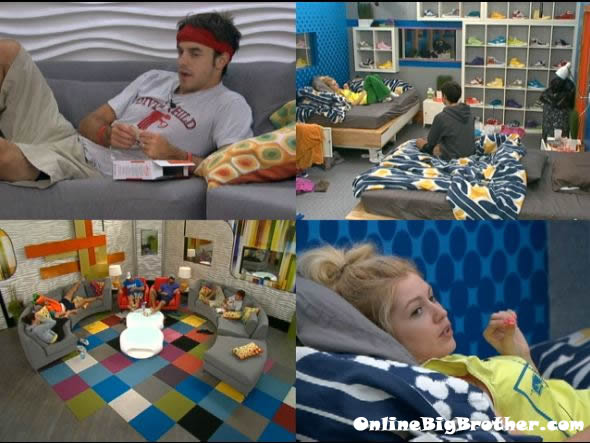 12:50am Britney and Ian are alone again talking. Britney tells Ian that Boogie was really nice to her before he left; he told her it was nice to meet her and they had a lot of fun. Ian tells Britney that Boogie called her a b***h. Britney says that she made fun of his botox even though he specifically asked her not to. She says that he did have bad botox, his eyebrows only moved sideways, that's problematic! Britney says that he thought he was the better half of Chilltown. Ian says that he made Boogie angry by saying he figured BB probably asked Will first but since he turned them down, Boogie got the spot to come back and coach. Britney says that she wants to talk to Shane and tell him to vote out his girlfriend and keep me.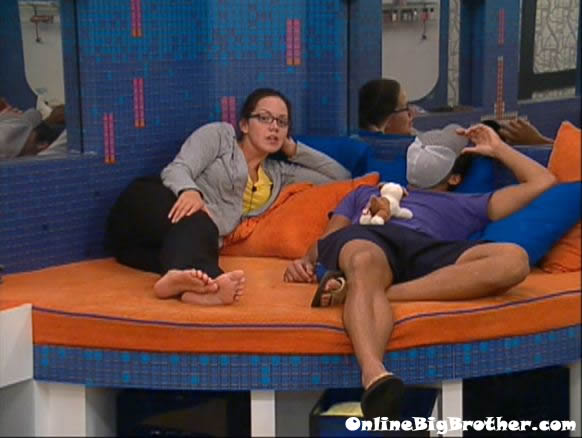 Superpass Live Feeds FREE 3 Day Trial then:
Watch the last month of Big Brother 14 for ONLY 50 Cents a DAY!
1:30am Shane and Danielle are in the bathroom whispering. Danielle says that she is still angry about Dan's funeral stunt. Shane says that the only two people he would throw the HOH to would be her or Ian. Shane says that he doesn't trust throwing the competition to Dan. Shane talks about Jeff and Jordan and says that we should do what they did and try to strike a deal that keeps them safe as a couple if it's an endurance competition. Shane tells Danielle that we can't let Jenn or Joe win the HOH. Danielle says oh hell no! Dan comes in and joins them. Dan and Shane both talk about they would like to work with the quack pack again but they need to talk tomorrow. They talk about how they think it will be endurance tomorrow.
1:45am Frank, Jenn and Joe are in the living room talking about the Power of Veto competition. Frank comments and says man Ian's following Britney around like a f***ing puppy dog tonight. They wonder if Danielle will voting Ian out next. Frank and Joe both think she is on board and say that they think Danielle could win HOH tomorrow. They all agree that Ian has to go home next. Jenn leaves. Joe tells Frank that he is surprised that Britney just gave up. Frank says that it's disappointing. Joe says you have got to try all the way to the end. Frank says that he would have been working his a** off. Joe tells Frank that he can have the big check he just wants the $50 G's. Frank laughs and tells him he likes that plan. Frank says let's just say we get Ian out and you win the next HOH, you put Dan and Danielle up. Frank says that Danielle going home before Dan might not be the worst thing. Joe agrees. Frank says that these motherf***ers don't know how to work! Joe says pack a lunch were going to work! Frank says three weeks can you believe it?! They wonder how they will get rid of enough house guests for the finale at this rate. Frank says that he thinks there could be two weeks of fast Forwards coming. They talk about words they would use if it's a spelling competition. Joe says Tenderloin and Thermodynamics. (Joe thinks "Thermodynamics" is an 18 letter word, so I don't think he would spell it right if he tried as it is only 14 letters.) Frank says that his word is demonstration and comments that there are a lot of things he could do with it. Frank and Joe laugh about beating Ian in the spelling Veto with his own word. They talk about giving each other letters to win. Frank and Joe end their conversation and Frank heads up to the HOH room.
Watch it ALL on FlashBack: Big Brother 14 Live Feeds – FREE 3 Day Trial!
2:20am Danielle and Jenn are whispering in the stereo room bed. Jenn says that Frank wants to take her all the way and says that she is the only one who hasn't lied to him. Jenn says that she told Frank she wanted to bring Danielle with them and that Frank was cool with that. Jenn says that she is worried about Dan. Jenn says that she is also worried that Ian will win HOH this week. Jenn says she is Ian's target and says that he pretty much admitted that to her this morning. They both agree to get out Ian this week. Danielle asks Jenn who she would put up. Jenn says Ian and Joe. They talk about how they need to win this HOH and how they think it will be endurance. Danielle heads into the kitchen.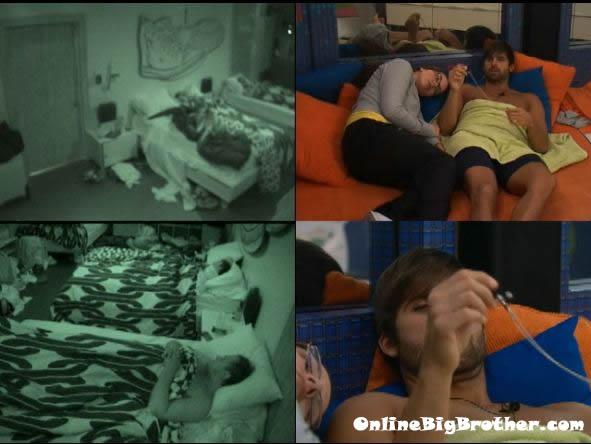 2:35am – 3am Shane and Danielle whisper in the kitchen. Danielle tells Shane that she doesn't trust Joe. Shane agrees. They head into the bathroom. Shane says that he thinks they should throw the HOH to Ian so he can put up Frank and Joe and one of them will go home. Shane says that way we won't get blood on our hands. Shane asks Danielle if she has thought about getting rid of Ian this week. Danielle says no. Shane says that he thinks Joe would put up Ian and Dan if he wins HOH. Shane says that he doesn't know what Dan would do. Shane says that he thinks it might be best to put up Ian and Joe, if Ian wins POV they could back door Frank. Shane says that the final four could be you, me, Jenn and Joe. Shane says that he thinks they should get rid of Ian before Dan. Shane says that wants to confront Britney tomorrow about a final two deal he heard she had with Ian. Danielle tells him not to because Britney is going to Jury. Shane says that he just wants to know the truth. Danielle tells him to let it go! Shane says that it's bulls**t, she hasn't done anything to save me, and she expects me to vote for her? Shane asks Danielle why she doesn't trust Joe? Danielle says because he always floats, he constantly floats. Shane believes Joe is doing whatever is in Frank's best interest. Danielle says Frank is in trouble. Shane says that he thinks Frank would have Jenn and Joe's vote but they could still send him home. They talk about talking to Dan separately tomorrow before the HOH to assure their safety. They both head to bed.
5:50am All the house guests are still sleeping..
9am – 9:25am Big Brother wakes up the house guests. They turn on the lights and go back to sleep..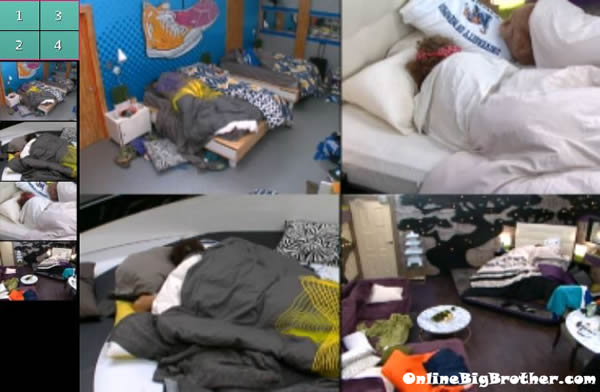 Share it YO!!
Tweet