POV Holder:
Hayden
Next POV
Aug 2nd
POV Used
YES
POV Ceremony
July 28th
HOH Winner 1:
Frankie
HOH Winner 2:
 Zach
Battle of the Block Winner
 Nicole/Christine
Next HOH/ Next BOB
July 31/Aug 1
Original Nominations:
ZACH's Noms (Christine & Nicole) Frankie's Noms (JOcasta & Victoria)
Final Nominations:
Amber & Jocasta
Have Nots
Nicole, Caleb, Christine, Derrick
POV Players
Frankie, Victoria, Jocasta, Donny, Hayden & Christine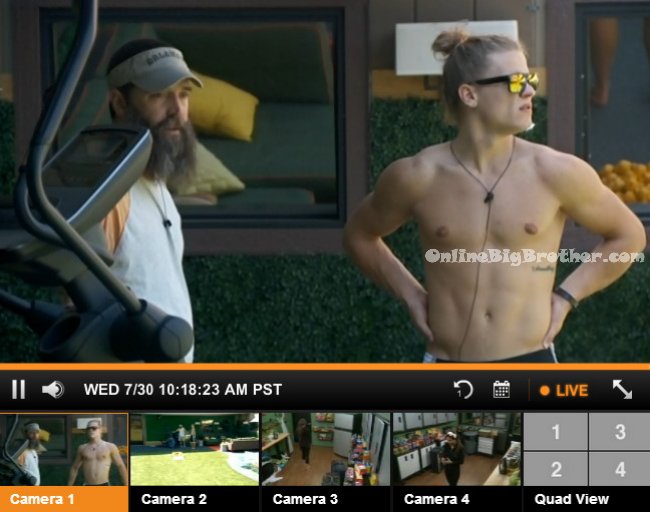 Take Advantage of the FREE 2 day Trial to watch all the drama!
9am – 10:50 am Donny is up and moving around the house. He heads outside and starts exercising on the elliptical. Christine and Hayden are talking about the morning wakeup calls and how everyone used to get up but now no one moves. Hayden heads up to the HOH room to shower. Big Brother wakes up the house guests. When the live feeds return – Donny, Nicole, Hayden and Amber are out in the backyard putting down the awnings. Donny comments on how they will probably be locked inside at any moment. Donny tells Hayden that he can't believe he stayed up all night. Hayden says he was active all night playing pool. Jocasta wakes up and takes her suit case to the fire room to pack.
Hayden and Donny are chatting on the backyard couch. Amber is suntanning and then gets into the pool. She thinks Hayden said her name and asks did you say my name? Hayden says no. Donny comments to Hayden can you say paranoid?! Jocasta joins Hayden and Donny on the couch.
11am Hayden says alright, goodnight! He asks Donny if he isn't up by 4pm can you wake me up? Donny says he will. Hayden heads to bed.
11:15am – 11:35am Jocasta and Donny are out on the backyard couch talking. Jocasta says they were trying to figure out how to tell Caleb because he was out there crying. 26 years old! Donny says apparently this has happened many a time before. Jocasta says but he still doesn't get it. And he was like how is everyone going out there having hammock dates with Amber but me. When he comes to me I just tell him to go talk to her. I just listen. I throw it back to him. Well what did she say? How do you feel? Jocasta says that he (Caleb) said you and I are the only ones that don't tell him anything. Donny says well we don't hear nothing. Jocasta says I told him you need to talk to her and find out. It was an hour Donny and I was like this… Over and Over again. He thinks she is the one god sent him. Jocasta says that Frankie keeps saying that Caleb keeps twisting it. Whatever they tell him he is like no Amber wouldn't do that. They think once Amber goes out he will walk out the door right after her. I don't think he will but I would love it if he did!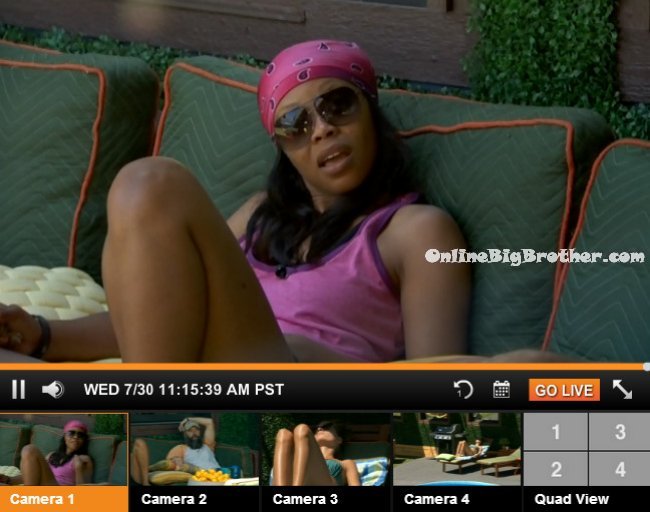 11:40am – 12pm Donny and Jocasta start doing laps back and forth in the backyard. They talk about the possibility of it being a double eviction this Thursday. Jocasta says so if you win the first HOH then you can't compete in the second right? Donny says yeah. Donny says you need to start thinking about what you would do today because it all happens so fast. Donny heads inside. Jocasta says Okay I need to think this through, if I put up Frankie and Caleb ..then one of them will possibly remove themselves.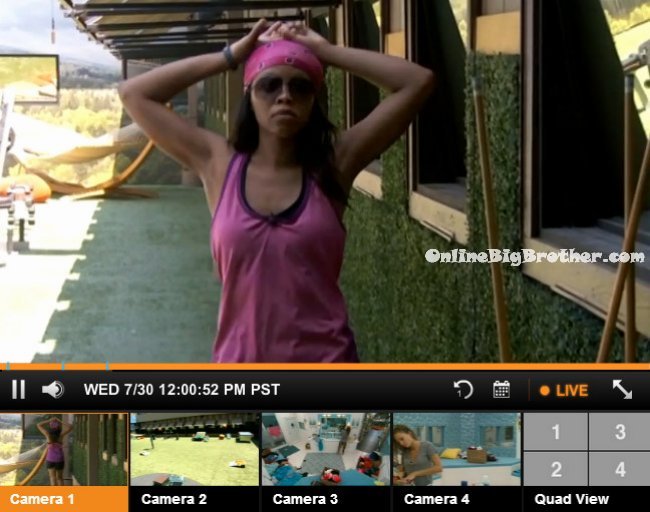 12:25pm – 2pm Donny and Amber are sitting out on the couch talking about random things like different ideas for dates, and life outside the house. Donny asks Amber if she would like to act. Amber says that it hasn't been a dream of hers. He asks her what about being one of the girls on The Price is Right? Amber says yeah I would do that. Donny says I just want to blend back into my simple life and disappear. Amber says I like the simple life. Jocasta joins them. Donny asks if they have good ears. Amber says I can hear them (Production behind the walls). Amber says I would love to work behind these walls. Amber heads inside. Donny and Jocasta sit in silence. Jocasta comments that where ever Derrick goes, Victoria follows. Donny says yeah. Jocasta says I find it crazy that both of their grandparents passed away the same week. Donny says MMmHmm. They sit in silence. Donny says this game takes a lot of patiences doesn't it. Jocasta says I'm bored out of my mind. Victoria joins them and talks about what she was doing while staying up till 6:30am. Jocasta says if Victoria won HOH I would go up depending on who has the stronger hold on Victoria ..either Derrick or Frankie. If its Frankie I would go up, if its Derrick I wouldn't go up. Victoria joins them. Jocasta, Donny and Victoria start talking about the differences between Jewish religion versus the bible.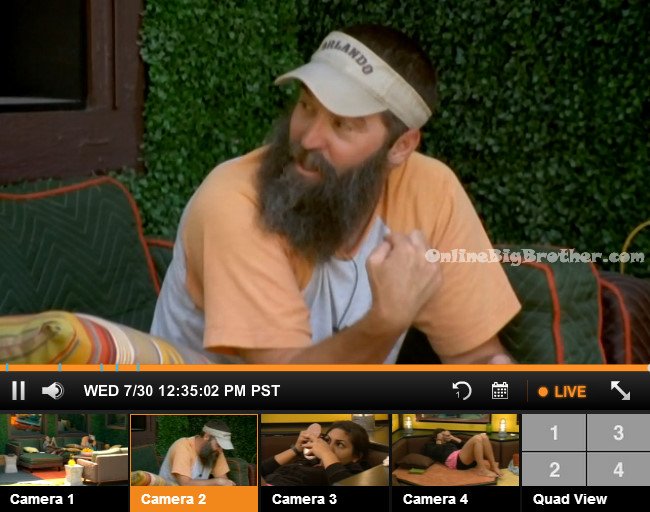 2:15pm – 2:40pm Nicole wakes up and heads out to lay out on the lounger to warm up. Amber joins her. Christine comes out soon after and joins them. Christine says that the only entertaining thing that happened last night was Zach staring and dancing for Victoria. Christine says it was hilarious, I couldn't stop laughing. Amber comments on how she has to pack today. Christine says that's so annoying. Christine asks Amber if she thinks this show will help her career? Amber says I don't know, that's why I was iffy about even coming in here.
2:55am Nicole and Christine are alone on the lounger. Nicole says now that Caleb knows there's no point in blind siding him. Nicole says the boys are afraid Amber is going to blow up their game. How could we tell her without it being us? I'm saying like accidently. Christine and Nicole think it would be awesome if Amber blew up the guys game. Nicole says I am not getting thrown any more, if I get asked again I am telling her. You're super close with her do you think she would keep a secret? Nicole says I can't believe there are only 4 girls left. Christine says people don't want to get out Victoria and it pisses me off. Christine says that Zach actually thinks he controls Victoria. If we put up Victoria and Zach .. I don't know who would go home. If it was Victoria and Derrick .. Victoria would go home.Christine says we need to start telling people that we're really good friends but not working together. Nicole says she already says that. Christine says good. Cody would take out Zach and Caleb. Nicole asks really? Christine says yeah, he's been saying it for weeks.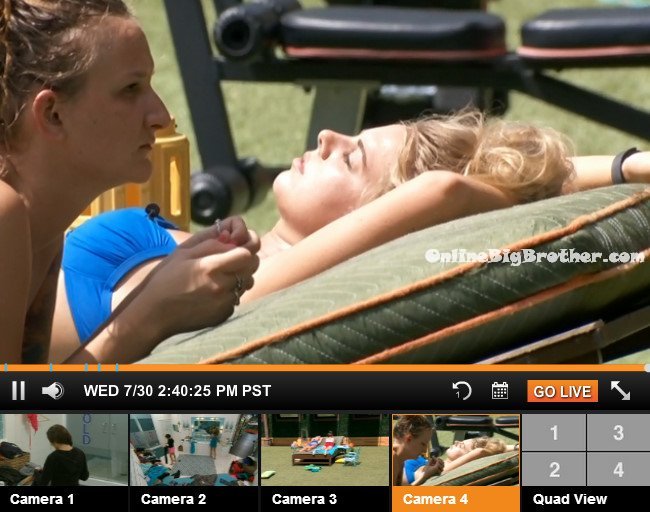 Where is the vote
Amber's going home 9-0
Alliances
Zankie = Frankie/Zach
The Detonators = Derrick, Frankie, Zach, Christine, Cody
Final 2 Deal "The HITMEN" – Cody & Derrick
Trilogy = Nicole, Christine & Hayden
Team America = Donny, Derrick, Frankie
Old timers = Jocasta/Donny
Nicotine = Christine/Nicole
(Defunct or unknown status)
Bomb squad = Caleb, Amber, Frankie, Derrick, Cody, Christine, Zach, Hayden
Not a showmance= Hayden/Nicole
Los Tres Amigos = Derrick, Cody, Zach
The bottom Feeders = Derrick/Nicole
We hate Devin = Christine and Zach
Outsiders = Brittany, Victoria, Jocasta, Donny
Stalker = Caleb/Amber
Quad Kings = Derrick, Zach, Cody and Hayden (still being built)
More polls here https://www.onlinebigbrother.com/big-brother-compendium/big-brother-16-polls/
[polldaddy poll=8207784]