POV Holder:
Andy
Next POV
Aug 17th
POV Used
NO
POV Ceremony
Aug 19th
HOH Winner:
ANDY
Next HOH:
Aug 15th
Original Nominations:
Jessie and Spencer
Current Nominations:
Jessie and Spencer
Last Evicted Houseguest
David, Nick, Jeremy, Kaitlin, Howard, Candice, JUDD
Have Nots
Aaryn, Helen , GM, Elissa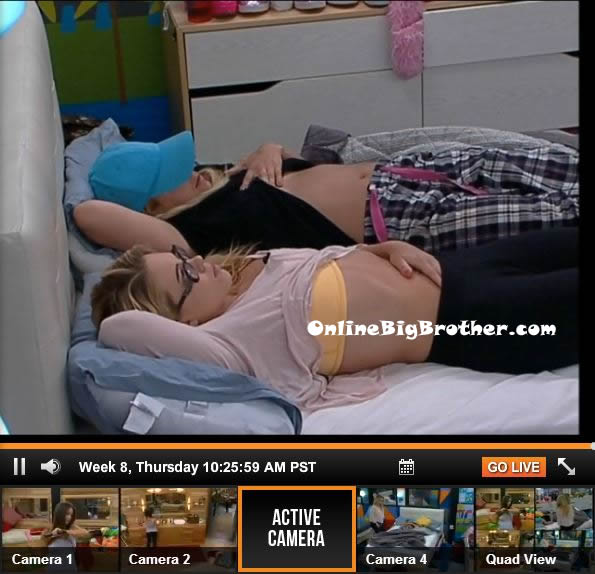 9:55am Jessie is awake and in the kitchen making coffee. Andy is listing to his cd in the HOH room. All the other house guests are sleeping..
10am – 10:30am In the bedroom – Aaryn, Gina and Elissa are in the rainbow room talking.
Elissa con't find her black dress.
Aaryn says that it's probably in Candice's bag because she takes things without asking all the time.
Ginamarie and Aaryn talk about all the things Candice would take without asking like their shoes and hair bands.
Aaryn says that she is OCD about her things and know where everything is and knoew when something is missing.
Ginamarie says that is so disrespectful to take someones things without asking, I don't get that woman.
If it's missing we're sure Candice knows where it is because she probably took it.
Elissa says that production already took two of her dresses.
Elissa says that she hopes tonight's HOH competition is endurance.
She says she gets so nervous with questions. Aaryn, Ginamarie and Elissa go back to sleep.
Aaryn goes to the diary room and when she comes back she asks why there are underwear laying all over the place.
Ginamarie says she doesn't know why. Elissa gets up to leave.
Aaryn tells Ginamarie that they need to study later. Ginamarie says okay.
Aaryn pulls her pants partly down to show Ginamarie her underwear.
Gina says those are nice. Gina questions why there is underwear everywhere.
Aaryn says not one of these panties are mine. Gina says yeah my two are up my a$$.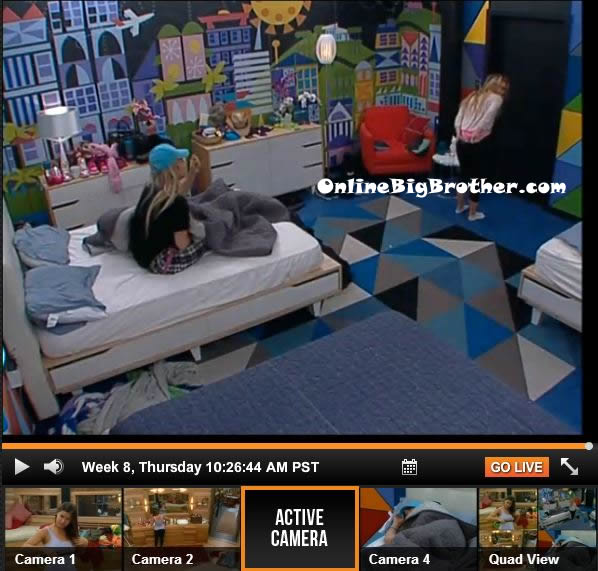 10:50am – 11:15am In the lounge – Jessie and Aaryn are talking. Jessie says I feel like a loser and now I wish I hadn't. Aaryn says yeah. Jessie says you need to get Helen out because she f**ked up my sh*t for no reason. Aaryn says yeah I know, but I am going out next and I will probably be back doored. Jessie says you need to convince them to get out Helen instead. Aaryn says its going to be me, Spencer and Ginamarie in the next few week. They talk about how the moving company f**ked everything up. Jessie says that it just sucks that this game was determined week two. Aaryn says that is how it usually is. Jessie says so basically Jeremy f**ked us over. Jessie says I am just pissed at Helen, I don't need to be going this week. Aaryn asks did anyone tell you that I have been trying hard to get Helen out. Jessie says yeah Amanda did, she said that you were the only one that wanted me to stay. Jessie tells Aaryn I want you to win, you would have my vote hands down. Aaryn says that the only why that would happen is if they take out Helen over me. Jessie says it would make me cringe if Elissa made it to the final two. Aaryn says that they wont take me because they know I would tear their a$$es up in the end. They talk about how the MVP bullsh*t messed things up. Aaryn says that Judd f**ked things up too. Jessie says that she isn't even sure she will talk to him in jury. Aaryn thinks people when they get to the jury well let things go. She suggests Jessie pulls Judd aside and ask him to explain his side from the beginning to see if he is honest with you. Aaryn tells Jessie that she is sorry she couldn't tell her that she was going but she was told not to. Jessie tells Aaryn that she wants her to win so bad so that when you are rich we can hang out. Jessie says that they want to keep Spencer because they think he will work with McCrae. Jessie says if you win HOH this week you will be safe and by next week it might be time to get her (Helen) out. Aaryn tells Jessie that when she stands up to give her speech she should says that she has no hard feelings and that this has been a dream of hers to be here so to see that crushed it was hard and that she feels bad about reacting the way she did. Jessie says she was going to talk game and tell people that she will be loyal and fight the good fight with them. Aaryn says if I can ask one thing from you can you make sure Candice does not slander my name anymore. Jessie says that she will and that she'll say that Aaryn is the least racist person in the house and that others have said way worse so go after them.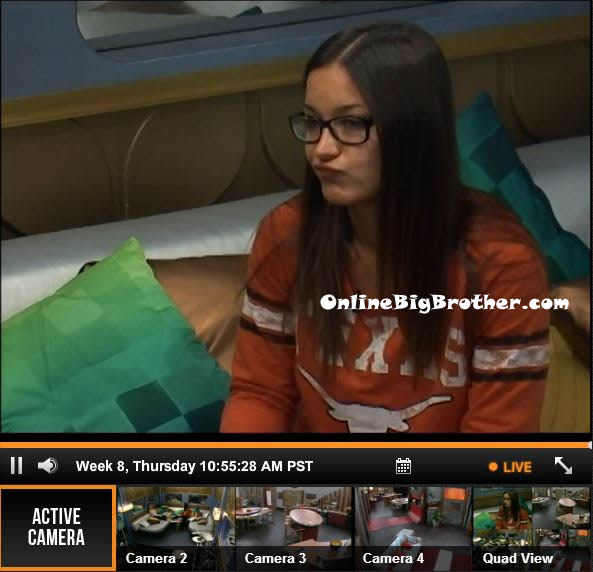 Meanwhile in the bathroom – Elissa points out to Helen how Jessie wrote on the bathroom stall "Jessie K loves Dan was here" Elissa asks who does that, writing on a bathroom stall is all kinds of wrong. Andy joins them and Elissa show him too. She says we all all supposed to be grown women. Is that not weird? Andy says it is.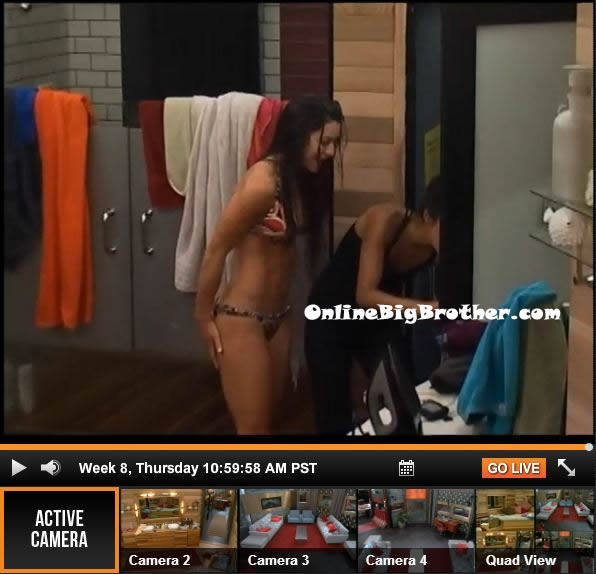 11:20am Andy joins Aayrn and Jessie in the lounge room. Aayrn leaves. Jessie says it's about to get good, I can't wait to see what happens. Andy says it starting to get hard. Jessie tells him to not make it boring or predictable. Andy says it probably won't come from him. Jessie says wait till someone sabotages your game. It sucks d**k.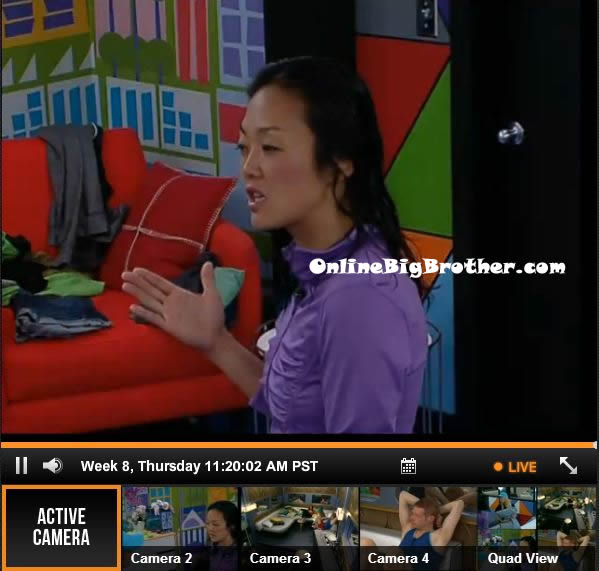 In the rainbow room – Helen talks to Ginamarie about how Jessie is going home no matter what that the she ruined her own game. Gina says that if Jessie tries to do or say anything during the live show she will cut her off. Helen and Gina leave and Helen heads into the havenot room with Elissa. Helen says that she can't believe Jessie said that Spencer is more dangerous that she is. Helen says I can't wait to win HOH just to rub it in her face. Helen and Elissa start studying the events of the house in case its a quiz HOH competition.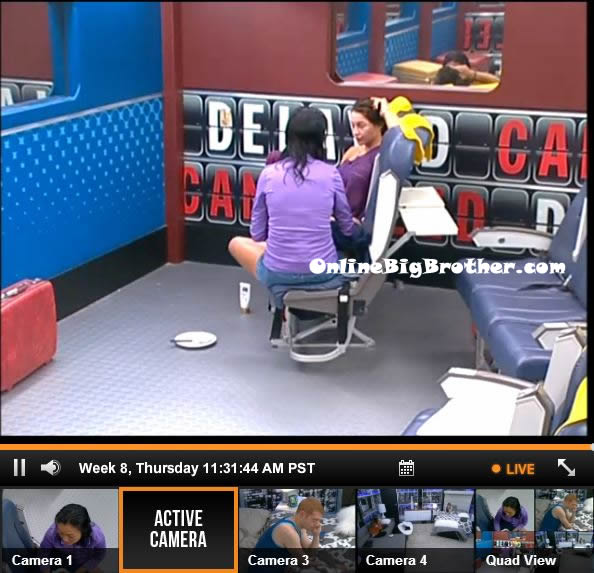 11:35am Up in the HOH room – Andy tells Jessie that he feels horrible that she is going out on his HOH. Jessie says it's okay. She tells him that she loves him. Andy starts crying. Jessie hugs him and tells him it's okay. Andy says that coming up it will either be that I am expendable or valuable. Andy talks about how he doesn't really know where Spencer is at. I have had issues trusting him since the beginning. Right then Spencer joins them and the conversation ends.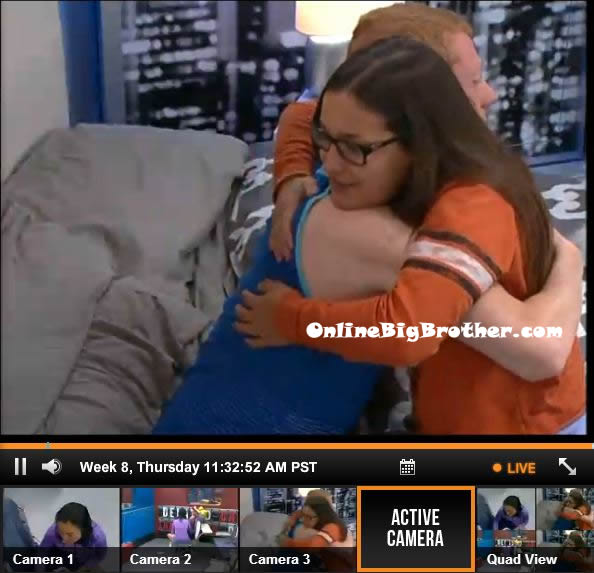 11:45am Big Brother switches the live feeds to TRIVIA for the HOH lock down..
Use the Big Brother Live Feeds to FLASHBACK to SEE what they can't show you on TV:
BB15 N!p Sl!ps / N*des
[polldaddy poll=7309671]