POV Holder:
Andy
Next POV
Aug 17th
POV Used
NO
POV Ceremony
Aug 19th
HOH Winner:
ANDY
Next HOH:
Aug 15th
Original Nominations:
Jessie and Spencer
Current Nominations:
Jessie and Spencer
Last Evicted Houseguest
David, Nick, Jeremy, Kaitlin, Howard, Candice, JUDD
Have Nots
Aaryn, Helen , GM, Elissa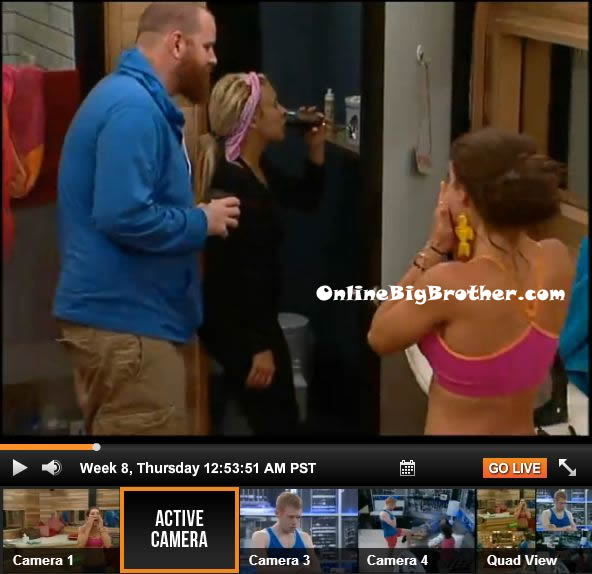 12:50am In the kitchen – Ginamarie tells Spencer to come into the bathroom, I want to show you something. She takes him to the bathroom stall and says look at this. She reads aloud "Jessie K loves Dan was here" Spencer laughs that's kind of funny did she write that? Gina says yeah. Elissa asks if that's a camera or a mic. Spencer says a mic. Aaryn joins them and comments that there are camera's in the bathroom stalls and showers – It was in the packet, it's for safety so that we don't go in there and hurt ourselves.
1am Up in the HOH room – Helen, Gina, McCrae, Aaryn and Andy are hanging out talking. Everyone talks about how Jessie ruined the havenot happy hour. They talk about how Jessie asked Ginamarie if she was going to miss her when she was gone. Aaryn tells them that Amanda is done in the havenot room telling Jessie everything starting with the veto competition. Andy questions why she would do that? That makes me look bad. Aaryn says I guess for jury votes. Andy storms out of the HOH room. McCrae says that he doesn't know what Amanda is thinking. He says that kind of screws me because my goodbye message was "Jessie if you're seeing this, I don't know what happened, you're too smart for your own good maybe that's probably why you're leaving." Jessie joins them and says good night ya'll and leaves. Andy joins them and says he knows Jessie was mad at him she said goodnight to me and it was kind of c**ty. Andy says that he hasn't talked to Amanda yet but that he is pissed. Aaryn says that she is going to question Amanda about what she was talking about with Jessie. Aaryn says Amanda is trying to smooth things over to try and get her jury vote.
Big Brother 15 Live Feeds: FREE 2 DAY TRIAL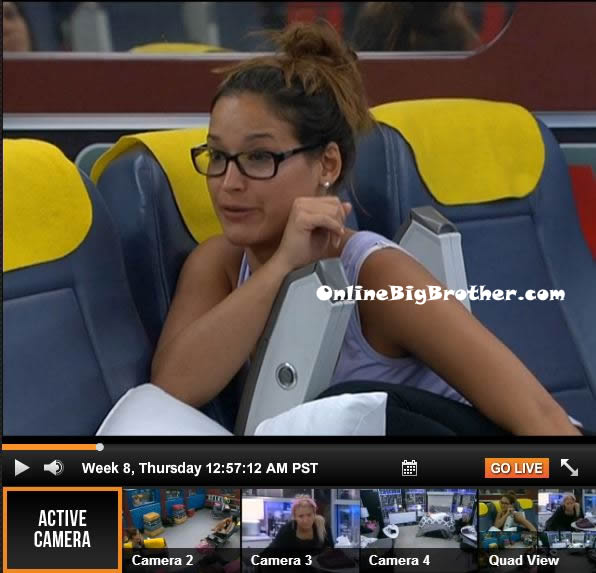 Meanwhile in the Havenot room – Amanda is talking to Jessie. Jessie says when I needed her she was not there, when I called for her name she did not answer. Jessie and Amanda laugh. Jessie says my best case scenario was to throw her under the bus in hopes that you would see that her and I would work together again. Amanda is talking to Jessie. Amanda says and she said you told her that if you stayed you would be loyal to her for the rest of the game. Jessie says I didn't say that, she probably just told you that to scare you. Jessie says and it worked you believe her. Amanda says I knew you were most likely going home the moment you were nominated. Jessie says she thought so from the moment Andy nominated her. Amanda says she doesn't think Jessie was Andy's target. Amanda knows that Jessie's big plan was to get Andy to back door me. Jessie agrees and says it wasn't the best plan. Amanda tells Jessie their strategy to knock her out of the veto. Amanda says out of respect for Andy no of us were going to use it. Jessie asks if Andy ever said I was the pawn. Elissa joins them. Amanda says yeah he told us that. Amanda says that you wronged us a little more than Spencer. Jessie and Amanda end their conversation. Amanda tells Elissa that she told Jessie that she is basically leaving. Amanda says long story short Elissa and Helen have never done anything to betray me. Elissa says I want her to come back in here and tell you because I did not say any of that stuff and I want her to admit it to you before she goes. Amanda asks if Helen did? Elissa says I don't think so. Amanda says I don't think you had anything to do with it. I didn't think you put me up as MVP. Amanda says I don't think after me fighting to keep you here, I don't think you would be fighting to get me out. I trust you more than I trust Helen 100%. I would rather take you to the final 3 to be honest with you. I can't even say that I would want to take McCrae over you because I can't beat him. Amanda says what she thinks happened last week is that Jessie said to Helen that Amanda wanted to backdoor Helen and then Helen told Elissa that so Elissa said Amanda should go. Elissa says she never said she wanted Amanda out last week, and she wanted Spencer out that week. Elissa says that Helen never mentioned anything to her except that Judd and Jessie were trying to flip the house, and then that Judd wasn't involved after Helen said she had talked to Judd. Andy joins them. He tells Amanda that Aaryn came up to the HOH room and said that she didn't think you were selling me out but that.. Amanda tells them what she said to Jessie.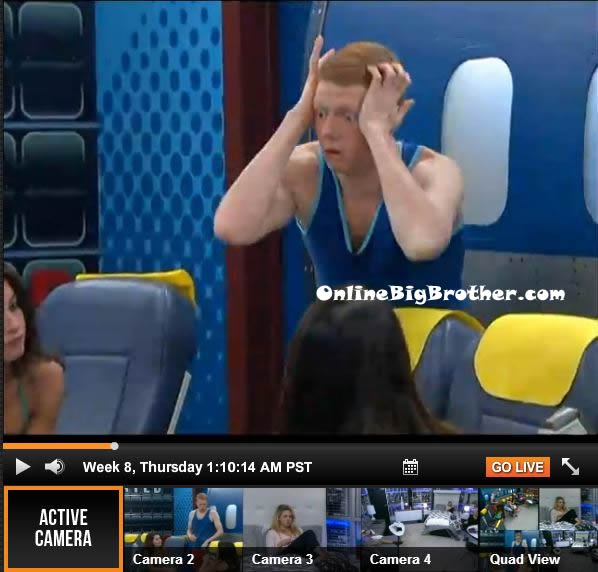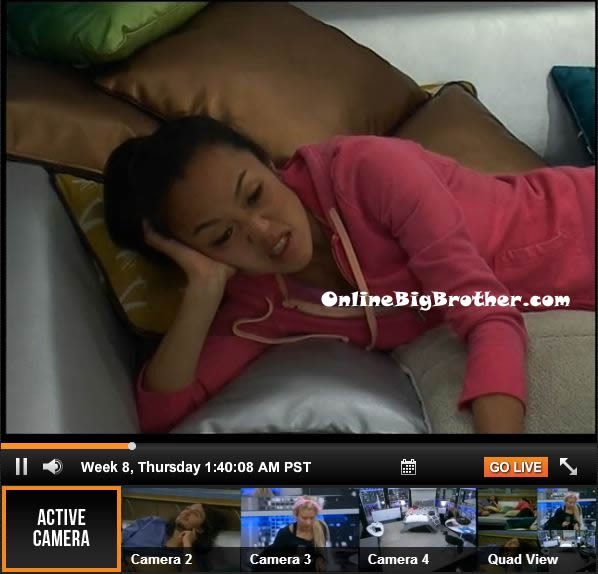 1:30am In the lounge room – Helen talks to McCrae. Helen tells McCrae that she is keeping Amanda here for him. Helen says that she is scared that Amanda is going to believe Jessie. She says that Jessie is trying to throw her under the bus to make me out to be the mastermind behind trying to get Amanda evicted. Helen tells him that she wonders if his final 3 deal with her is real or fake since Amanda is doubting her. Helen tells McCrae that she hasn't been targeting Amanda and that she knows that everyone would come after her if she did. McCrae says that Amanda can't go home next week. McCrae says that he doesn't want to go up against Elissa in the final two because he thinks she has a good chance of winning the game. Helen agrees. Helen says that Elissa will come out of this game pretty clean because I have been making the moves and getting the blood on my hands. McCrae says that he wonders if Elissa might be pretending not to be good at competitions and she could start trying to win them at some point. McCrae says that he thinks she could win an endurance competition. Andy joins them.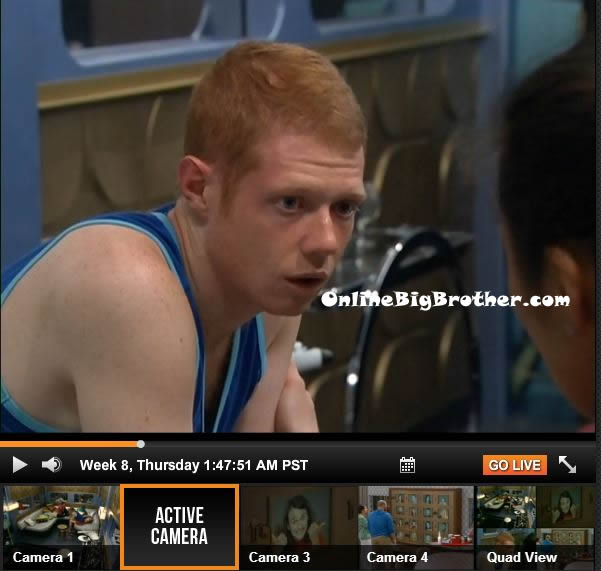 1:45am Helen tells Andy about how Jessie was telling Amanda that Helen and Elissa were leading the charge to get Amanda out. Helen asks hy would I lead the charge and have all you guys come after me? McCrae says that he doesn't think Amanda would believe that. Andy says that Amanda doesn't believe anything Jessie says. Helen says that Jessie was pleading with her to let her stay one more week because she wanted more camera time. Helen says that she is worried that Jessie is going to taint the Jury against her. Helen says that before Candice left the house she told her and Elissa that the one person she could trust in this game is Jessie. McCrae leaves. Andy and Helen continue to talk. Helen says that she is worried about Spencer. She says that she thinks he would put up her and Amanda. Andy says don't let him win HOH! Helen wonders who Ginamarie would put up if she won HOH. Andy says that he doesn't know but says he made a deal with her not to put him up. Andy says that he thinks they could steer Ginamarie to put up Spencer and Elissa to get Spencer out. Andy tells Helen that he really likes this thing we have with McCrae! Helen agrees.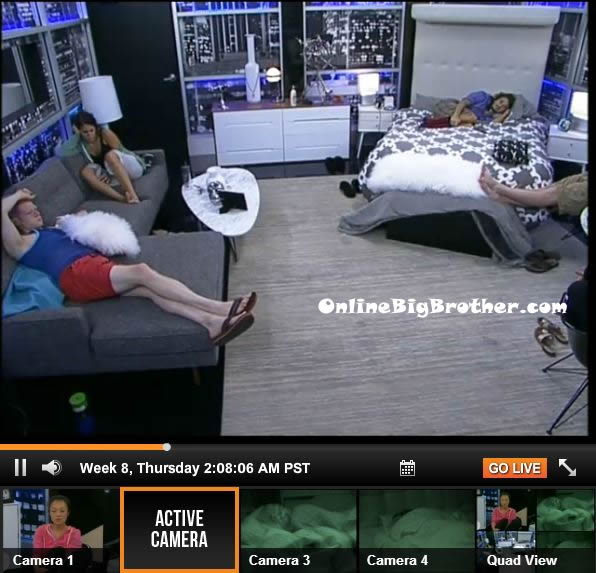 2am Up in the HOH room – Spencer, McCrae, Amanda, Andy and Helen are talking about random things. They realize after tomorrows eviction they will all have their own beds to sleep in. McCrae says it's a milestone and says that he hopes they get a smaller table tomorrow. Amanda tells them that Elissa was being funny earlier when she was talking to Jessie. Amanda says that Jessie was trying to talk to me privately and Elissa came in and just stood there staring at us. Amanda says that Jessie was trying to drop the hint to Elissa to leave but she wasn't going anywhere. Helen tells them what Jessie told her to try and get her to keep her. Helen says that Jessie wanted another week of camera time to try and repair her image. Helen says that she told Jessie they have cameras in jury. Helen says it made her sad for Jessie when she was crying about looking bad on the show. Helen says that Jessie was really pushing for Spencer to go this week instead because is if far more dangerous and that Jessie would throw the HOH/POV competitions. Helen says that she doesn't understand why Jessie would tell her she will do all Helen's dirty work if she keeps her and then tell Amanda that I can't be trusted. McCrae says because Jessie a flip flopper. Helen says that Jessie is trying to ruin my game before leaving. Amanda says that no one can trust anything Jessie says. McCrae says that it killed Jessie that none of the guys wanted a showmance with her. They all agree Judd will be happy to see Jessie walk out the door and into jury. They laugh about how when Judd won HOH Jessie brought her suit case up and the very next day she was a havenot. They finish talking and leave the HOH room. McCrae and Amanda decide to play a game of chess.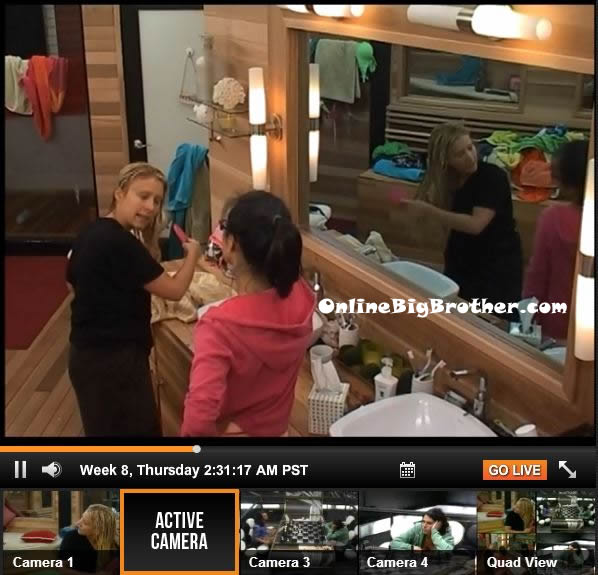 2:30am In the bathroom – Helen and Ginamarie are talking. Ginamarie and Helen agree that they aren't coming after each other. Helen says that she wants Ginamarie to stay in the house. Helen talks about how she really likes Aaryn. Ginamarie agrees and says she does too. Ginamarie says her and Aaryn fight like sisters but we always make up. Ginamarie says I am generally a happy person and if things work out with Nick I will be even happier. They talk about Jessie and Ginamarie says that even when Nick was in the house she and him would never talk in front of Jessie because she knew Jessie couldn't be trusted. They continue to talk about how Jessie flips each week and kisses a$$ with whoever is in power. Ginamarie says and just yesterday Jessie said just watch what happens I'm going to make everyone hate each other. Gina says that Jessie was so happy when Aaryn and I were fighting. Gina says everyone just needs to stay calm and not let Jessie stir sh*t up. Meanwhile up in the HOH room Andy and Spencer are talking about a final three deal with McCrae. Spencer says that he thinks Aaryn is playing the middle of McCrae/Amanda and Helen/Elissa. Spencer says that he doesn't know how Aaryn fits into the puzzle. Andy says that he thinks people are giving Aaryn too much credit for he HOH wins. He says that Jeremy really won that one the he gave to her. Spencer leaves and joins Ginamarie in the bathroom. She tells him that it will be a unanimous vote to evict Jessie tomorrow. She says she will give him a look to tell him he is good. Spencer says thank you and heads to bed.

3am Up in the HOH – McCrae, Andy and Amanda are talking. McCrae tells that about is conversation with Helen in the lounge earlier. He says that Helen was paranoid about her final three deal with McCrae and Andy. He says that Helen was worried it was just a way to keep tabs on her. McCrae says what are the odds that she would even think of that?! Andy tells Amanda and McCrae how Spencer wanted to make a final three deal with him and McCrae. McCrae says that Helen doesn't want us to go after Aaryn. He says that Helen is getting really close with her. Amanda is surprised that Helen doesn't want Aaryn to go up at all. Amanda says it's imperative that Helen goes home! We have two weeks to get rid of her. McCrae tells them that he is worried Helen is catching on to us. Andy reassured them that she isn't. Andy says that Spencer will go after Helen and Elissa. Amanda says that's what he told her too. McCrae says Andy needs to stay close to Helen to know what she's up to. Andy says that he loves Helen but it has to be done. McCrae says that Helen is too good. Andy says that Helen will tell him if she suspects something is up. They talk about how easy it will be to get Elissa out after Helen because she will be lost without Helen. Amanda says that she thinks the best way to get rid of Helen is to put up Spencer and Elissa and then back door Helen. McCrae says that Helen could win veto and take Elissa off the block, so they decide it would be better to put Spencer and Ginamarie up. Amanda and McCrae head downstairs.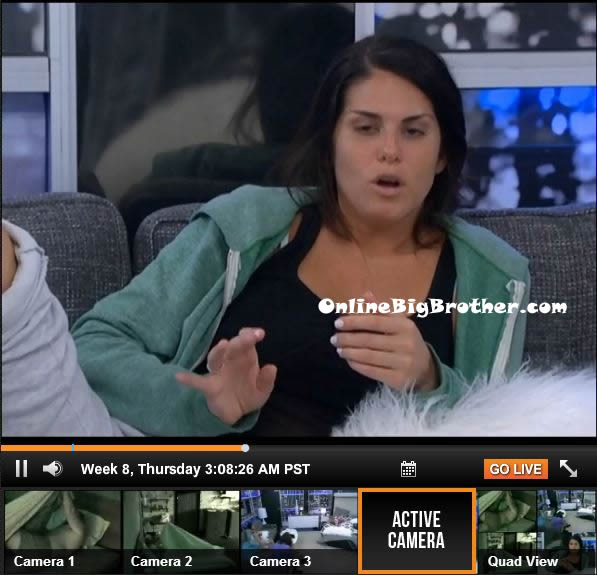 3:25am – 4am In the lounge – McCrae and Amand talk about how they don't want Ginamarie or Spencer to win the HOH. They talk about what the upcoming HOH competition will be. McCrae says that he wants to win it so bad. Amanda says that she needs to win it. They worry about Helen getting suspicious and McCrae tells Amanda not to tell Elissa anything because it will get back to Helen. Amanda says that she isn't scared to be evicted anymore and says she is happy with the game she played. She tells McCrae that she loves him and wants them to be the first showmance to make it to final two. She says we're so close. McCrae says that he thinks Elissa would pick Amanda over him. Amanda tells McCrae that he's pulling a Judd. She asks him if he wants her gone? Amanda says the way you think sometimes is insulting. She says you're thinking like a person that wants me out! McCrae says that he is worried that Helen will win HOH and put us up. Amanda says she doesn't think Helen would do that. Amanda and McCrae then head to bed.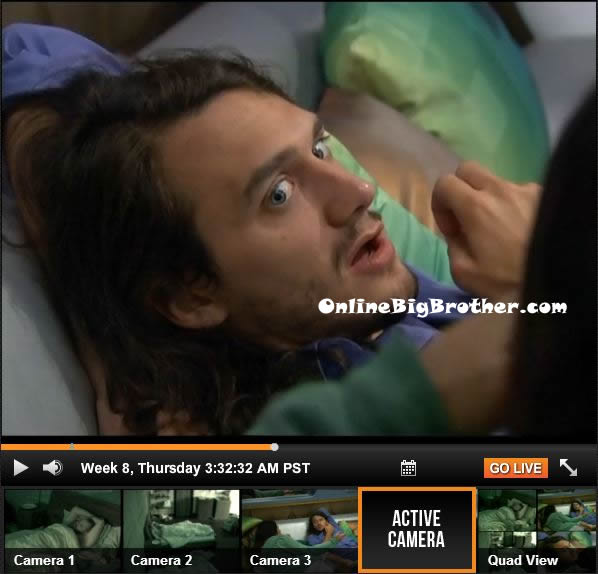 7:55am All the house guests are still sleeping..
Use the Big Brother Live Feeds to FLASHBACK to SEE what they can't show you on TV: BB15 N!p Sl!ps / N*des
[polldaddy poll=7309671]