POV Holder:
Andy
Next POV
Aug 17th
POV Used
NO
POV Ceremony
Aug 19th
HOH Winner:
ANDY
Next HOH:
Aug 15th
Original Nominations:
Jessie and Spencer
Current Nominations:
Jessie and Spencer
Last Evicted Houseguest
David, Nick, Jeremy, Kaitlin, Howard, Candice, JUDD
Have Nots
Aaryn, Helen , GM, Elissa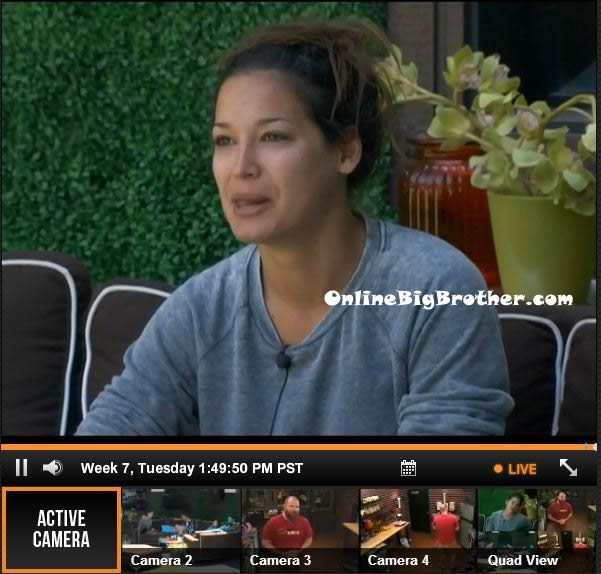 1:45pm Out on the backyard – Jessie, Amanda and McCrae. Jessie says cockroaches all of them! Amanda asks what about Spencer anything about him? Jessie says just that when Candice left she said to get with him because he has been playing dumb and that he is still wanting to get you out. Amanda says yeah I already knew that. Jessie says great game Amanda, you haven't won anything and somehow you are the most powerful player in the game. Jessie says and apparently according to Aaryn I haven't won anything either. Amanda and McCrae list off past players that never won anything and made it to the end. It's almost better if you don't win anything. Jessie says if you already knew my mission then maybe I need a new game plan for the week. Jessie says I never wanted to make out with Judd but I did it anyways. He was the worst kisser ever! So sloppy and gross! And the worst part was that that he said I was a great kisser and was like yeah so are you ..yuck! Sorry Judd. Jessie then says she wants to go get all done up for her day of terrorizing.
1:50pm Helen and Spencer are in the storage room talking about how hard it has been to work with Jessie and the things she has done and said to people. They talk about how insecure Jessie is. Helen then says that she is really starting to get worried about how they put mentally unstable people in this house. Spencer says I think there will have been enough time that will go by, by the time the finale comes. Helen talks about how Jessie wanted to work at Facebook and I know someone that works there.. there is so way I could recommend her now. Spencer says she changes her mind every day about what she wants to do.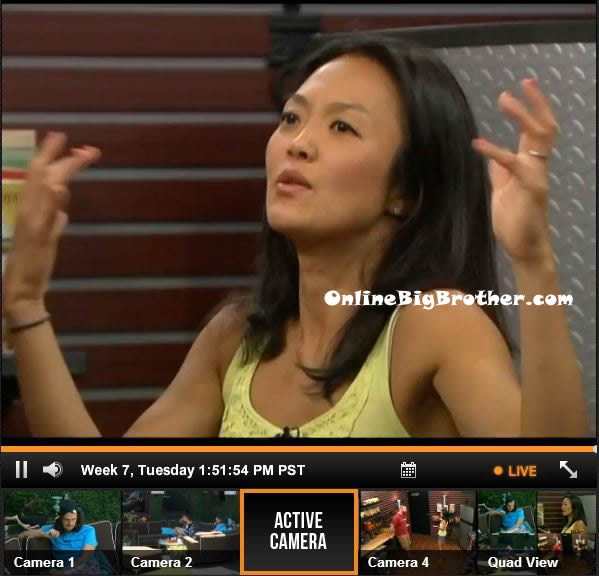 1:55pm In the bathroom – Elissa climbs into the cold shower and Jessie comments MMMMmmm.. this hot shower is so nice!! I could stay in here forever!! Elissa just smiles and then gets out. Jessie asks so what are you going to do today Rachel's Shadow? Oh nothing, that's what I would expect you to do since that's what you are in every competition. Elissa doesn't say a word and leaves. Elissa can be heard laughing as she walks away.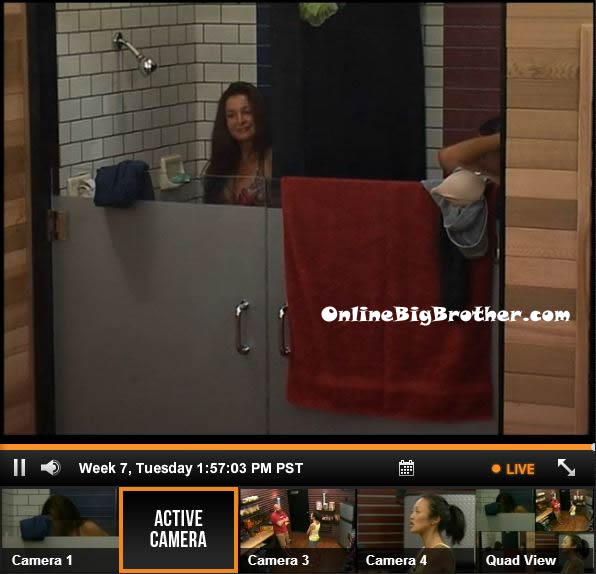 Elissa heads outside and laughs about what Jessie said to her in the shower. That was the best thing that you came up with all day that you were going to spend all day in the shower. I hope you do. I don't even know why she is talking to me I have never had a real conversation with her.
2:15pm Helen and Spencer join them. Helen asks so what is Jessie saying today? McCrae says oh just that Elissa said that Amanda is a sl*t. That this is her game plan and that she thinks you (Helen) are working together. Helen says I have never even heard the word sl*t come out of your mouth. McCrae says it's nice because Jessie thinks she can still get out votes so she isn't coming after us. I am just trying to figure out when to ask her for her cigarettes. Spencer says that it takes a lot of mental strength to do something like this and she just doesn't have it, by tomorrow she will be laying in bed all day. Helen says I think they put super fans on the show and mentally dis.. handicapped people in here. McCrae laughs and agrees. Jessie joins them and says good morning LIAR!! Helen leaves without saying a word. Spencer commets that its hot out. Jessie says I think it's just me. Jessie yells out to Elissa "Rachel's shadow who got fake boobs first you or your sister, because you are older right?! You are like 35?!" Elissa heads inside. Then Elssaa and Aaryn come back outside and Jessie says Hi Rachel's shadow and Umpa-lumpa .. I mean Gumbie because you're wearing purple. Have fun talking about how Aaryn's a sl*t and how Elissa is Rachel's shaddow. It's so fun to watch how fake ya'll are together. Aaryn says you are just bringing everyone close so..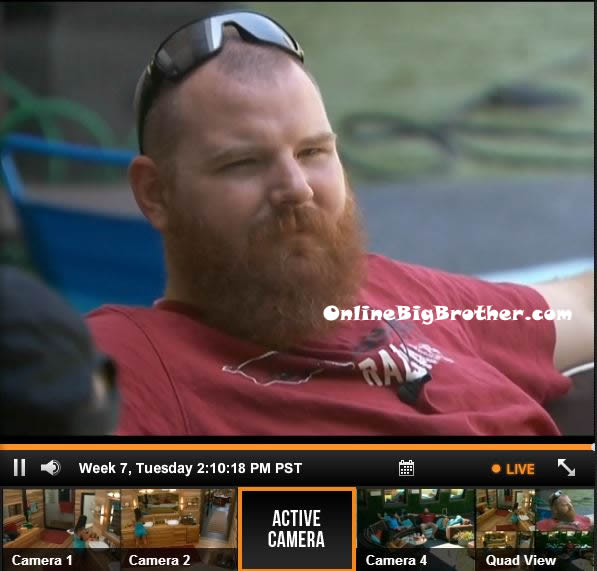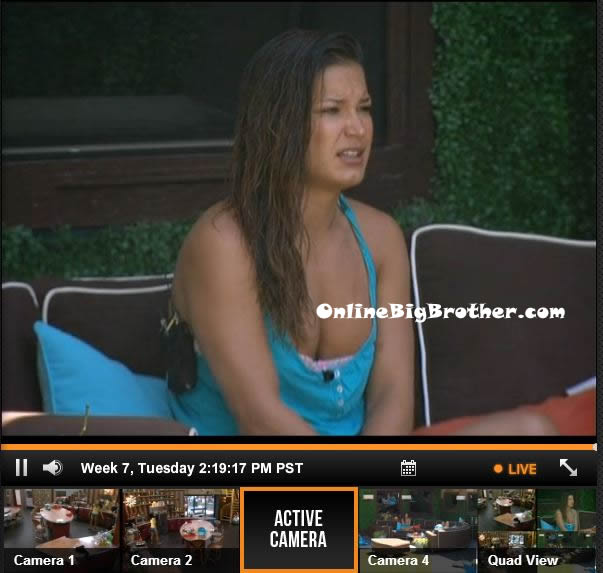 2:20pm Aaryn asks Jessie how does it feel to not even make it to the top eight? Jessie then goes and lays right next to Elissa and asks her if she wants to tan together. She says how does it feel to be not even half the shadow that Rachel was. No response HUH?! That's what I thought!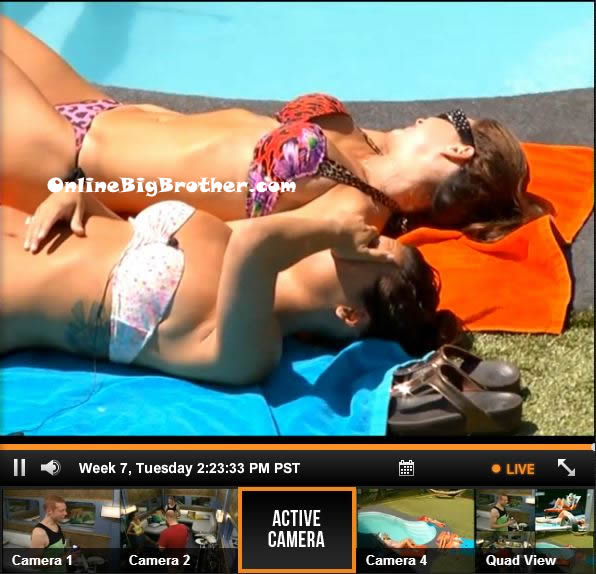 2:25pm – 2:30pm Andy comes out into the backyard with the HOH camera. Jessie asks him to take a picture of her and Rachel's shadow. Andy says okay 1, 2, 3. Nice one cuties. Jessie follows Elissa around for the photos and then heads inside. Elissa says oh my god.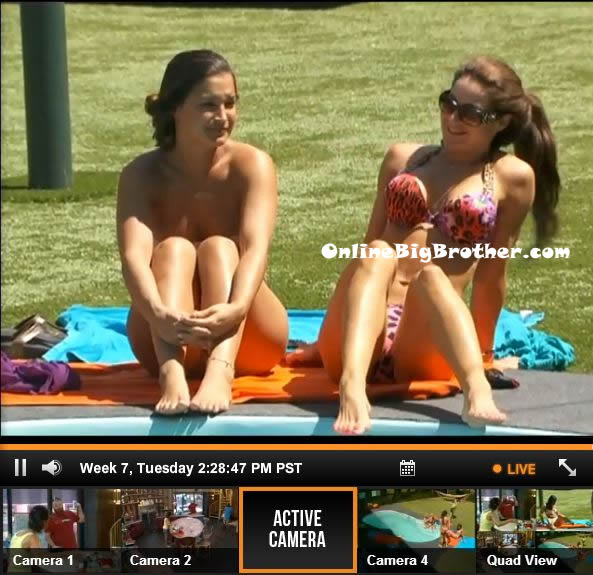 Out in the backyard – Elissa, Helen, Spencer, Gina, Aaryn and Andy talk about Jessie's tactics. Gina, Aaryn and Elissa talk about how Jessie isn't very smart so her comments are that witty and so its not even funny. It would at least be entertaining if it was funny. Aayrn warns Gina that Jessie is trying to turn us against each other so that you will vote to keep her. Gina says oh I already knew that from yesterday. I know what she is doing. Gina says I don't like people that treat people like that so don't worry.
Big Brother 15 Live Feeds: FREE 2 DAY TRIAL
Meanwhile in the lounge room – Spencer tells McCrae and Andy about how Jessie was eavesdropping on Helen and Elissa in the havenot room. Spencer laughs about how Jessie heard Elissa talking about world hunger and stuff and how there are bigger things to worry about. Spencer says then McCrae came out of the other bedroom and Jessie straddled him and got under his covers. He was like get the f**k out of my bed. Spencer then tells Andy and McCrae about everything that when down last night and why it happened. Amanda joins them. Andy says that he is pissed that he has missed so much. They laugh about how Jessie commented that Helen was flirting with Spencer. And how Helen was like I have a husband and two kids. Amanda laughs at how she told Jessie there are still a few days till the vote. We should just keep her thinking we might vote for her. McCrae laughs about how Spencer is in a great position – Jessie thinks she can flip us and she is going after the rest of the house. Spencer laughs and says yeah it's great!
2:45pm – 3pm Gina tells Elissa and people back home think I am f**king nuts, wait until they watch this f**king sh*t! Gina and Elissa lay in silence.. Elissa and Gina then head inside.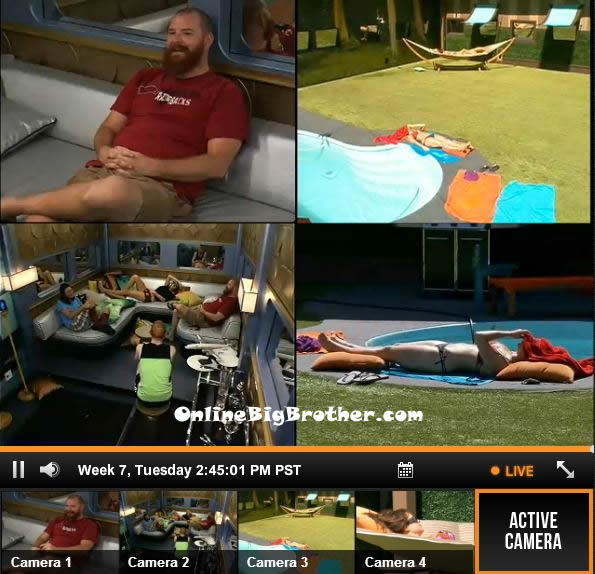 2:56pm – 3pm Jessie the Terrorizer takes a nap…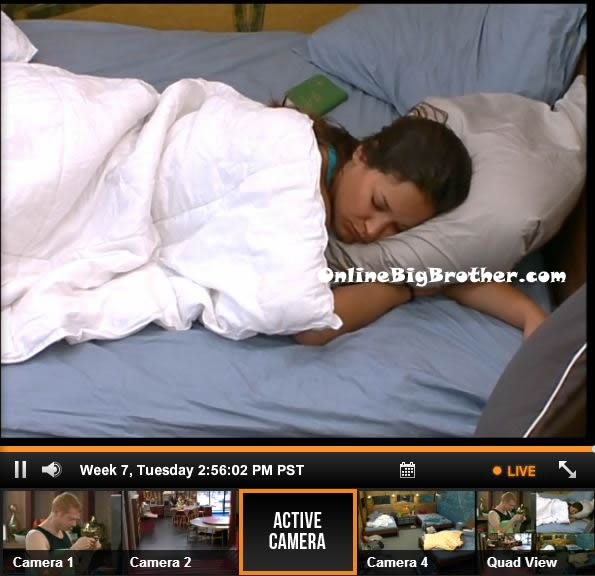 WATCH ALL THE DRAMA ON FLASHBACK FREE 2 DAY TRIAL
Use the Big Brother Live Feeds to FLASHBACK to SEE what they can't show you on TV: BB15 N!p Sl!ps / N*des
[polldaddy poll=7309671]