POV Holder:
Andy
Next POV
Aug 17th
POV Used
NO
POV Ceremony
Aug 19th
HOH Winner:
ANDY
Next HOH:
Aug 15th
Original Nominations:
Jessie and Spencer
Current Nominations:
Jessie and Spencer
Last Evicted Houseguest
David, Nick, Jeremy, Kaitlin, Howard, Candice, JUDD
Have Nots
Aaryn, Helen , GM, Elissa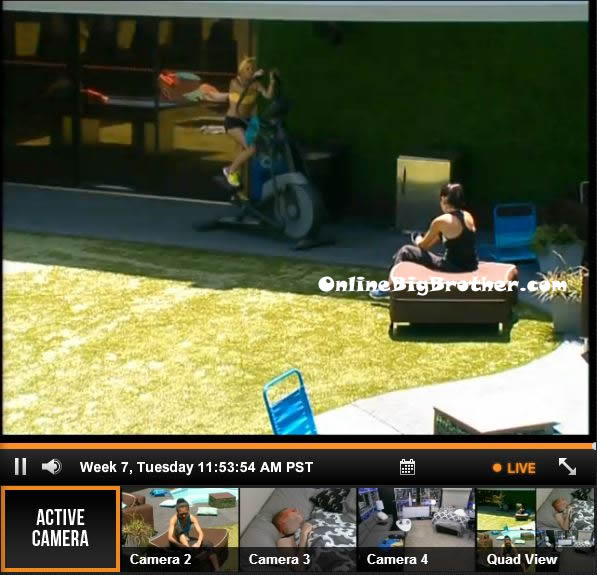 Big Brother 15 Live Feeds: FREE 2 DAY TRIAL
11:55am – 12:15pm Out in the backyard Helen heads out to the backyard to start her work out. Aaryn tells her that she thought about it and she isn't going to give any of her energy to Jessie any more. If she wakes up and tries to start sh*t I will just pretend she doesn't exist. Helen agrees that is the best move. Helen thinks that once Jessie leaves the show and sees she gets a little perspective maybe she will see that she was wrong. That maybe other people were wrong too but that she has blame in that too. Helen says that there are some people that we have in common that we cannot beat so maybe we can work together to get some of those people out. In the final two or three there are definitely some people that we cannot beat. Andy is in the same boat with us too. Helen says I have never made a final two deal with Elissa and it's amazing that she has made it this far after how she started out in the game. We just have an understanding that we will take each other as far as we can go. With 9 people still left in the house it is just too early to make that deal. Aaryn agrees. And says last night with what happened Jessie is for sure going home. She says with Gina chest pumping me that is scary and I was her best friend in the house. What would she do to others? Helen agrees that is scary. Helen says that Aaryn you are trust worthy and have proven you can be loyal. Helen says you have a good relationship with Gina were you can control her to a certain point just like with me and Elissa. Aaryn is worried about the blood she has on her hands and the target that is being placed on her back to look like she is too strong. Aaryn says she doesn't want the big people to go because they will take each other out. Helen tells Aaryn that if she wants to she can throw the HOH to her. Helen tells Aaryn to trust her gut and do what she feels best in the moment. Helen says good talk and then starts her run. Meanwhile all the other house guests are still sleeping..

12:30pm – 12:35pm Big Brother calls for an indoor lock down. Up in the HOH room Andy is awake and feeding the fish. He then lays in bed listening to his cd while watching the spy screen. Meanwhile – Aaryn and Helen head inside the house. Aaryn starts painting her toe nails in the bathroom.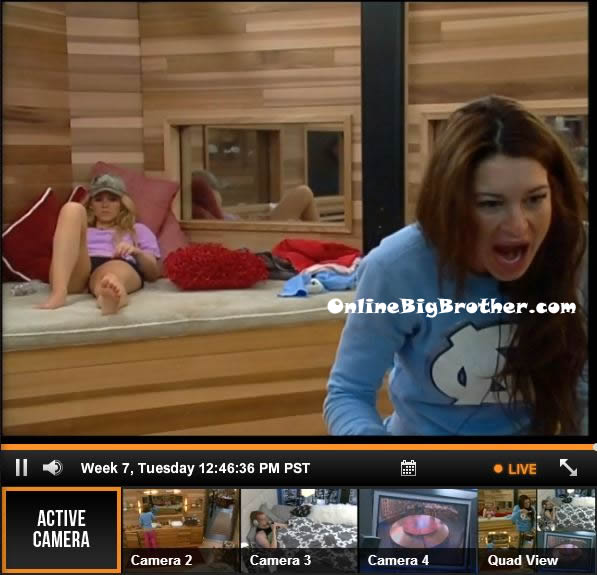 12:45pm – 1:05pm Elissa wakes up and joins Aaryn in the bathroom. Elissa says that was a rough night! I am so glad we only have one more night left and then we get to sleep in a real bed. Aaryn agrees she can't wait too. Elissa questions Aaryn whether or not someone has put their mouth on the mouthwash. Aaryn says she isn't sure, she uses the cap. Aaryn joins Helen in the kitchen. Aaryn talks about how hard it is to not blow up on people in the house being on slop and everything else. Helen says that she just needs to look at each situation and try and approach it the best she can. The conversation turns to talking about Jeremy. Aaryn tells Helen that Jeremy felt really bad about the way he talked to Helen and even apologized to her husband to the camera. Aaryn brings up how with Ginamarie she will bully you and follow you if you get into an argument with her. And she will involve the whole house. Helen wonders what Gina's problem is. Aaryn says that she thinks they put people in here with mental disorders – I think Gina is bi-polar, Amanda and I have ADHD which some times it makes us act like little kids. Aaryn tells Helen that she thinks Ginamarie has an eating disorder because her breath always smells like puke. Helen says she was worried about someone coming after her and her family after the show is over. Aaryn says that its scary because of some of fans – they are crazy – they threatened Shelly Moores family. Aaryn says that is why I made sure they didn't show any shots of my apartment. Aaryn says she isn't going to read anything about herself when she gets outs. Elissa joins them. Helen asks her if Rachel Reilly got death threats? Elissa says no but someone called our parents asks how they could raise a f**king person like Rachel. They were scared and called the police. Helen says oh my god! Aaryn says oh no my mom's number is all over the internet because she is a realtor. Jessie joins them to make breakfast.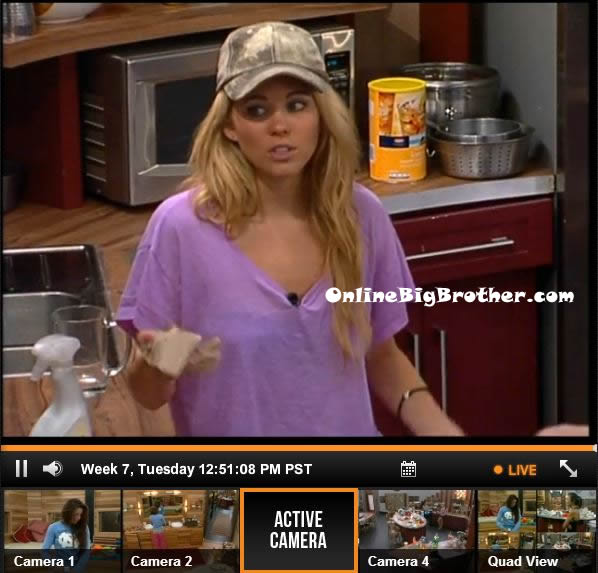 1:12pm Spencer tells Aaryn to just ignore it. Aaryn says that she is and is over it. Spencer tells her she is good. Aaryn heads into the back bedroom where Amanda and McCrae are in bed. Aaryn tells them that it's getting worse! Jessie took my cup that has my name on it and is now using it. She also poured out the chocolate milk. And she is in the kitchen talking about how good it smells in front of me. Amanda asks did you do anything? Aayrn says no we are all pretending she doesn't exist. It's pretty funny. It's actually finally something that's entertaining. Aayrn then goes and tells Gina about what Jessie is doing. She is terrorizing us. We just have to act as happy as we can and ignore her. Gina and Aaryn hug and make up.
1:20pm – 1:45pm Up in the backyard – Aaryn and Jessie talk. Jessie complains about the house being boring because everyone votes unanimously. Aaryn says that's funny because you were apart of that too. Aaryn says I don't know why you are mad at me because I saved you from the block. Jessie says yeah and since then you sold me out. Aaryn says I have done way more for you than you have ever done for me. Jessie says I wish you had just taken Spencer off the block. Jessie calls Aaryn a lying, backstabbing, not nice person. Aaryn says you look really classy right now. Jessie says if you think I am going down with out a fight you are crazy. Aaryn says just shut the f**k up then. Jessie says this is my house too I can do and say whatever the fuck I what and you can't stop me! Amanda comes out and Jessie tells her that just so you know Elissa talks about you and how sl*tty you are all the time. Amanda asks what Jessie is doing? Aaryn tells Jessie at least I make money doing commercials and modeling what do you have nothing. Jessie says at least I have a degree. Amanda says so you have a lot of debt, nice one! Jessie says actually I don't I got grants because I am smart. Amanda says whatever I am staying out of this. Amanda tells Jessie to not go out like this, don't do this. Jessie says this is my game I can go out any way I want. Amanda tells Jessie we haven't even voted yet. Jessie says well just so you know Spencer is going to go with Helen and not you. Gina joins Aaryn by the pool. Jessie says part of my game is to piss everyone off and for people hate me. Keep me here I will go up on the block every week! Amanda says I know what you are doing, you're pulling an Evel Dick! Elissa better not come within 15 feet of me today because I will go off on her and be like what? what? what? Jessie comments I love GM. Amanda says awe you're not going to say anything about her, I would have loved to see that. Jessie says no I like her, I have nothing bad to say about her. Jessie says the next thing I will say about Elissa is that she is just a pathetic shadow of her sister. Jessie says that Helen is such a bad liar!
WATCH IT ALL ON FLASHBACK: FREE 2 DAY TRIAL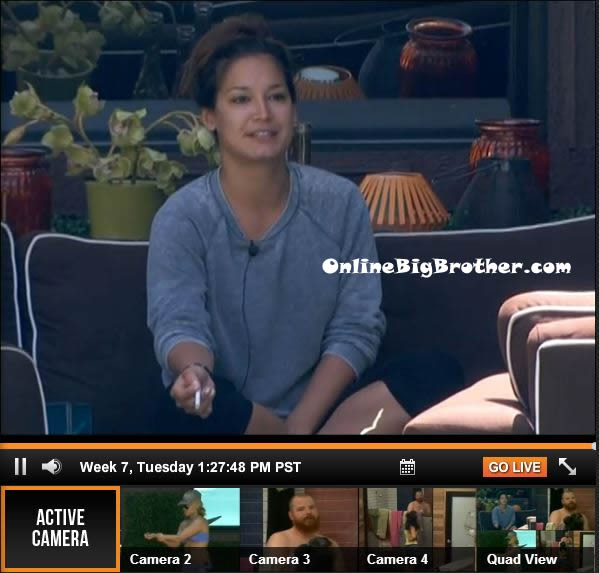 Use the Big Brother Live Feeds to FLASHBACK to SEE what they can't show you on TV:
[polldaddy poll=7309671]