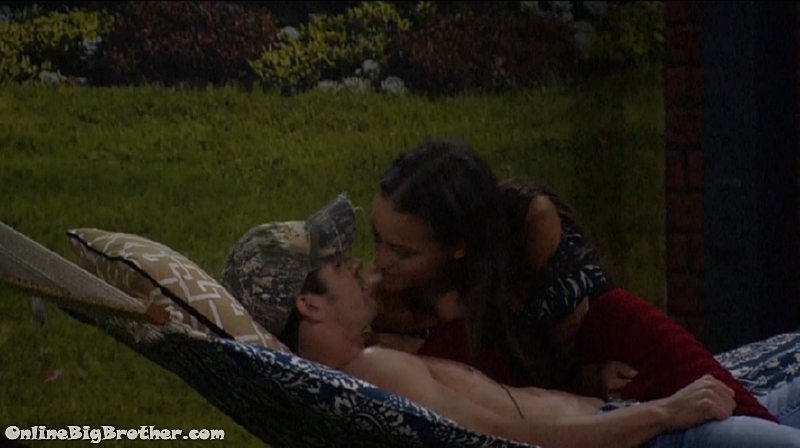 9:08pm Hammock Jessica and Cody
Cody – people in that small town are going to be intimidated by you
Jessica – I don't want them to feel that way..
Jessica – you know how yesterday, you said I gave up 500 thousand dollars for you and you'll find a way to repay me.. .I thought about it and I thought about a good way for you t6o repay me
Cody – how
Jessica – Just get me a really pretty ring..
Cody – OK
Feed subscription lets you go back and re-watch everything we post here CBS All Access Live Feeds with a FREE 7 DAY trial.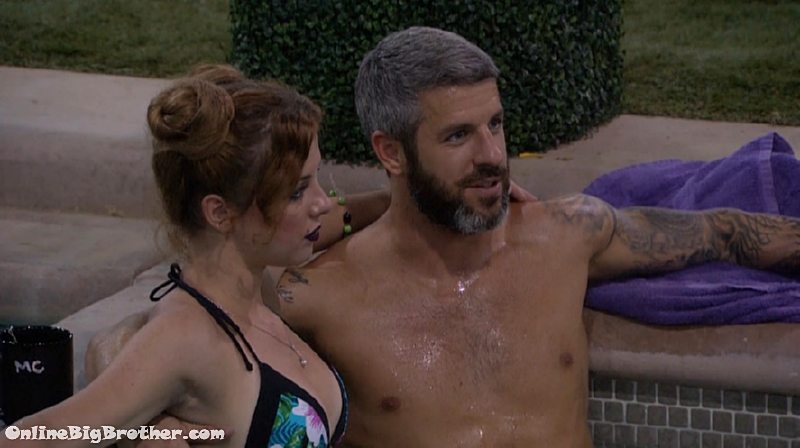 9:18pm Matt, Raven, Alex and Jason
Speculating about Jessica's Temptation's true power.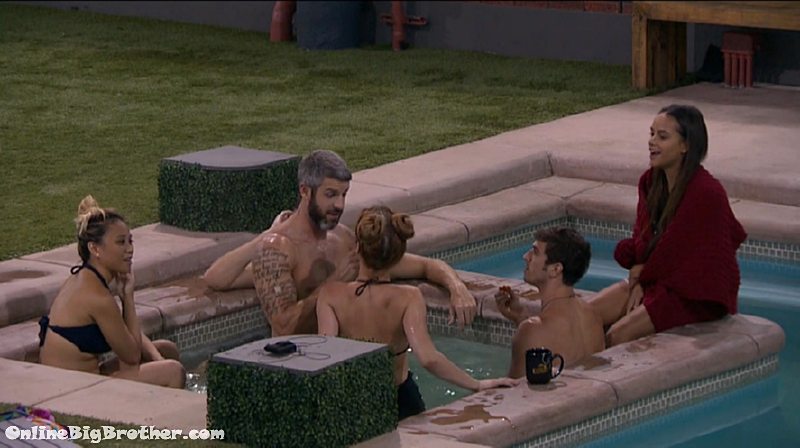 9:24pm hot tub..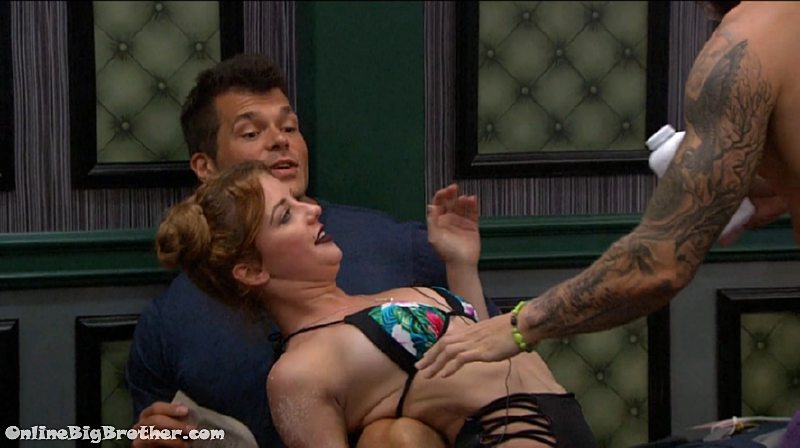 9:30 Mark, Elena, Matt, Raven
Mark – don't put that baby powder on me.. f* no…
Raven – I'm going to f*ing lose it
Mark – yeah me too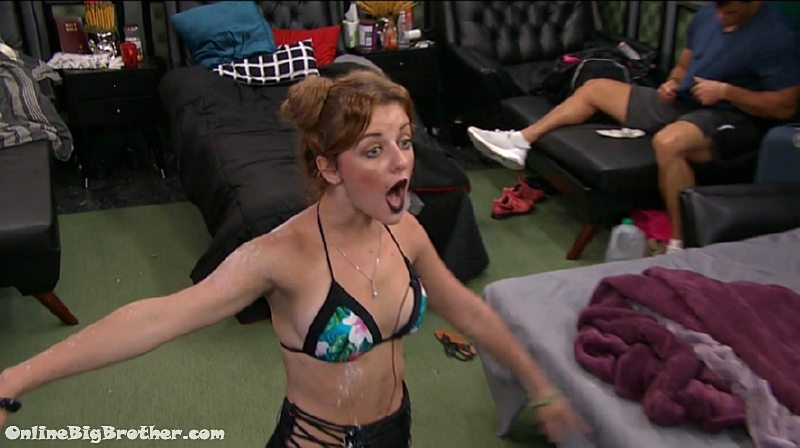 Raven – Go.. GO lick the floor.. Lick your b@lls .. GO IN THE A F*ING CAGE
Raven – Lock him in a cage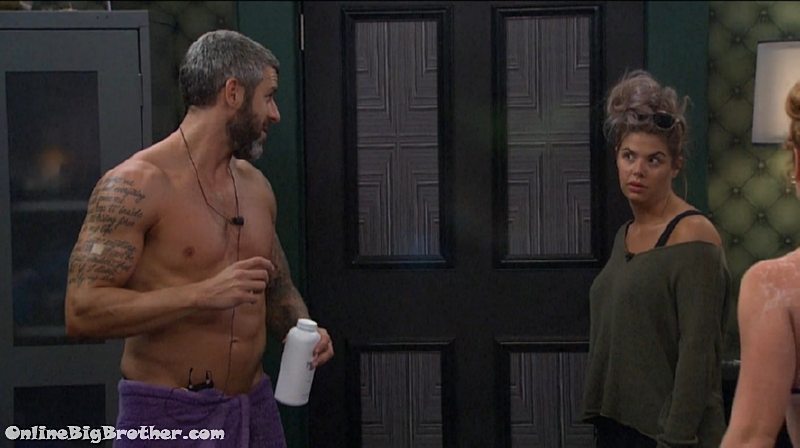 Elena – we're all locked in a cage right now
Raven – A smaller one.. ONE ROOM
Raven – I swear to god Matthew
Matt says sorry to mark
Mark – no worries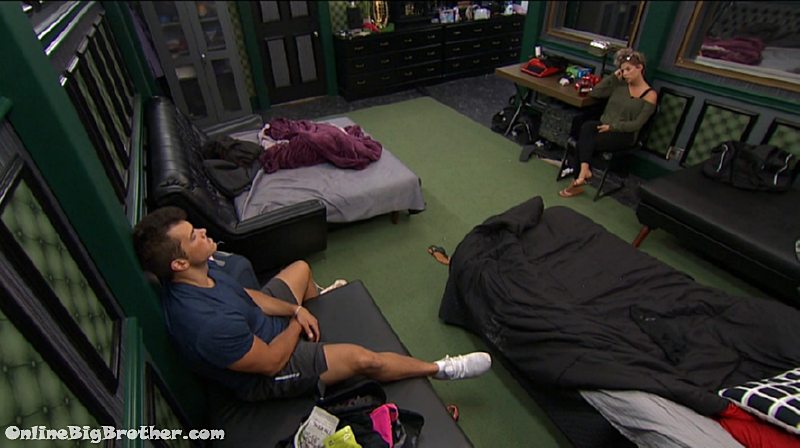 9:37pm Elena and Mark
Elena – I don't like seeing you so sad …
Mark – I'm not Sad… I'm just.. There's not too much to be happy in this game right now
Elena – you're sad
Elena – You're safe, you're here, you're going to Jury..
Mark – maybe
Elena – yeah …
Mark – Jury is not that great for me..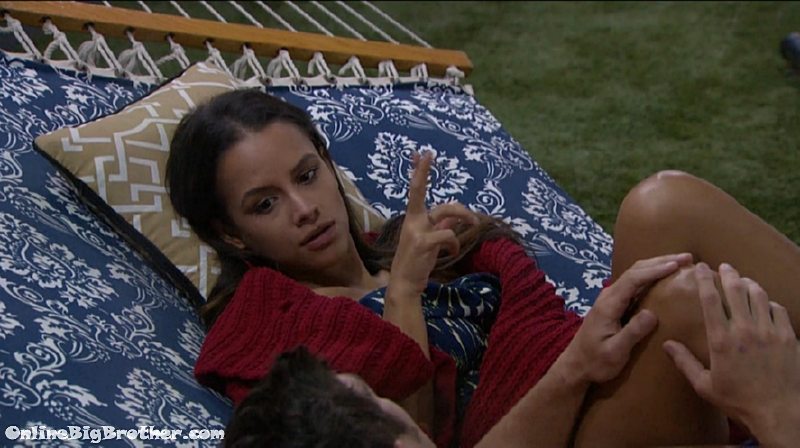 9:43pm Jessica and Cody
Jessica says she's "googled searched" "Several" time and couldn't find any "sex tapes" from Big Brother US. She found a lot about Big Brother UK. She thinks they turn the cameras off when houseguests have s$x.
COdy – Jessica I pray you're right.. I cannot have my kid looking at dad on the internet seeing that crap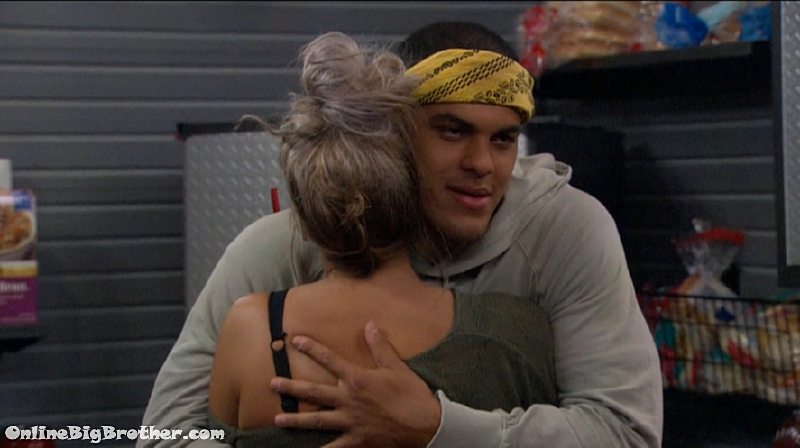 9:48pm Josh and Elena Storage Room
Josh asking if her and Mark are good
Elena – I mean we're fonine.. we're not a thing
Josh =- you guys were never a thing.. somewhat a ting.. why are you not a thing.. if yo don't mind me asking
leena – we weren't on the same page and exploring something like that in here is not conducive so i suggested some distance
Josh – Ohhh Mark …. ELENA
Elena – he's fine..
Elena – it's not a good environment… if he's interested in my he can find out more outside.. it's just not healthy in here…
Elena says mark was interested in her and it's not a good place to explore a relationship in this environment.
Elena – I enjoy being around him he's a good guy.. he really really really likes me.. and i'm not in the same level.. i'm slow moving
Josh – so am I
Josh says he's going to stop with the jokes with Mark right now.
Elena – he's fine I thin.. all the stuff with you..
Elena says Mark is upset but "he's fine"
Elena – I never agreed to a showmance.. there was concerns.. it's not lie he didn't see this coming..
Elena – maybe everything changes in 3 weeks.
10:08pm Josh, Matt, and Kevin Pool
Josh – you got the best style in the house
Kevin – that's not saying much most these people dress like monkeys…..
Still got it #BB19 @DawgsBigBrother pic.twitter.com/TagrXZF5Kk

— OnlineBigBrother.com (@bigbspoilers) July 31, 2017
10:22pm Bathroom…
Josh and Kevin joking around.
Kevin – Of all these people to mess with. Why are you going to pick o me
Kevin – Go pick on someone else.
Kevin – You're going to lose
Josh points at something on Kevin – what is that
Kevin – that's what that is.. A broken nose … A broken nose (Kevin throws a punch near Josh's nose)
Kevin – I'll just hit you where your nose is, your eyes will be watering, you'll be looking for your mom
Kevin – Mom he hit me
Josh – Mom?
Kevin – I'll just hit you where your nose is, your eyes will be watering, you'll be looking for your mom #BB19 @DawgsBigBrother pic.twitter.com/aRh6hK3CvV

— OnlineBigBrother.com (@bigbspoilers) July 31, 2017
11:00pm Jason, Kevin and Alex
talking about mark showing everyone his unit.
Alex – it was gross
Kevin – We got us three and Paul that's 4 and Josh.. he's a dummy but that's 5.. with Christmas that's 6
Alex – we're not going to win this game without Paul's help.. I think Paul's honest..
Kevin wants them to put raven up..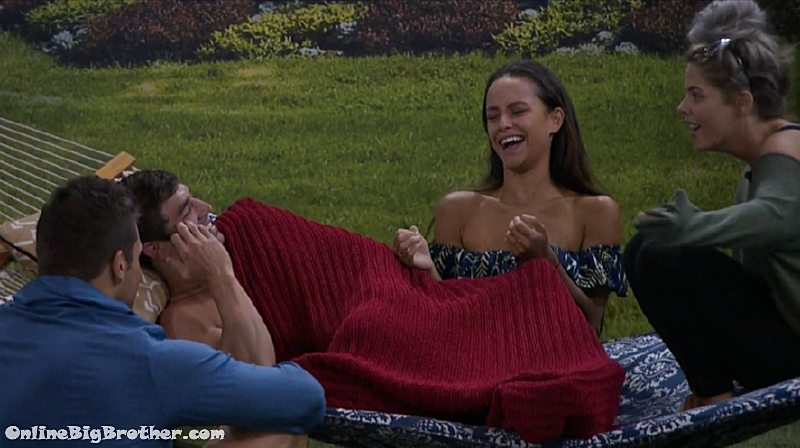 11:06pm Mark, Jessica and Cody Hammock
Mark tells them that Elena wants to apart from him. Points out that "Behind Closed doors" she wanted to be apart from him.
Marks wonders what is going on with Elena
Cody actually blames it on Paul says he's gotten into her head…
Elena joins them… They start joking around..
Mark and Cody say something
Elena – what did you say
Cody – nothing… just a couple dogs out in the yard yo.. (Perfect)
They continue to laugh and joke around..
Joking around, Cody – what the opposite of Sugar daddy
Elena – Stevia Daddy.. (OMG 2 funny)
ohh hi Jessica #BB19 @DawgsBigBrother pic.twitter.com/Vf1z4wGRKU

— OnlineBigBrother.com (@bigbspoilers) July 31, 2017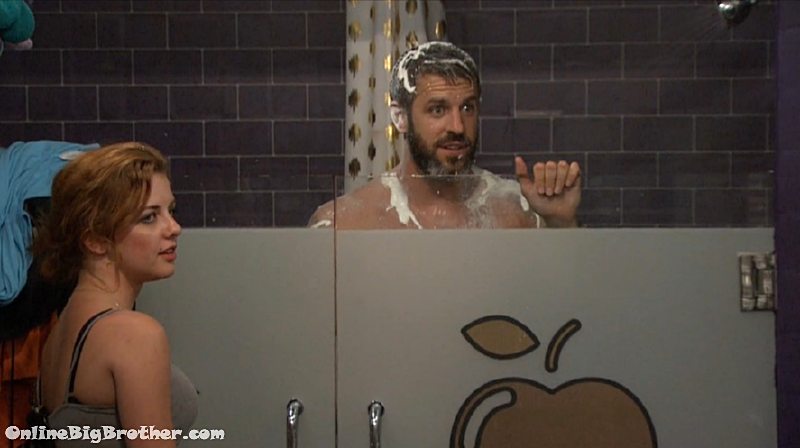 They got matt….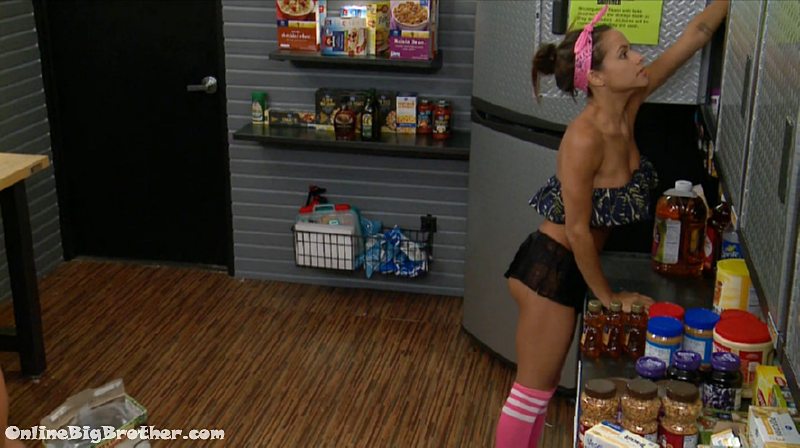 Jessica's outfit makes me more a fan..
Some horse play between Raven and matt resulted in raven getting wet… . SHe's pissed
Raven – you better get f*ing back in the f*ing shower… I'm going to show your D1ck to the world.. I'm going to show your fucking Dick to the World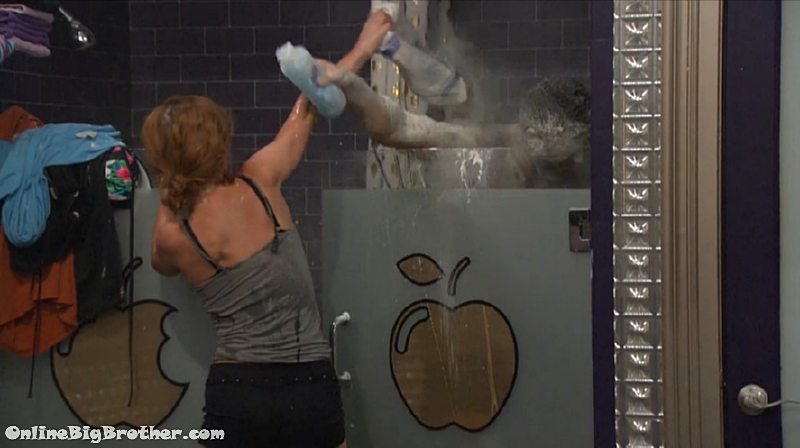 A battle takes place in the bathroom
11:53pm Matt – things got out of hand…
12:10am – 12:40am bedroom. Elena and Jessica.
Elena – I know that its a better game move for you too to not use it. Regardless of whether you use it or not people will be pissed that you risked their jury. Like its another 8K. Jessica – the pros of not using it …everyone in that HOH room goes after Alex. Cody potentially not getting into another situation. The pros of using it. There are different ways to pay this game. I didn't come into the house wanting to play a safe game. Winning the grand prize is a bonus for me. I want to make big moves. There are players that I love and respect and want to follow in their footsteps. Its been 40 days and people still can't get Cody and I out. No one remembers someone floats by I want to make big moves. Jessica – I want to flip this friggen house. I want to actively play this game. The second Paul finds out I'm against him.. I want to plant those seeds. Every single person in this house should see that Paul is their biggest threat. Elena – I've said that too, if he is in the final 2 he will win the game. Everyone likes to be liked by Paul. I want to do so much in this house. I don't care if I get evicted.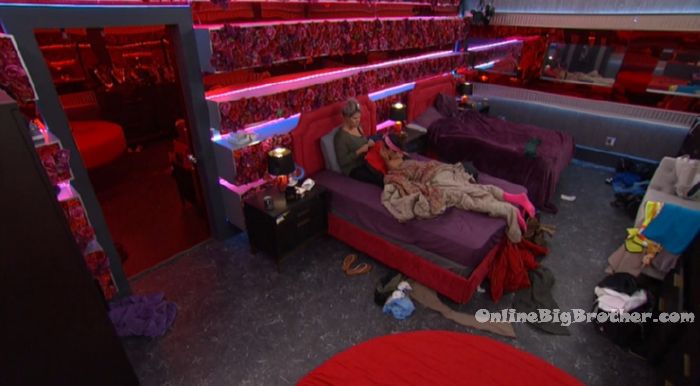 12:30am HOH room. Paul and Mark. `
They talk about how crazy Matt and Raven get going after each other. Paul – its going to turn into an actual confrontation. Mark – are they actually hooking up? Matt walks in right there. Mark – I feel like I must be one of the more boring people in the house. Mark heads downstairs.
1am HOH room. Paul, Matt and Raven.
Paul – if we take Cody out, then Jessica is safe for two weeks. If we take Jessica out, then Cody is not safe for the next two weeks. I can make either one happen, it depends on which is the better move. Matt – I think between Raven and myself we have a good influence on Jessica. Raven – if we take out Jessica can you imagine how mad Cody would be? Paul – the only problem is that Jessica would be a vote for him. Paul – if we keep Jessica, then she has the power for two more weeks. Paul tells them about how Jessica has to use the hex before the live vote. Matt – if Jessica wins HOH I think we could get out of that. If Cody does, I don't think we could. They decide to think about who would be better to keep.
1:38am Backyard. Cody and Jessica.
Cody – they would never leave me in this game. Jessica – if they thought Josh was bad. I would be sitting at home with popcorn. Cody – I will cut open every bag of food in this place and only leave slop. When they go to the diary room to ask for more food I will .. I will terrorize this place. They can't make me uncomfortable. Jessica – there are what 6 people winning competitions? And they want to say that I took jury away from them? I am sorry but nothing is handed to you in this game.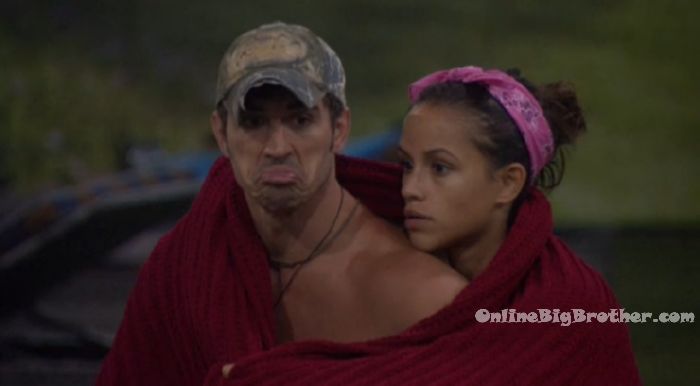 2am Mark and Elena.
Mark – I don't know what you want? I am not stupid, I feel like I'm missing something. Maybe I'm wrong but.. Elena – we should count how often you're wrong. Mark – I am just not seeing what I did has hurt you as a player. I don't mind being with you if this happens. I don't know what happened where I am so bad for your game. Its all over my f**king face and I hate it. Elena – I don't know what to do. I give up on emotional things very quickly. My tank is very small. I get emotionally exhausting very quickly. Paul joins them. Paul – people in the house are getting annoyed with Matt and Raven's pranks. Its going to turn ugly. Their antics are making them stand out … take this opportunity to not stand out. Its the smart move. You are in the midst of two other showmances f**king up. Have each others back just play parallel. Elena – I am glad I am not the only one that finds Matt and Raven's pranks annoying. Use this moment to re-acclimate and go the right way. I know you two have my best interest at heart so why would I get rid of you two. Use this moment to change your games.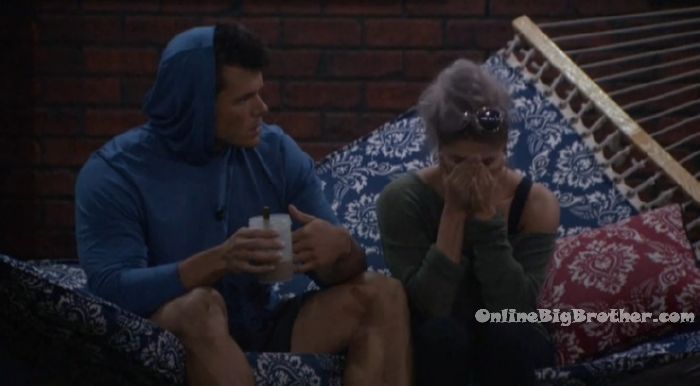 3:45am Mark and Elena head to bed. Mark – I can't see anything .. I don't know if I'm going to the right bed. Elena – get in your bed!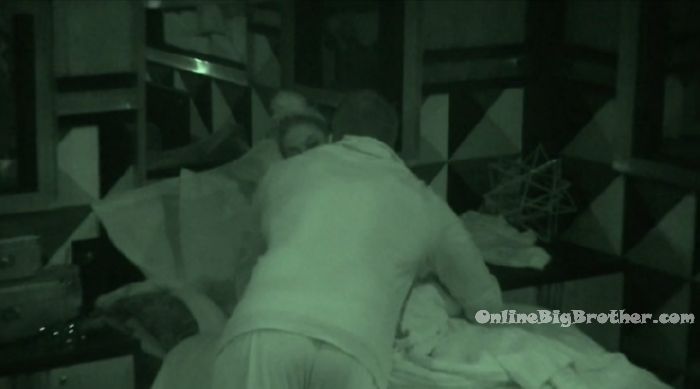 If you plan on buying anything from Amazon. Use this link Amazon home
Doesn't cost you anything and we get a small cut.
Links to the ranking system
Rank your house guests here
For those of you that like Statistics here are some expanded reports.