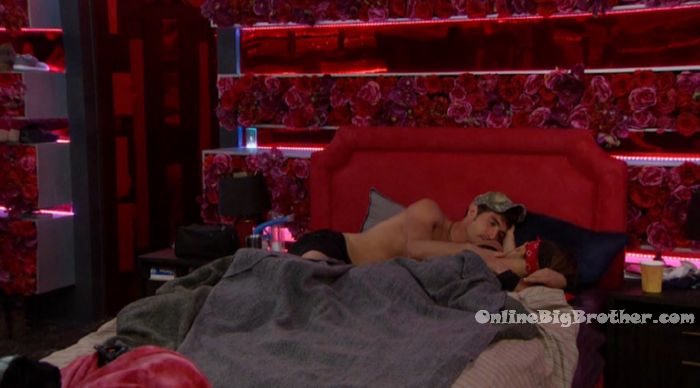 Check out our BB19 Ranking Grid. . rank your houseguests here

9pm Bedroom. Jessica and Cody.
Jessica – I feel like I'm going to get it soon.. (her period) Cody – you feel it. Jessica – its time .. some time in the next 5 – 7 .. 8 days.. in theory. Cody – yeah. Jessica – I love you mister. They kiss. Cody – I was glad you were patient enough to wait for me. Jessica – I've got it bad for you. I love you a whole lot. Which is perfect because Big Brother was due for another big love. Cody – when was the last time. Jessica – Jeff and Jordan. Cody – when was Rachel and Brendon. Jessica – around the same time. Cody – that means we're really written into the history books. Jessica – only if you put a ring on it. Cody – I told you I'd pay you back for that 500,000. Jessica – its going to be a big ring. Cody – about that.. I just want you to know that… Jessica – that you won't skimp on the ring?
Cody – that there's a study that shows that the smaller the ring. Jessica – is that the same scientist that disproved global warming? And dinosaurs? Cody – that the couple are more likely to stay together. So I will find the smallest possible… Jessica – laughs you put a sting on my finger… so the answer is no. Just buy me what you think I deserve. Cody – its going to be the smallest. Jessica – next, send me on the bachelor. Jessica – don't worry about me I'll just be the crazy girlfriend watching you (on the live feeds). Cody – I've always wanted a crazy girlfriend. Jessica – pulling 24/7 shifts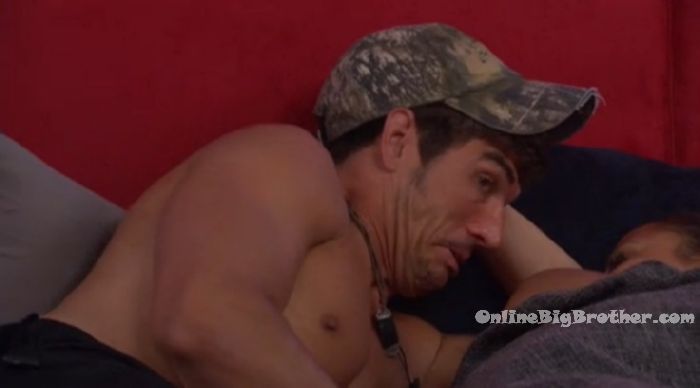 See what they can't show you on TV Try the live feeds for FREE!
9:10pm HOH room – Alex, Josh, Matt, Raven, Elena are talking about how Cody is anti-social. How he only has 1 friend. Raven – they're the oddest pair.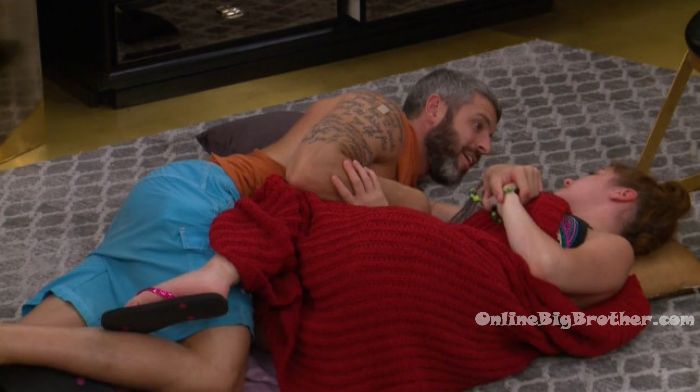 9:45pm Hot Tub. Matt, Elena, Raven, Jason and Mark.
Elena talks about how she got pulled over and had to do 3 of the sobriety tests. Matt – you must not have done that well if you had to do 3 of them. Elena says that she was showing off Matt – how many drinks did you have? Elena – I had one beer at dinner awhile before. Matt – and? Elena – I was good. She says she was driving her sports car going 16 over. I didn't get a ticket though.
9:55pm Mark benches all the weights. Mark – I AM POWER OF VETO!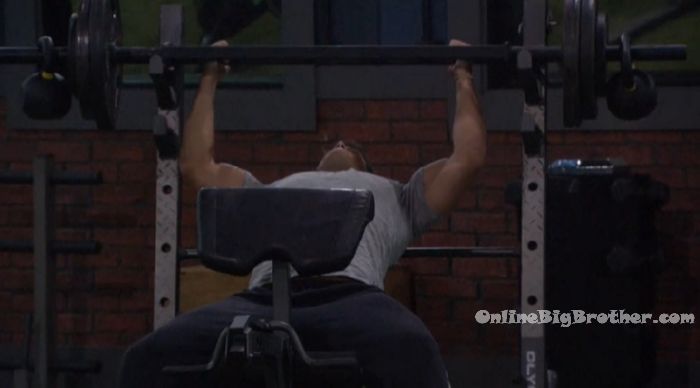 Mark – "I AM POWER OF VETO!"@bigbspoilers #bb19 pic.twitter.com/vOEcXffSQu

— Dawg (@DawgsBigBrother) August 8, 2017
10pm Big Brother shows the moon..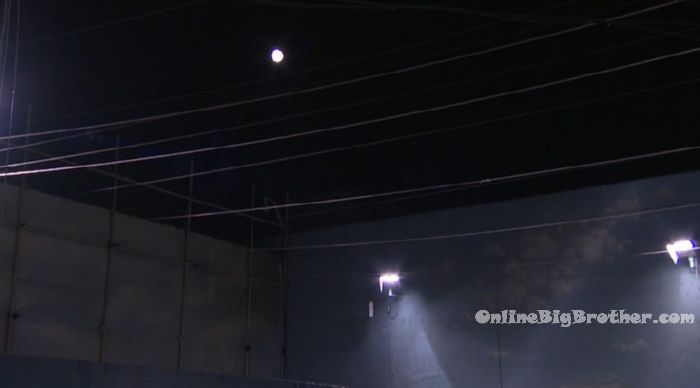 10:15pm Kevin and Josh playing pool.
Josh – where's your girl at? Kevin – which one? Kevin – Christmas. Kevin – Imagine the oldest guy here, being the coolest guy here. Josh – man get this guy a
11pm Hammock. Jess and Cody.
Cody hears Josh talking- I am blasting him.
11:10pm Cody pushes Jessica out of the hammock.
Cody pushes Jessica out of the hammock@bigbspoilers #BB19 pic.twitter.com/pnd9nvbxMQ

— Dawg (@DawgsBigBrother) August 8, 2017

11:50pm Cody tells Jessica I'm going to be a ball of f**king joy (after Jess gets voted out.)
12:10am – 12:50am Backyard Hammock. Paul and Kevin.
Kevin – are these cry babies getting to you? Paul – they're getting on my f**king nerves. Kevin – all they do is ask you about last f**king year man. Paul – its just at that point where we're half way and I'm just f**king beat man. They ask me the same f**King questions over and over again. Certain things are clear to me as a game player that aren't clear to other people. I just feel like if I've done so much already. And then there's the no napping rule. I didn't come back for myself, I came back for other people. They talk about how weird Cody is and how he burps and farts around Jessica. Kevin – he's doing that around her during the honeymoon phase..



Paul – If I did that around a girl my mom would murder me. Paul – I am realizing everyday that I can't win. I am telling you that there is going to be a time when they gang up and say we've got to get out Paul. Kevin – They won't say it to me. It won't be me. Or Alex, or Jason. Paul – the blob (Josh) won't either. They head inside.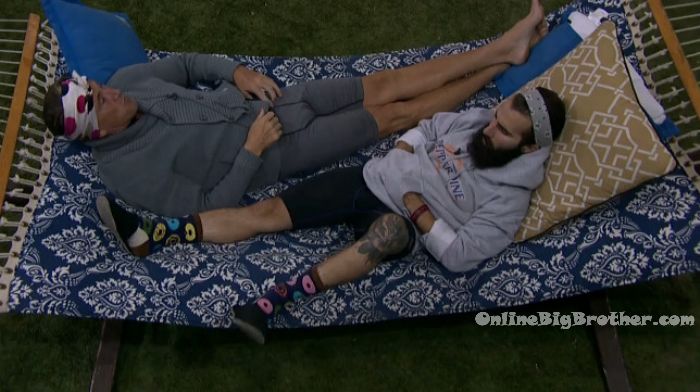 1am – 1:40am Kevin, Jason, Alex, Josh, Kevin are sitting around chatting about rodeos and other random things.
2:15am – 2:45am All the house guests sleeping.
If you plan on buying anything from Amazon. Use this link Amazon home
Doesn't cost you anything and we get a small cut.
Links to the ranking system
Rank your house guests here
For those of you that like Statistics here are some expanded reports.