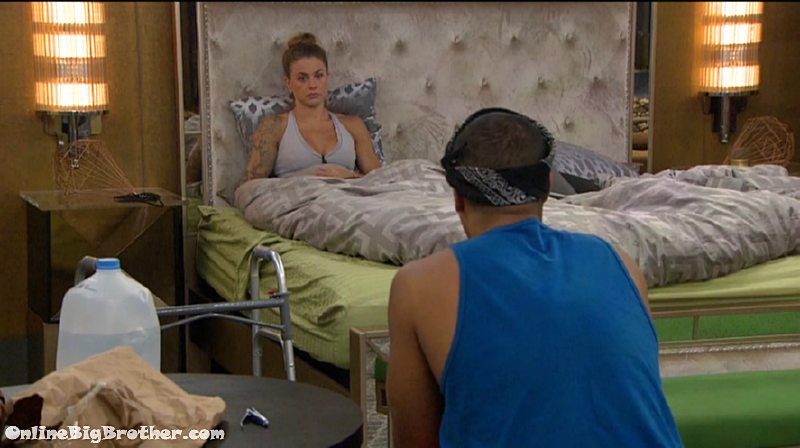 Feed subscription lets you go back and re-watch everything we post here CBS All Access Live Feeds with a FREE 7 DAY trial.

5:30pm Josh and Christmas in the HOH
Xmas is saying that Elena gets a vagina facial once a month.
Josh – She drives a Audi S5
Josh says Elena is always talking about her huge following.
Xmas – she has 30 thousand people on Instagram..
Xmas – did I tell you my followings.. BIG .. 400K on IG.. I have 1.6M followers collective on Instagram and facebooks
xmas – momma hustles hard
Xmas – I haven't heard my name come up but I know people have a problem with me.. that's OK.. i'm just sitting quiet gathering information.. Acting dumb
Josh – my group feels really good with you..
Xmas wants the final 6 to be Paul, Jason, Kevin, Alex, her and Josh. with Matt and Raven being final 8.
Xmas says the one reason she didn't want him to put Raven up is because she will now not be the pawn later in the game.
Josh – I don't give a f* I'll put her up as a pawn again
Xmas – I really do think it's the smartest move to get rid of Jessica
Josh – yeah.. yeah
Xmas points out how Mark doesn't make his own food..
Josh – Christmas what the f*.. your following that's huge.. how long did it take (Social media)
Christmas – 5 years.. my gym at 30k. . yeah Elena suck that.. my dog has 6k.
xmas – I love social media it's so much fun..
Josh – your big time..
xmas – I'm low level big time
Josh – in cross fit you're huge
xmas – yeah pretty big in Cross fit..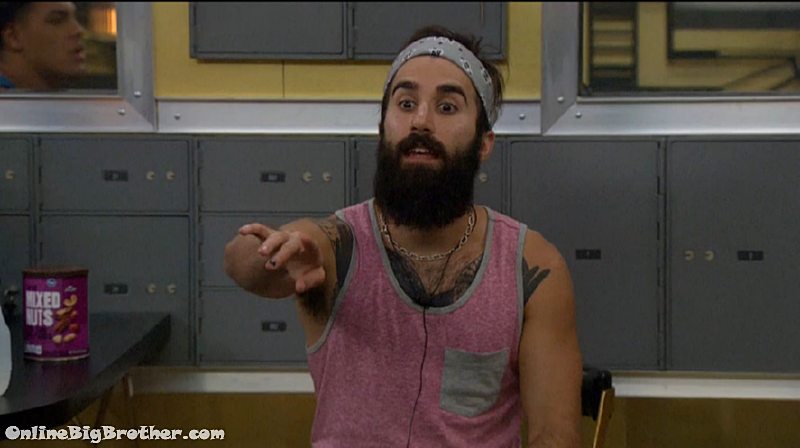 Paul joins them.. "I need a nap"
Paul about Elena – she has no game she's just paranoid as sh1t..
Paul – we saw how she reacted when she was on the block.. she went f*ing nuts like berserk nuts..
Paul – as long as she feels safe she won't react..
Josh brings up Elena lying within minutes to him
Josh – she tried to manipulate me
Christmas – she panicked
Paul tells them as long as Elena thinks she's in the loop she won't do anything.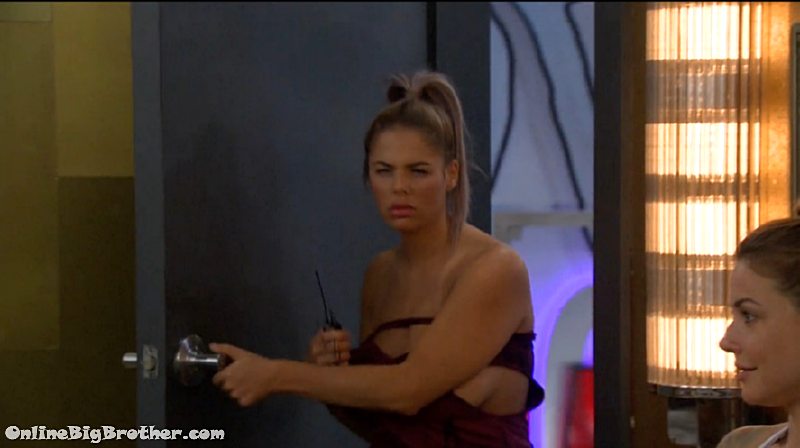 Elena comes in.. "I have to pee"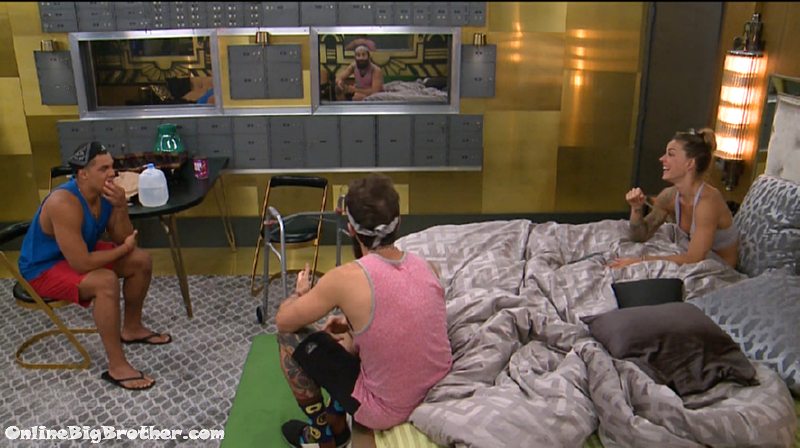 Elena leaves..
Paul tells them how important it is that Elena feel safe.
Paul says mark and Elena are saying they separated but it's bullsh1t.
Xmas says she looked into the have nots and caught them doing something, "Absolutely game talk"
Paul – that's why they pass out throughout the day because they hang out all night.. they want to make it seem like they aren't but at night when everyone is asleep they rekindle
Josh – he's smart
Paul – no.. that's all her..
Paul says they have to send Jessica out first because of the power couple but if it was anyone else other than Jess/Cody up he would want Elena gone.
Josh says there's been people in the house that have been safe for 50 days not doing sh1t.
Paul talking about if they won HOH next week do they nominate Mark and Matt
Josh – Raven is f*ing rude..
Paul – she is.. she's nuts.. and she came in here ate all your sh1t
Josh – Ate all my sh1t, I'm playing nice with them.. everyone is seeing it
Paul – we need to get Cody out during double eviction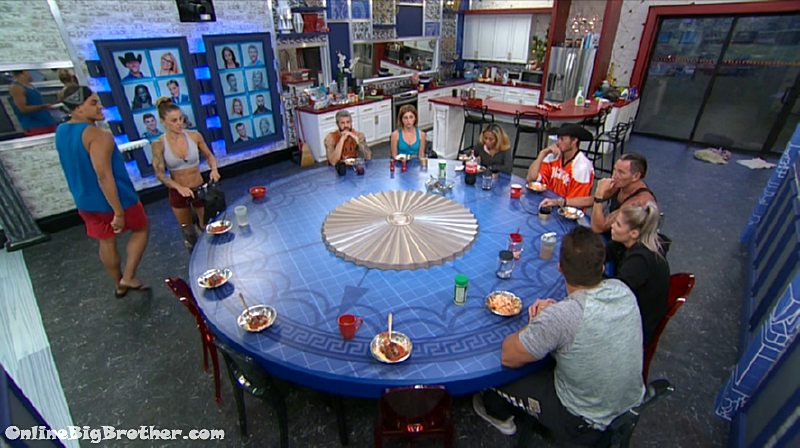 5:57pm Kevin's Meatball birthday Dinner
The Nicknames..
Alex Terminator X
Matt The Professor
Raven The Dancing Machine
Jason My Love
Elena Cover girl
Josh Miami Sound Machine
Paul Zombie
Christmas Wonder Woman
Mark Arnold Jr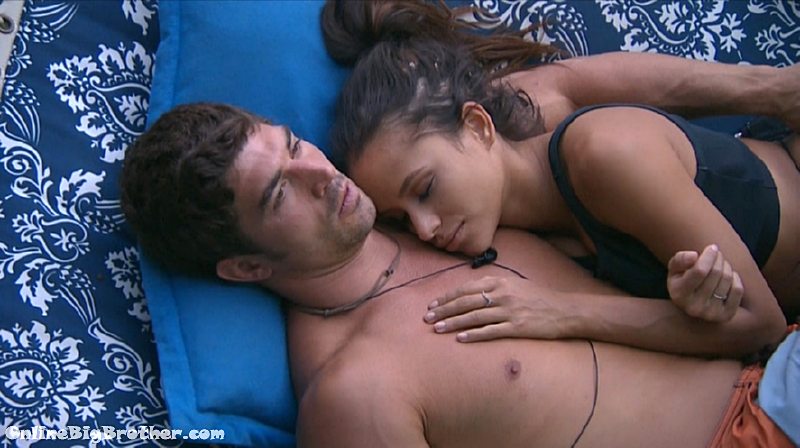 Cody and Jessica are staying on the Hammock. They told Kevin their plan earlier in the day. They may feel the meal being meatballs was a slight against but people eat meatballs all the time. Kevin does invite them.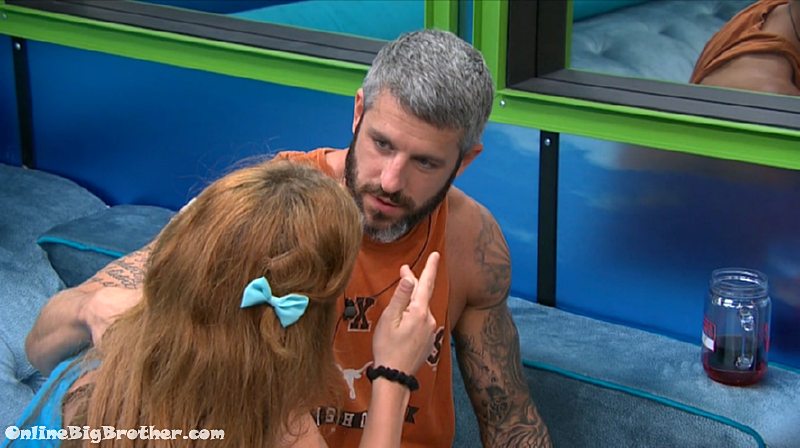 6:42pm Raven and Matt APSR
Going over the sounds they have heard..
Baby crying, Dogs barking, Jackhammer, Drums with cymbal and Lawnmower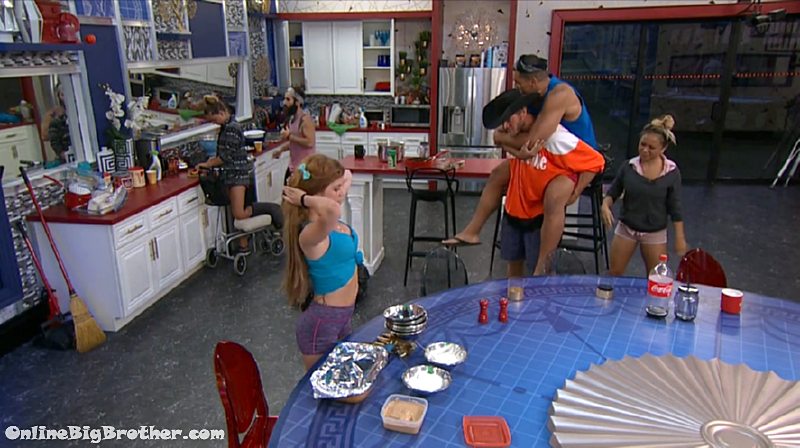 Another broken foot in the making.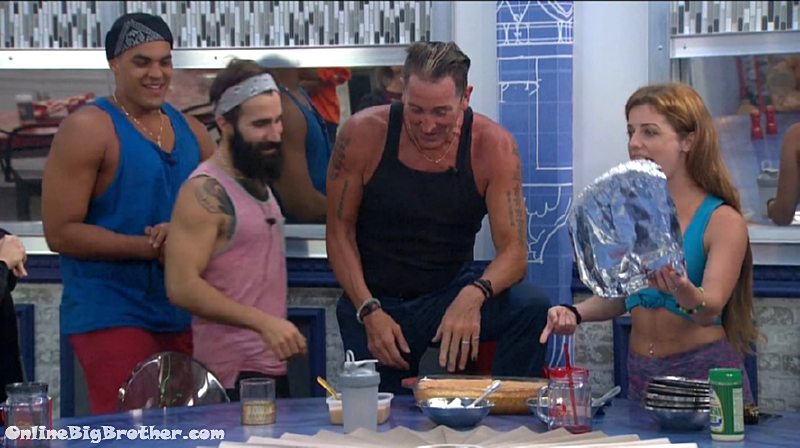 7:00pm Kitchen Kevin's Birthday cake made by Raven.
Raven – we heart Kevi.. Angel food cake because he's a Angel. he's the sweetest man..
Raven – that's homemade cream cheese..
She made like 4 different types of toppings. It's pretty impressive.

7:56pm Paul dripping some lotion on Jason's face..
"I was dreaming about Ole drinking water.. He ran to the end of the pen I was like who let him out"
"I was dreaming of Ole drinking water" #BB19 @DawgsBigBrother pic.twitter.com/EKbEBhKUjr

— OnlineBigBrother.com (@bigbspoilers) August 8, 2017
8:25pm
Mark and Elena kissing
Kevin, Paul, Jason, Christmas and Alex shooting shit
Matt and raven playing grab ass
8:37pm HOH Paul, Kevin,Jason, Josh and Matt
They were told not to "rough house"
They had another sounds this time is was a motor.
Alex and Raven have also joined them.. just Chit chat.
Links to the ranking system
Rank your house guests here
For those of you that like Statistics here are some expanded reports.