9pm Backyard. Cody and Jessica.
Jessica – Julie is going to give me the hymen when I get out. I'm not shaking her hand, I'm hugging her. When you see Jess give her the hymen. Cody – the hymen? You mean the heisman. One's a lady part and the other is a trophy. Jess – what's a hymen? Cody – oh gosh I don't want to explain that because I'm going to do it wrong. (Google it if you're also unsure what it is) Cody – Ask Elena. Jess – point to it. You said its a lady part. Tell me! Tell me! Cody – no, the more you ask me the less I'm going to do it. Cody points to her Jess – would Mark know the answer to this? Hey Mark when you've got a second can you come here? Cody – its a scientific word. Jessica – its a scientific word to describe my v@gina. I don't get it. Cody – Elena would have the very school worthy description. Mark comes over and Jess asks do you know what a hymen is? Mark – yeah a beer (lol heineken). Jess – no that's a heineken. Jess goes to ask Elena.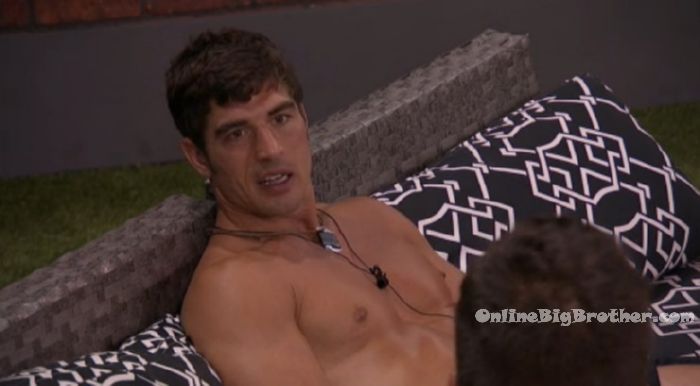 Cody tells Mark – On Thursday I will hang out like a motherf**ker. Whatever it is, its got to be physical. Mark – I need you guys to win. And if I win, I'm drawing a line and there's no need to be fake about it. I mean I can't stand looking at her (Elena cuddling with Paul) right now. Cody – it goes against everything she's saying about being in a showmance. Mark – I am just fuming bro! Dude it's like pure disgust how I feel right now. Whatever you and Jess are thinking about me .. there's no ques.. I am with you guys 1000%! Cody – we understand, we love you. Mark – there is no way that if I am in power that I could actively send you guys home. I just lost Dom and clearly I just lost Elena. I would f**king do anything for one of us to win on Thursday. Jess comes back and says yeah I don't have that anymore, thanks for asking. Cody – are you keeping your distance for Elena or for the house? Mark – for the house until Thursday. Elena has made it very clear to me. But Alex is trying to tell everyone about my relationship with you guys. Jessica – she's such a little tw@t! Mark – the last thing I want is for the three of us to be up on the block. Cody – if we don't get HOH, then I am going for that safety.
Jessica – I think we should all just grab Alex by the hair and then drowned her in the Jacuzzi… and then we could all live happily ever after. …oh did I not say that in my head?! It's going to take three of us though because her fake t!ts are going to hold her above water. Cody – Jessica! Jessica – I said it out loud again!? Cody – I just don't want you to look b***hy to anyone. Mark – they're terrified you're going to win HOH. Jessica – as they should be. If we win HOH we're going to clip them up by their toe nails and let them hang upside down for a week. Mark – if we can get two HOH's in a row then numbers start to change and they start to turn on each other. Cody – I feel like they fear Jessica more than me. Jessica – I am more likely to take a sh!t on someones face… literally not metaphorically than have another conversation with them. Cody – conversations with them are brutal.
FLASHBACK and watch everything you missed: Live Feed 7 day FREE Trial!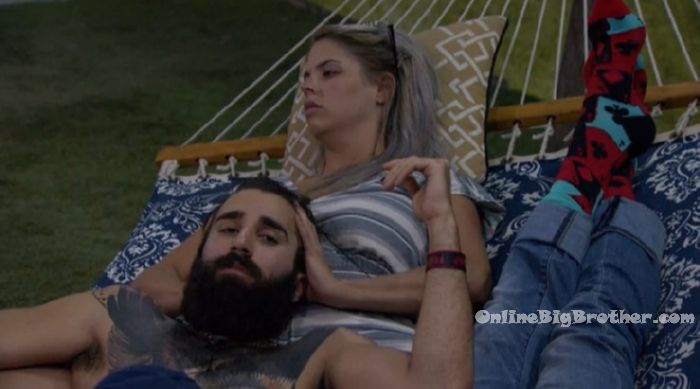 9pm Hammock. Elena, Paul and Kevin.
Paul – if we even have a chance.. that she didn't use it (hex).. then we vote her (Jess) out because you don't want her to keep that power in. Kevin – oh she's going to use it. Elena – then you need to tell the house. Paul – the house knows. I wasn't the one that came up with that. The house collectively came up with that to vote her out. Its not that we're upset that she's standing up for her man… its that she's standing up for a man who commits sh*tty actions. There isn't anything respectable about that. Paul – he was saying Josh your a pu$$y. Paul – they've turned this into an emotional personal thing. They want to say and do things emotionally and personally … Josh you're a coward, Josh you're a pu$$y. Paul you're character on the show. That has nothing to do with this and you're going to attack my integrity in this game. Jessica comes over and asks what a hymen is? Paul – there is no way you don't know what a hymen is?! Paul – its a thin layer of skin that when girls are virgins.. Jessica – that's why Cody said I didn't have one anymore.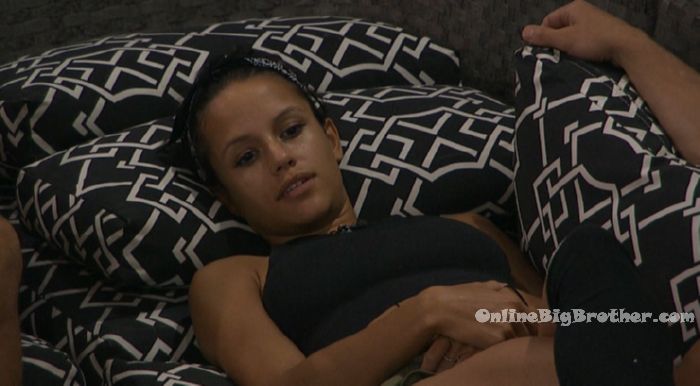 9:35pm – 10:25pm Backyard. Christmas and Kevin.
Kevin – it's got to get to people that this will be a dud week. Christmas – there's got to be something more to the hex. There is a reason she doesn't want to use it. It's like the comp, there is something positive and something negative to it. Kevin – I guarantee you she (Jess) isn't going to be with him a month after getting out of this house. Christmas – no way! Kevin – I didn't even know there were real cowboys in this world. Did you? Christmas – Oh yeah. Kevin – you did? Like you rode a horse to work? Christmas – yeah.
9:36pm – 9:45pm Bathroom. Mark and Josh.
Josh – if you need someone to talk to. Mark – well Josh in our past there is a 50/50 chance what I say might be blown up in my face if I piss you off. Josh – it won't, it won't. Mark – yes, I understand not to f**k with you especially if you're heated. Josh – there are things that we've spoken about that I have never said to anyone. Mark – I know that. There are all sort of relationships being developed and not developed. Who do you trust, who do you not trust. Who's being real with you, who's being fake. Its a lonely game. Josh – if anyone knows what you're going through, I do. I felt alone in this game for a long time. Mark – this game is all mental. Josh – you're a strong person mentally even after everything you've told me you've been through. Even though you're not my favorite person in this house I am not going to give you a cold shoulder or isolate you or be a d**k to you because quite frankly we had our differences and we f**ked up. I don't see you as a bad person. If you ever need someone to talk to, I am here for you. Mark – thank you. Josh – I sincerely accepted your apology.

See what they can't show you on TV Try the live feeds for FREE!
11pm Hot tub chats and working out.
11:30pm Kitchen. Christmas, Elena, Josh, Kevin.
Elena – I would like to get HOH so that I can be off being a havenot. Christmas – here's the question.. are you going to put up who we need to be put up? (Jessica and Cody) Elena – yes. Christmas – I really want Josh to do it. How pissed off would they be if Josh sent them home.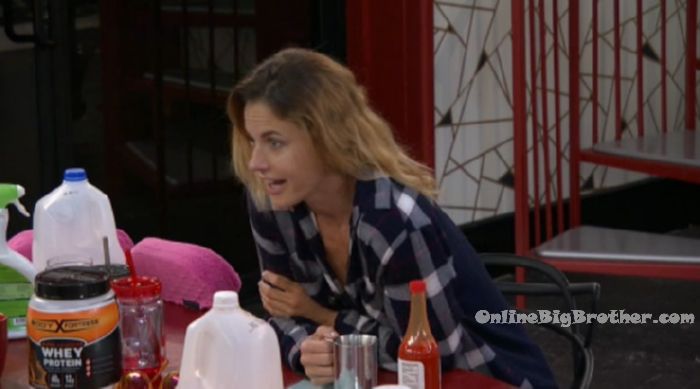 12am Hot Tub. Paul and Josh.
Josh – we don't like him (Cody) at all. Outside this house you're not having a beer with me. I'm not going to see him at the after party. Paul – you should have a beer with him. Josh – NO! Paul – that mentality is wrong. Josh – NO! Paul – this is a game. Josh – NO! I will not chill with Cody. Paul – outside this game you look at him and say I hope we can put all this behind us. This was all for fun and if he says no way Josh. Then you can go tell him to suck his d**k. Josh – if he won't give me the respect to have a conversation in here why did he rally against me for a week on a personal note. Paul – this is all make-believe. Josh – I don't hold grudges. Paul – I am going to give him the benefit of the doubt and say that this house is a bad environment for him and its bringing out his worst traits. Paul – they pick certain people..
1:05am – 2:30am Mark and Elena.
Mark and Josh finish their game of pool. Josh heads inside. Mark – I feel a certain way .. very strong about something and before I express it I want to make sure its how I feel and not just in the moment because I don't like going back on what I said last week. Elena – well keep me posted. Elena brings up how some people were questioning Mark talking with Cody and Jess. Elena – I just feel like I keep having he same conversation with you and there's ot a different result. Mark – are you kidding me. I am there for 10 minutes. Elena – I know that and you know that.