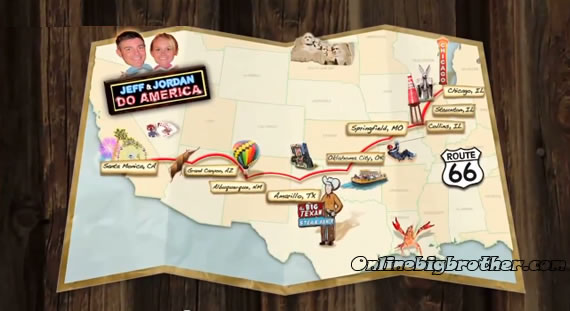 Yesterday we told you about Big Brother Alumni
Jeff and Jordan's new show
and the upcoming webchat where they will answer all your quesitons. It's being offer on CBS and it's called Jeff & Jordan Do America. Now if you are a JeJo fan and I know many of you are then this show promises to entertain.
During this promo you have Jordan joking about getting married because Jeff is "Worried about his age". She mentions how opposite they are but how they still get along and have a great time. They explain that the webseries is about them travelling through America onto their new lives in Califorina. From the map we can see that Jeff & Jordan will travel to Illinois, Missouri, Oklahoma, Texas, New Mexico, Arizona and California. Something tells me that there will be an episode featuring Jeff and Jordan eating a 72oz steak. Also note that Jeff says Jordan and him have been dating ever since they met on Big Brother but are now ready to take the next step.
*This webseries was filmed earlier in the year.
Jeff and Jordan Do America on Thursday, June 28, at 2:00 pm Eastern or 11:00 am Pacific at CBS.com.
Share it YO!!
Tweet