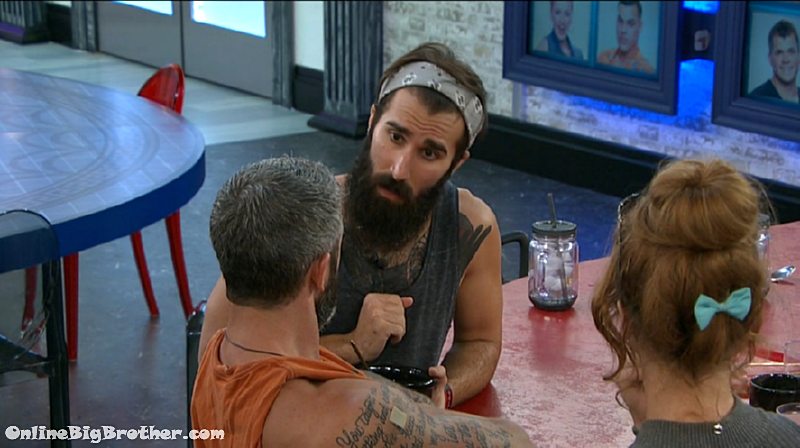 Feed subscription lets you go back and re-watch everything we post here CBS All Access Live Feeds with a FREE 7 DAY trial.

4:58pm Matt, Raven and Paul
Raven – Josh can't bang anymore pots and pans
Matt – that's ridiculous.. that's part of the game dude
Boyz2men – so Josh can't play his game because people can't handle their emotions
Paul – Yup, that's exactly it
Matt – Literally part of the game.. that's unbelievable
Raven – I agree..
Paul pouring scorn on Mark for not saying anything. Paul calls Mark a hypocrite
Matt – that's ridiculous..
Paul going on about Mark not saying anything.. .
Paul – don't hide and say you're a f*ing hero when you're standing there not doing sh1t.. (ZomG)
Raven says Mark heard everything
Paul – we all get under each other skin that's the game..
Paul says there was one time with Paulie last season he almost lost it.
Paul goes on about how there's been 4 times where Cody has lost his cool.
Christmas points out that Jessica was banging the spoon and picked up the cup.
Matt – there gotta be a limit dude
Christmas says Cody keeps charging Josh
Matt – that shouldn't be the limit to wait until somebody gets hurt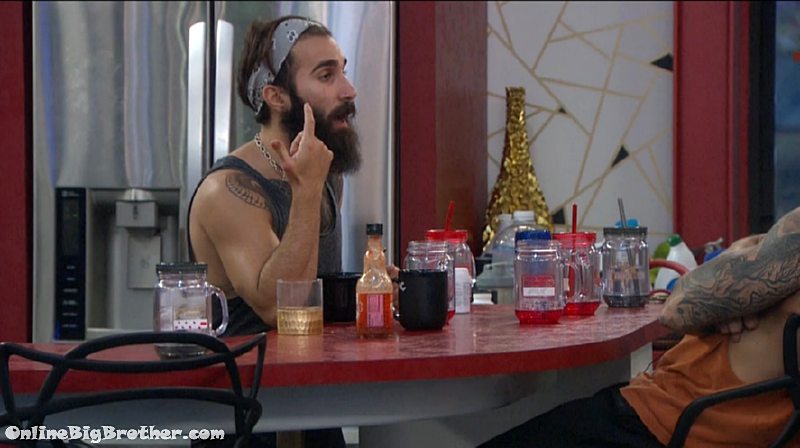 Paul – it's even throwing my shit off, I'm drained.. I'm annoyed, I'm over it, I have a distaste for this situation so much
Matt says that is not why they came here.. (they came here for the Cereal)
Raven calls Jessica a big b1tch
Christmas says there's not way she's going to let Jessica and Cody get under her skin when they were attacking Josh she was running around with her scooter being happy.
Matt says he doesn't want to see people in the house get hurt
Raven raises her hand "Got hurt Slightly" (She claims to hurt her wrist pulling Alex out of the way when COdy Charged Josh in the kitchen. it was off feeds)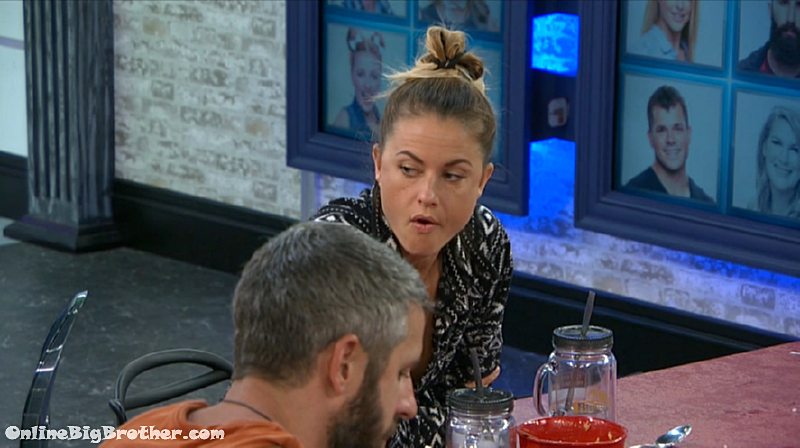 5:20pm Xmas, Matt and Raven
Xmas – you saw how I was perched right there./.. i wasn't moving she came at JOsh with that Wooden spoon
Raven points out that production didn't give them a "Stop that"
Xmas – her approaching a man breaking a spoon putting it in his face
Matt – not cool dude ..
Xmas – I thought she was going to stab him
Xmas – if she (jess) F*ing touches me.. it's a whole new game.. you can bark bark bark bark b1tch b1tch b1tch b1tch bark bar bark bark threaten threaten .. i give zero f*s
Xmas – you touch me you have opened a whole new world of hell..
Raven – every fight that in this house who has caused it
Xmas – Jody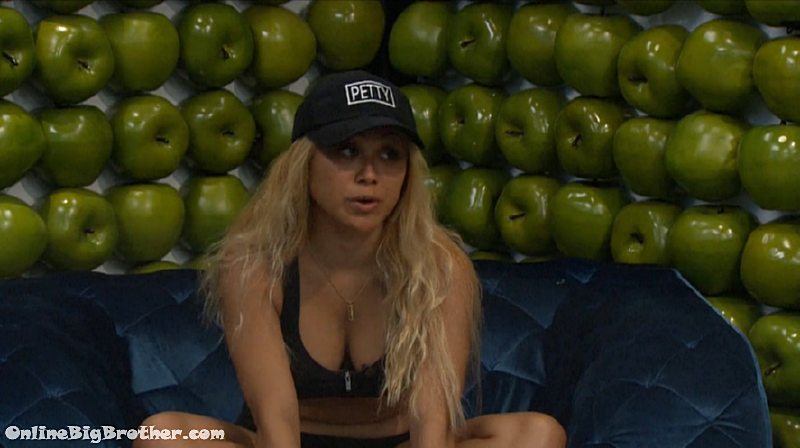 5:30pm APSR (Austin power sex room) Paul, Alex, Jason and Kevin
Alex says she doesn't trust Matt and Raven at this point.
Jason – Same.
Paul thinks everyone in the APSR and maybe Christmas
Alex – yeah I trust xmas ..
Paul says they can use Matt and Raven as pawns to backdoor Cody
Alex says they need strong people to play in the veto to make sure Cody doesn't get it.
Paul tells Jason he should throw the next safety competition so Jason is guaranteed to play in the veto , "Or i'll do it"
Jason – OK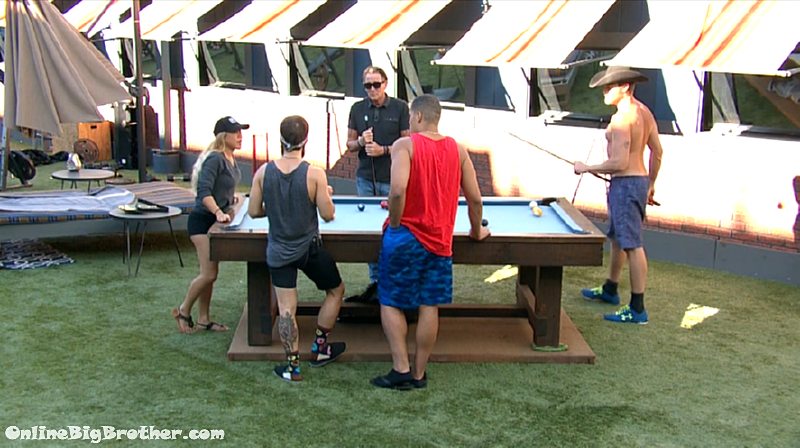 5:38pm Pool table Josh, Paul, Alex, Kevin
Alex says she doesn't feel bad about the Raven thing, "did you see her? I didn't see her I think she got hit like way later"
Jason – I think she staged it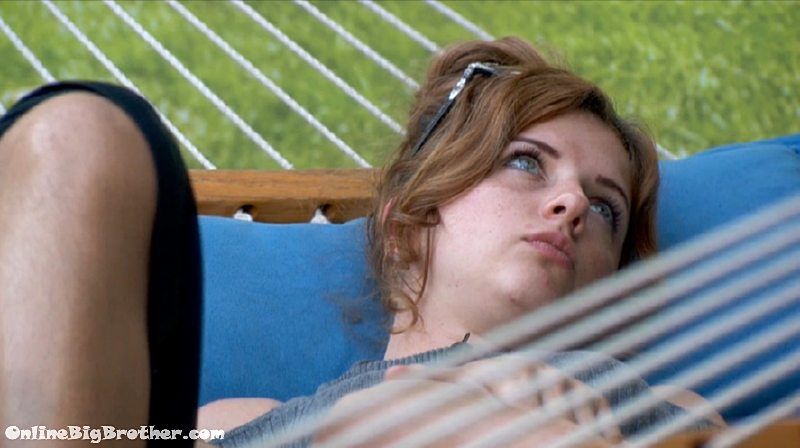 5:55pm Matt and Raven Hammock
Matt says Josh has never gotten personal everything he's said over these 49 days has been game related.
Matt – i'll be honest I do not like that fact he's not allowed to do that.. (pots and pans)
Matt – everybody has to play to their strengths in this game and that's one of his strengths and it's something that well within the constrains of the game. (they've actually damaged the frying pans and Jessica broke a spoon today)
Raven – they (production) wasn't happy about me getting hit
Matt – of course not
Raven – I'm concerned what he's going to be like when she's out
Matt – exactly
Raven – I've been around people that are hostile it's not fun.. I didn't come into this house for that
Matt – you can't have someone that has been trained by the US military that cannot control his emotions and has shown on 4 separate occasions that he will resort to physical violence
Matt – I'm just worried I'll have to keep you in bed all day to protect you
Raven – can we start now.. (I thought you guys started 4 weeks ago)
Raven – I was concerned about Alex.. I didn't want her to get hurt.. I know how it feels to get hit by a man
Matt – it's not your job to protect the people in this house from physical violence
Raven – it's the momma in me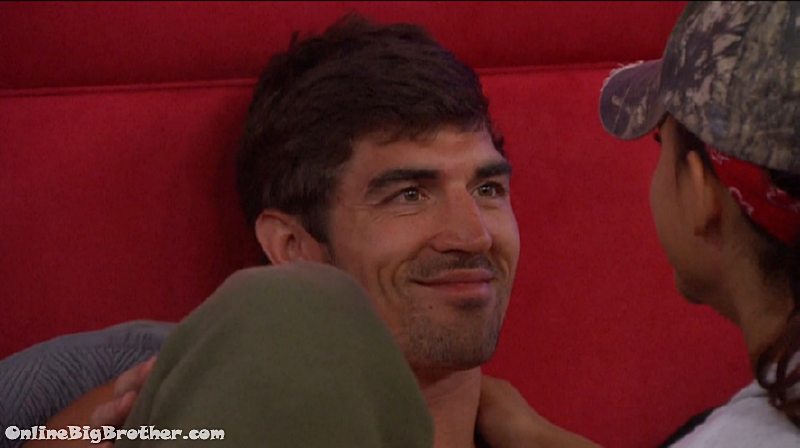 6:30pm Jessica saying Cody's eyes are green.. .(just showmances playing grab a$$ on the feeds)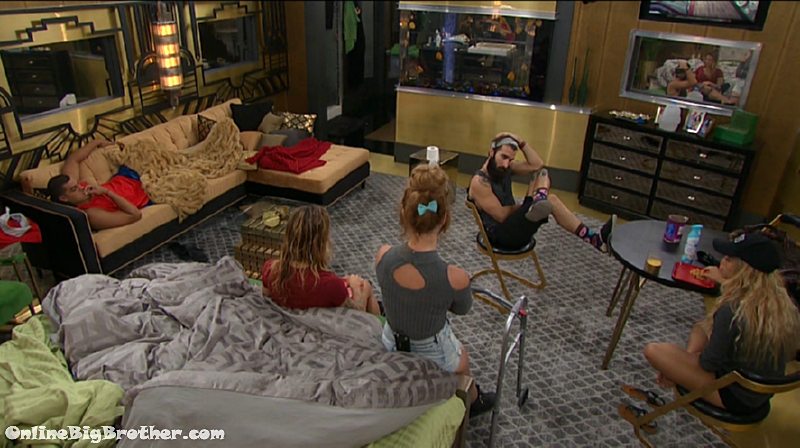 HOH Paul, Xmas, Alex, Josh and Kevin
Alex is warning them about Matt, Raven, Mark and Elena forming up .
Christmas – this is pretty tight I like this group
Paul – smart level headed doesn't do crazy sh1t
Xmas – logical (also delusional af )
They agree the plan next week is to backdoor Cody
Xmas is now offering to throw the temptation to prevent Cody from doing it.
They think Cody will want to throw the temptation so that he's guaranteed to play in the veto.
they talk about how everyone told Jessica to not use the hex otherwise she would be the target and now she's going home.
Paul – you threw it away for this f*ing a$$hole.. he wouldn't do the same for you
Raven joins them..
They talk about Cody having to win all the competitions in the game or he's gone.
Josh – everybody told her don't use the f*ing Hex..
Christmas says Jessica is a independent women she might not want Cody freeloading on her.
Raven doesn't think Jessica is says she's pretty dependent on Cody
Paul says he doesn't care about the love story of those two.
Paul says Cody and Jessica tried to bully their way through the game to get what they want.
Josh going off that they are not the bullies, Jessica and Cody are.
Christmas says she's so happy that fight got on snap chat she hopes production lets that go up (Christmas isn't wise to the feeds)
Paul – they won't
Josh – I told production that whole thing getting in my face what are you going to do about it.. that needs to stop
Paul says why is production saying that you hitting pots and pans is instigating a fight when the words "What are you going to do about it" and getting in your face isn't
Feeds flip..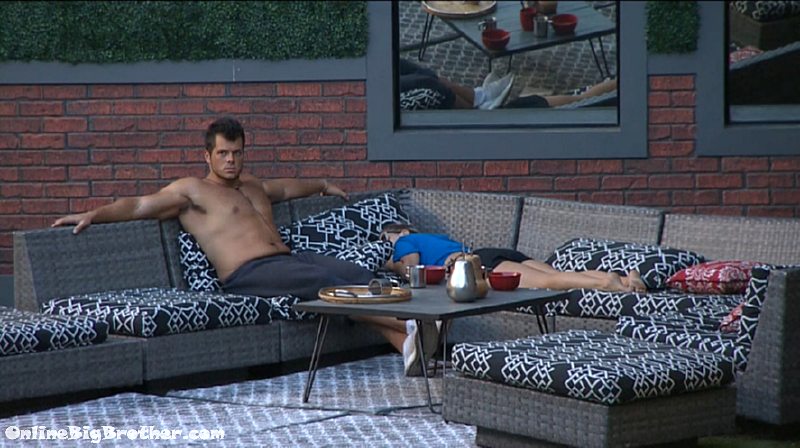 6:43pm Mark and Elena
Mark doesn't want Christmas to win this week.
Elena – she's going after Cody
Mark – he could be safe though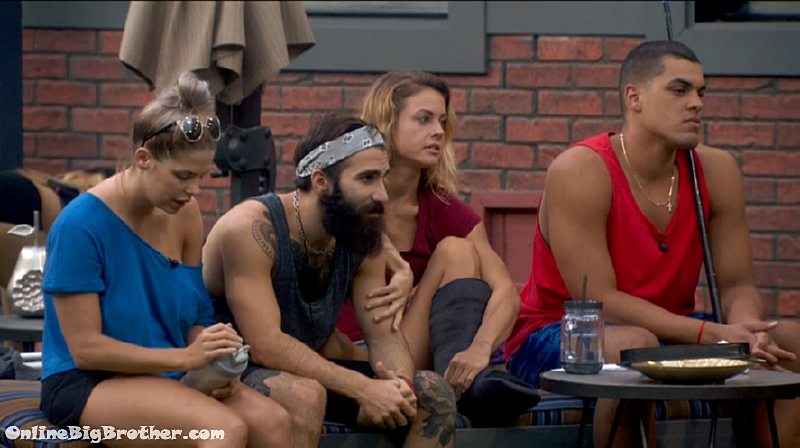 7:30pm Everybody wants Paul's attention
Christmas rubbing Paul's arm..
Kevin asks Raven how her wrist is. raven says it's bruised she has to ice it.
Elena now rubbing Paul.. soon everyone will be..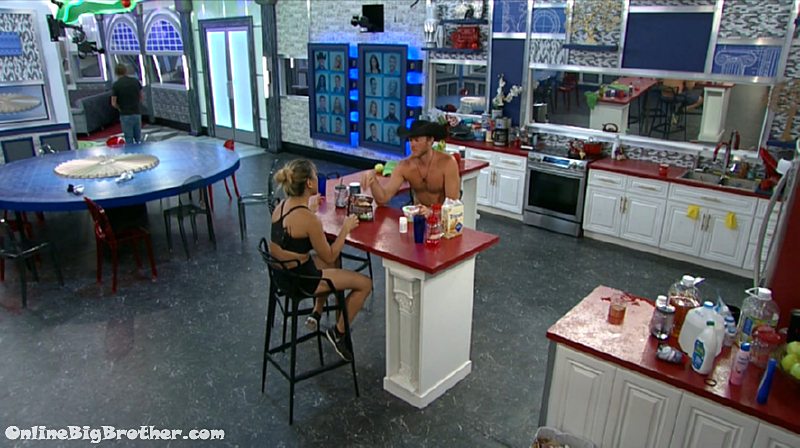 7:43pm Alex and Jason
Alex says ever since Josh won HOH Matt and Raven have been acting super weird.
Jason says it's her, him, Paul, Josh, Christmas and Kevin (Aka the Paul minions)
Jason – Matt just told me he wants me to win the HOH
Alex – Matt thinks he's Derrick
Jason – without the brain
Alex says Derrick wasn't a great character, calls him a sleeper but he was super good at the game.
Jason – I don't even remember him on the show.. I remember Caleb because he's a bad a$$ and Frankie because he stomped on competition
Alex laughs at people who would write Synopsis about BB16 didn't know who Arina Grande was. (LOL I was one of them)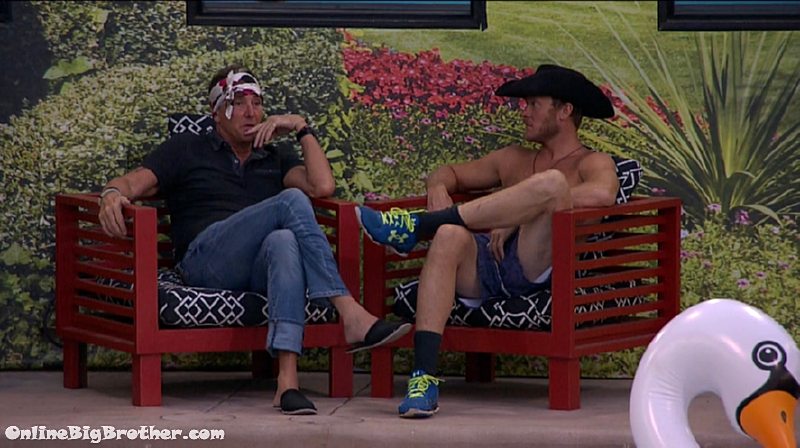 7:48pm Jason and Kevin
Jason says he told Cody he wouldn't vote out Jessica but he is. He entertained the idea in the morning but then that big blow up happened.
Kevin says if Cody wants to do something for Jessica he can just walk out the door.
Kevin – I'm telling you right now I'm voting out Jessica.. I voted the way everyone wants so far..
Kevin says they should put up Matt and raven have Paul or Alex throw the Temptation and they backdoor Cody.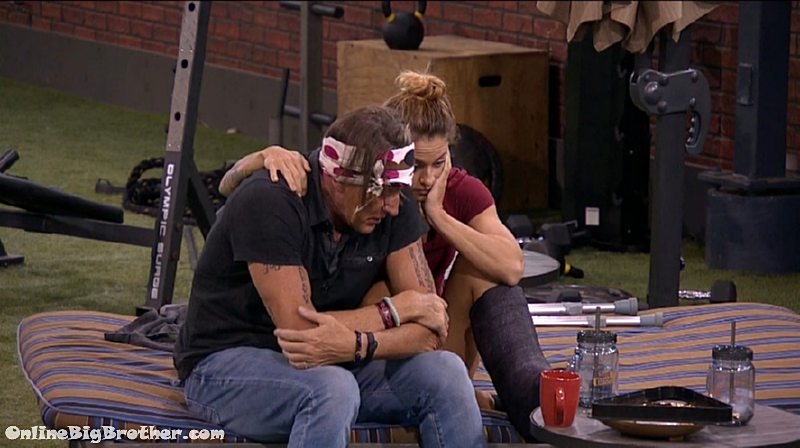 8:32pm Kevin and Xmas
They talk about the likelihood of a double eviction coming up.
Xmas says she doesn't know what Matt's deal is, he doesn't compete that well
Xmas – now that he's made Jury he's like I don't f*ing care
Kevin – I don't think he's that competitive of a person
Kevin – he's just a passive type guy
xmas – it doesn't make sense to bring a passive type guy into the house
8:40pm Kevin and Paul start playing pool. Kevin tells him that come Thursday Cody will be on his own and nobody is scared of him.
8:48pm Elena and Josh.
Elena – can I be honest with you I think the votes will be 6-1-1..
Josh – why would it be that..
Elena – I dunno just wait and see
JOsh doesn't think so he thinks it'll be 7-1-0 with Cody voting out Raven.
Links to the ranking system
Rank your house guests here
For those of you that like Statistics here are some expanded reports.