POV Holder:
?
Next POV
March 19th
POV Used
?
POV Ceremony
March 21th
HOH Winner:
JOEL
Next HOH:
March 24th
Original Nominations:
Kelsey and Raul
Current Nominations:
?
Last Evicted Houseguest
Paige, Sharry, Christine
Have Nots
Tim, Raul, Kelsey, Jared
Want to watch the Big Brother Canada 4 live feeds but live outside of Canada?
Bypass the geoblocking with HideMyAss VPN and be Canadian Anywhere: VPN Help Guide
ALLIANCES IN THE HOUSE
There will likely be a lot of alliances during the season – keep track with our alliance help guide.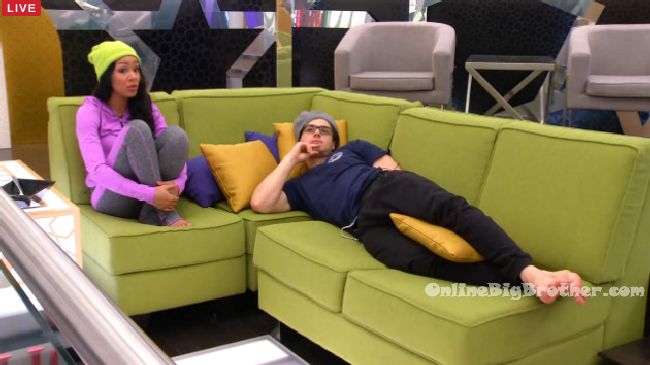 11:30am Loveita tells Jared that she isn't going to go to bat to fight for Kelsey. She says she didn't have a hand in his nominations. She tells him that she hasn't thrown any shots at him. Jared tells Loveita that its disgusting that you manipulated Joel. I watched Joel walk down the stairs in tears after you brainwashed him. Jared tells her she's disgusting.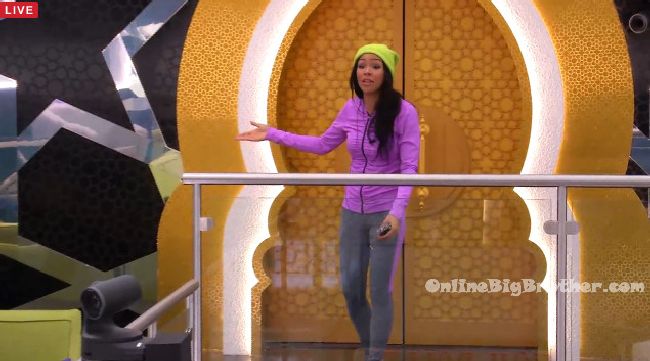 Loveita heads into the HOH room. She starts crying and repeats what just happened with Jared. Loveita gets up and says that she's going to go to the diary room and leave. I'm done with this. Joel suggests that he goes to get them (Jared, Kelsey, Raul) and tell them this was my decision. Loveita says I'm not going to be slandered on tv. He called you gullible. Joel goes and tells Jared in the bathroom that he made his own decision. I make my own decision. Kelsey says its not that. Its that she looked us in the eye last week and made a deal with us to go to jury together. She thinks she's the puppet master. Joel says everybody has a mind of their own and makes their own decision. Joel leaves. Jared says well that f**ked us over. I was sticking up for him and now just because she's in there crying I look like the bad guy.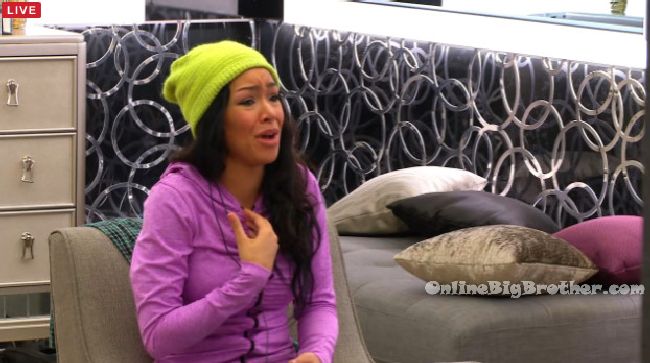 11:50am – 12:50pm HOH room – Joel heads back into the HOH room. Joel tells Loveita what he told Jared. Loveita says this is just breaking me down as a person and I didn't sign up to be broken down. Cassandra says you're in a tough situation, you won the first HOH and the third HOH. If you win next, I might be up on the block. You treated me like sh*t last week. People talk bad about everyone. People think that I'm a big dumb backstabbing.. Its all lies! We're so engulfed in this world that we forget about the outside world. Loveita says I just want to go home. Joel says there are people that will fight hard for you and lobby for you to be here and I am one of them. Cassandra says you really f**ked up my game last week. Loveita says people say Joel is gullible. I am gullible. I am beyond this experience. I'm over it. Cassandra says girls gossip and guys fight it out and they're over it. We need to cut it out. People talk so much crap about you and I sift it out. Cassandra says I want to get to the point where I don't put you up on the block. I know an eye for an eye but I don't want that. Loveita and Cassandra talk out their issues. Cassandra says you're not an easy person to align with because you think too much but you're loyal. Cassandra says if you and me do fight people will know its fake. Loveita asks her who she trusts. Cassandra says she trusts Joel and Tim. Loveita says she trusts Joel too. Loveita and Cassandra agree not to have any more fake fights. Cassandra tells Loveita that Tim voted for her go to make it look like it was a split vote. Don't tell anyone.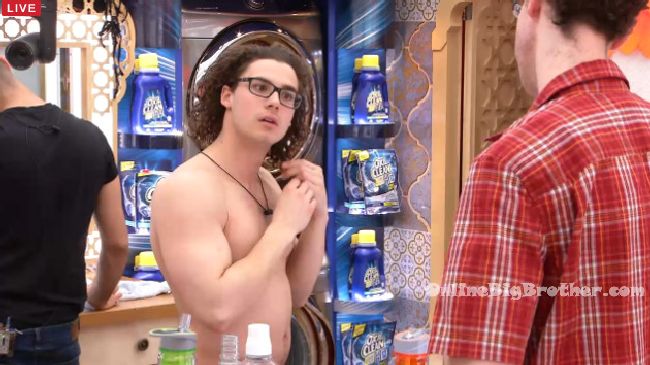 12:55pm Joel tells Loveita he is going to be counting on her for next week because I can't play for HOH. Loveita says I pretty much have to win next week. I'm going to do whatever you want me to do. I will vote for how you want out of this game. You just sealed two votes in this game. Cassandra joins them again and then leaves. Loveita tells Joel I trust her because you trust her. I hate how I feel like they intimidate me. Like I feel like I can't even get myself food. Joel says well that's even more incentive to get them out. Loveita says Jared has a lot of hatred and anger. No that's not nice to say. He holds grudges just like Kelsey. Joel says its better for my game if Kelsey goes home.
1:10pm Bathroom – Cassandra tells Jared about how Loveita came into the HOH room crying and cried for a half hour. Jared says crocodile tears. Cassandra talks about how she and Loveita talked this out and agreed to be civil. Jared leaves. Kelsey tells Cassandra that the brothers told Tim that they couldn't work with him because he is friends with us but Jared was like I thought the brothers were working with us.
1:15pm In the kitchen – Jared tells Loveita I'm sorry for yelling at you. Loveita says I'm sorry. You were in the same position I was in last week. It wasn't my intention going into that conversation. I'm sorry. Loveita says I'm sorry too. Jared and Kelsey head to the couch to talk. Kelsey says she is going to really miss Rual if he goes. Jared tells Kelsey she's better at competitions. Kelsey says he holds his own.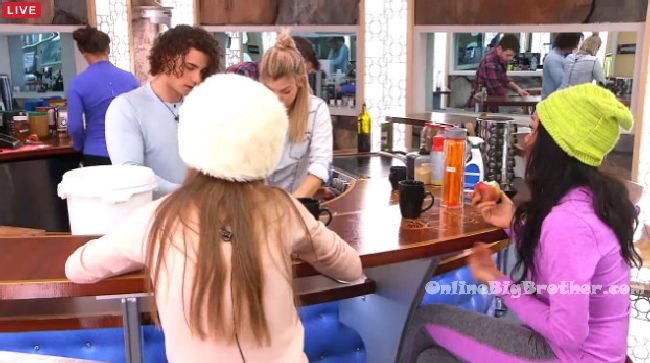 1:45pm – 1:50pm In the high roller room – Jared tells Kelsey he is very attracted to her. He tells her we've got to win. Kelsey says I feel like I should want it more. Jared says you should. Kelsey says some people plot and scheme all day and I'm just more lets see what happens and have fun. I feel like if I go home it will be all guys. Jared says I just hate being in our position. I hate being down. Kelsey says she hates being on the block, like try something new. Why are they scared of those people. Jared says I just view us as the nicer people in the group and them just like the a$$holes. Kelsey says me too. Kelsey says it feels like it was good against evil and they chose evil. Jared agrees. Kelsey says its nice that you apologized to Loveita but I'm just over her. Don't say you want to work with us and then not the minute someone else is in power.