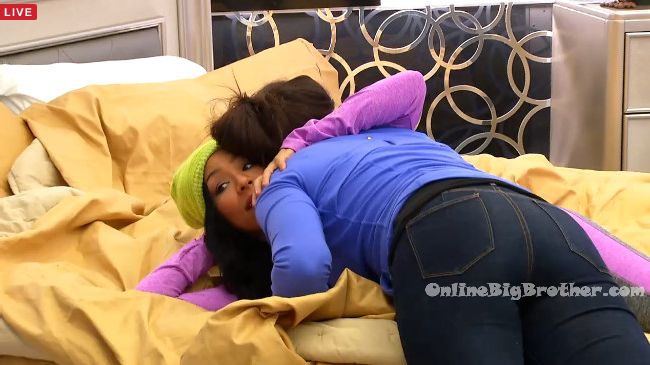 2pm HOH room –
Loveita tells Cassandra I trust you now. They hug. Loveita says I'm going to let down my wall. I'm not gunning for you. Cassandra says we're good. Loveita says I'm sorry. I have no hard feeling against Jared but he hates me. I understand how it would be to be put up for having done nothing wrong. Cassandra says thank you for realizing that. Loveita says I'm going to feel your trust, know your trust and keep building on it. Cassandra gets called to the diary room. Loveita talks to Joel about trusting Cassandra. I hope I can trust her. Joel says I think you can. Loveita says I'm probably the highlight of the season so far because I've been HOH twice now.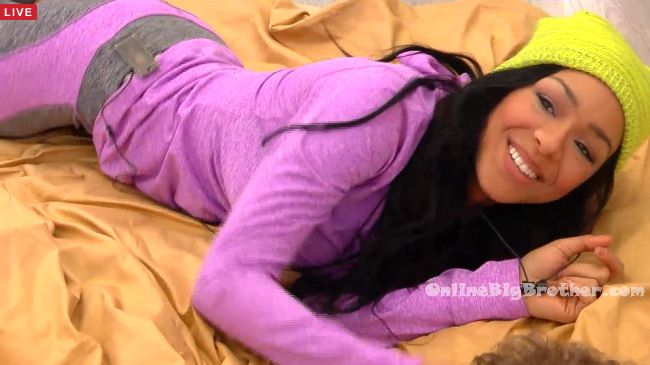 2:10pm – 2:50pm High Roller room – Tim says Joels aim was to break up the three. If Jared wins and Joel's promised he won't put up Jared… and we send the other person home. Then you three come back with vengeance. Joel would be pissed. Kelsey says that she wouldn't even go after him. Tim says I get it Joel thought you guys were the threat but not this week, there's time down the road. Dallas says I think its safe to say that's the last time we get alcohol during a competition. Kelsey says I know I feel bad that I threw a fit after they cut us off. Why we're adults. Dallas says I apologized to them. Kelsey asks why? Big Brother blocks the feeds. Jared tells Dallas I am honestly surprised Joel did put you up. Dallas asks why? Jared says because he said he never talks to you and Maddy. It through me for a loop because he's voted with us the last 2 weeks. Jared says that Joel and Mitch played rock/paper/scissors and Joel said if he was HOH he would up Maddy & Dallas. Dallas asks really? Jared says that's what I was told. He said he wouldn't put me up but who know he might being trying to backdoor me. He just wants an even playing field.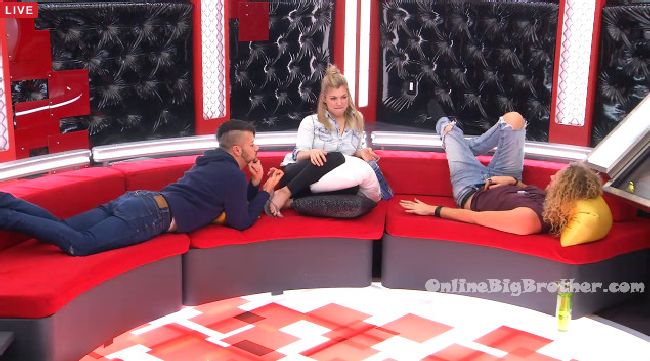 3:15pm Dallas, Kelsey, Jared and Phil are in the high roller room talking. Dallas, Jared and Kelsey are talking about Loveita and Cassandra's fight last night in the bathroom. Dallas says there was nothing on tv so he stayed to watch it. Dallas and Kelsey both think the fight was fake (It was) because they were fighting about stupid things. Dallas says I feel like they're the ones that really hate each other. Jared says but they talked for an hour after this morning with Joel.
3:50pm – 4:20pm The house guests are laying around waiting for the POV competition to start. In the high roller room – Dallas, Raul, Mitch, Jared and Kelsey are talking about random things. Dallas comments on how Christine didn't even appreciate the 10K gift card she got to the brick.

HELP keep the spoilers coming. Show your support by giving a tip :)
[polldaddy poll=9352927]
If you're using an Adblocker, you're making a kitten cry! PLEASE consider disabling it by adding us to your whitelist. This is very easy to do: simply load www.onlinebigbrother.com in your browser, left click the adblocker and click "disable for this site"
Share it YO!
Tweet