POV Holder:
Jared
Next POV
April 9th
POV Used
No
POV Ceremony
April 4th
HOH Winner:
Raul
Next HOH:
April 6th
Original Nominations:
Joel and Mitch
Current Nominations:
Joel and Mitch
Last Evicted Houseguest
Paige, Sharry, Christine, Kelsey, Loveita, Dallas
Have Nots
Joel, Ramsey, Brothers and Maddy
Want to watch the Big Brother Canada 4 live feeds but live outside of Canada?
Bypass the geoblocking with HideMyAss VPN and be Canadian Anywhere: VPN Help Guide
ALLIANCES IN THE HOUSE
There will likely be a lot of alliances during the season – keep track, read our alliance help guide.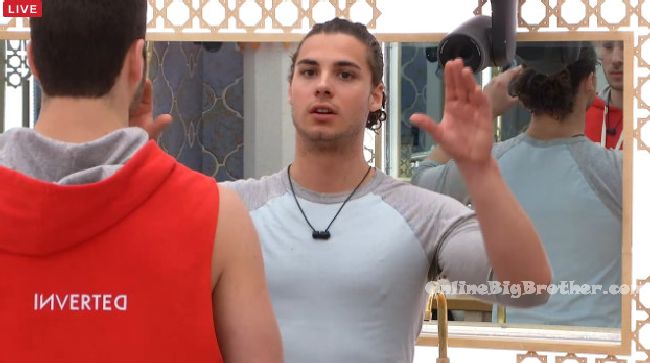 1:40pm Bathroom –
Phil tells Jared that any time anyone brings you guys up I try to defect it. Jared tells Phil about how Kelsey told them how when she was watching Mitch would go around from group to group. Phil says I'm voting him out. Its guaranteed. Jared says he's still trying to pitch us against each other. Jared tells Mitch that was quite the speech. I ddind know you had it in you. We were all surprised. Mitch joins them. Jared asks can we still be friends outside of this or am I too cancerous. Mitch says cancer can be treated. Jared says so can little rats. Mitch leaves. Phil tells Jared he likes how he tells it like it is. Jared says I'm just shocked how he denies it all even though Loveita said it all. Kelsey, Ramsey and Nick join them. Jared tells them about what Mitch just said and Jared's response. Kelsey says don't do that. He just got caught in his game.
1:45pm Storage room –
Raul says I would never say those things about him. Cass says he just showed his true colours. Raul says its disgusting. Rual asks what if Tim keeps him. Cass says he won't. I'll talk to him. I'll say if you vote to keep him I can't work with you especially after last week. Cass asks how many votes do we need? Raul says 5. Cass says me, Jared, Kelsey, Tim, the brothers,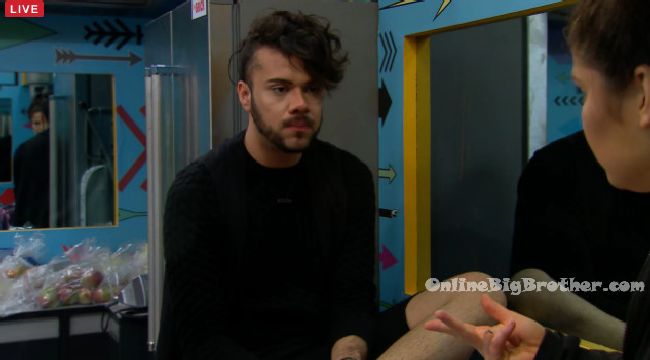 1:55pm In the bedroom – Cass tells Tim that Mitch is so good at this game. Tim says that's why its so hard for me to vote him out. He's the new Loveita. Tim laughs. His only way now is to do the opposite. To not be sneaky. Cass says you would never know what he's going to do. Tim says there is no way in hell I am keeping him in here. But I have to at least hear the option and then talk to Jared and this is why not to. I can do whatever I want. I can vote to keep him and say this is the reason why. I don't do what you do and be like I don't know. Raul joins them. Tim says he could have lied or apologized. He didn't do either of those. If I am going to vote for Mitch to stay I will tell you. I won't lie. But at this stage we would be stupid to keep him. Maddy says that if Mitch makes it to jury he wouldn't vote for one of the three. I think, and he's said he won't.
2pm Hot Tub room – Phil, Jared and Kelsey. Kelsey says ugh.. some times I hate this game. It hurts my heart. When I was on the block I did say I was going to expose everything and extract the cancer! Phil says we have Jared, Kelsey, Me, Cass. Jared says we just have to worry about Cass. Kelsey disagrees. Phil says Mitch is going home.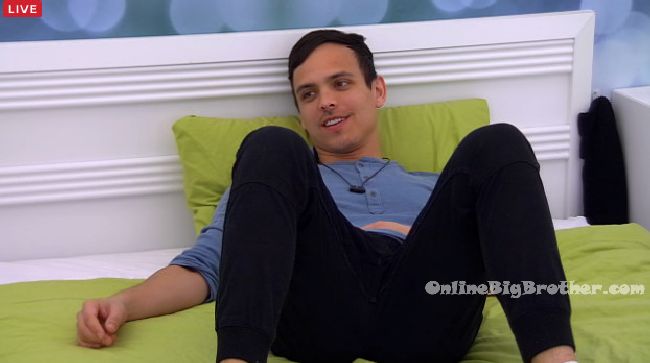 2:40pm In the blue bedroom – Nikki says I wouldn't even wipe my a$$ with them. My fear is that I get home and haven't told those f**kers what I think of them. Mitch says well if you're on the block that's when you can tell them what you think. Nikki tells Mitch to talk to Tim. He was impressed with your speech. Nikki says Jared may put me up next week. If he did he would be doing me an immense favour because I want to go home. Cassandra is wedged firmly up those three's a$$. Nikki asks what made you use the word cancer? Mitch says they're hard to get rid of. Nikki says and they're spreading their venom. Nikki tells Mitch he needs to get to work. Mitch agrees. Nikki leaves. Cass joins Mitch and asks how he's doing. Mitch says they f**ked me over and I'll f**k them back. Cass says go out swinging.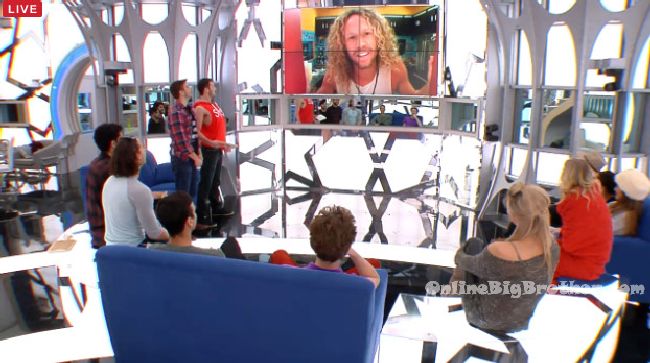 Big Brother addresses the House Guests Complaints
2:53pm – 3:10pm The brothers come out of the diary room and tells all the house guests to get to the living room! Nick pulls out a card and reads it. He says house guests as you all know we have been lodging complaints to the complaint cupboard in the storage room. Take a look! Big Brother then plays all the complains they've been making on the tv screen. At the end Nick says big brother is now going to address some of our concerns. Joel gets a basket ball net to use in the pool. Nikki asked for a pair of scissors so there's a pair in the high roller room. Nikki goes in to find a huge pair of scissors. Nikki says oh big brother! Nikki says I think they're giving us the ones they didn't show. Tim says right! I hope they give me the pen!s enlargement circulator I asked for.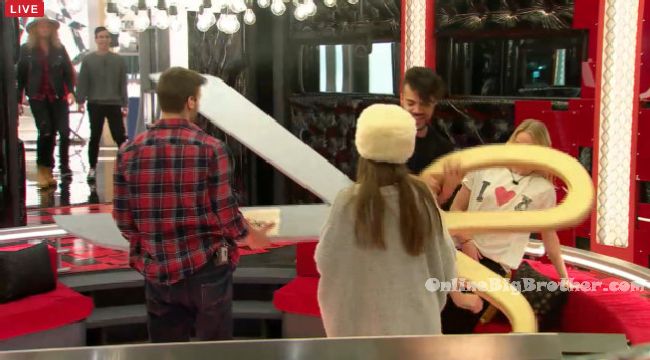 3:50pm
The live feeds return to Joel wearing a superhero costume with a cape on backwards trying to shoot baskets. He has to walk everywhere backwards. The living room tv screen is showing clips of Cassandra. Tim says you look so ugly but so hot as well. Cassandra says I'm kind of like over it. Cass asks how can I be so ugly but so attractive at the same time it makes no sense.
4pm In the backyard – Maddy asks why didn't they turn the heat down? It makes no sense, now its super hot! That wasn't the complaint. I'm just going to break all the rules today. At least there's no sound (Cass on the tv) that would be so annoying.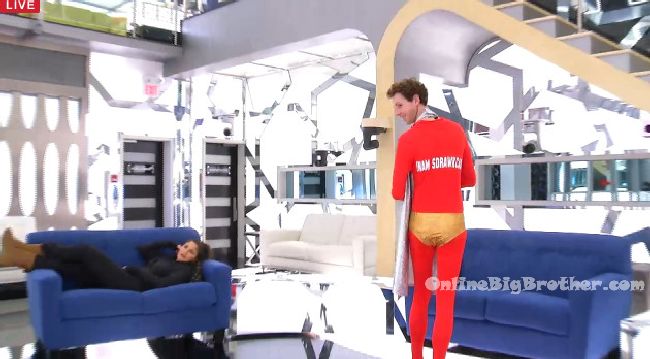 Share it YO!!
Tweet