HAVENOT Phil licks syrup off Cass's chest then races to eat slop with it to not get in trouble @bigbspoilers #bbcan4 pic.twitter.com/fOYDyxRMZ0

— Dawg (@DawgsBigBrother) April 4, 2016

4:20pm Cassandra puts maple syrup on her chest and gets Phil to lick it off. After Phil realizes that he's not allowed to eat syrup without slop so he races to eat slop before he swallows.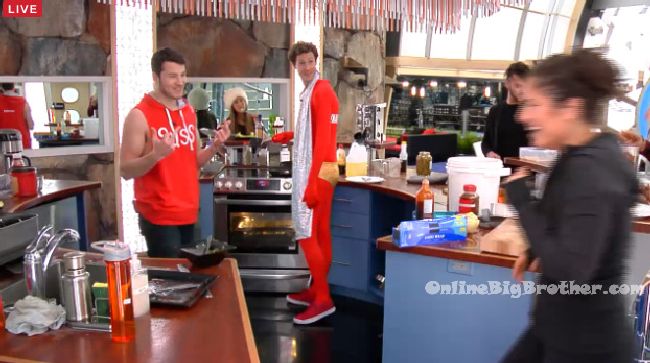 Tim talks about how he has to keep the brothers awake all night.
In the HOH room – Raul gives Phil a back massage with lots of lube.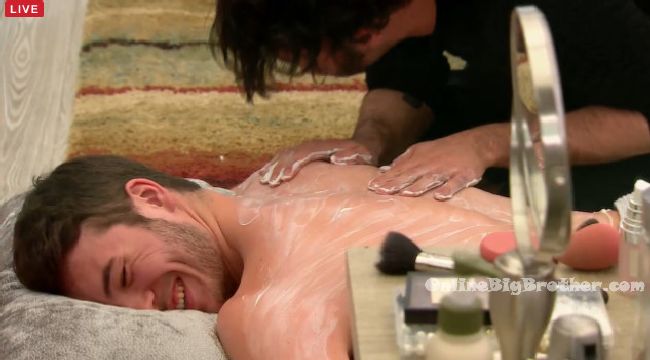 4:40pm – 5:25pm
Nikki asks so even after that you would vote for Joel? Tim says he would need Mitch to promise some things. Nikki says Tim has said that you're very smart. Tim says I'm not out to get him. Nikki says you should work with him. Tim says he still doesn't have the votes. Nikki says he has Maddy and Ramsey and me. Nikki says Mitch said last night that it would be very boring for the prom king and queen.. Tim says I know that but if Mitch stays he might team up with Rual. Raul can say Jared and Kelsey pressured him into putting him up. Raul and Mitch could be dangerous. Its great that Mitch wants to work with me but would Maddy and Ramsey? Nikki says he doesn't want to work with Maddy and Ramsey he just needs their vote. Tim says I hate to say it but if Dallas was here none of this would have happened. Nikki says if you vote for him this week you would have to trust his word. Tim says I know. Nikki says I don't think Mitch would have done that to Raul. Nikki says its so important that he stays because he will take them down. Tim says do you realize if Mitch stays and gets to the end, he's won. Nikki says and good for him. He got there with good morals. Nikki says this has been my worst week so far. I just feel so alone in this house. If I last I will probably last 6 weeks and I'm happy with that. Tim says I don't think Jared is the enemy. Kelsey and Raul are the toxic pair. Nikki says they are poison. If Kelsey of Jared win HOH next week.. I can't wait to leave. Tim tells Nikki you voted Dallas out last week because Mitch said Dallas was bullying him.. Dallas wasn't bullying him. Ramsey joins them. Tim says he won't make his decision until voting day. For me to vote for him, Mitch needs to come to me and prove to me he isn't coming after me. Tim says if we keep Mitch we have to know that we can get him out at a later date. Even those three would vote for Mitch in the end.
5:20pm Mitch tells Phil that he wants to run through a little math lesson for everyone but the trio in the living room. Not that they can't be there, they can be there. I'm not going to say anything bad about them.

By the pool – Tim tells Jared and Kelsey that at this moment he is voting Mitch out but if that changes he will let them know.
6pm Nikki tells Mitch that she and Maddy will not change their votes. She tells him that she thinks he can convince Tim to keep him too but you need to reassure him that you won't go after him. Mitch says if he offers to keep me. I would be happy to make a deal with him to not put him up. Nikki tells Mitch that if he can get through this, you can win this. Mitch says I hope everyone realizes it is best to keep me so that I go after them (Jared, Raul, Kelsey).

6:10pm – 6:45pm Hot Tub Time


6:50pm – 7pm
Kelsey says she thinks the brothers are the type that you just have to backdoor. Cass asks after we get Mitch, Maddy and Ramsey who do we get out? Kelsey says well Nikki will probably just want to go. It would just be a catastrophe if Mitch stayed. I've never been called a cancer that a doctor needs to cut out.
Watch the Big Brother Canada 4 Live Feeds anywhere in the world with HideMyAss VPN.
Share it YO!!
Tweet