Big Brother Spoilers Jack wins the Head of Household. A new twist called CAMP COMEBACK allows the first four evicted houseguests stay in the house. They do not play in competitions or take part in ceremonies but one of them will be given the chance to come back in the house.
They got to see a commercial for the Power of Veto it will include a trip to Fiji. Jack has nominated Jessica & Kemi up. Jessica is the pawn and Kemi is the target. Power of Veto Players: Jessica, JAck, Kemi, JAckson, Sam, Bella.
Sam won the veto & the Fiji trip. He does not plan to use the veto.
JACK won the power – he can do a re-pick of veto players if he doesn't like the first pick. He can use it all the way down to final 6.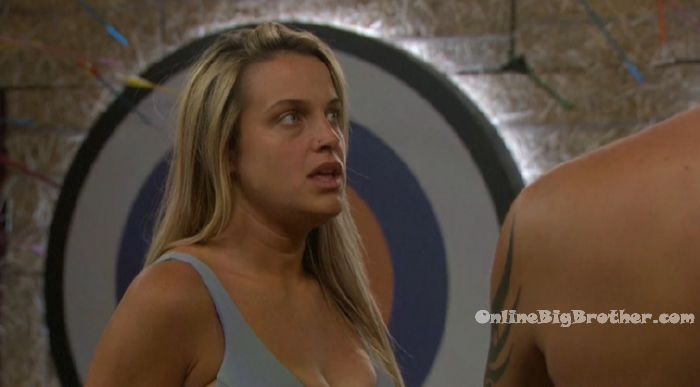 7:40pm Bedroom. Christie and Sam. Christie – Last night Cliff asked him (Jack) what he would be doing for his birthday if he wasn't in the house. He said he would just be hanging out with his dog. He said he doesn't really have many friends. He just goes to work. Sam – I do see that, he's a super cool guy. You really think he has no friends? Christie – I think he might be a villain in real life. I think he's like a villain. Sam – and has no friends? Christie – he has crossfit buddies but he just hangs out with his dog and stays home. Maybe he's been binge watching since season one the last 3 weeks. It was weird that his HOH letter was from a random guy at work. He was crying because it wasn't from his ex-girlfriend / best friend who he hoped it would be from. No single family member signed a release. There were no pictures of anyone but his dog. I think he's .. Big Brother switches the feeds.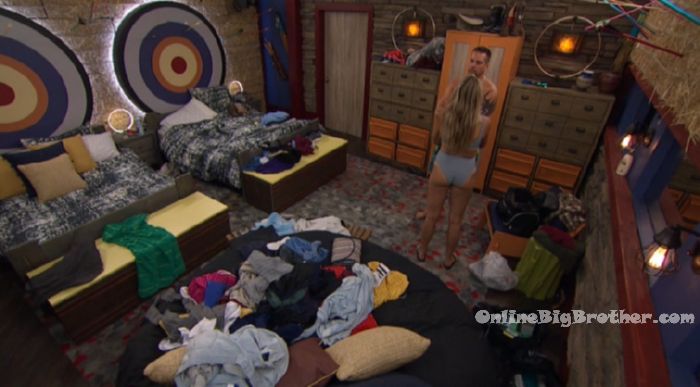 7:40pm Hammock. Jackson – don't give them anything they can't air. Nick – the feeds can see it. Jack – the showers are cool. Nick – did you actually .. like?? No you didn't.. you swear?! Jackson – he's like Sam when it comes to this. Nick – because she said she only had ____ before she got here. It would have been a lot tougher for you then. If you did, I will love you forever. Jackson – wait was she a v!rgin? Nick – I just need a confirmation? Dude, you're (Jackson) next. Jackson – who's to say that didn't happen. (Jackson and Kat had sex before the feeds started) Jack – POOOYYAWWWWW! CHHUUNNNN YEAUWWWW! Jackson – nah, I'm just kidding. Nick – man if I win HOH, its on like donkey kong! Jackson – I'm not saying that I wouldn't want to but I know it wouldn't happen. Nick – yeah but if Jack can make power moves so can you. Just flop it out. Nick – Dude I love you so much for that. Jack – I'm not confirming or denying that.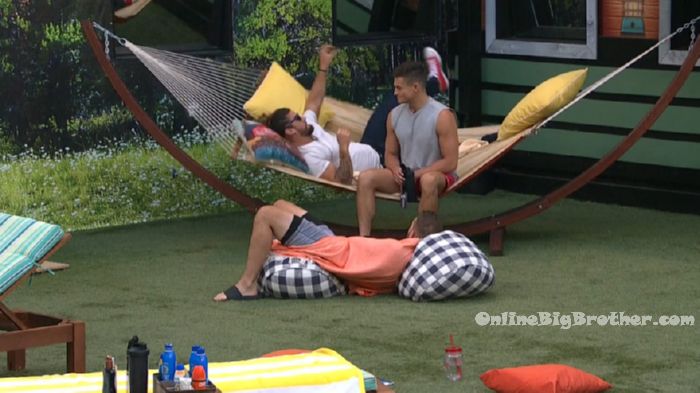 8pm – 8:15pm Nick to Bella – Can you put pants on because you look n@ked! Bella then goes kayaking in the pool.
8:20pm HOH bathroom. Jack tells Christie that he will end things with Analyse if it concerns her. Christie tells him she would never want him to end it and is excited to see where it goes. Jack – last night was more than I wanted and now I need to figure my sH*t out. Don't judge me America. Christie – I want to go to final 3 with you.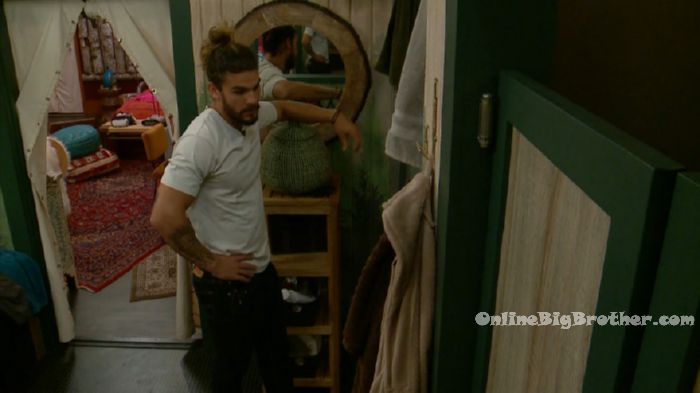 Jack – The way it is looking if I make this decision this makes me making it to top 3 is a lot more difficult with you guys because it paints a bigger target on my back. You know I will do everything in my power to get you guys there. But I do want to win this game. This move will endanger my game especially within the first 20 days. Christie – right it just goes to show you have fast sh*t progresses. She is beautiful. Jack – that's the thing I don't connect with her the way I do with you. Christie – she is everything that is beautiful and I hate to say it but there's not that much depth there. Everything that would be hard to resist in a girl .. she's got. Take it day by day. Christie comments on how Jack thinks about his ex. Jack – I think about her every day. You know who you are. She is going to be pissed! Pissed! But what have you been doing the last few years?! Christie – is it worth it? Jack – its not worth 500,000. Christie – okay. Jack – I don't think anything is. She was just supposed to lay with me last night. I wonder what she says about me?! Christie – I heard something. Jack – just as you anticipated. Jack – the man wears a bathing suit that's tight.. Its not what you think America.. but it is. Last night happened and now I have to deal with it.
8:30pm HOH room. Jack to Christie. Jack – this stays between me and you. You know I won it. You know I won it. I am only telling you. You cannot tell anyone. I am trusting you. I am only telling you this because I want you to trust me. Its not as big as Ovi's (power). So its the ability to switch the power of veto. So in a veto, if I don't like the board (players picked) that's picked I can say I have the chaos power .. re-pick. Christie – the board.. the players picked? Jack – so if I think I'm getting blindsided or if I want to blindside someone.. I can do a re-pick. Christie – ok, this is good for you to tell me because the girls talk in front of me as if I'm not your best friend. This is bigger than you think. Jack – but I would like to use it for you but I didn't want anyone else in the group to use it. I will not tell Nick. I will not tell Tommy. Christie – I am the best person to tell because the girls they talk in front of me and when we're not in power .. I will be your eyes and ears. Jack – I can use it all the way down to 6 people. I need you to trust me. We are going the distance. I did not tell Sis this. Christie – I haven't gotten to play much but I am a f**king beast. Jack – you're the only one that knows about the power.. you can not.. Christie – I will not. Jack – I am f**king riding high this week. I f**king murdered it (the power comp). Christie – like 18 seconds? Jack – like 12!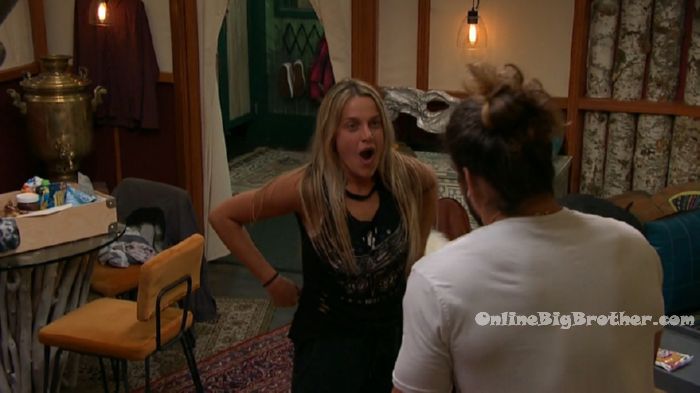 9:30pm – 10:05pm Dinner time.. all the house guests have dinner and sit around the table chatting.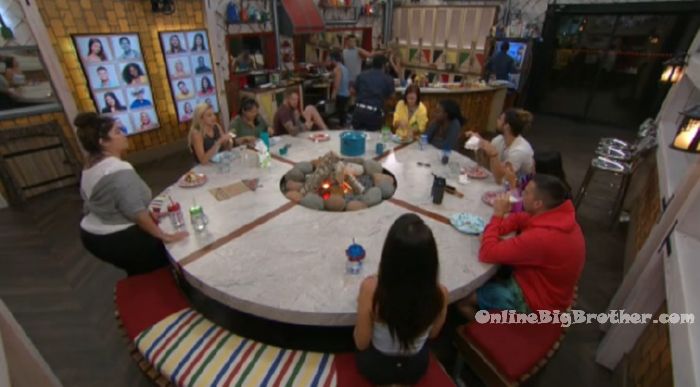 10:35pm – 10:50pm Boat room. Bella, Nick, Christie, Sam, Nicole and Kemi chatting about their outside lives / childhood.
11pm – 11:45pm Bedroom. Kemi and Sam. Kemi – I am so sorry for the passing of your grandfather. And I'm sorry for having a game talk after. Sam – its okay. Kemi – from what I've heard Jack still wants me out. And me sitting up there on eviction night I am going to be the one going home. The way I see it.. Jack, Jackson, Holly, Sis are together and people pretty much want to align with them but everyone can't align with Jack. And so Cliff is kind of aligned with him and so is Kat. So the way I see it.. as long as I am in the game I would never put you up. And I'm a number for you. I don't know what your relationship is with Jess. Me out of the game and Jess still in the game is fueling Jacks game and not yours. My pitch for you is to do what's best for your game. Sam – if I were to use the veto it would 100% be on you. But I have to weigh out if I used it, is it worth it. Kemi – if you did use it do you see anyone putting you up because you used it? Sam – I could see Michie doing it. Kemi – not to be annoying but you've been winning a lot of comps… if I were Michie, I would put you up. Sam – I don't think so.
12:05am Backyard Hammock. Jack, Bella, Analyse, Tommy, Nick, Holly, Christie and Jackson. Jack – since we're all together.. are we still voting Kemi out. They all agree they're going to vote out Kemi.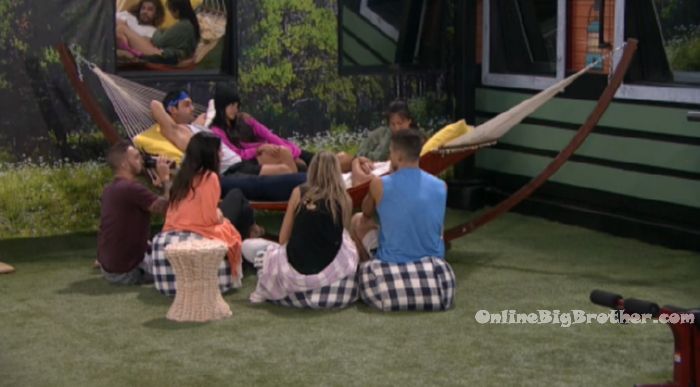 12:07am Jess and Kat. Jess – she is boarder line irresponsible with her sh*t. She is savage. Kat – they can't trust her.They know she has to go before jury. Jess – she is too much. Kat – I love her but she is too risky. The only people I would be worried about if they won HOH is Bella and Nick. Because Nick has straight up told me he would put me up as a pawn and I don't want to be a pawn. Jess – they would be my first two people I would put up but at this point Bella knows I'm after her. Say a f**king prayer for me because I cannot be nice to her. Kat – you have to kill her with kindness. Jess – its so not in my character to be fake.
12:45am HOH Jack, Jackson and Chrstie. Jack – this game is ours guys!! Jackson high fives Jack.
1:43am Ovi and David. Ovi talks about how Sam making it to the final 2 is a scary thing because he is here for his family and to pay of the medical bills from his son when he was born. He has a lot of medical bills to pay off. David – yeah a story like that is.. Ovi – Sam in the final 2 is a scary thought. Ovi – I think you did very well today. And did well building some trust.David – Jack and Michie are the head of the team. I think Christie and Nick are part of that alliance too. Ovi – Christie, Nick, Holly and Nick? David – with Jack and Jackson. Ovi – I think today was a success for you.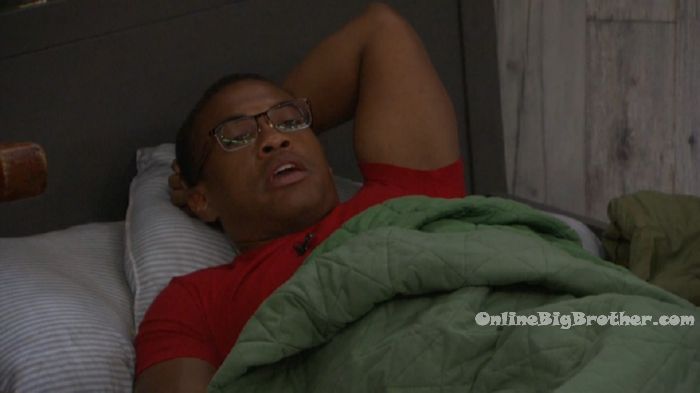 3:45am All the house guests are sleeping..
If you are one of the generous people that donate to help keep the updates coming, we're giving out a bit more this year. Check out this page for more details: https://www.onlinebigbrother.com/onlinebigbrother-members/