Head of Household Winner – Jackson
Have note are:
Nominations are: Christie & Sis
Power of Veto Players are – Christie, Sis, Jackson, Nick (Christie picked), Holly (sis pulled), Cliff
Power of Veto holder – Jackson
Power of Veto Ceremony –
Grab your live feeds —-> BB21 Live Feeds Subscription Link
Rank your houseguests —-> Big Brother 21 Ranking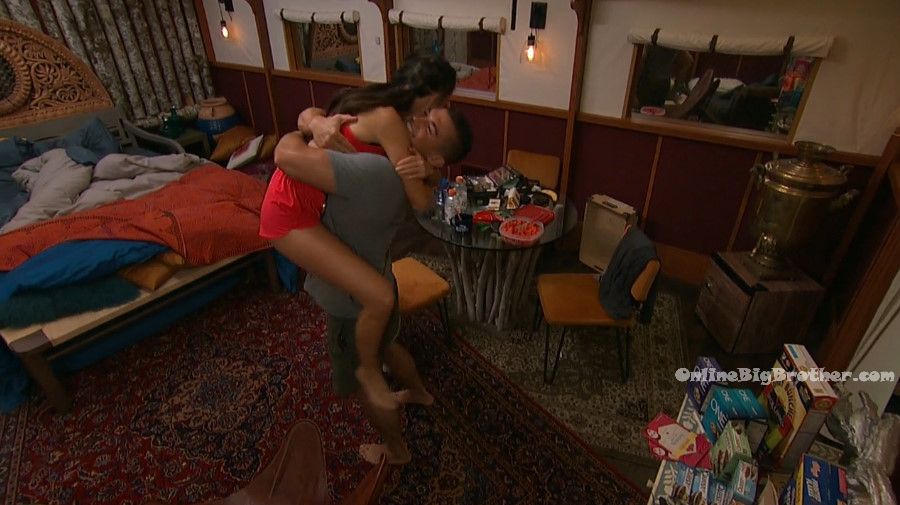 4pm – 4:40pm HOH room. Jackson and Holly celebrate the win. Holly looks at Jacksons HOH key and veto around his neck – wow so much new bling! Killing it! For a guy that doesn't win comps or vetos. Jackson – yeah we don't win HOH's or Veto's right?! The white whale is harpooned .. we gonna do this thang! We gonna do this thang! Holly – the game is about to take a big turn! Jackson – Yes it is! Holly – Sis was saying something about it being personal. Jackson – its not. I could careless about her being on the block. I just want to guarantee Christie goes. Holly – she is a lot more sour than Christie is. I hugged Christie after the comp. She was fine. Sis still won't look at me, hug me, speak to me. First of all.. I didn't put her on the block. Jackson – that comp was hard. I am not going to lie I was pretty f**king nervous. That comp was right up Christie's alley. I don't even know how I did it. I really don't know how I did it. I don't win HOHs, I don't win vetos… 2V2.. like what are they going to do!? Its not an arrogant cocky thing.. Justice is being served. Like finally things are balancing out in the world. Holly – things are balancing and you're in control! Jackson – finally and I am righting some wrongs. Its not getting to my head. It is just so sweet putting people in their place because they haven't been there in 60 days. Holly – its poetic justice. It really is. Jackson – you can't write this sh*t. We have got to do some damage control with Sis after she calms down. Holly – I know. I didn't know if I should go talk to her now. Jackson – no, let her fume.. Holly – let her hate you … hate me. Jackson – five days till Thursday. We don't need to do anything. I am going to sit up here. Attitude wise I would rather see her (Sis) go .. gamewise I would rather see Christie go. Sis wants to create a villain.. wants someone to blame and I am that person. Jackson – Christie is being a good sport about this. I am so happy! Holly – I am so happy too. I am so happy for you. Most people don't work on Saturday … but damn you put in work!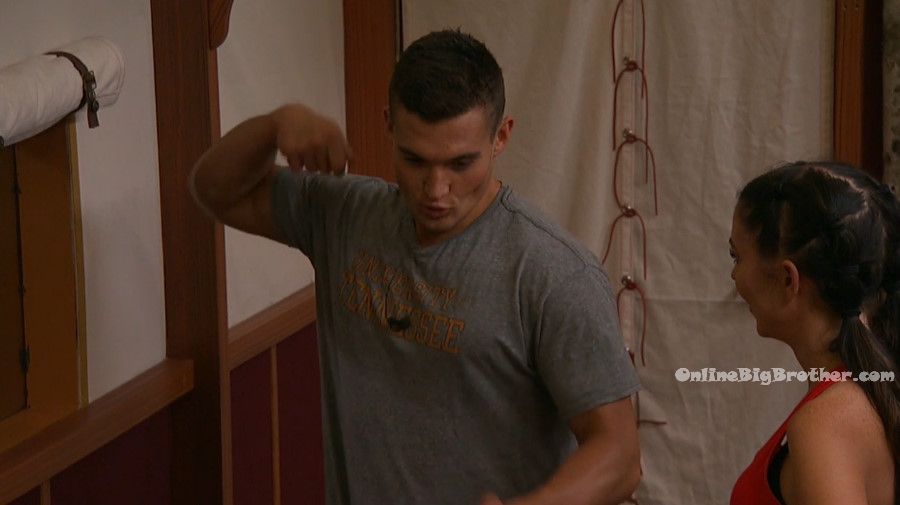 Jackson & Holly Celebrate the Win! @bigbspoilers #BB21 pic.twitter.com/l2nwau30FU

— Dawg (@DawgsBigBrother) August 17, 2019
4:30pm Bathroom. Christie, Nicole and Jess.
Christie – its fine! No one should have to tip toe around me. I will get over it .. its fine! Its cool. I love you all like you know that.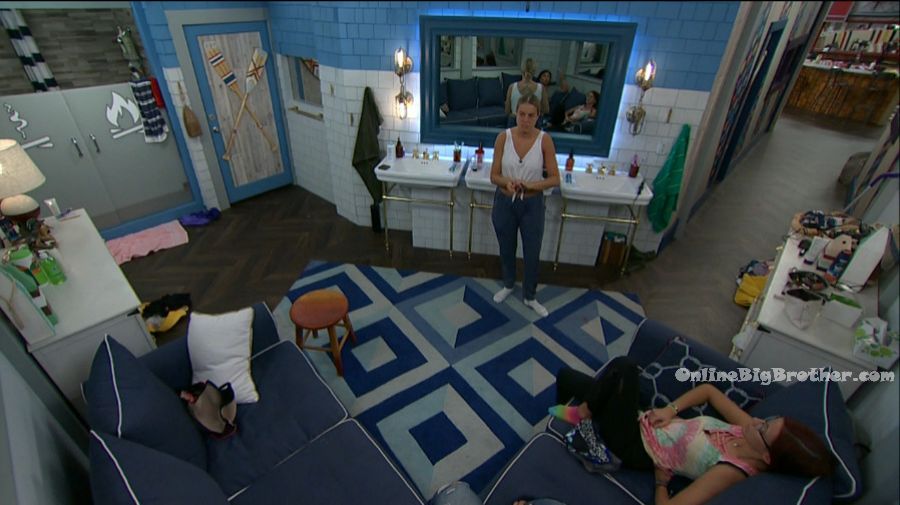 4:50pm Bedroom. Sis, Christie and Nick.
Christie – come on big brother can't you give us pandora's box or something!? Nick – we were literally just talking about that. Christie – Cliff just said it.
5:20pm Jackson and Nick.
Jackson – I wanted to compete. I wanted to do this right .. no backdoors. This was not my comp to win .. I am not good with puzzles. I am glad everything worked out the way it did. This is not personal to me. And Sis is making it very personal. More so than Christie, I think?! Nick – I know. Jackson – which I don't want .. I will talk to Sis at some point .. maybe tonight. Nick – I think everyone knew she was a pawn. Jackson – you didn't win .. which was a good thing. Nick – that was one that I didn't care about winning .. it just depended on who won. Jackson – worst case scenario is if Christie had won. I really didn't want you or Tommy up there at all. Nick – going into this next HOH is the first time I know what I'm going to do. I feel so good. Jackson – I appreciate you saying that about me and Holly though. Nick – no bro .. you kept your word and you didn't have to. Jackson – I gave you my word and I was not going to break it. I told you before the blow up and we were good after the blow up .. and we were good going into the HOH. I told you we were after the HOH and after the veto. They talk about the finale. Nick – I would rather lose 5-4 to you, than win 9-0 to Nicole. Jackson agrees. The conversation turns to talking about past comps.
Nick – Kat was running her mouth and saying we were working together.. this stays between us .. Kat told Christie not to trust me because I was working with you two when she left. Holly – Shut the f**k up! Nick – and she told Tommy too. Jackson – no she didn't!! Why am I just now hearing about this!? Nick – I didn't say anything because I just don't care. That's why I was just so upset with Kat. I was like are you f**king kidding me?! Jackson – I don't feel so bad about Kat leaving anymore. Nick – she said don't trust Nick because he is working with Michie and Holly. She was trying to blow up my whole game to Tommy. Jackson – f**k that! That really pisses me off. Nick – I was like I am good with them but I am not working with them.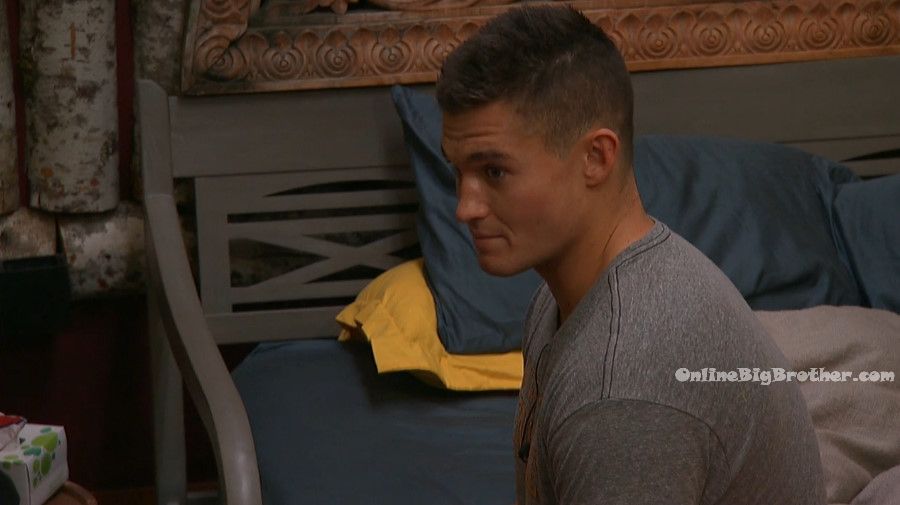 5:30pm Bedroom. Christie, Sis and Nicole.
Christie – I literally had the hardest cry I've had in here. Nicole – why? Christie – because of Tommy. Sis – outside of this house I feel like Holly is a really great person and has a really great heart but I think inside the game started getting to her. But I think him and her together brought out the worst in each other.

HOH room. Holly and Jackson.
Holly – I don't want Nick to get Jess out. I think she a good person to keep around especially with the target on our back. This next week Sis is going to be gunning for me. Regardless of our relationship outside of here. Especially because I don't know anyone that would put her up. Jackson – I put her up. Holly – yeah but she isn't your target. Jackson – you. Holly – I don't want to have to do that. Jackson – is she a threat to your game? Holly – yup! Jackson – there is your answer right there. Holly – Cliff might.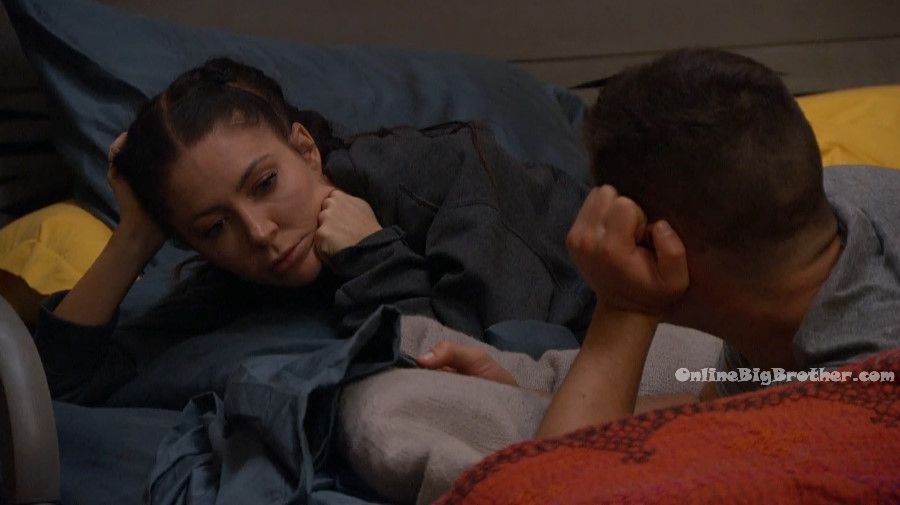 6:40pm – 7:25pm Bedroom. Cliff, Nick, Nicole, Sis, Jess, Christie are chatting about random things. Meanwhile up in the HOH room. Jackson, Tommy and Holly chat about past comps. Jackson – I was upfront and brave enough to put both of them up at the same time. Christie does not want to go home but she respects the game play. That's what I was hoping for both.. but Sis is taking it more personal but then again Sis doesn't handle losing well. I hate that she thinks its a personal attack but its far from that. It is strictly doing what's best for my game. And what was best for my game included her being on the block. It was not for her to go home. Tommy – no I know that. Jackson – I tried to tell her that in our one on one. I said trust me and have some blind trust in me. I don't want you to go home. Cliff joins them.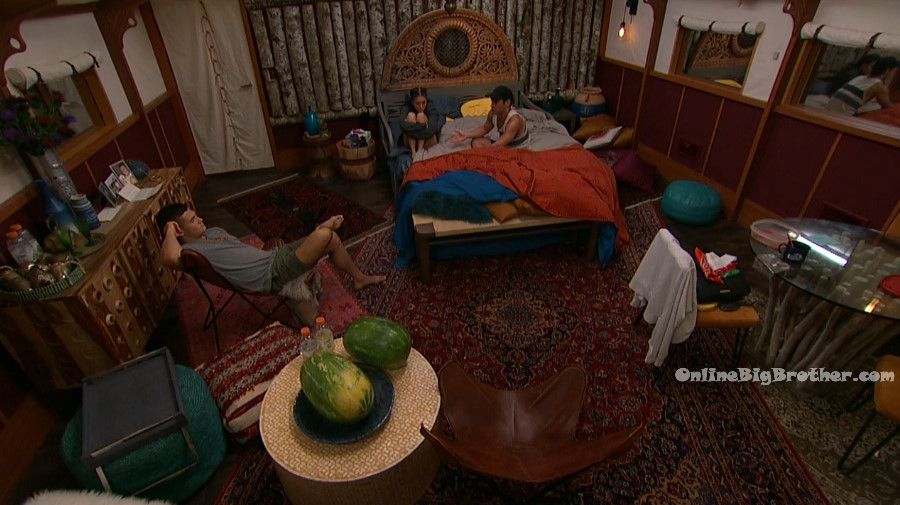 7:53pm Christie, Sis, Nick, Tommy and Cliff gaming..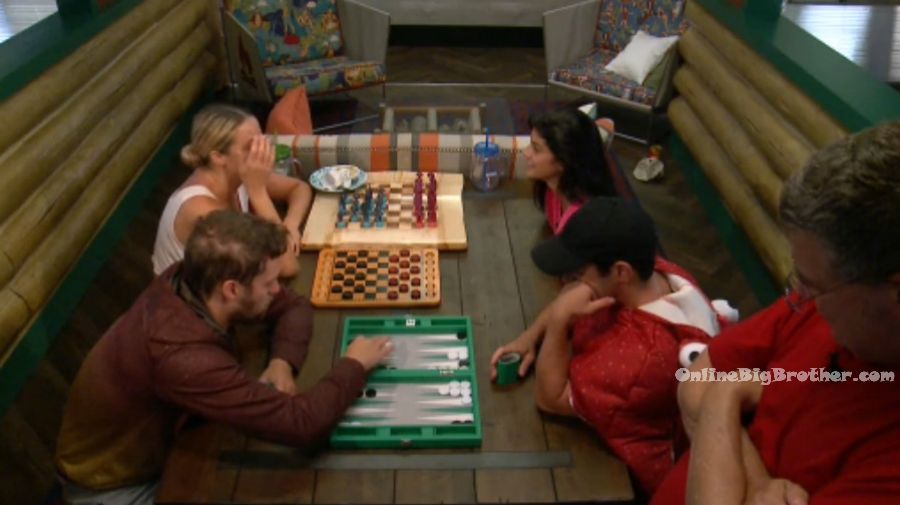 8:22pm Nicole, Christie and Sis are putting Vaseline on the dresser drawers and door handle of the bedroom. Its meant for Cliff but Tommy ends being the victim.
8:35pm Sis pleads the they backyard camera – America, I've been so good in this game and haven't done anything bad. Please grant me a power! Please!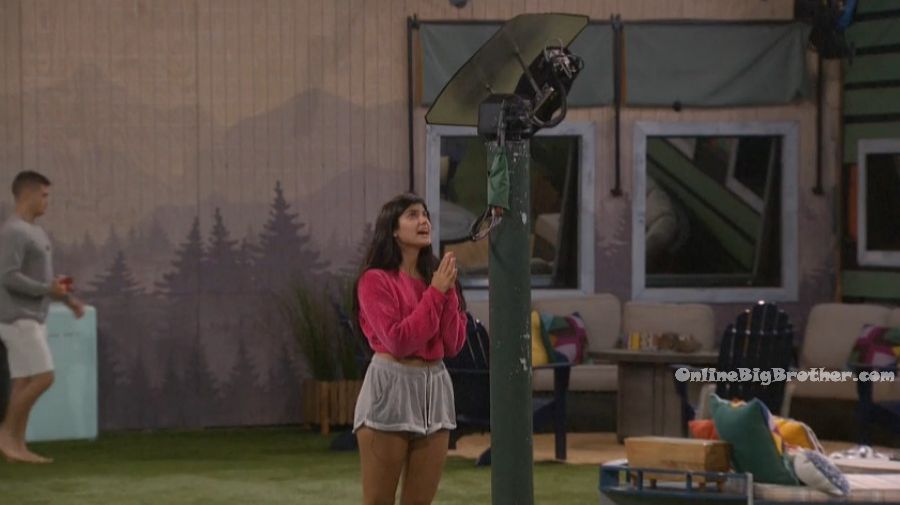 8:36pm Hammock. Nick and Nicole.
Nicole – That's my conflict ..like I want to f**king win but I also don't know where I stand in relation to people so I don't want to.. Nick – Well I assume that Tommy and Sis won't put you up next week. They would want to go after Jackson and Cliff. Tommy probably wouldn't put up Jackson and Holly though. He would probably put up Cliff. I am assuming Sis would put up Michie and Holly. This stays between us .. don't speculate to Kat. Nicole – I will try not to. I would probably put up Jess and a pawn. I like her personally but gamewise she is coming for me. She has said it vocally .. and I have to get her out. I don't know what Cliff would do. I might talk to him after the veto meeting. I don't want to stir anything up and get myself put up by saying something stupid. I wouldn't go after him (Jackson). Nicole – what about Holly or do you just consider that an extension of him. Nick – I do like Holly but I don't think she would go after me right now so I wouldn't put her up. I am just going to win this week and whatever I am going to have to do I am going to do. If Jess gets out of the house I would feel better.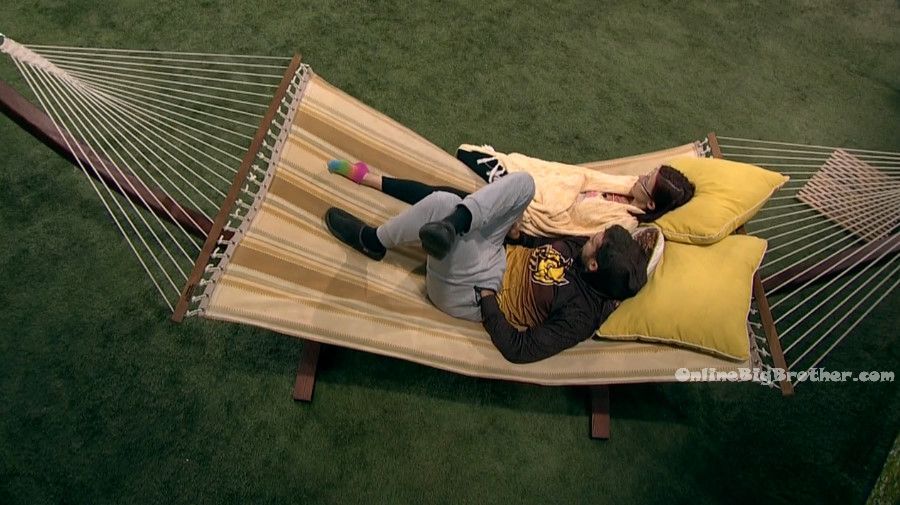 8:55pm – 9:17pm Jackson to Holly – if America can listen .. why can't I?! (Cue photo below) (Jackson referencing eavesdropping on the others conversations)
Jackson – the fact that she (Christie) respects my moves and she respected the things I did..it is so reassuring. They way she handled things.. it was like you did the right thing this week. It worked out well and she is handling it well. I don't want to upset people in this house. The way that Sis it handling it is the exact opposite of what I wanted. Holly – that's why I don't want to be the one to take a shot at Sis because it will definitely not be a good jury vote. Ideally I don't want Nick to win because he would put up Jess. Ideally I don't want Tommy to win because he would put up Cliff and Jess. Holly – I don't want Jess to go either. Did you not realize that Tommy gave us new info… that the plan was to throw it?! Holly – yeah I heard it. Everyone was too scared to take the shot! You have an army of 6 against 2 .. and all 6 of you are too scared to take the shot at us?! I am sorry .. if its only me an her .. what are we going to do about it!? I don't have respect for that.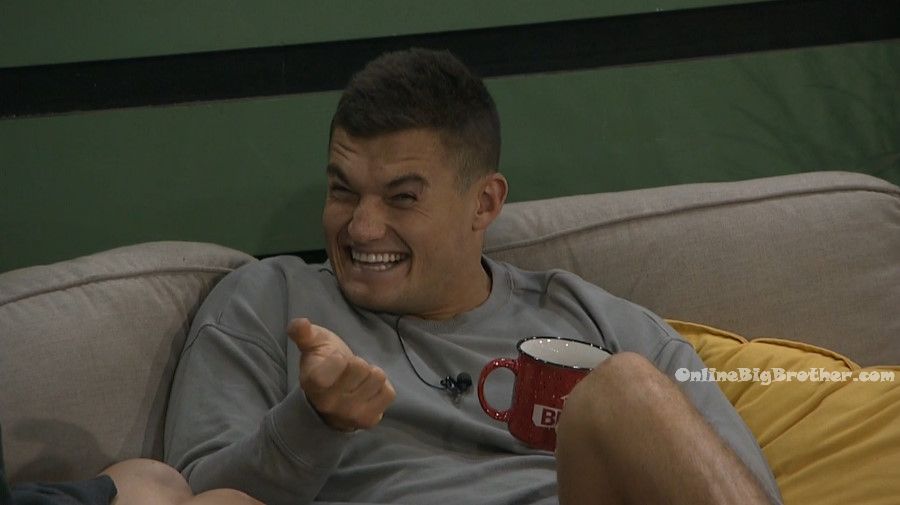 9:40pm Jackson and Cliff.
Jackson – I know that Christie and Sis were talking to Jess out there. Sis said I never said a bad word about him… not once.. and I could have .. I could have. And I also know that they were saying in the RV its a really good poker face to say that we're all good. Cliff – I heard her say that. Jackson – never lied to Christie, never lied to Sis. Cliff – I never heard Christie say that Sis did. Jackson – I told Sis .. I don't want to see you go home. I said I need you to have some blind faith in me. Cliff – being a pawn is unfortunately a part of this game and if there was ever a pawn that wouldn't go home its her this week. Cliff – I did hear Christie telling Sis that she should talk to y'all and try to smooth things out.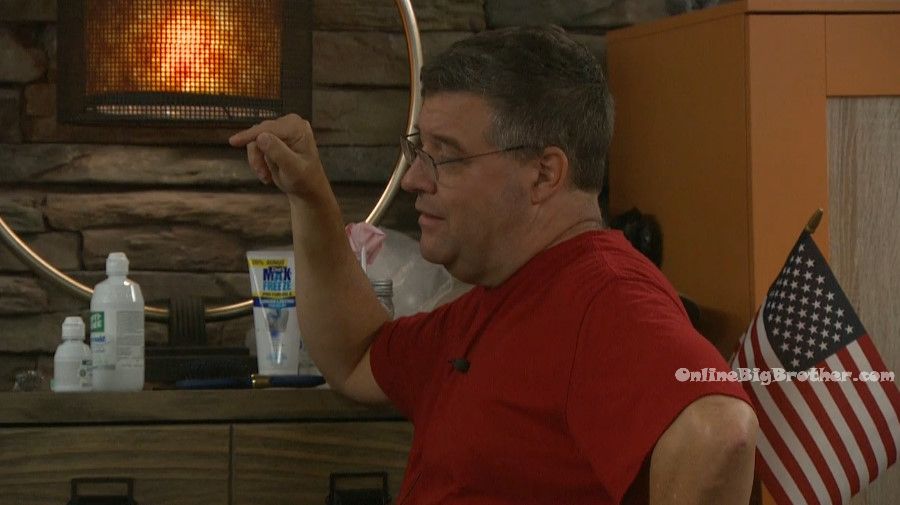 10:30pm Hammock. Cliff and Tommy.
Cliff – Michie is a competition beast. Another week, another battle. Tommy – we're at the point where I feel like I have to win every single one. Cliff – its not so well defined as it used to be and there aren't as many targets as there that you can ever take it personally. Yeah, no I feel the same way. I think that is why we're mentally exhausted because there is no one feeling like they have protection right now.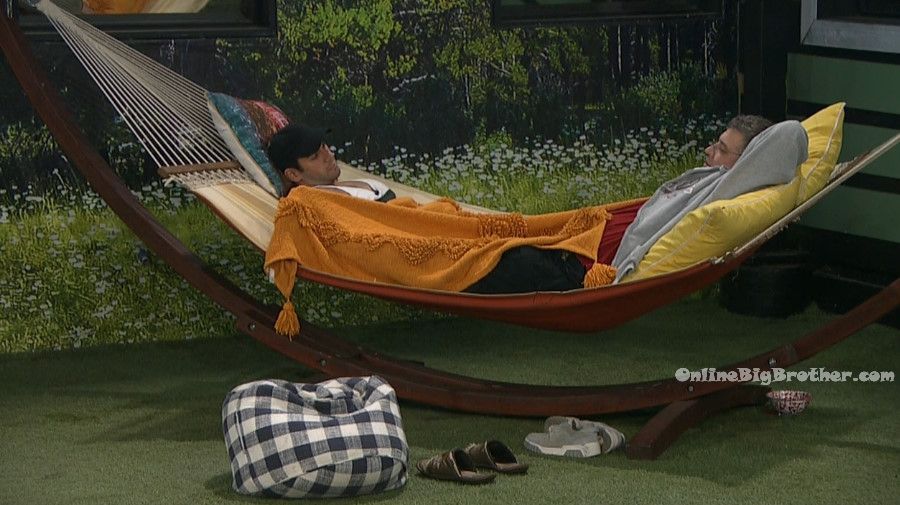 10:55pm Havenot room. Sis and Jackson.
Sis – sorry for being so pissed off and down lately it just really sucks to be against your best friend in the house. I know when you were up against Jack ..it sucked but we still had a power and there were so many ways we were able to go .. it didn't seem that bad. But now we're kind of in a sh*tty position where f**k like there is really nothing that we can do. But I just felt so blindsided because right before you literally told me Sis I trust you.. and you just made me feel safe so I was like okay I don't think I am going on the block. Jackson – Because you are. Sis – I know but if you wanted to use me as a pawn I literally would have respected it way more …like I respect your game plan .. its smart but I would have respected it way more if I knew I was going up. Like I honestly .. even the whole house was shocked. Everyone came up to me and was like wow I didn't know you were going up. I just would have preferred to know I was a pawn. Jackson – I understand. Sis – it just sucked. I didn't make the deal. I was just a part of it. It was just to get me past a week. Jackson – in my mind and even now, I am still good with you. There was one person that wasn't in that room. Sis – Christie. Jackson – yeah.. I am good with you and Tommy. After everything that happened on day 44… after all the personal sh*t that was said about me ..after how everything was handled the past couple weeks .. after hearing what I heard in this room. I was made clear after hearing about the deal .. not necessarily to come after me and Holly but there were only 3 people left out of that deal. I was cast out to no mans land. For me I was like I don't owe anybody anything before these nominations. I was going to be on the block this week. I won this HOH. Sis – I mean if I won ..you weren't going to be on the block. Jackson – I know .. I just want you to hear me out. In my position it was like I didn't disclose my position to anyone for a specific reason. There was a lot of different options for me. I was doing what was best for my game. When I talked to you these nominations are going to piss people off, I trust you and I need you to have a little blind faith in me. And I need you to know something .. I would not put you on the block if I thought there was a chance you would go home. Sis – I just never thought me.. like I didn't get that. Jackson – it was never to intentionally deceive you but you were an option with a few other people. I wanted to ensure that she goes home. If I put Tommy up there was a good chance people could choose this might be a good time to get out Tommy. If I put Nick up .. there is a lot of people that don't like Nick. And Christie could pitch a good pitch against Nick. Sis – Nick, I love Nick. And you have a good relationship with Nick after he is the one that created the deal!? Jackson – but I am also not the one that is voting. Sis – I know but you're keeping someone in the house that created the deal to get you and Holly out?! Jackson – what I am saying .. is my biggest target is Christie. Not Nick right now. Jackson explains why hearing the conversation in the havenot room confirmed that he needed to get Christie out. You are only up there because you are one less vote for Christie. I don't want you to go home. Sis – what if I might?! Jackson – if you keep this attitude up .. I am afraid you just might. Christie is not going to flip a vote against you. I don't want you to go anywhere. I understand why you are upset. I love you to death .. personal and game. I trust you and want to work with you. I was told I am on my own .. so I had to be selfish. I had to do what I had to do and it was never about you. There are two seats to fill. I know its sh*tty to say but I didn't owe an explanation to anyone. What do I owe to someone that says I have nothing?! No one has a never to take a shot at Christie. Sis – its sucks because I love you and Holly. Even after this week there are still people saying they would go after you. You still have the veto. Jackson – Sis you aren't going anywhere. I didn't want it sneaky or a blindside. It was a good a$$ game move. Jackson – I have your back and I trust you. Sis – I am not scared that I am going home. Sis brings up how she felt like Holly knew she was going up and said that she didn't. Jackson – I wanted her to have plausible deniability. This was me being about me. I was being selfish. I didn't tell anyone.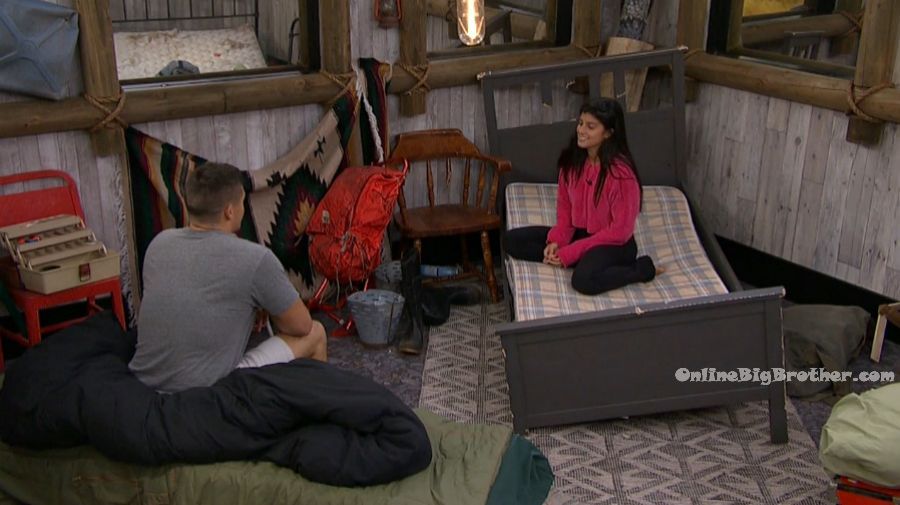 11:35pm HOH room. Jackson and Holly.
Jackson – I talked to her for awhile and at the end she was laughing and smiling .. I know she is a little butt hurt but she said she trusts me but ..she brought up you. She said she has her own issues with you that are separate .. that you were very disingenuine about her being nominated and that it was very forced and that you knew about it but you didn't. And she just wanted a warning. And I was like I didn't owe you or anyone anything. I didn't even tell Holly about my nominations. She was like you're telling me her boyfriend didn't tell her about anything about the nominations? And I was like no I didn't. I internalized it all. I wanted her to have plausible deniability. So take that to your grave. We both need to be on the same page that I didn't tell you. So you didn't know nothing. I didn't want you to have to lie to anyone if they asked you.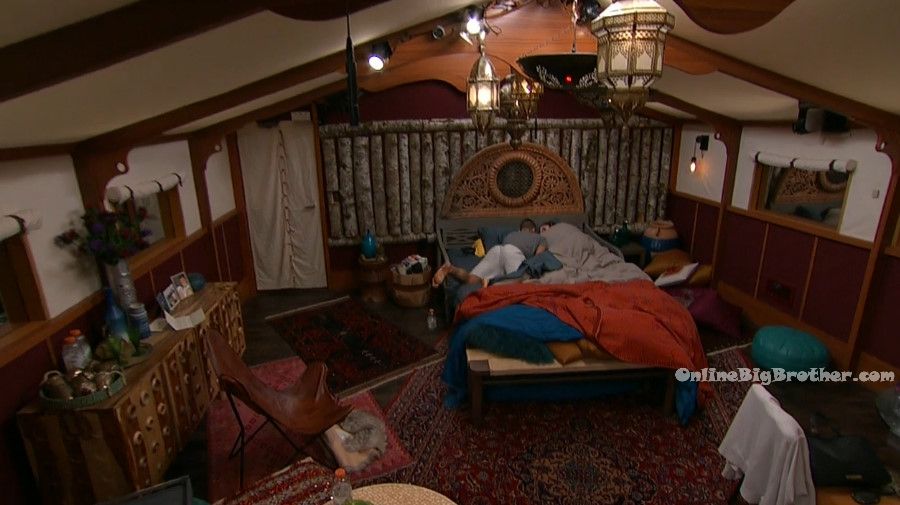 OBB wouldn't be possible with our your support!
If you are one of the generous people that donate to help keep the updates coming, we're giving out a bit more this year. Check out this page for more details: OBB Members