Head of Household Winner – Holly
Have note are: Jessica, Nicole and Sam
Nominations are: Sam & Nick Kat
Power of Veto Players are – -Holly, Sam, Nick, Cliff, Jessica and Tommy
Power of Veto holder – Nick
Power of Veto Ceremony – Nick used the POV on himself Holly nominated Kat in his place.
Powers in the game
Christie – Panic
At any of the next four Power of Veto Ceremonies, Christie can turn the Golden Power of Veto into the Diamond Power of Veto and allow the current veto holder pull someone off the nomination block, but instead of the Head of Household naming the replacement nominee, the veto holder names the replacement.
Field Trip
America votes for 3 houseguests to go on a field trip that will put one houseguest's game on the line
Grab your live feeds —-> BB21 Live Feeds Subscription Link
Rank your houseguests —-> Big Brother 21 Ranking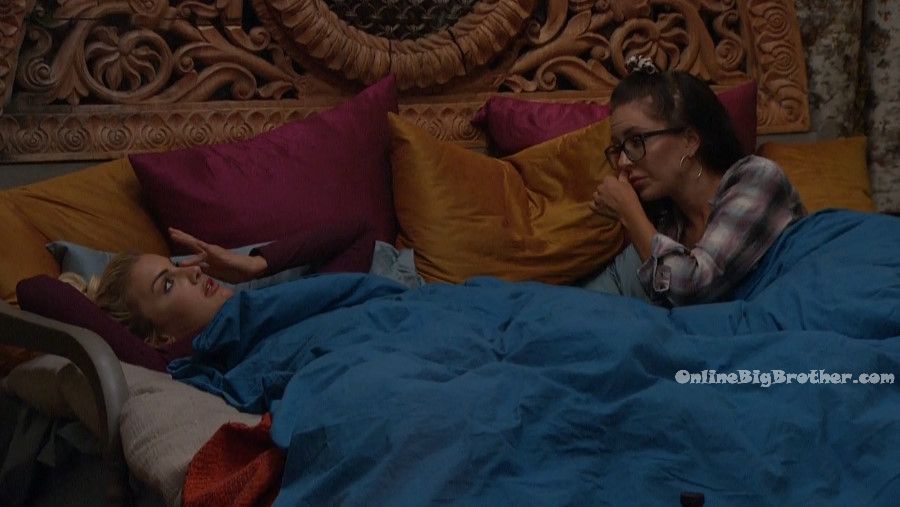 8pm HOH room. Kat, Jackson and Holly. Kat – honestly I am trying to walk on eggshells around Christie because she flips so much. I am just afraid that she might flip based on whatever is heard. Holly – No, it doesn't matter because she is gungho wants Sam out because he has the key to her closet full of skeletons. Kat – obviously she is screwed no matter what because he is going to give some kind of hail mary speech. Holly – He's not. He wants to go out with class. He is going to only tell a couple people the secrets that he's holding and leave it at that. Kat – Wow, should I do a hail mary speech? Jackson – NO! Holly – no, you're not going anywhere. Kat – okay. Holly – so Sam is going to go out with his head held high. He's going to say something specific to his boys if he knows he's going. He doesn't want to blow up anyone's game.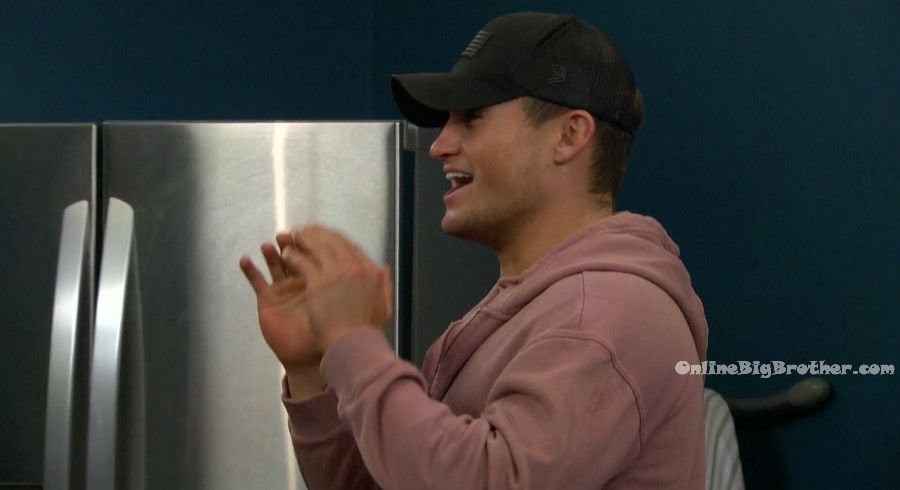 8:14pm Storage room. Jack and Jackson.
Jackson – please tell me that you didn't tell Tommy that Christie tried to make an alliance? Jack – no. Jackson – he was in on it. Jack – okay. Jackson – Kat told me and Holly. It was Tommy and Chris and they went to that side to form an alliance against me, you, Holly, Sis. They didn't want to go to the final 2 with couples and they didn't know what side would be better. Jack – got it. Jackson – so don't talk to Tommy. Jack – okay. Got it. Jackson – what are you thinking? I need you to let me inside your head right now more than ever. Because you for me .. I told you on day 1. I don't care whether its mutual or not .. you don't have to tell me that. I need to know where you stand. Jack – Tommy is a concern to me but Christie is not a concern to me. Not a concern but on a trust level with me. Tommy came up to me when all these meeting were going down. I said that something doesn't feel right. Then we went and did the dance. Then he had his one on one with me. There were somethings going around about Christie and how she felt about the Cliff situation. Jackson – if Christie catches wind of this.. Jack – He doesn't want Christie to know about it out of respect. Jackson – Kat told me this on the one condition that Christie doesn't find out until he leaves. Jackson – we're looking at the final 3 seconds of a time boob .. you know that right?! Jack – But I didn't tell him that I think he is a part of a final 3 alliance. I also didn't say that Christie was in the alliance to Tommy. All I said was the details of the story. So we're going to see where Tommy lies with Christie. This was me playing to find out if he would tell Christie or not because nobody else is going to f**king tell Christie. But I need to know where Tommy lies with us. Was this a Christie thing or was Tommy just on for the ride thing. But I need to know where Tommy lies with us. Jacks – I think we can live out of this thing. Jackson – I see where your head is at.. but out of respect for Sam and his family… I don't give a f**k what happens after he's gone. Let it rain fire once he walks out the door. The only concern I have is that I don't want it to happen is I don't want it to.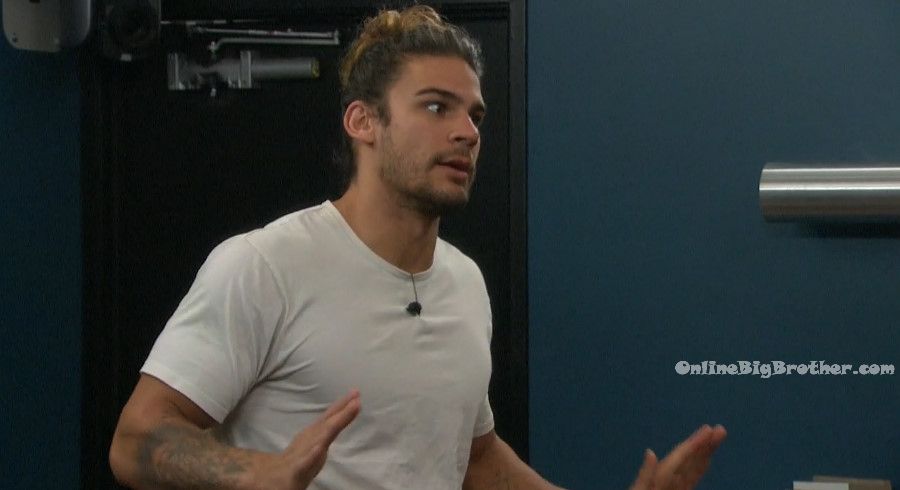 Sam talking to Tommy. Sam – I am trying to separate myself from Nick hardcore. And if I ended up staying and won HOH and the house wanted Nick up, I would put him up .. because I am trying to get into the good graces of the house. I know you want to stick with the majority but I just feel like I can offer you a lot. Like say if I stay another week and get voted out next week to jury.. In jury I am going to vote purely on game. I am not voting on personal stuff, I am not voting on who's butt hurt and who's not. I would be good in jury. I used to always get mad when people would vote on personal. Its a game, get over it. Tommy – I know that you hated when you weren't in the know… I also feel like that .. Jack told me about your other pitch .. I just want to know .. yes we are playing similar games and I don't always agree with the game play that Christie has. I know that you were also in a similar situation where you were connected to someone that you didn't want to be connected to. I knew that Jack, Jackson and Sis knew about it today but no one wanted to tell me and I didn't like that so I got it out of him. Tommy – now with this information ..how is that incentive for you to stay over Kat? Sam – because I'm going to be another target and because I've been loyal this whole time. And the people that you feel are more close to you and more loyal to you .. I don't think are. I have been. I've never come after you once. I got caught up in the Bella scandal.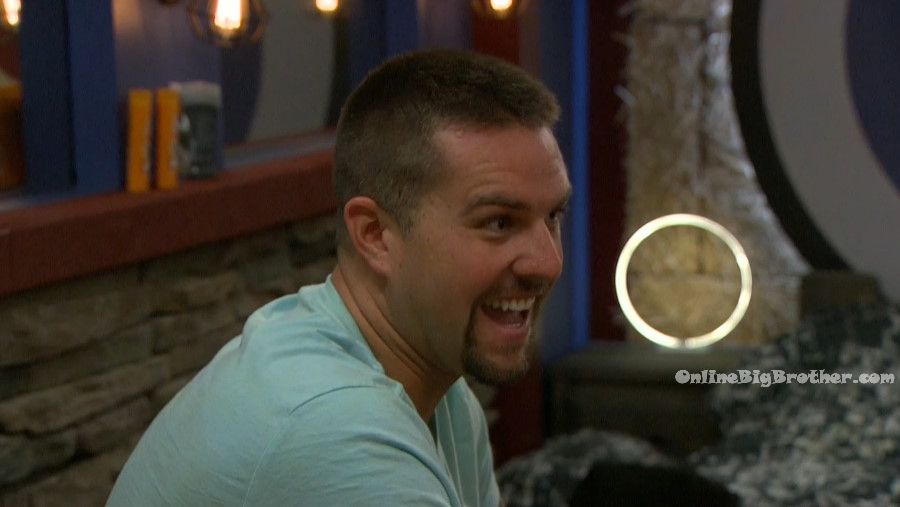 8:21pm HOH room. Jackson and Holly. Jackson – Tommy is being weird.. I saw him down in the kitchen. Holly – did Jack and Sis tell him. Jackson – they told him part of it. Jack told Tommy the whole Cliff situation. Just bits and pieces just to see where Tommy truly lies. Was it a Christie leading this and Tommy just riding along with it? Or was Tommy fully invested with it because Tommy's made it seem to Jack that he is sketched out by Christie too. If Christie catches wind of this .. then we know exactly who it came from (Tommy). And if Christie catches wind of it then we know that Tommy is more with Christie than he is with us. Holly – we already know that because Tommy is with Christie trying to start an alliance. Jackson – that's what we're trying to figure out .. is Christie leading the pack and Tommy is riding along with it or is Tommy also the one that is right in there with Christie. Holly – he is more with Christie. Jackson – Jack just wants to know for sure. Holly – there is no way this is going to backfire on me right? Jackson – no it has nothing to do with you. Kat – once the 6 start to combust you have Cliff, me and Jess. That's five of us. We could bring Nick in. He loves you. Holly – I don't even know if we would need 6. Jackson – he's a number because if one of us is HOH then we're one down. Cliff joins them. Kat jokes that Jackson going on slop is less of a punishment for him and more of a punishment for everyone else.
8:55pm HOH room. Jack, Jackson and Kat.
Jackson – I am telling you bud I really think he would pick Christie. Jack – you think I would? Jackson – no, I think he would but to be honest I think you would too. Jack – no, I just want the six to f**king work .. it has nothing to do with Christie. I just want the f**king six to work. It pisses me off! The eight didn't work and now the six didn't work. Why the f**k can't people f**king follow rules? Jackson – because that's this game. Jack – that's bullsh*t! Level six made it all the way down to the last 7 or 8. Jackson – no they didn't Rachel and Winston got evicted prejury. Jack – but it wasn't because of their illegitimacy it was because the got caught up and they didn't win. Jackson – Rachel was a loose cannon ..literally like Christie. And Winston got f**king booted. Jack – f**king sucked! Sorry Winston. Jackson – no offense to both of them.. I love both of them. Jack – I love both of them too. Jackson – Tommy isn't going to go to Christie if one he doesn't think it was legitimately bought by you and two he thinks it will expose himself. But I am telling you his loyalty lies with Christie.
9:24pm HOH room. Christie, Jack, Tommy, Holly.
Christie – how was your campaign? (Sam's campaign with him) Tommy – it was good. it was nice to just have a real conversation. I told him how scared I am of him. Holly – I pretty much told him the same thing.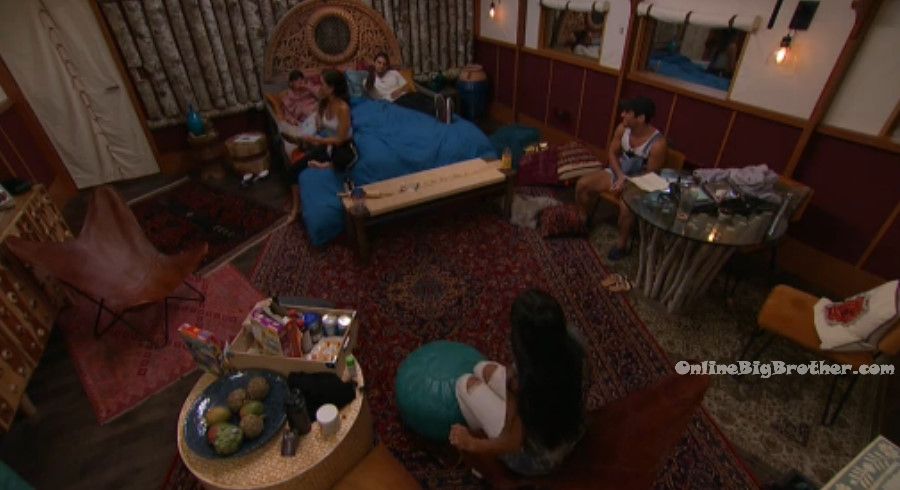 10:15pm HOH room. Jackson and Tommy. Kat joins them and complains that she doesn't feel well. Jackson – yup that's exactly how I felt. Tommy leaves. Kat – don't say anything.. but read my mind. Jackson – is it something that happened before the feeds started? (Jackson & Kat having $*x). Am I sure that I did? Kat – yeah. Jackson – yeah. Kat – okay good.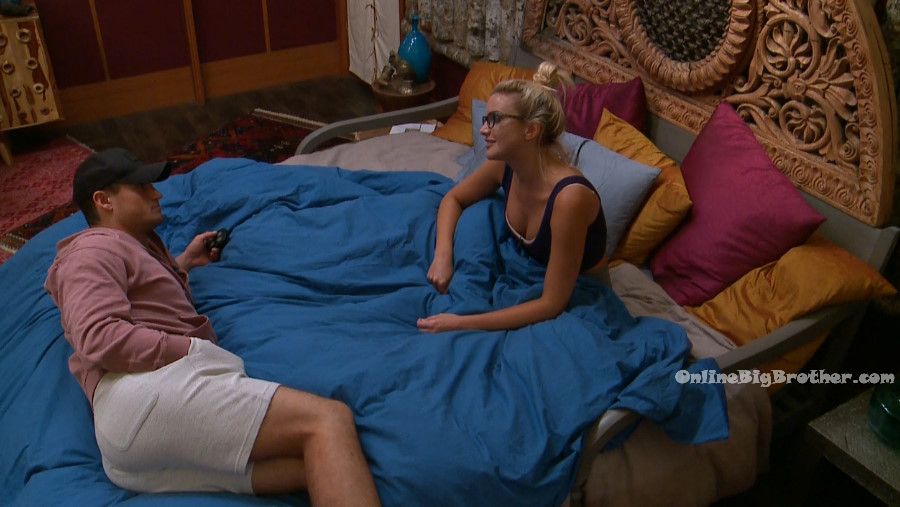 11:37pm Boat room. Tommy and Jackson.
Tommy – she (Christie) definitely knows. She's been acting weird. Jackson – I almost got hit with another source of information that she is 1000% coming for me. Tommy – I don't know that. Jackson – I do and I got told things that in no way could be made up. It had to have come from her mouth. Tommy – I don't doubt it but I don't know that. Jackson – I know. Tommy – I'm sure its a combination of things. Jackson – I'll tell you what I got told. What I just got told, only us in the six know. And there's no way it could have come from anyone else but her. And she told some details which I've only shared with y'all. She told some details that only us know. Tommy – what?! Jackson – I can't do it without jeopardizing the person and what they told me. I told them that it would only stay between us. Tommy – but you don't have to say who, just what information? What would they know? Jackson – things that I've done in this game. Tommy – I think I know what you're eluding to. Are you talking about the rogue vote? Jackson – just sh*t. Just things. I don't want to say to put either one of us in a position. Tommy – okay, cool. Lets let this play out and see what it is. She knows that somethings up. I don't know how we want to handle it and continue to lie to her. Are we going to look like the biggest scumbags if we continue to lie to her. And I won't do anything until I have the support of everyone. Jackson – I'm not saying sh*t. Jackson – what he shouldn't have done is tell five people! Tommy – but he did .. he told 5 of the six. Tommy – now it puts us in a difficult position because after this week we are left with Christie. Is it smarter to include her in on it since he is leaving anyway? I keep getting interrogated and I'm like no, no, no… but what are the repercussions of this. Sam is making a mess before he leaves. Jackson – after I'm hearing the things that I'm hearing .. he is telling the truth. He is 1000% telling the truth. What a tangled web we weave. Tommy – maybe we tell her and tell her that we don't believe it and continue to let her play both sides of the house. Jackson – but I don't trust her anyways. She's thrown my name out to multiple people in the house. She is coming after me 1000%. Tommy – I don't know that.. Jackson – she's told multiple people in the house that are unrelated. Tommy – what do we do with it? Jack joins them. Jack – she is crying in the bedroom. Jackson – she is coming for me.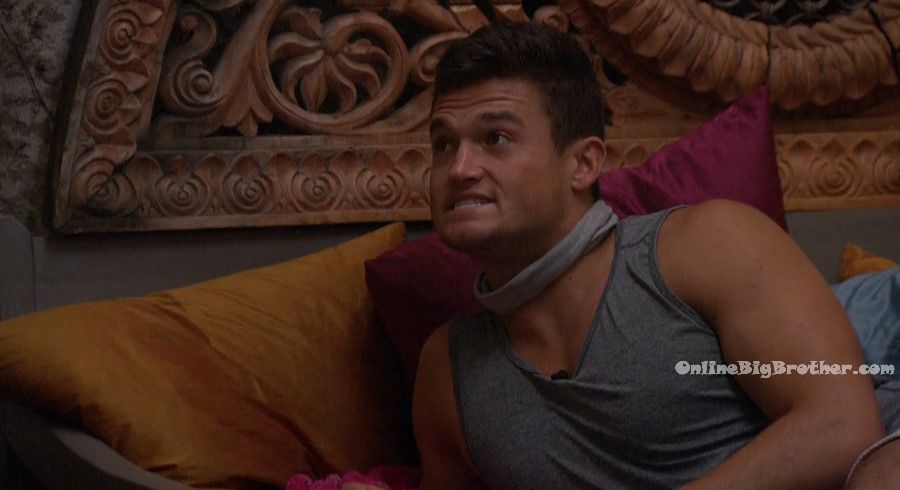 12:07pm HOH room. Jack and Jackson.
Jackson – Cliff told me that when they were making their deal he said that she would 100% come after me. She wanted to take a shot at me and mentioned your name as a backup. SHe (Christie) said that the reason she wants to take a shot at me is because I'm disrespectful to women which is also what Nick said. Why would Cliff make this up? Also said that Jackson and Jack are like this.. Said that I'm a physical threat and also told him that I was the rogue vote. There is no way for him to make this sh*t up. Said that I laughed about it when people said that it was Nicole and hoping that she take the fall. She is 100% plotting against me and you. No doubt about it now. Cliff can't make this stuff up. She is plotting. This is now the 4th or 5th person and all the stories add up. That is hook line and sinker. Cliff doesn't lie and there is no way he could make it up. Jack – so what do you want to do about it? Jackson – I don't know. I didn't mention it to Tommy and I didn't mention it to Sis because I don't know if I can trust them. Jack – I won't mention it to anyone. Jackson – I really hope that I can trust you. I think I know where you lie. I know where Holly lies. Jack – you've got to give me 12 hours. Jackson – oh minimum. This is not something that we can just act on impulsively but she is not for us. Jack – However I am f**king sick of this sh*t that she is in the RV f**king crying right now. Jackson – its not a lie if you believe it. Pathological lying. Manipulation and I have no empathy. She comes up here and plays it off like her and Sam are hashing it out. Sam told me what her and him were talking about. She was crying to him. She's cried to him three times to day.. wishing he could stay. How she is doing what Holly wants. How Holly wants Sam to go. Holly has never once said that she wants Sam to go. In fact she's said the opposite. Its Christie that's been saying that she wants Sam to go. The girl is a snake! Jack – got it. Jackson – and we can't turn a blind eye to it. Jack – so we have Cliff and Kat on the payroll. Jackson – and Cliff said he could bring in Nicole and potentially Jess. As of right now we have me, you, Cliff, Holly, potentially Nicole and Kat .. that's six right there. Day 43 six shooters blows up! Jack – you didn't say anything about Sis? Jackson – I don't know where Sis and Tommy lie. Jack – are we still voting out Sam? Jackson – we have to, I trust Kat more than I trust Sam. If Sam and Nick are in this together and if they're with Christie .. we're f**ked. Jack – give me 12 hours .. we'll figure it out. We will figure out how to get Christie out of this deal. Jack – I am with you! They fist bump and leave the room.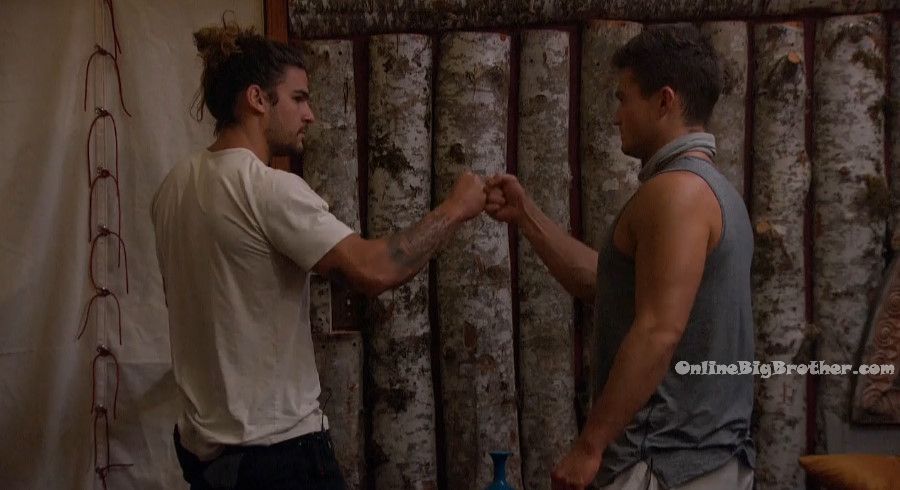 12:45pm Christie is crying to Nick, Nicole, Jess. Nick – are you hearing things? Christie – I am not hearing things but know that things are being said. But No one is telling me what's being said. Nick – what is being said? Christie – I don't know. I know that things are being said because I've been told that things are being said but no one is allowed to tell me what's being said until after tomorrow. So I don't know what that's supposed to mean but now I know I have to win an HOH that I didn't really want to win. Nick – we'll at least we're in the same boat. Christie – if people are talking sh*t, that's fine but I want to know that its accurate. But if I don't know what they are .. then how do I defend myself.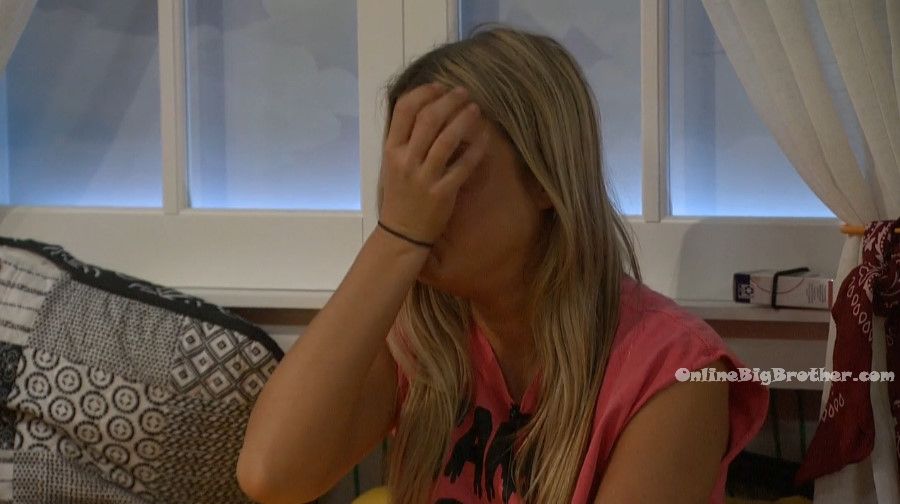 1:27pm HOH room. Holly, Jackson, Christie and Sis.
Christie – I had a revelation.. I am not going to sleep early enough. I'm not praying enough. I'm not meditating enough. I am not giving myself enough alone time. I wasn't but now that I know what's wrong, I can fix it. I feel like I am going to be okay. I am realizing about myself that I have the potential to go a little crazy if I'm not taking care of myself. Jackson – you need self time. Christie starts crying and says and I feel like I'm not giving myself that and I feel like I'm going crazy. I miss my family and friends so much. I realize that I am so open and such a blabber mouth .. I say everything thats on my mind and I can't do that. Because A your words are going to get twisted. B people could just put words in your mouth. C you can't expect that from everyone else. I feel like if I just took time to myself I wouldn't be so open and honest with ..almost like I'm having a pity party but that's my own fault. I feel like I'm blocking myself from God. I haven't been able to hear the universe for weeks. I feel like I am going to go to sleep like now. My hip is hurting so I don't want to sleep on my side. I don't want me feeling clouded to f**K up what we have. A good cry will do that. Sis and Christie leave the HOH room. Jackson – can't trust nobody! Holly – I think the universe is disappointed in her. Jackson – yeah. I would be too. I am! The universe! Oh man! The girl is either the best actor, best deceiver or best liar I have ever met. She believes false truths in her head.
3am All the house guests are sleeping.
OBB wouldn't be possible with our your support!
If you are one of the generous people that donate to help keep the updates coming, we're giving out a bit more this year. Check out this page for more details:
OBB Members